Coinfola is a website that claims you can earn free Bitcoin by viewing ads and doing tasks. So, if you are looking to earn free Bitcoin, you might be interested in joining this site.
However, I would recommend you read this Coinfola review before you decide to join this site because it will give you an honest inside look at what the site really offers. That way, you'll know exactly what to expect from it before you even join.
That's the best way to properly evaluate if Coinfola is truly worth it or not. So, let's go ahead and examine Coinfola, shall we?
What is Coinfola, and what does it offer?
Coinfola is essentially a Paid-To-Click (PTC) site that will allow you to earn by viewing ads and participating in the other earning opportunities it offers. And yes, it is a legit site since you can really earn free Bitcoin from it.
However, this doesn't automatically mean it is worth your time. To find out if you should sign up for this site, you must first understand how it works. The best way to do that is to take a closer look at the earning opportunities it offers so you will have a clear idea of how much time and effort is needed to earn from it.
The video below explains exactly how to earn from Coinfola. You can also read the full details below the video.
Recommended: Check Out the Best Sites to Earn Free Bitcoin
Option 1 – Shortlinks
One way to earn from Coinfola is to solve shortlinks. When I say "solve", I don't mean you'll have to do some calculations. It's more of a captcha-solving process.

The way this opportunity works is that when you click a shortlink, it will open a new browser tab that will show you the content of the shortlink. But aside from that, you'll also see a lot of ads, then you'll have to navigate through those ads to find the "Claim" button to receive the reward for the shortlink.
After you click the Claim button, you'll receive the reward which will be in the form of Satoshis (the smallest unit of a Bitcoin). The reward will be quite low, which is why I personally don't like this type of earning opportunity. It pays so little and you need to get past a lot of spammy ads.
Option 2 – Bitcoin Faucet
Another way you can earn from Coinfola is through its Bitcoin faucet. In case you are not familiar with this opportunity, the way it works is that you can claim free Bitcoin after a set amount of time.

In Coinfola's case, you can claim free Satoshis (5 Satoshis) every 10 minutes. The only annoying thing about this opportunity is that the page will again display a lot of ads. If you mistakenly click an ad, it will open another browser tab and you'll have to keep closing it.
It's a decent way to earn free Bitcoin, in my opinion, but you have to keep checking every 10 minutes to claim it, which can be quite a hassle. That's why I would still say it's not a great opportunity to earn a decent amount of free Bitcoin.
Option 3 – Offerwalls
You can also earn additional rewards by working on the offerwalls. In case you don't know what an offerwall is, it is an in-site advertising platform that promotes websites and mobile apps through paid offers (hence the name offerwall).

So, to earn from this opportunity, you'll have to pick an offerwall you want to work on and click it. Coinfola has a decent number of offerwalls available, and each offerwall has a good number of offers to work on.
Each offer will usually ask you to answer a survey or quiz, download a mobile app, sign up for a website, or watch a video to earn rewards. When you see an offer you are interested in, just click to see the complete instructions you need to follow to complete the offer.
Make sure to take note of the instructions because if you miss even one step, you won't be able to complete the offer, and you will not receive the reward. Once you complete the offer, you will receive the reward, which will be in the form of Satoshis.
There's a decent number of offers available, but the only problem is that the rewards are quite low compared to other sites that offer the same kind of opportunity.
Option 4 – Revenue Share
Lastly, you can also earn passively through the Revenue Share option that Coinfola features. For this opportunity, you'll have to "invest" a certain amount of Bitcoin into the site.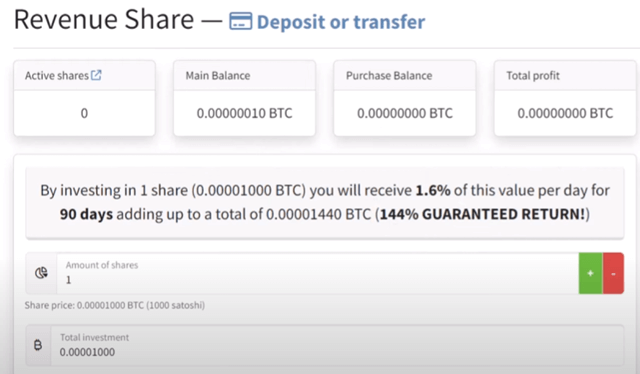 As you can see in the photo above, the amount of Bitcoin you will invest has to stay on the site for at least 90 days for you to earn. It says on the site that you'll earn 144% of the amount you invest, which I find a bit unrealistic, in my opinion.
You can fund this opportunity using your earnings from the site, or you can also deposit Bitcoin to it, which, in my opinion, is a bit risky. This is why I would only recommend you invest an amount you can afford to lose in this opportunity.
Personally, I wouldn't go for this kind of opportunity simply because of the unrealistic earning percentage it claims to offer. Based on my experience, whenever I see an unrealistic earning percentage, there's always a catch, and typically, it isn't good on your end.
But again, if you want to go for this opportunity, I highly recommend you just put in the amount you can afford to potentially lose.
Recommended: Check Out the Best Sites to Earn Free Bitcoin
How do you get paid?
Since the site mainly deals with Bitcoin, you'll need to have a Bitcoin wallet to withdraw your earnings. You can use the platform the site recommends, which is FaucetPay, or you can also just use your own crypto wallet.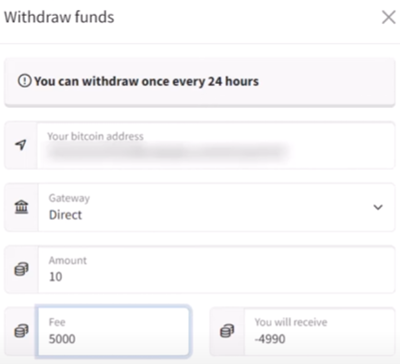 Technically, the site doesn't have a payout threshold since you can withdraw any amount you want. However, every withdrawal involves a service fee. If you are using your own crypto wallet, the fee will be 5,000 Satoshis (more or less $2), which is quite a high amount, in my opinion.
So, even though the site doesn't have a payout threshold, it will still take quite some time for you to withdraw your earnings because you need to earn a significant amount so that the service fee will be covered when you withdraw your earnings.
Overall though, I would say the payment system of Coinfola is relatively straightforward if you are used to crypto transactions. If you are new to crypto, you'll need to get used to transferring crypto first before you attempt to withdraw your earnings.
Now, if you are interested in earning cash instead of Bitcoin, I recommend you check out the top sites that pay via PayPal instead.
How much money can you make?
The problem with Coinfola (and all other PTC sites, for that matter) is that it will take quite a long time for you to earn a decent amount. As mentioned earlier, the site offers very low rewards, so you won't be earning efficiently.
You will literally have to complete hundreds of offers before you can earn a decent amount from it. That is why I would say the earning potential of Coinfola is very low, which is not surprising because most (if not all PTC sites) have very low earning potential.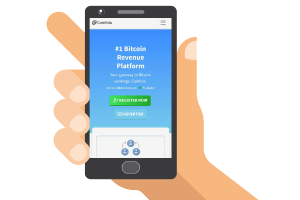 Can you use it on mobile?
Coinfola doesn't have a mobile app you can download, but you can still access the website using a mobile web browser. The site is optimized for mobile use, so you can easily read the content and click the links.
The only problem is that you'll be dealing with multiple browser tabs while working on the member dashboard, and that can be quite annoying when you are using a mobile device. You will have a higher chance of clicking the ads surrounding the links or buttons you need to click.
This is why it would be better to just use a computer if you decide to sign up as a member.
Who can join Coinfola?
The site doesn't tell you exactly which countries it is available in, but as far as I can tell, it is available more or less worldwide. So, you will be able to sign up as a member regardless of where you live.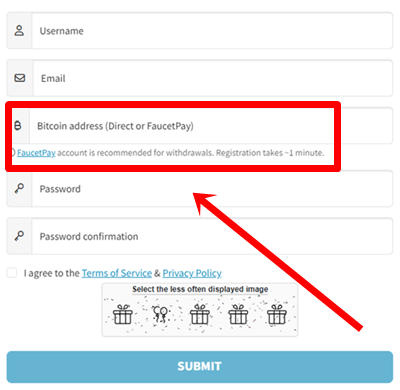 To sign up, you must provide your login details as well as your crypto wallet address. I found this a bit weird because this is the first time I've encountered a site that will ask you for your crypto wallet address right from the start.
Normally, this piece of information will only be asked of you once you become a member. It's a bit risky, in my opinion, because you'll never know what the site will use it for. In my opinion, it would have been better if you could provide your crypto wallet address once you log in to the dashboard and find out how the site works. That way, you won't be exposing your crypto wallet information unnecessarily.
Can you get support?
The site has a FAQ section you can check out if you have any questions about the site or your account. However, the FAQ section only discusses a few of the basic topics about Coinfola. So, you will most likely not find the answers you are looking for.
That is why if you have any inquiries, it is best to just email them directly to [email protected]. This is how you can contact the support team since the site doesn't provide a contact form.
Overall, I would say the site does provide the minimum required support to its members since it offers an easy way for you to ask for assistance.
Final Verdict
Coinfola is a legit PTC site that will reward you for viewing ads and completing offers. It has a few decent features, but it also has certain drawbacks you need to be aware of.
Let me wrap up this review by summarizing its pros and cons to give you an overview of what it has to offer. Then, you can decide if it is truly worth it or not.

Pros:
Has a decent number of earning opportunities

Cons:
Very low rewards
The site is filled with ads
High service fee for withdrawing earnings
In my opinion, Coinfola is not worth your time, mainly because of the low rewards it offers. It will take a lot of time for you to earn a decent amount from this site. You are better off investing your time on sites that offer better earning potential so you can earn more.
The site also doesn't give a great user experience because there are a lot of ads that will appear. While I do understand why they do this (it's how they generate income), placing the ads on locations where you can accidentally click them just provides a poor experience for the user, in my opinion.
That is why if you are looking to earn free Bitcoin, I suggest you check out the best sites to earn free Bitcoin instead.
But if you are looking to earn cash or sites that offer better pay, I recommend you check out the top survey and GPT sites in your country instead. The sites on this list all have good earning potential, so you will be able to earn a decent amount in no time.
Plus, most of them offer cash rewards as well.
If you have any comments, questions, or have any experience with Coinfola yourself, I would love to hear from you in a comment below.