CouponPrizes is a website that claims you can get free gift cards and even money if you become a member. All you have to do is complete simple tasks.
Now, the question is, is it legit or is it a scam? How simple are the tasks being offered?
I've decided to sign up and test the site to get the answers for these lingering questions.
That way, you don't have to try it for yourself to see if it is really worth it or not. All you have to do is read this CouponPrizes review and then you will know what to expect from the site and can decide if you should join this site or not.
What is CouponPrizes and what does it offer?
CouponPrizes is a Get-Paid-To (GPT) site that will reward you for doing short tasks. And yes, it is indeed a legit site since you will really be rewarded if you manage to complete the tasks offered.
But the question is, is it worth it?
To answer that, you have to first understand how the site works and the best way to do that is to examine the earning opportunities it offers. So, let's take a closer look at how you can earn from CouponPrizes.
Option 1 – Offerwalls
Offerwalls are built-in advertising platforms that are often found on GPT sites. Their purpose is to promote certain websites and mobile apps through paid offers. And paid offers, if you don't already know, are the actual short tasks that CouponPrizes is referring to.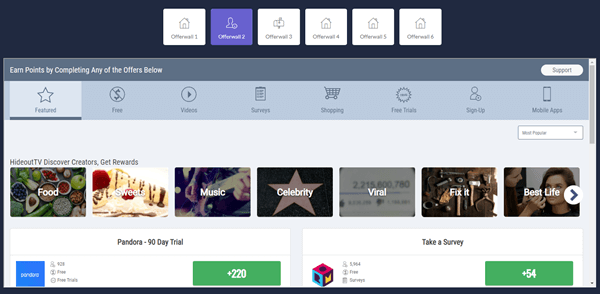 To earn from an offerwall on CouponPrizes, you will have to pick an offerwall and then choose a paid offer you want to work on and click it. Then, you will see the set of instructions you need to follow to complete the offer.
Make sure to take note of all the steps required because if you miss even one step, you will not be able to complete the offer. Usually, their paid offers will ask you to answer a survey or quiz, download a mobile app, watch a video, register to a website, or play a browser-based or mobile game. So, completing these offers will be relatively easy.
Once you've met all the requirements of the paid offer, you will receive the reward promised which will be a certain number of points. Those points will then be credited to your CouponPrizes account balance. Later on, I will discuss what you can do with the points you've earned.
The one thing I noticed about CouponPrizes' offerwalls is, compared to other popular GPT sites, the number of offerwalls available is very low. During my testing, there were only six offerwalls available. That's a far cry from the usual 15 to 20 offerwalls I encounter on other popular GPT sites.
So, the opportunities to earn aren't as many. That alone is enough reason, in my opinion, to say that CouponPrizes isn't the number one site to get free gift cards because it doesn't offer as many opportunities to earn compared to many other GPT sites.
Option 2 – Spin the wheel
Another opportunity to earn rewards from CouponPrizes is to play their Spin the Wheel game. The idea is really very simple. You spin the wheel and you can win a prize.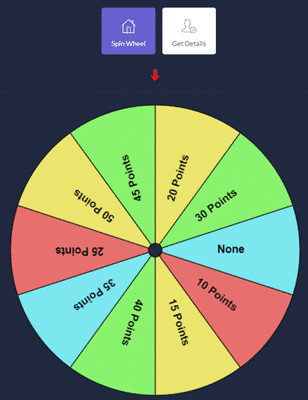 As you can see in the photo above, you can win up to 50 points. But there's also a 10% chance you won't win anything. Overall, I still like the odds since you can win points 9 out of 10 times.
However, you can only play this game once every 24 hours. The timer will start after you've played your first game. So, if you spun the wheel at 9 am, you can spin again the next day at 9:01 am.
Option 3 – Daily login bonus
You can also earn additional points by just logging in to the site every day. The way it works is also very easy.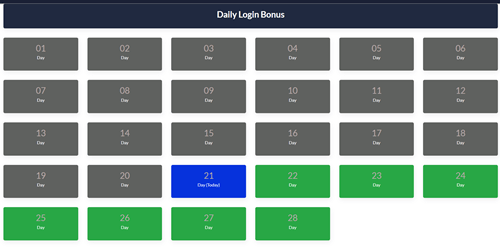 The first time you log in per day, you will receive bonus points. It's not much, but at least you get something out of a very simple thing. You will only receive two points, so it's not something that will drastically improve your earnings on the site.
But the fact that you don't really need to do anything special to claim this bonus, I would consider it a good addition. It's a way to reward members that login to the site every day.
Option 4 – Referral program
Lastly, you can also earn more rewards by inviting other people to join the site. This is called their referral program. It is a common earning opportunity found on online rewards sites.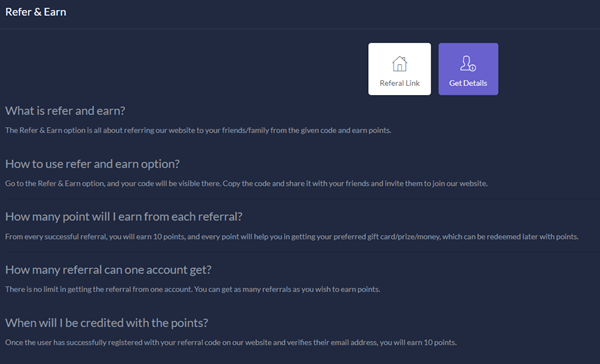 Their referral program is also very simple. All you have to do is share your referral link with the person you want to invite. When they click the link and sign up as a member, they will become your referral.
But before you will receive your reward (10 points), your referral must verify their email address. They can do this by clicking on the verification link that will be sent to them via email after they register as a member.
As I've said, their referral program is really very simple. Typically, referral programs will require your referral to complete offers or earn a specific amount before you will get your reward.
The downside is the reward for referring someone is quite low, in my opinion. So, it doesn't give a lot of incentive to invest a significant amount of time to invite people because the reward is very low.
Recommended: Check Out the Top GPT Sites
How do you get paid?
As explained earlier, you will earn a certain number of points for every earning opportunity you complete on CouponPrizes. But what can you do with all the points you've earned?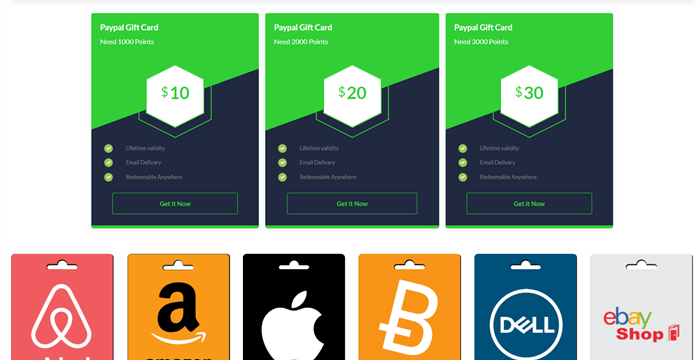 Well, you can redeem them for various gift cards from eBay, Amazon, Macy's, and gaming platforms like Xbox and Steam. You also have the option to convert your points to Bitcoin or even cash via PayPal.
The minimum number of points required to redeem a reward from CouponPrizes is 1,000 points. That will be equivalent to a $10 gift card or a $10 PayPal withdrawal (the same goes for Bitcoin).
Overall, their reward system is relatively easy to understand and I like the fact that they have a relatively low payout threshold of $10.
Plus, I was actually quite surprised that they offer PayPal withdrawals. I was not expecting this would be included in their reward options since they only highlight that you can earn gift cards on the website.
So, you do have the option to earn cash instead of gift cards, which is a good thing. If you are interested in more sites that offer cash rewards, I would recommend you also check out the top sites that pay via PayPal.
How much money can you make?
With GPT sites, the amount you can earn will mostly depend on how much time you are willing to invest. But as I've explained earlier, the site doesn't have as many earning opportunities offered compared to many other GPT sites where there are literally hundreds of offers available.
In terms of the rewards you will earn, you can earn around 20 to 80 points per paid offer you complete on their offerwalls. To put it into perspective, that will be $0.20 to $0.80 per paid offer completed. Of course, you can find some offers that are worth more than 100 points from time to time. But those offers are few and far between.
It's not a bad rate, in my opinion. But it also doesn't stand out as a high-paying site. That's why I would say the earning potential of this site isn't really that good. And as I've explained earlier, I wouldn't really consider it as the number one site to earn free gift cards.
Can you use it on mobile?
CouponPrizes doesn't have a mobile app you can download. But, you can still access their website from a mobile device by using a mobile web browser. And the good thing is, the site is mobile-friendly. So, you won't have a hard time navigating it and reading all the content.
Plus, you won't really encounter any pop-up ads, so the user experience will be pretty decent. However, I would still recommend you use a laptop or desktop when you are working on their offerwalls. That's because this opportunity will involve opening a lot of browser tabs. And that can be quite annoying to deal with on a mobile device.
I would only recommend you use your mobile device when working on paid offers that will ask you to download mobile apps, or if you are want to play the Spin the Wheel game.
Who can join CouponPrizes?
The best thing about CouponPrizes, in my opinion, is that it is available globally. You can register as a member regardless of where you live.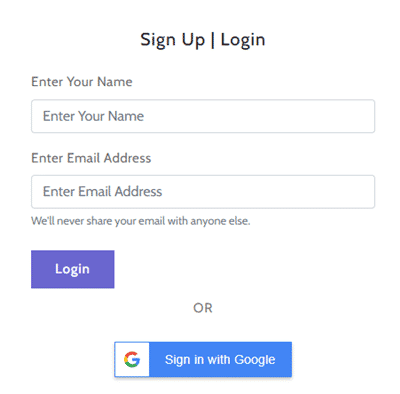 All you have to do to register is fill out their registration form. You can also just use your Google account to sign in to the site. It's very easy to sign up. You can literally do it in just a few seconds if you use your Google account.
Can you get support?
One problem I found with the CouponPrizes is, it doesn't have a Support or Help page you can check out if you encounter any issues or questions about the site. Now, if you are working on their offerwalls and you encounter issues while doing so, you can use the Support option provided by each offerwall.
Yes, every offerwall offered on CouponPrizes has its own separate support. So, you will need to use the appropriate support option for each offerwall.
But if your issue or question is regarding the CouponPrizes site or your account, you can submit your inquiry through the contact form provided on the Contact Us page. You can also find the phone number you can call if you really need to get in touch with their technical support team on the same page.
Overall, I would say the site has a decent support system in place for its members since they offer convenient ways for you to get in touch with their support team. But I do wish they had a Help page with frequently asked questions. That would make the overall user experience provided by the site a lot better, in my opinion.
Final Verdict
CouponPrizes is a legit GPT site that will reward you for completing paid offers. It has a couple of good features to offer, but it also has a few disadvantages you need to be aware of.
Let me finish this review by summarizing its pros and cons so you can get an overview of what the site has to offer. Then, you can decide if it is really worth your time or not.

Pros:
Available globally
Offers payment via PayPal
Their site doesn't have pop-up ads

Cons:
Limited earning opportunities offered
Offers lower rewards than many other GPT sites
In my opinion, CouponPrizes doesn't really stand out as a great GPT site. It is definitely not the number one site to earn free gift cards. At best, it's a decent secondary site to earn from, in my opinion. The reason why I say this is, for a GPT site, it doesn't offer a lot of ways to earn.
That's quite uncharacteristic in my experience because GPT sites are usually known to offer plenty of ways for you to earn. Six offerwalls is really a very low number for a GPT site. That is why I would only recommend you join this if you really need an additional site to earn from.
Otherwise, you are better off joining more popular sites. For a list of these popular sites, I would recommend you check out the top survey and GPT sites in your country instead. The sites on this list all have good earning potential and you will definitely find sites that offer more ways for you to earn.
If you have any comments, questions, or have any experiences with CouponPrizes yourself, I would love to hear from you in a comment below.