CouponSurfer is a website that claims you can find printable grocery coupons as well as cashback offers when you become a member.
If this is something you are interested in, then you've come to the right place.
This CouponSurfer review will not only check if the site is legit or just another scam, but it will also show you everything you need to know about the site, so you will know exactly what to expect from it. Then you can make an educated decision on whether this site is worth joining or not.
So let's go ahead and take a closer look at CouponSurfer, shall we?
What is CouponSurfer, and what does it offer?
CouponSurfer is essentially a cashback site that will also allow you to find coupons you can use to save money. It is indeed a legit site since you can really earn cashback rewards from it.
However, this doesn't necessarily mean the site is worth joining. To figure out if you should become a member, you must first understand how it works. And the best way to do that is to start by taking a look at the earning opportunities it offers so you will have an idea of how much time and effort is required to earn from it.
So here's how to earn from CouponSurfer.
Option 1 – Cashback Offers
The primary way to earn from CouponSurfer is through cashback offers. But to earn from this opportunity, you will need to do one important thing, and that is to link your debit or credit card to your CouponSurfer account.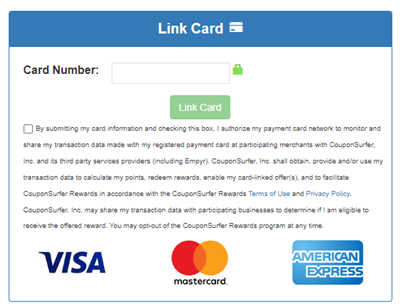 After you've linked your credit or debit card, all you have to do is use it to pay for any meal from one of their partner restaurants. CouponSurfer also has a lot of partner stores you can shop from, so you can just use the card you linked to pay for the purchase.
You will then receive the cashback reward promised for that specific restaurant or store. You can view all of CouponSurfer's partner stores and restaurants by logging in to the member dashboard and clicking the "Get Rewards" link and selecting "Top Stores & Restaurants".
You will then see the cashback rates of every partner restaurant and store of CouponSurfer. Once the purchase is completed, the cashback reward will be credited to your CouponSurfer account balance. Later, I will discuss how you will be able to withdraw your earnings.
Option 2 – Paid Surveys
I was quite surprised when I was testing the site and I saw that it also offers paid surveys as a way to earn rewards. You don't usually encounter this kind of earning opportunity on cashback sites, based on my experience.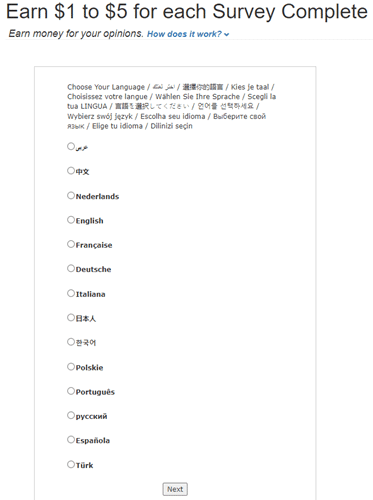 To enable this earning opportunity, you will have to fill out your profile first. Just go to the "Get Rewards" section and click the "Earn $1 to $5 per Survey Complete" to get started. After you've completed your profile, all you have to do is wait for any survey offers to appear.
Once a survey is available, just click it and go through the qualifying process. This process will involve answering a few basic questions. After you finish this step, you will know if you qualify for the survey or not. If you do qualify, just answer the actual survey to get the reward.
If you don't qualify, you just have to move on to the next available survey if there is any. This opportunity is not very common, so don't expect to earn from it regularly.
Option 3 – Coupons
Technically speaking, you will not earn anything from this opportunity. I decided to include this opportunity, though, since you can still save some money by using the coupons the site offers. And as they say, "Money saved is money earned", so it's still like you are earning money.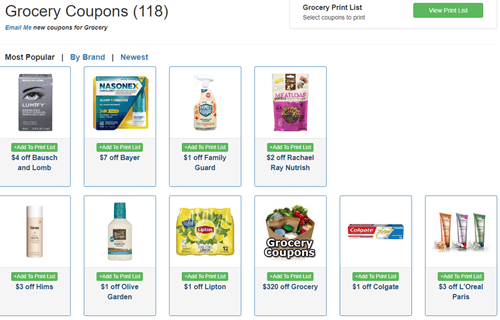 To view all the coupons offered by CouponSurfer, just log in to the member dashboard and click "Print Grocery". You'll then see something similar to the photo above. Just choose which coupon you are interested in and print it.
Of course, it goes without saying that you need a printer to avail of this type of coupon. If you prefer virtual coupons, you can go to the "Shop Online" section to see all the digital coupons you can use.
From what I've observed though, there are more printable coupons than digital ones, so you will most likely find more interesting coupons to use in the printable section.
Recommended: Check Out the Best Cashback Sites
How do you get paid?
As explained above, you will earn a specific amount from the earning opportunities CouponSurfer offers. Your earnings will show up in your CouponSurfer account balance.
CouponSurfer pays on a monthly basis, but only once you hit the payout threshold of $10.
If you are able to hit this during a month, your earnings will be deposited as a statement credit to your primary linked card between the 10th-17th of the following month. CouponSurfer will process this payment on the 8th day of each month.
If you fail to reach the threshold, you'll have to wait for the next month to get your earnings (as long as you are able to hit the threshold that month).
It's a fairly straightforward payment system, but waiting for a month to receive your earnings is quite a long wait, in my opinion. Plus, the payment methods it offers are quite limited. Although you will still technically receive money, it will go straight to your credit or debit card.
If you prefer PayPal payments, I recommend you check out the top sites that pay via PayPal instead.
How much money can you make?
The amount you can earn from CouponSurfer will depend on how often you dine in any of their partner restaurants or shop from their partner stores.
As I've mentioned earlier, it's hard to depend on the paid surveys as a steady source of rewards from this site since there aren't a lot of surveys available.
So the amount you can earn will really depend on your dining and shopping habits. And the site doesn't have a lot of popular partner stores and restaurants, so you will seldom find cashback offers that are interesting.
In my opinion, the best value you can get from this site is through the coupons it offers. There are practically hundreds of coupons you can print to save money when doing your grocery shopping. But if you are mainly looking to earn through cashback rewards, then I would say this site doesn't have great earning potential.
There are better cashback sites and apps out there that have a lot of popular partner stores where you will surely find cashback offers you can avail of.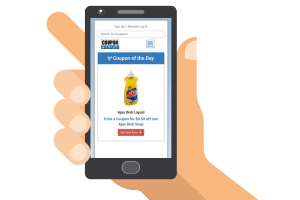 Can you use it on mobile?
CouponSurfer doesn't have a mobile app you can download, but the site is optimized for mobile use, so you can access the member dashboard conveniently using your mobile device. This can come in handy if you want to check if there are new partner restaurants or stores.
But as far as printing coupons, it would be best if you do it on your laptop or desktop. But overall, I don't really see a need to use this site on your mobile device. You can just print coupons when you are at home, and since you only need to use the credit or debit card you linked to your account, you don't really have to log in to the site frequently.
Plus, it can get quite annoying to use the site on your mobile device because it displays several ads. The ads shown aren't that spammy, but they are still ads, and if you are like me, it can be quite annoying when you need to keep closing ads that pop up.
Who can join CouponSurfer?
The site doesn't tell you exactly which countries it is available in, but from what I can tell, this site is only available for US residents. Most of the partner stores and restaurants of the site are US-based, so you can only really earn cashback rewards if you live in the US.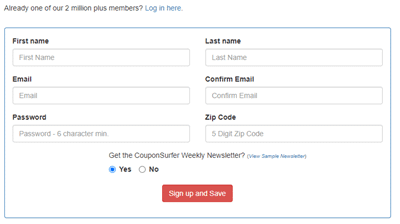 To register as a member, you just have to fill out the sign-up form. After you are done with the registration form, you can log in to the platform and use the coupons immediately. But if you are really interested in joining this site, I recommend you link your debit or credit card first. That way, you can start earning cashback rewards.
Can you get support?
If you have any questions about the site, you can check out the site's Help Center first. It discusses most of the basic topics you need to know about the site. If you can't find the answers you are looking for, you can just get in touch with their support team.
To do so, just click the "Contact Us" link at the bottom of the website and fill out the necessary fields. Overall, I would say the site does provide the minimum required support for its members, and it does have a fairly comprehensive guide to help you print out coupons if you are having trouble printing out grocery coupons.
Final Verdict
CouponSurfer is a cashback and coupon site that will allow you to earn cashback rewards as well as print out grocery coupons. It has a few decent features, but it also has certain limitations you need to consider.
Let me finish this review by summarizing its pros and cons to give you an overview of what the site has to offer. Then you can decide if you should become a member of this site or not.

Pros:
Processes payments automatically
Offers a lot of printable coupons

Cons:
Doesn't have a lot of popular partner stores and restaurants
Doesn't offer PayPal as a payment method
You have to wait one month to receive your earnings
In my opinion, CouponSurfer is not a great cashback site. The reason why I say this is that it doesn't have a lot of popular partner restaurants and stores, so it can be hard to find interesting cashback offers.
And with cashback sites, having popular partner stores is the most important thing, in my opinion, because you will then be more likely to find offers you are interested in.
The main value this site offers, in my opinion, are the printable grocery coupons you can use. If you are into that kind of thing, then this can be a decent site to join. But if you are mainly looking to earn cashback rewards, I suggest you check out the best cashback websites instead.
Now if you are looking to earn extra cash without spending a single dime, I recommend you check out the top survey and GPT sites in your country instead. The sites on this list all have good earning potential, so you will be able to earn a decent amount in no time.
Plus, you will definitely find a site you can join regardless of where you live.
If you have any comments, questions, or have any experience with CouponSurfer yourself, I would love to hear from you in a comment below.