If you love getting free stuff, there's a site called Daily Goodie Box that claims you can get free products every day. It certainly sounds too good to be true, right?
Well, I decided to put it to the test to find out if the claims really are true.
I have signed up as a member to check if this site is really legit or if it is just a scam, and in this Daily Goodie Box review, I will share my findings and what I think of this site so you will know exactly what to expect as a member.
Then, after reading this review, you can figure out if this is something you should invest your time into or not. So, let's go ahead and examine everything Daily Goodie Box has to offer, shall we?
What is Daily Goodie Box and what does it offer?
Daily Goodie Box is essentially a free product sample site where you get to receive free product samples in return for providing feedback. And yes, it is indeed a legit free product sample site since you will really receive free products.
However, it is not quite as straightforward as it seems at first. So, the question is, is it worth your time or not?
To find out, we first have to examine how you will be able to "earn" from this site. So, here's the earning opportunity Daily Goodie Box offers.
The earning opportunity – Free daily goodie box
Technically speaking, you won't earn anything from this website. Instead, you'll just have the chance of receiving free products.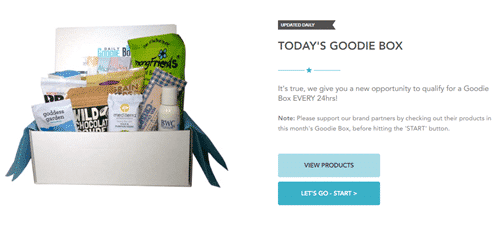 The process is really simple. Every day, you will be given one chance to claim your free goodie box. However, it doesn't really give you a guarantee that you will receive the products. You will just be given a chance to receive a goodie box.
You see, when you claim a daily goodie box, what you are really doing is essentially applying for free product samples. When you claim it, Daily Goodie Box will recognize that you have added your name to the potential recipients of the product samples they offer for the day.
Then, what will happen is, Daily Goodie Box will evaluate if you are fit to receive the products in the daily goodie box. According to them, these are the factors that come into play when they choose who will receive the products.
Have you already received a Goodie Box previously?
If you have received a Goodie Box, have you completed your product reviews?
Do your demographics match with what the brands supplying the products are looking for?
Do you show interest in this month's products by viewing them from the 'Products' page?
Do you actively engage on their social media pages?
Is your shipping information up to date?
Do you visit the Messages Area?
Do you support their brands and sponsors?
So, if you want to increase your chances of receiving free products, you might want to do most of the things listed above. I'm not saying though that by doing everything stated above, you will be guaranteed to receive a goodie box. At the end of the day, it will still be up to Daily Goodie Box who will award the free product samples.
If you get chosen, you will receive an email notifying you that you are among the recipients. There will also be additional instructions on what you need to do when you receive the products. Typically, you will be asked to review the products you received and provide feedback.
That's really all there is to this website. You just have to log in every day and claim the daily goodie box and hope you get chosen.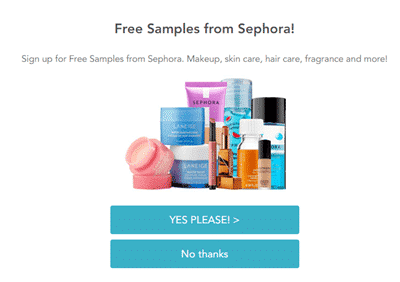 The one annoying thing I encountered when I was claiming a goodie back is really all the ads the site will show you before you get through the registration as a potential recipient.
The photo shown above is the kind of ad you will encounter. The questions you will be asked are actually just offers from other websites.
If you answer yes to their questions, a new browser window will pop up and it will take you to the site that has the offer. I found it quite a chore to get through all these ads, but this is how the site can actually afford to send free stuff. So, it's a necessary evil, so to speak.
Recommended: Check Out the Top Product Testing Sites
How to increase your chances of receiving a goodie box?
As explained above, there are a few factors affecting your chances to get a goodie box. And as I've stated, no matter what you do, there's still no guarantee you will be chosen to receive the free products.
But if you ever get lucky and get chosen to be one of the recipients, they will also ask you to provide feedback or do a review of the products you will receive. I highly recommend you follow all the instructions given to you when you get chosen.
The reason why I say this is, in my experience, websites like this really give a lot of value to people who are able to provide valuable feedback from the products they offer. So, in return for being helpful, they tend to reward you with more free products.
Again, this is not a guarantee but more of an observation. So, to answer the question above, the best thing you can do is review the products you will receive so you will have more chances of receiving free stuff in the future.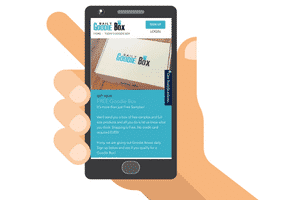 Can you use it on mobile?
Daily Goodie Box doesn't have a mobile app you can download. But, you can still access their website from a mobile device with the use of a mobile web browser. And fortunately, their site is mobile-friendly. So, you will be able to read all the content clearly without zooming in.
But as I've mentioned earlier, the site has a lot of ads. So, you'll have to keep closing the browser tabs that will pop up. This, in my opinion, is the only thing making the overall user experience the site offers into a decent one instead of a great one.
If the ads were not present or if there were only a limited number of ads shown, then the overall user experience would have been better, in my opinion. But still, I would say that it's good that their site is mobile-friendly since you really just need to log in to their site once a day to claim free products. And having the option to do that on a mobile device is a good thing, in my opinion.
Who can join Daily Goodie Box?
Daily Goodie Box is only available in the US. This isn't surprising really since the site will have to ship the products to your doorstep. And if they opened their website globally, that would be a logistical nightmare not to mention very expensive.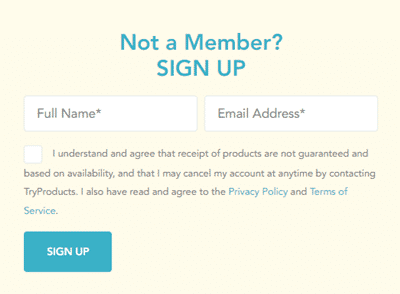 To sign up as a member, you have to be at least 18 years of age. Then, you have to fill out their registration form. Once you've submitted the form, you will receive a confirmation email with the link to complete your registration.
You might want to check your spam message because their emails tend to be labeled as spam (at least that's what happened when I registered). When you click the confirmation link, you will now become a full-fledged member of their site.
When you log in to their site though, you will have to go through another round of ads before you can actually get to the member dashboard. You just have to power through it and get used to it because that's really how their website works.
Can you get support?
If you have any questions about the site, you can check out their Q&A page by logging in to their member dashboard. It discusses some of the basic topics you need to know about the site, however, it's not as comprehensive as you might hope. It actually borders on being useless, in my opinion.
So, you will most likely have to send in your inquiry. Fortunately, you can do that easily. Just click the "Contact US" link at the bottom of their website to and fill out the necessary information and submit your inquiry.
Overall, I would say they have a decent support system in place for their members since they offer a convenient way for you to get in touch with their support team. But I would wish their FAQ section would be a bit more useful instead of just containing the bare necessities, so to speak.
Final Verdict
Daily Goodie Box is a free product samples sites that will give you a chance at receiving free products. It doesn't have a lot of advantages and it has a few limitations you need to consider.
Let me end this review with a summary of its pros and cons to give you an overview of what the site has to offer so you can decide if you should go for it or not.

Pros:
very simple way to get free products
Their site is mobile-friendly

Cons:
Doesn't offer any earning opportunities
Has a lot of ads
Their FAQ page lacks useful information
In my opinion, if you don't mind spending a few minutes every day to claim your free goodie box, then I would suggest you join this site. Just remember that there's no guarantee you will receive free products. So, if you go in with the right kind of expectation, then you won't really get disappointed with this site.
But if you are looking for sites to earn from, I suggest you look somewhere else. In fact, I would suggest you check out the top survey and GPT sites in your country instead. The sites on this list all have good earning potential and they offer guaranteed earning opportunities as well.
Plus, you will definitely find a site you can join regardless of where you live.
If you have any comments, questions, or have any experiences with Daily Goodie Box yourself, I would love to hear from you in a comment below.