If you are looking to lose weight, there's a site called DietBet that you might find interesting. It claims it will help motivate you to lose weight and have a chance at earning money at the same time.
So, if you want to start your weight-loss journey, you might be interested in using this site. But before you hit the sign-up button, I would recommend you read this DietBet review because it will verify if the site is really legit or if it is just another scam.
This review will also show you everything the site has to offer so you'll know exactly what to expect before you even become a member. That way, you can properly decide if it is really worth it or not.
What is DietBet and what does it offer?
DietBet is a weight-loss platform that will motivate you to reach your weight-loss goals through the games they offer.
It is made by the same company that made StepBet. As mentioned, you can earn money while losing weight and I will discuss how you can do it in this section.
And yes, it is indeed a legit site since it does what it claims. You can really earn money while you are on your weight-loss journey.
To fully understand how you can do that, let's examine the earning opportunities it offers. So, here's how to earn from DietBet.
Option 1 – Weight-loss games
Technically speaking, this isn't an earning opportunity because there's no guarantee you will earn from it.
As the name of the site suggests, to participate in their games, you will have to place a bet. You will only earn if you win the game.

There are two types of weight-loss games you can join on DietBet – KickStarter and Transformer.
A KickStarter game is designed for minimal weight-loss goals in a shorter time period, while a Transformer game is designed as a method to lose a significant amount of weight in a gradual, healthy, and supportive way. This kind of game typically lasts 6 months while KickStarter games only last for a month.
So, depending on your weight-loss goals, you have to be careful when choosing the game you want to play since there will be money involved.
(Pic of how games work)
In the photo above, you can see what you need to do to join a Transformer game. It's pretty much the same with KickStarter games. The only difference is in step 2. For KickStarter games, the weight-loss goal will only be 4% of your body weight and the length will only be 1 month.
Everything else will be pretty much the same. When you join a game, you will have to pay a certain amount monthly. You can use your credit card or your DietBet balance (if you've won other games before) to pay.

Once the game starts, you will have to submit a weigh-in photo so the site can take note of your starting weight. When taking the photo, you will be given a weigh-in word (refer to photo above) as a way to ensure that the photo was really taken on the day.
Then, when the game ends, you will have to submit another weigh-in photo. As for the prize, if you are the sole winner of the game, you will receive all of the pot money. But most of the time, you will share the winnings with other members. If all the participants were able to hit the weight-loss goal, you will more or less just get your money back.
But the good thing is, you still lost some weight, which is what is really important, in my opinion. That's what's good about their games. As long as hit your weight-loss goal, you will never lose money.
And sometimes, DietBet will add a bonus to the pot money. So, even if all the participants hit the goal, you will all end up earning a bit of money too.
Another unique thing you can do with their weight-loss games is, you can create your own. Plus, you can set it so you can only compete with your friends. So, you actually have plenty of options to play their weight-loss games.
Option 2 – Referral program
The referral program of DietBet isn't as profitable as you might hope. Normally, on other online rewards sites, when you invite a person to join the site and they accept your invite, you will earn a certain reward.
But with DietBet, the only benefit you will get for inviting other people to join the site is if they join the same weight-loss game you joined. Then, if the game has a prize for the MVP (the term they use for the person who invited the most friends), you will receive that prize.
Not all games offer a prize for the MVP. That's why their referral program isn't really that profitable. However, as explained above, you can host a game with your friends. That's a great way to help your friends lose weight too, in my opinion.
Recommended: Check Out the Top GPT Sites
How do you get paid?
As explained earlier, if you win a game, you will receive the pot money. If you are the sole winner, you will earn a significant amount. If there are multiple winners, the earnings will be less but you still get the money.
Now, you have the choice to keep your earnings on the site or withdraw it. If you decide to keep your earnings, you can use them to pay for the games you will join in the future.
If you decide to withdraw your earnings, you can do so via PayPal. You don't need to reach a threshold to withdraw your earnings like you usually would on most other online rewards sites.
You can also choose to get paid via check. However, DietBet will charge $5 to cover the fee for mailing your check. So, in my opinion, this isn't the best way to withdraw your earnings. Plus, this option is only available in the US. Getting paid via PayPal is still the most convenient option, in my opinion.
If you are looking for more sites that offer a convenient payment system, I would recommend you check out the top sites that pay via PayPal.
How much money can you make?
With a betting site like DietBet, the most important thing you need to ensure is you always hit your weight-loss goal. That's because as explained earlier, as long as you hit your weight-loss goal, you will never lose any bet.
But, in my opinion, if you are looking for maximum profit, always go for the Transformer games because these games always have larger pot money and the chances of having multiple winners will be lower since the weight-loss goal will be harder to reach.
However, I would warn you that you should only join this kind of game if you are confident that you will be able to hit the goal. Otherwise, you stand to lose a significant amount if you fail to reach your goal.
DietBet also offers a premium membership but it really doesn't offer a lot of pros, in my opinion. Sure, you gain access to a few features like bonus challenges, effective progress tracking tools, and more. But in the end, it doesn't really help you earn more. But if those things interest you, then I would say go for it.
Overall, I would say the earning potential of DietBet isn't that great. But the value it offers isn't really the money you can earn but the weight you can lose. After all, if there's money involved, it will incentivize you more to work harder to lose weight. That's really the best value this site can offer, in my opinion.
Can you use it on mobile?
DietBet has a mobile app you can download so you can just join games and submit your weigh-in photos conveniently using your mobile device.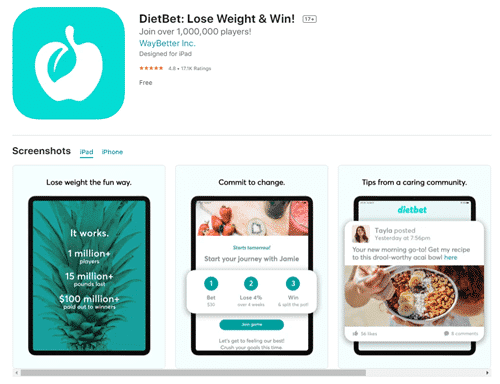 Their app can be downloaded on the Android or Apple app store. So, you won't encounter any compatibility issues. Everything you can do on their website can also be done with their mobile app. So, you don't actually need a computer to use DietBet. You can just do it all on your mobile device.
Plus, their app is also very user-friendly. You won't have a hard time getting used to how it works.
Who can join DietBet?
DietBet is available more or less worldwide. So, you can register as a member regardless of where you live. You just have to be at least 18 years of age to join.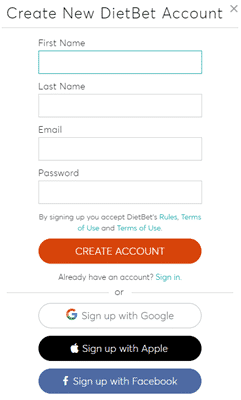 To sign up as a member, you can use your Google, Apple, or Facebook account. You can also just provide your own login details. Once you've completed the registration form, you can start joining their games immediately. That's how easy it is to join their platform.
Can you get support?
If you have any questions about the site, you can check out their FAQ page first. It discusses most of the basic topics you need to know about the site. Their FAQ page is also accessible on their mobile app.
Now, if you can't find the answers you are looking for, you can click the Help button found on the lower left-hand corner of their website. Then, you have to fill out the necessary information and submit your inquiry to their support team.
Overall, I would say they have a decent support system in place for their members since they do a good job of explaining all its features and they provide a convenient way for you to get in touch with their support team.
Final Verdict
DietBet is a legit weight-loss platform that will allow you to win cash prizes when you participate in their weight-loss games. It has a couple of good features but it also has some limitations you want to consider.
Let me end this review with a summary of its pros and cons to give you an overview of what it has to offer. Then, you can decide if you should join DietBet or not.

Pros:
Their app is user-friendly
Offers payment via PayPal
No payout threshold

Cons:
Limited earning opportunities offered
Doesn't offer guaranteed earnings
In my opinion, if you join DietBet for the sole purpose of earning extra cash, then it's not a good option. But if your goal is to lose weight, it can really help you do that since it will make you work harder to reach your weight-loss goals because of the monetary aspect of it.
You will really be motivated to work hard because if you fail to reach your goal, you will lose money and you don't want that to happen. And if you happen to earn a bit of cash when doing that, then just consider it as a bonus. That's how I would look at this platform.
Now, if you are just looking to earn extra cash, I would recommend you check out the top survey and GPT sites in your country instead. The sites on this list all have good earning potential and you can do it without breaking a sweat.
If you have any comments, questions, or have any experiences with DietBet yourself, I would love to hear from you in a comment below.