If you are looking for something that will help you stay motivated to exercise, there's an app called StepBet that claims you can earn money and reach your fitness goals at the same time. It sounds like a pretty good deal, right?
But is StepBet even legit and really a way to earn or a scam to stay away from?
This is a very important piece of information you need to know before you download any app that claims you will be able to earn money.
So, let me address this concern right away. Yes, StepBet is indeed a legit fitness app that will pay you for achieving your fitness goals. But is it worth using though? Well, that's a whole another story and to answer that question, we have to consider a few factors.
This StepBet app review will show you all the details and explain some important details you NEED to know about the app so you can decide if you should use this app or not. So, let's go ahead and get this review rolling, shall we?
What is StepBet and what does it offer?
StepBet is a fitness app that will allow you to earn by betting on yourself. Yes, you read that right. You will have to bet money when you use this app.
The reason for this is, StepBet's whole goal is to keep you motivated to exercise so you can achieve your fitness goals.
And the best thing to do that is to involve money, in their opinion. They believe this is one of the biggest motivators to achieving your fitness goals. If there is money involved, there's a higher chance people will do everything they can to earn that. I happen to agree with their vision to a certain extent.
Now, in order to fully understand how the app works, we have to examine the earning opportunity it offers. This will also give you an idea of how well you can earn from the app.
I have, therefore, made a video that gives you an inside look and shows exactly how you can earn from Stepbet. You can also read all the details below the video.
The earning opportunity – Fitness games
There's only one way to earn from this app and that is by joining their fitness games. These fitness games will usually last 6 weeks and there are two types of games you can join – members only and free-to-join games.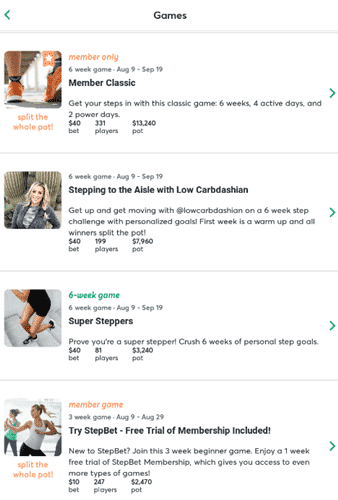 To view the games available, you just have to log in to the app. You will then see something similar to the photo above. As you can probably tell, the members-only games will be for premium members of the app (I will explain later how you can become a premium member).
So, if you haven't upgraded your membership level yet, then the only games you can join are the free-to-join games.
To join a game, just press the game you want to join, and it will show you the full details of the game including the bet you have to place, the total number of players, and the pot money.
Once you've clicked the "Join Game" button, you have to indicate how you will track your steps (refer to photo below).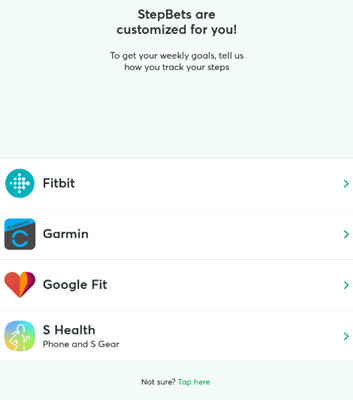 As of the writing of this review, StepBet only supports Fitbit, Garmin, Google Fit, and S Health fitness trackers. So, you will need to have any of the four in order to join.
If you don't have one, I would recommend you use Google Fit because you won't need a fitness device (like Fitbit) to use that. You just need an Android mobile device that has an internet connection to track your steps.
Once you've selected a fitness tracker, the app will then calculate your weekly goal. This weekly goal will be based on the previous data collected by your fitness tracker. If this is your first time using your fitness tracker, the app won't be able to calculate your weekly goal, so you won't be able to join the game.
When that happens, I suggest you use the app for a week or so before you try and join a game. But if you've been using the fitness tracker for a while, then the app will be able to set your weekly goal. The idea is, you have to meet the weekly goal, otherwise, you will be eliminated from the game and you will lose the money you placed as a bet.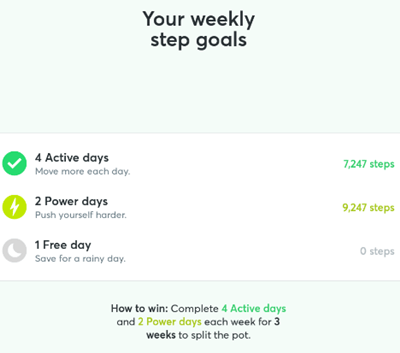 Usually, the weekly goal will involve walking a certain number of steps or running a certain distance. So, achieving it won't be that complicated. You just really need to be dedicated.
The first weekly goal is typically a warm-up goal, so expect it to be relatively easy. The weekly goals will get harder as each week passes until it reaches the final week. If you were able to complete all the weekly goals, then you have won the game and you will receive the reward (I will explain later how this works).
So, as you can see, the real goal of these fitness games is to keep you physically active by meeting all the weekly goals. This is how they help you achieve your goal of becoming physically fit.
As for the amount you need to bet, it will usually be $40 and it can be paid via PayPal, credit card, or previous winnings. The process is the same for members-only games. The only difference is, members-only games will have a higher pot money, so you can win more.
Recommended: Check Out the Top Survey Apps
How do you get paid?
For every fitness game you win, you will receive a certain number of points. Now, it's up to you how you want to use these points. As mentioned above, you can use it to place a bet for the next fitness game you join, or you can cash out.
If you choose to cash out, you can do so via PayPal. You will have to exchange your points to cash and then withdraw it to PayPal. The conversion rate is 1 point = $1. And, you don't have to reach a payout threshold to withdraw your earnings. You can withdraw anytime you want.
Now, let me explain to you how their reward system works. As you already know, every game has a pot of money. For every game, there are usually multiple winners. What happens is, StepBet will take a 15% cut off the pot money and the remaining amount will be distributed to all the winners.
This means the amount you bet will be returned and you will receive an additional amount depending on the number of winners. In the event that there are a lot of winners which will result in every winner taking in less money than they bet, StepBet will waive the 15% cut so that they can return your bet and you won't lose any money.
I like this stipulation because you are guaranteed not to lose any money. Of course, you have to make sure you are among the winners.
Overall, their payment system is relatively straightforward and I like the fact that they offer payment via PayPal since it is one of the most convenient payment methods around. If you are interested in more sites that offer convenient payment methods, I recommend you also check out the top sites that pay via PayPal.
How much money can you make?
The way their reward system is designed is a bit unique. And as you can probably tell, you will only be able to earn a significant amount if there are only a few winners in the game you joined. But that would also mean the weekly goals will be more challenging because not a lot of members were able to meet them.
In terms of the time-to-money ratio, I would say it isn't that good considering it usually takes around 6 weeks to complete a fitness game (the fastest game I found was 3 weeks long). So, if you are not prepared to invest a lot of time, then this app is not for you.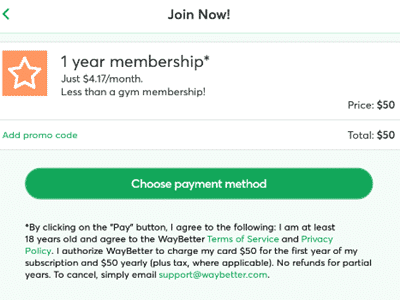 But you can improve your earnings by becoming a premium member of StepBet. It only costs $50 for a 1-year membership. So, it's not that expensive, in my opinion. And as I've mentioned earlier, the members-only games have a significantly larger pot of money, so you get to win more. That's the biggest advantage of becoming a premium member.
When you become a premium member, the time-to-money ratio will be a bit better. But the competition will also be a lot stiffer because premium members are really taking the games seriously. So, you also have to have a competitive mindset if you want to survive in this group, so to speak.
Overall, I would say the earning potential of StepBet isn't that great. But that isn't really the real value this app offers. In my opinion, the best thing that StepBet brings to the table is it will really help you stay motivated to keep exercising because there is money involved.
Can you use it on a desktop?
It goes without saying that you will really need to use a mobile device in order to earn from StepBet since its whole goal is to help you stay physically active. So, you don't really need to use it on a desktop.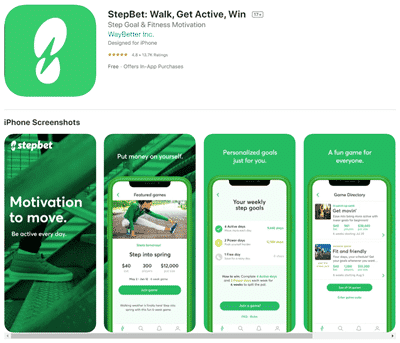 As for their app, it is compatible with both Android and iOS devices. The app is very user-friendly. You will easily get used to how to use it. But as explained earlier, you have to use this app in conjunction with another fitness tracker. So, you will have to familiarize yourself with the fitness tracker you plan to use.
Who can join StepBet?
StepBet is available globally. So, you'll be able to register as a member regardless of where you live. But you have to be at least 18 years of age to join.
To become a member, you have to first install the app on your mobile device. Then, you can sign up using your Google, Apple, or Facebook account. Or you can also provide your own email address and password.
Once you've done that, you can now log in to the app. But as I've explained earlier, you have to connect a supported fitness tracker to your account so that StepBet can monitor your progress. So, once you become a member, I recommend you link your Fitness tracker app to StepBet right away so you can start joining games.
Can you get support?
If you have any questions about your account or the app in general, you can first check out their FAQ page, as well as their Rules page inside the app. These pages do a good job of explaining what you need to do to earn.
But if you can't find the answers you are looking for, you can get in touch with their support team through the contact form provided inside the app. Overall, I would say they have a good support system in place for their members since they offer a convenient way for you to communicate with their support team.
Plus, their FAQ and Rules pages are actually quite helpful, in my opinion.
Final Verdict
StepBet is a legit fitness app that will reward you for meeting your fitness goals. It is an interesting app with a couple of good features but it also has some limitations you need to consider.
Let me wrap up this review by summarizing its pros and cons so you can get an overview of what the app has to offer. Then you can decide if this is an app really worth using or not.

Pros:
Offers an interesting way to earn
Offers payment via PayPal
No payout threshold

Cons:
Limited earning opportunities offered
Their earning opportunity takes a long time to complete
If your goal is to find a good app to earn extra cash from, then StepBet isn't really a great option. Their earning opportunity usually takes more than a month to complete and if you do complete it, there's no guarantee you will earn a lot.
But if your goal is to find an app that will help you achieve your fitness goals, then this can be a great app to use. It will certainly help you stay motivated to keep physically active because if you don't, you will end up losing money. If that's not a good form of motivation, then I don't know what is.
Now, if you are just looking to earn extra cash online, I would instead recommend you check out the top survey and GPT sites in your country. The sites and apps on this list all have good earning potential and you won't have to wait that long to earn a decent amount.
If you have any comments, questions, or have any experiences with StepBet yourself, I would love to hear from you in a comment below.