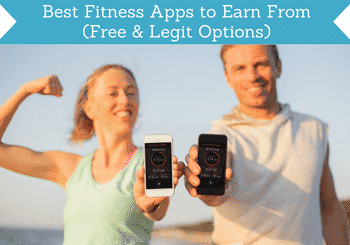 Exercising is one of the simplest things a person can do to live a longer and hence, a happier life. The problem is, how to stay motivated to keep exercising. Here's where fitness apps come in handy.
Originally, fitness apps were designed just to track the progress of your workout. But, app developers have become very creative ways to help people stay motivated to exercise by introducing rewards for exercising.
The fact that you can earn something simply by using an app like you normally would when working out can actually go a long way in helping to motivate a person. After all, money can be a good motivator.
But, as with everything, not all fitness apps that offer rewards are created equal. There will definitely be apps that are better than others. The question is, which ones are worth using?
This guide will show you the best fitness apps to earn from. I will list down legit and free apps you can try out that are truly worth it. I'll include a brief summary of each app so you can easily determine which app to use.
Disclosure: Some articles on this website contain affiliate/sponsored links. Click for more info.
What can you earn from these apps?
Before we talk about the actual apps you can choose from, let's discuss first what to expect from these apps in terms of earning potential. Can you really earn a good amount from them?
Well, I will say it right now, don't expect to get rich from using these apps. The amount you can earn from them will not compare to what you can earn from a full-time job or even other online rewards sites/apps.
In fact, I would urge you to just think of the rewards/earnings you will receive from this as a bonus rather than making it the primary reason to use the app. That way, you won't get disappointed.
After all, it's just a tool to help you reach your fitness goals, which is really your primary goal. If you are just in it to earn, there are plenty of other ways to do that. I would instead suggest you check out the top survey and GPT sites in your country. Then you don't have to drop a sweat in order to earn a decent amount.
5 best fitness apps to earn from
Now that you know what to expect from these fitness apps, it's time we talk about the actual apps you can choose from. I have personally tested the apps on this list, so I can say without a doubt that they are legit and worth it.
Just keep in mind that this list is not prioritized according to which one is better. It will still all depend on your preferences when you pick an app to use.
I will keep updating this list if I find new apps that are really worth it, so make sure to bookmark this page and check on it from time to time for new options.