Are you into health and fitness? And are you looking for ways to earn rewards while staying fit and healthy?
Then there's an app called Achievement that promises to reward you for doing healthy activities. Sounds like a good deal, right?
But is Achievement app legit or a scam to stay away from? Let me answer this right away. Yes, it is a legit app that will reward you for doing healthy activities.
But is it worth using? To answer this, there are a few things we must consider. This Achievement app review will give you on an inside look and show what the platform is all about and what it can offer you so you can decide if you should use it or not.
What is Achievement and what does it offer?
At its core, Achievement is a Get-Paid-To (GPT) app that will reward you for staying fit and healthy. You will essentially get paid to do activities such as walking, meditating, logging meals, and answering questions about yourself.
But how well can you earn from this platform? To get a clear picture of its earning potential, we have to take a closer look at the earning opportunities offered by this app.
So, here's how you can earn from Achievement.
Option 1 – Activities
One way you can earn rewards from Achievement is by participating in the activities they offer. These activities are like micro-tasks you can do to earn rewards.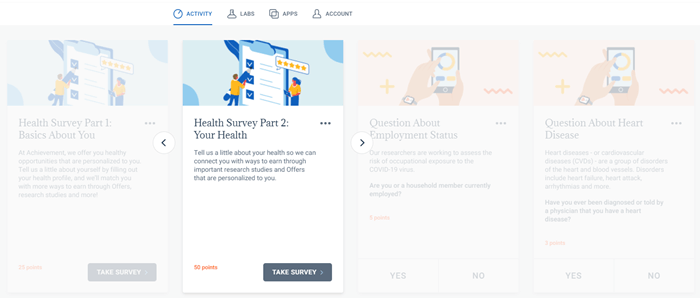 The activities available are mostly geared towards answering questions. For example, in the photo above, you will be asked to answer a survey about your health. All you have to do is finish the survey and you will earn the reward.
The good thing about their surveys is, you won't have to go through a screening process just like you normally would with other survey sites. When you get invited to answer surveys on Achievement, you automatically qualify. So, all that's left for you to do is answer the survey. And once you do, you will earn the reward for the activity.
There are also other activities you can do like reading articles and sharing your experiences. Some of the activities have an expiration date though. So, the best strategy is to complete the activities that will be expiring soon first.
Option 2 – Fitness activities
As mentioned earlier, you can also earn by performing physical activities like walking, meditating, logging meals, and a lot more. This is the health part of the platform.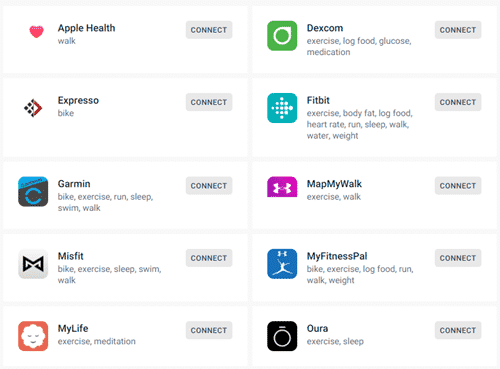 The way this opportunity works is, you first have to connect fitness tracking apps like Fitbit or Apple Health to your Achievement account. Once you've done that, then just go about using the apps to earn points.
You can earn up to 80 points per day for each type of tracked activity.
You can also earn up to 6 points per day for daily activities like logging food, sleep tracking, weighing yourself, meditating, or sharing your health journey on social media pages like Twitter.
Later we will go into exactly what these points are worth.
Option 3 – Referral program
Just like most other GPT apps/sites, you can also earn rewards by inviting other people to join the app. This is called a referral program.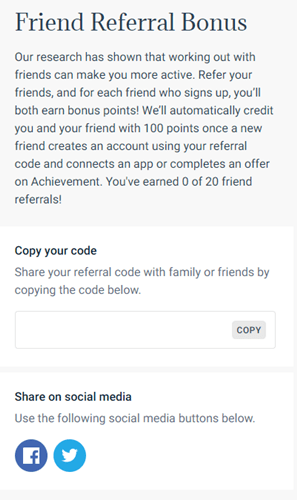 All you have to do is share your invite link with the people you want to invite. You can also share it through Facebook or Twitter. Once they register to the site using your link, they will become your referral.
You and your referral will both earn 100 points. However, the bonus will only be credited to both your accounts once your referral connects an app or completes an activity.
Plus, you can only have a maximum of 20 referrals. You won't earn any points beyond your 20th referral. So the earning potential of this is very limited
How do you get paid?
Everything you do on Achievement will earn you a number of points. This is the currency the platform is using.
Achievement will pay you $10 for every 10,000 points you earn. Once you've reached the threshold, the Redeem button will be available so you can claim your earnings.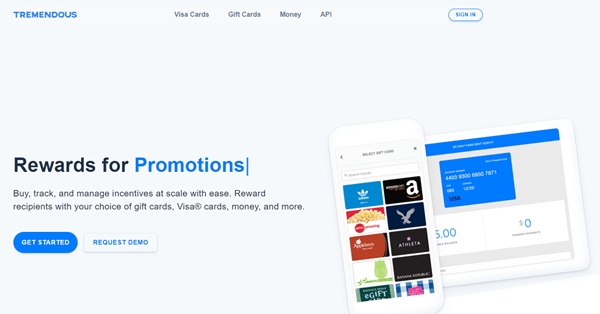 You can get paid via PayPal or Tremendous.
If you are not familiar with Tremendous, it is a rewards platform where you can redeem gift cards, prepaid Visa cards and cash.
If you have a Tremendous account, this can be the better choice because apart from the additional rewards options (prepaid Visa cards and gift cards) you can still earn cash since you can also do PayPal transfers.
If you are interested in more sites that pay via PayPal, I recommend you also check out the top sites that pay via PayPal.
How much money can you make?
I will say right away, for the time you will spend earning points from this platform, you won't earn a lot.
As explained in the earlier section, the maximum number of points you can earn from doing fitness activities is 80 points per type of activity.
So, if you are only going to rely on that to earn points, it will take you around 4 months to reach the threshold if you max out your points from fitness activities every day. You can shave off a few days by doing the other activities.
But overall, it's really not an efficient way to earn, in my opinion.
That being said, what I think the real value this platform provides is, you get rewarded for doing something you are already doing.
Plus, it can serve as extra motivation to work out, which will, in turn, lead to a healthier and more fit you. In that sense, it is a lot like Sweatcoin even though I would personally prefer using Sweatcoin (which I am every day).
Can you use it on a desktop?
A good thing about Achievement is that it is available on both desktop and mobile platforms. So, it's not a mobile-only platform.
You can complete the activities on your desktop and then use their app to track what you've earned for the day if you are out running or jogging.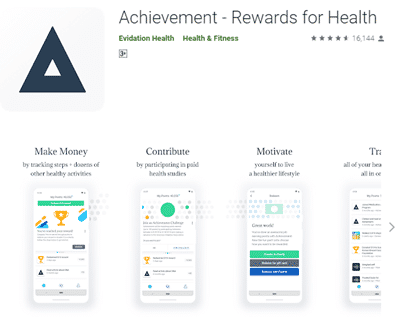 Speaking of their app, it is available for download on both Android and iOS devices. So, compatibility won't be an issue. Their app is also very user-friendly, so you won't have a hard time using it.
Who can join Achievement?
Currently, Achievement is for U.S. residents only. So, if you live outside the U.S., then this platform is not for you. If you do live in the U.S., you also have to be at least 18 years of age to join.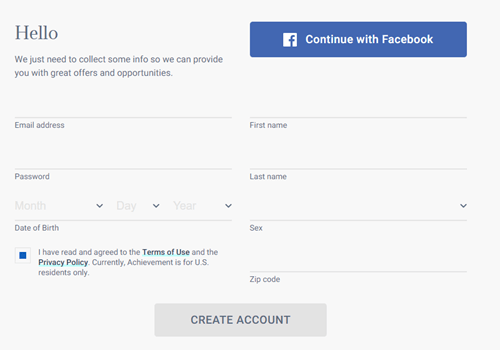 To become a member of Achievement, you have to fill out their sign-up form. Then, it will send you a confirmation link via email.
All you have to do is click the confirm button to complete the registration process. Once you are registered, you will receive a 50 point bonus. It's not much but at least you get something to get you started.
Can you get support?
If you have any questions about the site, you can check their Support page for answers. They have a pretty comprehensive FAQ section that should answer most of the basic questions you have.
If you can't find the answers you are looking for, you can always sign-in to their Zendesk support portal and submit a support ticket. Personally, I prefer this kind of contact point than your regular contact form because you will be able to easily track down your inquiries.
Plus, if you encounter the same problem and forgot how to resolve it, you can always just sign back in and check your tickets. So, I would say, they do provide good support for their members.
Final Verdict
Achievement is a legit GPT app that will reward you for basically staying fit and healthy. It offers a couple of good benefits but it also has certain drawbacks you need to consider.
Let me finish this review with a summary of its pros and cons to give you a better overview of what the site has to offer so you can decide if this app is worth using for you or not.

Pros:
Offers payment via PayPal
Relatively low payout threshold
Their app is user-friendly

Cons:
Low rewards
Limited earning opportunities offered
Only available in the US
If you are purely looking for a site/app you can earn extra cash from, then this is not for you. The time it will take to reach their payout threshold even though it is relatively low will be quite long. There are simply way better options if we only consider the earning potential.
However, Achievement can be a great tool to help you get motivated to become healthier and physically fit. This is the true value this platform offers, in my opinion. So, if you regularly use health and fitness apps, this app can give you added benefits, provided of course, you live in the US.
But if you are just looking for ways to earn extra cash, I would instead suggest you check out the top survey and GPT sites in your country. The sites on this list all have good earning potential and you won't have to wait a long time to redeem rewards.
Plus, you will definitely find a site you can join regardless of where you live.
If you have any comments, questions, or have any experiences with the Achievement app yourself, I would love to hear from you in a comment below.