Are you looking for an app you can use while exercising and earning at the same time?
If so, there's a platform called Evidation that claims you will get paid for exercising. It sounds like a pretty sweet deal since you can earn while keeping healthy.
But is Evidation legit though, or just another scam?
Well, if you continue reading this Evidation review, you'll find the answer to that question and more. In this review, I will explain all the details of what this platform has to offer so you will know exactly what to expect from it before you even join.
That way, you can determine whether it is worth it or not. So let's go ahead and take a closer look at Evidation, shall we?
What is Evidation, and what does it offer?
Evidation is a fitness platform that will reward you for doing health activities. It is indeed a legit platform since you will really earn rewards for completing the said activities.
But this doesn't necessarily mean the platform is truly worth your time.
To figure out if Evidation is worth it, you must first understand how it works. And the best way to do that is to examine the earning opportunities it offers so you will have a clear idea of how much time and effort is required to earn from Evidation.
So here's how to earn from this platform.
Option 1 – Activities
One way to earn from Evidation is to complete health activities. You will immediately see all the activities available. Just choose which one you want to work on.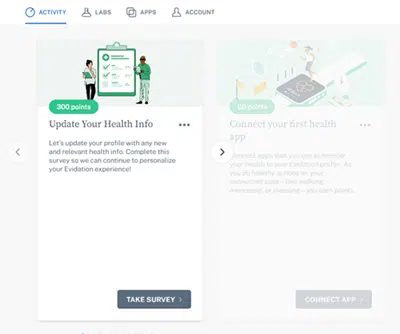 Most of the time, these activities will be in the form of a survey or poll. All you have to do is answer the surveys/polls as honestly as you can. Then once you've finished the surveys, you'll receive the reward promised which will be indicated in the activity. The reward will be in the form of points.
While technically speaking, you aren't really doing any physical activities, the topics of the surveys and polls have something to do with health and wellness, which is probably why Evidation calls it "health activities".
Later, I will discuss what you can do with the points you've earned. There are some activities that will require doing some other things like connecting fitness devices to the platform. Just keep in mind that some activities will have an expiration date, so make sure to prioritize the activities that are about to expire to maximize your earnings.
Option 2 – Exercising
Another way to earn from Evidation is by exercising. However, to earn from exercising, you'll have to use 3rd party fitness apps/devices since Evidation doesn't really have its own tracker for workouts.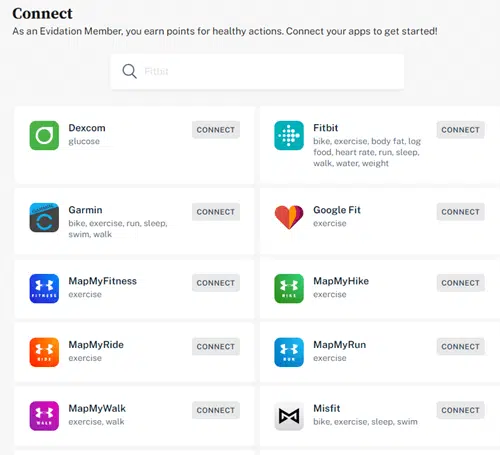 So what you have to do is connect a fitness app or device to your Evidation account. Evidation supports several fitness apps and devices. You just have to take a look at the list (refer to the photo above). If you see the app/device you are using, just click the "Connect" button to connect it to your Evidation account.
Simply follow the instructions and once it is connected, you can just go about your workout like you normally would. Just make sure you are using the app when working out. You'll earn points for doing exercises like biking, walking, running, swimming, and other forms of exercise.
Unfortunately, though, you can only earn a maximum of 80 points for these activities daily. But if exercising is already included in your routine, then you can just think of these points as a bonus.
Option 3 – Using Twitter
You can also earn more points by using Twitter. What you have to do is connect your Evidation account to your Twitter account first. Then, you can tweet about health or fitness while tagging @evidation. You have to include certain keywords in your tweet to earn.
You can check out this link for the list of keywords you can include earning from your tweet. Once Evidation approves your tweet, you'll receive six points and which will be credited to your Evidation account balance. Just keep in mind that you can only earn from one tweet per day.
Option 4 – Referral Program
Lastly, you can also earn points from Evidation's referral program. All you have to do is invite people to join the platform.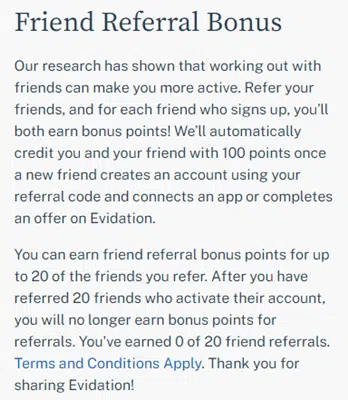 Simply share your referral code with the person you want to invite. Then, make sure to remind them to input your code during registration. Once they've done that, they'll become your referral.
But for you to earn rewards from your referral, they must first complete one activity or connect an app to their Evidation account. As soon as they've done that, you'll receive 100 points as a reward.
Unfortunately, you can only earn from the first 20 referrals you get. Any referral beyond that will not count, which is the major downside of this earning opportunity, in my opinion.
I seldom encounter referral programs that have a limit to the number of referrals you can earn from. Most of the time, you'll be able to earn from an unlimited number of referrals. So there's really no point inviting other people to join the platform once you've earned your 20th referral, in my opinion.
Recommended: Check Out the Best Walk and Earn Apps
How do you get paid?
As explained above, all the earning opportunities Evidation offers will allow you to earn points. Now the question is, what can you do with the points that you've earned?
Well, you can use them to redeem various rewards like gift cards or cash via PayPal.
You will need to earn at least 10,000 points (which will be worth $10) before you can redeem any reward. The reward will be sent to your email (if you choose to redeem gift cards), and it will be sent by Tremendous.
Evidation says it can take up to five business days for the reward to show up in your inbox or PayPal account, so don't expect to receive the rewards immediately.
Overall, I would say the payment system of Evidation is relatively straightforward. I like the fact that it offers payment via PayPal since it is a very convenient payment method, in my opinion. If you are interested in more sites that offer a convenient payment method, I recommend you also check out the top sites that pay via PayPal.
How much money can you make?
The amount you can earn from Evidation will depend on how active you are on the platform.
If you exercise on a regular basis and you use the apps connected to your device, then you will eventually hit the threshold to redeem rewards.
Now, as for how well Evidation pays, apart from the first couple of surveys you can answer, most of the activities don't really pay that well. You can only earn around 5 to 50 points from those activities. And since you can only earn a maximum of 80 points per day from your workouts and 6 points for tweeting per day, then there's really a finite number of points you can earn per day.
This, in my opinion, significantly affects how much you can earn from the platform. That's why I would say the earning potential of Evidation is not that good. However, in my opinion, the main purpose of this platform is to help you stay motivated to keep exercising since you will literally get paid to do it.
If that's not motivation enough, I don't know what else will motivate you to exercise. So I would say even though you won't earn a lot from this platform, it still has its merits.
Can you use it on mobile?
While you can access Evidation's member dashboard from your computer, it does provide a convenient way for you to use it on your mobile device because it has a mobile app you can download.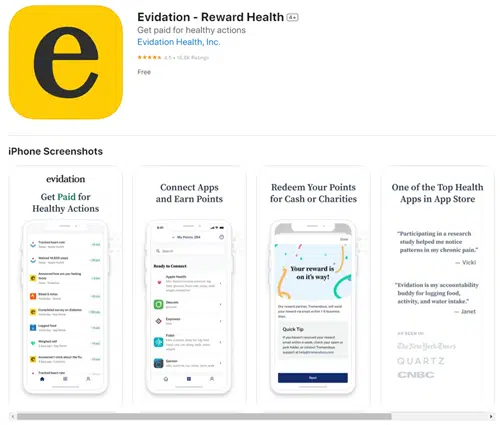 The app is available for download on both Android and iOS app stores. It is also very user-friendly, so you won't have a hard time getting used to how it works. The user experience the app offers is relatively pleasant, which is all you can really ask for from a mobile app.
Who can join Evidation?
The site doesn't tell you exactly which countries it is available in, but from what I can tell, Evidation is available for residents in the US and Canada.
So if you are a Canadian or US resident, and you are 18 years of age or older, you are eligible to sign up as a member.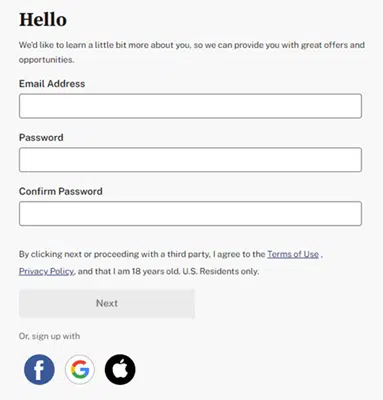 To join, you can fill out the sign-up form, or you can use your Google, Facebook, or Apple account. After you are done with the registration process, you can now log in to the dashboard and start earning. That's how easy it is to register as a member of Evidation.
Can you get support?
If you have any questions about the site or your account, you can check out the FAQ page first. It discusses most of the important topics you need to know about Evidation.
But if you can't find the answers you are looking for, you have the option to get in touch with their support team. To do so, just click the "Contact Us" link at the bottom of the website. Then, fill out all the necessary fields of the contact form and hit "Submit".
Overall, I would say Evidation provides decent support for its members since it offers a convenient way for you to ask for help.
Final Verdict
Evidation is a legit fitness platform that will reward you for completing activities and exercising. It has a couple of decent features, but it also has some limitations you need to be aware of.
Let me end this review with a summary of its pros and cons so you can get an overview of what the site has to offer. Then you can decide if this platform is a good fit for you or not.

Pros:
Offers payment via PayPal
The app is user-friendly
Will help motivate you to exercise or be physically active

Cons:
Limited earning opportunities offered
Some earning opportunities have a cap on how much you can earn
Low rewards
If your goal is to earn extra cash, I would say Evidation is not the right fit for you. But if you are just looking for a platform that will help facilitate your fitness goals or something that can help motivate you to exercise, then Evidation is a decent option.
The money you can earn from this platform won't be a lot since it doesn't pay that well. But, in my opinion, the value that this platform offers is really in helping you achieve your fitness goals.
So if that is not what you are looking for, then this is not for you. If you are just looking to earn cash, I suggest you check out the top survey and GPT sites in your country instead. The sites on this list all have good earning potential, so you will be able to earn a decent amount in no time.
Plus, you will definitely find a site you can join regardless of where you live. And if you are looking for apps that are similar to Evidation, I would also recommend you check out the best walk and earn apps.
If you have any comments, questions, or have any experience with Evidation yourself, I would love to hear from you in a comment below.