Are you looking for a fitness app where you can earn rewards by exercising? If so, there's an app called RunTopia that claims you can earn from your daily steps as well as earn in other ways.
Now, the question is, is this app legit or is it a scam? It is very important that we find out the legitimacy of the app right away, so let me address this concern right now. Yes, RunTopia is indeed a legit fitness app that will reward you for your daily steps.
But is it worth your time or not? Well, to answer that question, we have to consider a few things and this RunTopia app review will give you an inside look so you'll know exactly what to expect before you even install the app. That way, you can decide if you should use it or not.
What is RunTopia and what does it offer?
As explained above, RunTopia is a fitness app that will reward you for every step you take. It's pretty similar to SweatCoin. Here's a short video explaining what this app does.
Now, to fully understand how this app works, we have to take a closer look at the earning opportunities it offers. This will also give you an idea of the earning potential of the app. So, here's how to earn from RunTopia.
Option 1 – Daily steps
The main way to earn from RunTopia is to track the daily steps you take. All you have to do is to set up the app to track your steps.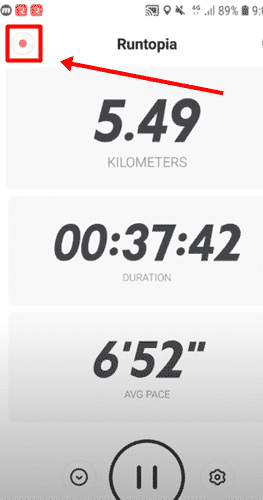 To do this, the first thing you need to make sure of is to disable the battery saving feature of your device. This is very important because if it is enabled, the GPS won't be able to properly track your steps. Once you've done that, you can just press the start button and start walking.
The good thing about the app is that it can even track your steps even if you walk in one spot. Yes, it also works when you are on a treadmill. You will know if the steps you've taken are being counted because the dot in the upper left-hand corner of the app will turn green.
Once you are done letting the app count your steps, you can stop the tracker and you can view how many SPC (Sports Coins) you've earned. You can even share the results on any social media page you want.
The SPC you will receive won't be a lot. During my testing, I only got 1 SPC for more than a thousand steps I took. So, it will definitely take some time before you can earn a sizeable amount of SPC.
Option 2 – Daily tasks
Another way to earn SPC is to complete their daily tasks. These tasks will usually ask you to run a certain distance or burn a certain number of calories per day.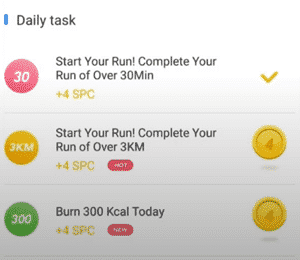 Every task will have a certain requirement you need to meet. Once it is met, you will receive the SPC promised. Usually, you will receive around 3 to 4 SPC per daily task.
When you start working on a task, you just have to enable RunTopia's tracker. So again, you need to make sure you disable the power-saving mode of your device. Once you've done that, you shouldn't encounter any problems tracking your progress for the task.
From time to time, you will also encounter tasks that will ask you to invite friends to join the platform. So, make sure to complete that kind of task to maximize your earnings from this app.
Recommended: Check Out the Top Survey Apps
How do you get paid?
As explained above, you will earn SPC for tracking your daily steps and completing daily tasks. However, as a basic member, you can only earn a maximum of 50 SPC per day.
You can increase that limit to 100 by becoming a premium member. The premium membership will cost $3.99 per month or $29.90 per year. I would recommend you only get this premium membership if you are really a serious runner because you will be able max out your daily SPC easily.
But if you just use it to track your daily steps, then you won't need to get the premium membership.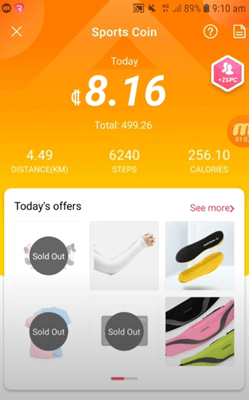 As for the SPC you've earned, you can exchange them for various rewards. Most rewards you can redeem will be related to running, like socks, sweatshirts, and more.
The availability of rewards will be limited. If it says out of stock, then you can't redeem that reward. And you'll have to go for something else. Most of the rewards you can redeem are worth around 400 to 500 SPC.
There's also a cash reward you can redeem and it is worth $500. It will be paid via PayPal, but it is very hard to achieve because it will cost around 35,000 SPC. It will take a year of active running and walking to earn the required amount of SPC to redeem that kind of reward.
Now, if you are going to redeem various products, you won't have to pay for the shipping because it will be covered by RunTopia. Their payment system is relatively simple. You won't have a hard time getting used to how it works.
However, most of the rewards they offer have a relatively high threshold. So, it will take some time to redeem a reward. If you are looking for sites that will allow you to withdraw your earnings quickly, I recommend you check out the fastest paying sites instead.
How much money can you make?
As I've explained earlier, it takes a thousand steps to earn one SPC. So, if I were to describe the earning potential of this app, it will be quite low. You will literally have to take thousands of steps just to earn a decent number of SPC.
But, in my opinion, this isn't really the real value RunTopia offers. In my opinion, the real value RunTopia provides is that it will help you stay motivated to live an active lifestyle, thereby helping you become a much healthier individual.
But if you are just in it for the money, then this app is not for you. There are better and faster ways to earn extra cash online.
Can you use it on a desktop?
Due to the nature of the earning opportunities it offers, I don't really see a need for you to use a desktop to earn from RunTopia. As you already know, you will need to bring your device with you when you go out walking so that the app can track your steps.
It would be quite impractical if you have to bring a laptop with you for this? So, to answer the question above, no, you can't.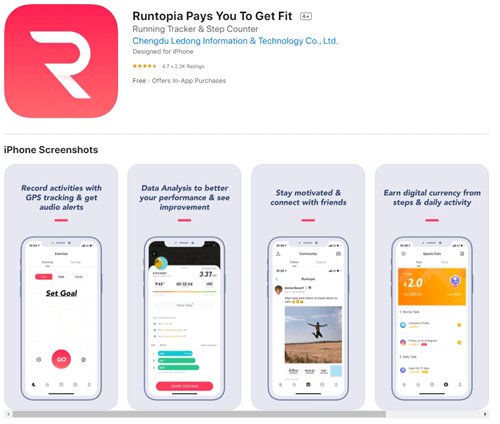 As for their app, it is only available for download through the iOS app store. There's an Android link on their website but it isn't working anymore. So, if you are an Android user, then this app is not for you.
As for their app, it is relatively user-friendly. You will easily get used to how to use it.
Who can join RunTopia?
RunTopia is available globally. That means you will be able to sign up as a member regardless of where you live. To join the platform, you just have to download and install the app. Then, you have to go through the registration process.
Also, you have to be at least 13 years old or older to join this platform.
Once you've completed the registration, you can log in to the app and start earning SPC. What's unique about RunTopia is it has its own smartwatch you can pair with your app. So, you can just let the smartwatch track your progress.
Can you get support?
If you have any questions about RunTopia or your account, you can check out their FAQ page first. It discusses most of the basic questions you need to know about their app.
But if you can't find what you are looking for, you can email your inquiry to support@runtopia.net. That's how you can get in touch with their support team.
Overall, I would say RunTopia has a decent support system in place for its members since it provides a way for you to conveniently talk to their support team.
Final Verdict
RunTopia is a legit fitness app that will reward you for tracking your daily steps and performing daily tasks. It has its strengths, but it also has its disadvantages that you need to consider.
Let me conclude this review by summarizing its pros and cons to give you a better overview of what the app has to offer. That way, you can decide if this app is really a good fit for you or not.

Pros:
Their app is user-friendly
Offers a fun and interesting way to earn rewards
Will help you stay motivated to live an active lifestyle

Cons:
Limited earning opportunities offered
Low rewards
In my opinion, if you are looking to earn extra cash, then RunTopia is not the best app to use. It will take you quite a long time to get paid because of the low rewards it offers. But if you are just looking for an app that will help you live an active lifestyle, then this can be a decent app to use.
Just think of the rewards you will earn as a bonus for being fit and active. That's the real value this app offers, in my opinion.
Now, if you are looking for great ways to earn extra cash online, I recommend you check out the top survey and GPT sites in your country instead.
The sites on this list all have good earning potential and most, if not all of them, offer cash rewards as well.
If you have any comments, questions, or have any experiences with RunTopia yourself, I would love to hear from you in a comment below.