If you want a convenient way to earn some extra rewards online for free, then finding great earning apps can be a good option.
Normally, you can expect to earn money from mobile apps by answering surveys, completing micro-tasks, and trying out other apps. But some unique mobile apps that offer different opportunities also pop up from time to time.
One such app is called Sweatcoin, which offers to pay you just to walk or run.
But is Sweatcoin legit and really an easy way to earn, or is it a scam to stay away from?
I have joined and tested it thoroughly myself, and this Sweatcoin review will give you an inside look and show everything it offers so you'll know exactly what to expect before you decide to use it or not.
Disclosure: Some articles on this website contain affiliate/sponsored links. Click for more info.
What is Sweatcoin, and what does it offer?
As the name suggests, Sweatcoin is a mobile app that will reward you for sweating – I mean that literally. They do that by converting your outdoor steps into a currency to spend on products and services.
Think of it as a cross between a Fitbit and a Get-Paid-To site.
You can use the coins you've accumulated to exchange for goods, services, and experiences ranging from high-tech shoes to iPhones, from anti-gravity yoga classes to Apple Watches. And in some cases, you can even get paid in cash via PayPal (more about this later)
It sounds interesting, right? But to fully comprehend what this app is capable of, we have to take a closer look at how you will be able to earn from this app.
I have created a short video that will give you a full guided tour and will show you exactly how Sweatcoin works. You can also read all the details below the video:
Click to Check Out Sweatcoin for Yourself
Option 1 – Walk
Yes, it's as simple as that. In order to earn coins, you have to walk.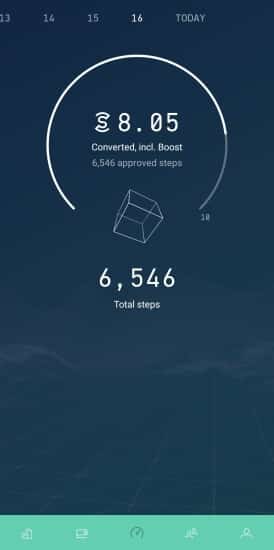 Once you finish installing the app and go through the sign-up process, you will be logged in to the app, and the first thing you will see is a sort of counter (refer to the photo above).
You can then just let the app run in the background since it will count the steps you've taken automatically.
For every 1,000 steps you take, you will receive 0.95 coins, and you can only earn a maximum of 5 Sweatcoins per day as a standard member (I will talk about this later).
It's not much, in my opinion, but again, you don't really have to do anything else. You just have to make sure your mobile device has an internet connection always so it can continue to count the steps you've taken.
You also need to make sure you bring your mobile device with you every time you go out to maximize the coins you can earn.
Sweatcoin uses Google Fit as its engine. If you are not familiar with this, it is a health-tracking platform made by Google for the Android operating system.
It uses sensors in a user's activity tracker or mobile device to record physical fitness activities.
Currently, it only tracks when you run or walk and not if you ride a bicycle.
Also, as of writing this review, Sweatcoin does not integrate with wearables like Fitbit, Apple Watch, Garmin, or Android Wear. So you have to have your phone with you for Swetacoin to count your steps.
However, Sweatcoin is supposedly talking with some big wearables brands about integrating Sweatcoin, so hopefully, it will be possible soon.
Option 2 – Referral Program
The other way you can earn from this app is by inviting people to join the platform.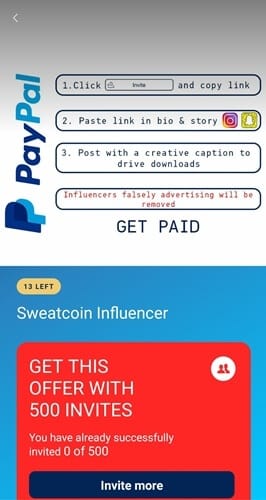 You can invite friends to join the platform and earn PayPal cash. But getting the reward isn't really as simple as you might think.
To get PayPal cash, you will have to successfully invite at least 30 people. When I say "successfully invite", that means the people you've invited to join must become a member of Sweatcoin.
Once you've reached the 30 referrals, you will automatically become what they call a Sweatcoin influencer. You will then get a welcome email that will explain the steps to get paid in cash for inviting others.
But aside from the reward, you will also be given access to the Influencer Marketplace, where you can purchase other cool stuff using the coins you've earned.
However, you can earn by inviting others even if you are not able to invite 30 people. As a member, you will get access to an invitation link you can share with others as soon as you join.
If someone joins through your link, you will get 5 Sweatcoin. And then, when you reach 30 referrals, you will become an influencer and be able to get paid in PayPal cash as described above.
So it definitely can be worth considering becoming good at referring people as it can be a nice way to earn extra on Sweatcoin.
Option 3 – Daily Rewards
Daily Rewards is the simplest earning opportunity offered on Sweatcoin.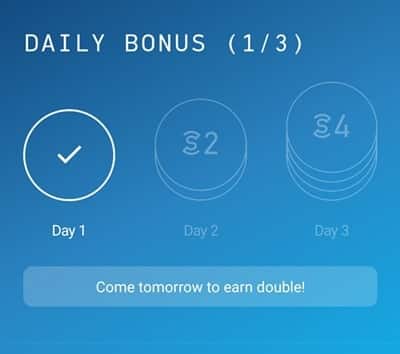 All you have to do is go to the Rewards section of the app and scroll down to the Daily Rewards area and click the Claim button.
You will then have to watch a short ad. Wait for the ad to finish before you close it.
You can only do it once per day. So, it doesn't really take up a lot of your time, and it requires little to no effort.
Option 4 – Create groups and challenges
Another great way you can use Sweatcoin is to create a group where you invite other members or friends to join.
In a group, you can then create challenges.
This is not as such a way to earn, but it can be a great way to keep motivated to move, which is one of the main functions of Sweatcoin.
So creating groups and challenges can definitely make Sweatcoin more fun to use.
Recommended: Check Out The Top Paid Survey Apps
How do you get paid?
As mentioned, Sweatcoin uses coins as their currency, and for every 1052 steps you take, you get 0.95 coins. The coins you earn will be accumulated in your Sweatcoin account.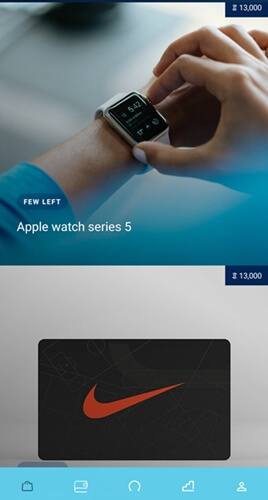 You can then use the coins to make in-app purchases (refer to the photo above).
There's no clear-cut threshold you need to reach in order to start redeeming rewards. As long as you have enough points to buy an offer (what they call their rewards), you can do so and as long as the offer is still active.
The offers/rewards are only available while supplies last. So, if you see anything you like and you have enough coins, I suggest you get it right away before the stocks run out.
Many of the offers are where you get a big discount for a certain product. But they also have products you can pay in full with the Sweatcoin you earn.
Some of these products are worth a lot, but the only thing you need to be aware if is that Sweatcoin recently changed it, so these products are only possible to get via an auction.
That means that you have to keep an eye on the daily Sweatcoin auctions when you have earned enough to participate. So there is no guarantee you can get the product you want if you do not have the highest bid at the end of the day.
Usually, you will need between 15,000-20,000 Sweatcoins to have a chance of winning an auction just to give you an idea about what to aim for if you want any of these great products.
As for earning cash, you can only do so by referring friends to the app, as explained earlier.
If you are more interested in earning cash rather than redeeming products, I recommend you check out the top sites that pay via PayPal.
I have myself been paid by Sweatcoin and decided to record a video while getting paid so you can see exactly how to withdraw and also see Sweatcoin payment proof. You can check out the video below:
Sweatcoin vs Sweat Wallet!
There has been an important update to Sweatcoin that deserves its one section in this review since I get a lot of questions about it.
Sweatcoin has now launched its own cryptocurrency called Sweat.
You can now earn this for free by connecting your Sweatcoin app to the new Sweat Wallet app.
By doing this, you will both earn Sweatcoin inside the regular Sweatcoin app you can use for products, etc., but you will also earn the crypto Sweat that you can withdraw, convert, or earn interest from.
This can be a bit confusing and, therefore, I have made a video that explains more about how this works, and that shows how to do this:
How much money can you make?
As stated above, technically speaking, you can only earn money by inviting people to join. However, the products you will be getting can be considered as money too.
So, the amount of money you can earn from Sweatcoin will basically depend on how often you go out and bring your mobile device with you.
And as you can see, they don't really pay that much. So, it can take quite some time to earn the coins needed to get the product/service you are interested in.
The real value Sweatcoin offers is that you don't actually have to do anything special in order to earn coins, and it can motivate you to move more.
You just let it run in the background and go about what you normally do. In time, you will have enough coins to redeem rewards.
In my opinion, it's not something you need to go after just to earn rewards. There are better apps and sites suited for that purpose. But it can be a way to get rewarded for being physically active even though it is not a lot.
However, they do offer a way for you to boost the coins you will earn from walking.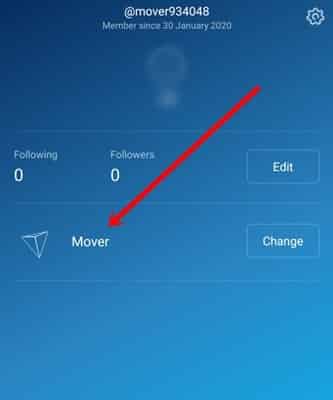 You can upgrade your membership subscription to boost your earnings and increase the maximum number of Sweatcoins you can earn daily.
There used to be 5 Sweatcoin membership levels:
Mover – Free and allows you to earn up to 150 Sweatcoins per month (5 per day)
Shaker – costs 4.75 Sweatcoins a month and allows you to earn up to 300 Sweatcoins per month (10 per day)
Quaker – cost 20 Sweatcoins a month and allows you to earn up to 450 Sweatcoins per month (15 per day)
Breaker – cost 30 Sweatcoins a month and allows you to earn up to 600 Sweatcoins per month (20 per day)
Sweatcoin Trouble Maker – this has to be paid in cash and costs around $1.5 per month. It allows you to earn up to 1500 Sweatcoins per month (50 per day) + you will earn twice as fast
However, recently they changed the membership options so new users will no longer get these options.
But if you're one of the earlier users, you will still retain access to your Breaker, Quaker, and Troublemaker plan. Movers and Shakers are transferred to the new free plan.
So as a new user, you now only have two membership options – a free plan and a premium plan.
With the free plan, you will earn 0.95 coins per 1052 steps you take. With the premium plan, you will earn twice that for the same amount of steps.
With the free plan, you can earn a maximum of 10 coins per day, whereas, with the premium plan, you can earn unlimited coins. However, they do say the daily limit is 100 coins which would require you to take 52,000 steps, and probably not likely you will take more steps anyway:-)
The premium plan will also give you access to more reward options.
But as the name suggests, the premium membership has a price. You can try it for free for 7 days, but after that, you have to pay either monthly or yearly.
You will be charged in your local currency so that exact price can vary a bit, but the monthly price will be around $8, and if you pay for a full year it will be around $42.
Whether it will be worth it to upgrade to a paid plan or not really depends on your personal preferences and how much you move.
In my opinion, this is only worth it if you move quite a lot. I would definitely recommend you start with the free option and test that for a couple of weeks and then see if it might be worth considering upgrading.
Can you use it on a desktop?
Sweatcoin is a mobile-only platform, and frankly speaking, it's pretty useless on a computer due to the nature of how you can earn.
There's no point in using it on a computer because you really can't take your computer with you every time you go out. So, it is best used on a mobile device.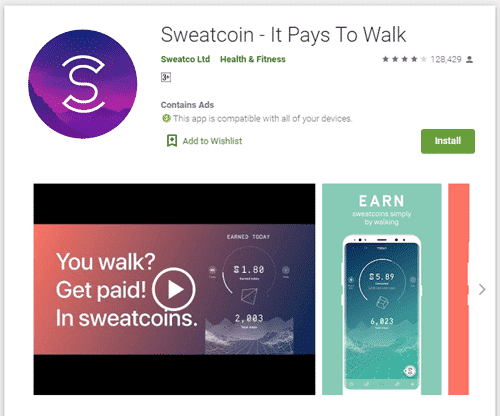 The mobile app is available for download on both Android and iOS app stores. So, compatibility won't really be an issue.
Who can join Sweatcoin?
A good thing about Sweatcoin is that it is available in a lot of countries.
When I first joined and tested Swetacoin, it was available in around 60 countries. However, they have since expanded and is now available in 150+ countries.
Other than that, all you really need to make sure is you have a mobile device that always has an internet connection. So, mobile data will be required to use this app.
However, the step counter will work even when you are not online, but to get access to the full feature of Sweatcoin, you need to connect to the net regularly.
But I do like it will still count your steps even when you are not online – I have, for example, benefitted from this when traveling, where I have been walking a lot but not been connected to the net because I was abroad.
If you want to earn cash, you will need to be at least 18 years of age or older to do so because that is the minimum age required to have a PayPal account.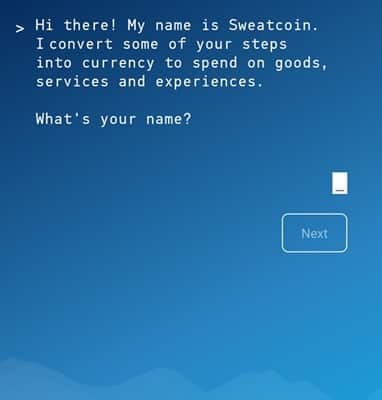 After the app is installed on your device, the first time you open the app, you will go through the sign-up process (refer to photo above).
Just provide the necessary information and make sure to give Google Fit access to your account.
You will then be sent an SMS message that contains the security code to complete the process. So, don't be alarmed if you receive a text from them. After that's done, you can start earning Sweatcoins.
Can you get support?
Sweatcoin has a great FAQ section that clearly explains what the app can do and how it works. So if you have any questions, this is a great place to start, and it is likely you can find your answer there.
Now, if you encounter any issues or have any questions about your account that you cannot find answers for in their FAQ section, you can get in touch with their support team using the Help section of their app.
You can get to the Help section by clicking the Settings icon on the upper right hand of the member dashboard.
Then just click Help and scroll all the way down to Contact Us. You can also just email them at [email protected] for any inquiries you want to make.
Final Verdict
Sweatcoin is a legit mobile app that allows you to earn by simply walking around while the app is running in the background. It does have some attractive qualities to it and has some glaring limitations.
Here's a summary of its pros and cons to help you decide if you should become a member of this app or not.

Pros:
Offers a passive way of earning
Available in many countries
User-friendly app

Cons:
Limited earning opportunities
Low rewards
In terms of earning potential, Sweatcoin is really not the greatest app out there. But I can understand why it is popular.
That's because you will be able to earn without really having to do anything special. Just take your mobile device with you every time you go out and make sure it has an internet connection.
That's all you really need to do in order to earn. It might take quite some time before you will be able to redeem any rewards, but it also doesn't require much effort. So, it kind of balances out its drawbacks.
And at the same time, it can be a great way to move more which has great health benefits.
It's a great app to join, in my opinion, but if you are looking for faster ways to earn on a mobile device, I recommend you check out the top paid survey apps instead.
You will be able to find an app that will fit your earning needs and you won't have to wait long to start redeeming rewards.
How to join Sweatcoin?
It is easy to join. You just click the invitation button below and you will be taken to the sign up page.
It takes 2 minutes to sign up, and you can then start earning by walking.
If you have any comments, questions, or have any experiences with Sweatcoin yourself, I would love to hear from you in a comment below.