If you are good at identifying minute details, there's a site called Digivante that you might be interested in. This site claims you can earn by testing mobile apps, websites, and software.
So, if this is something you are interested in, I would suggest you keep reading this Digivante review so you can learn more about what this site has to offer. This review will check if the site is truly legit or if it is just another scam you need to stay away from.
Aside from that, it will also examine every feature of the site so you can decide if it is really worth your time or not. So, let's go ahead and take a closer look at Digivante, shall we?
What is Digivante and what does it offer?
Digivante is essentially a user-testing site that will pay you for finding bugs and errors on websites, mobile apps, and computer programs. It is indeed a legit site since it will really pay you for identifying bugs.
Now, to fully understand how the site works, we have to take a closer look at the earning opportunity it offers. By doing so, you can also get a good understanding of how well you can earn from it and thereby decide if it will be worth your time. So, here's how to earn from Digivante.
The earning opportunity – Paid projects
The only way to earn from this site is by taking on paid projects. As you can probably guess, these paid projects will ask you to test either a website, a mobile app or computer software. To view all the available paid projects, just log in to the member's dashboard.

You will immediately see something like the photo shown above. If you are interested in the project, just click on it to read the non-disclosure agreement (NDA). You will have to agree to the NDA to proceed. Once you've accepted the NDA, you will be included in the project.
You will then see the full details of what you need to do to complete the project. I have to stress this though. You have to make sure that when you accept the project, you really intend to finish it. That's because Digivante is penalizing members who claim projects but don't complete them.
It is important that you do not claim tests/projects and then not do them right away. While they will time out and become available to others after the due date, this will slow down test completion which will impact Digivante's clients and other members of the community.
If you repeatedly claim tests but do not complete them within a reasonable time, there's a high chance that your account will be suspended or you will not be offered a lot of projects in the future. So, make sure to only claim tests/projects when you are ready to start working.
Each project you take on will have specific deliverables and it will be explained once you accept the project. You will have to submit these deliverables before the deadline to have a chance at receiving the reward.
Once you've submitted the deliverables, it will be reviewed by the site and if everything is in order, you will receive the promised reward and it will be credited to your account balance. It usually takes up to 3 working days to be reviewed. If you sent it on a weekend, it will be reviewed on Monday at the earliest.
Just to be clear, the whole goal here is to find issues/bugs on the sites, in apps, or in the programs you are testing. In the photo above, if you notice, there's an amount indicated in GBP. That's not the whole amount you will earn from completing the test and finding issues.
Instead, that's the amount you will receive for every valid issue/bug you find when testing. That's how their testing works.
Recommended: Check Out the Top Survey Sites in Your Country
How do you get paid?
As explained above, you will get paid for every issue/bug you find when testing a website, app, or program. When these issues or bugs you've found are approved, you will receive the payment and it will be sent to the payment method you prefer (refer to photo below).

Digivante offers two payment methods as shown in the photo above. You can get paid either via PayPal or Payoneer. And the good thing is, you don't need to reach a threshold to receive all your earnings. Once the site approves all the issues and bugs you've presented, the reward will be sent to the payment method you chose.
And you don't even have to wait that long for the reward to be credited to your PayPal or Payoneer account. Their payment system is relatively straightforward and I like the fact that you don't need to reach a threshold to withdraw your earnings.
I also like the fact that it offers a convenient payment method like PayPal because it is one of the most convenient payment gateways available today, in my opinion. If you are interested in more sites that pay via PayPal, I recommend you also check out the top sites that pay via PayPal.
How much money can you make?
The amount you can earn from this kind of site will mostly depend on your skills in finding issues and bugs. As you can see, you will get paid for every issue or bug you find. So, if you are not particularly good at finding these bugs and issues, you won't earn a lot from this site regardless of how many projects you take on.
Also, there is, of course, no guarantee how many bugs there even are to be found. This can vary a lot from project to project.
Usually, you get paid around £1 to £5 for every bug/issue you find. It's not that high a rate, but it's also not that bad, in my opinion. But the good thing about Digivante is, it has a ranking system for its testers so that they can identify who are the better testers.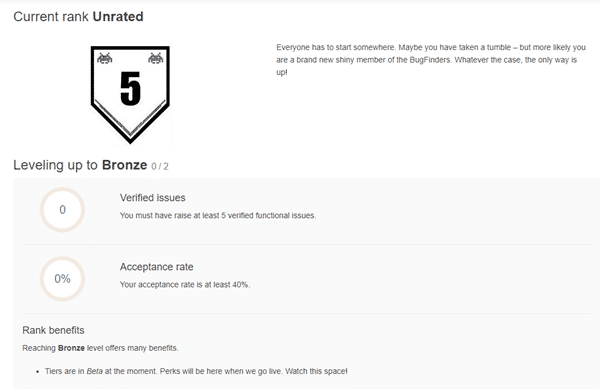 You see, your rank as a tester will keep increasing as long as you keep finding issues and bugs. And the higher your rank is, the more projects will be offered to you. So, your goal here is to find as many issues and bugs as you can during testing to increase your rank.
When you've reached a high rank, you will notice that there will be more projects you can participate in. That's how the site rewards their top performs. It's a nice system but it takes a bit of time before you can enjoy the benefits. So, you need to be patient.
But overall, I would say the earning potential of this site is pretty decent. You stand to earn a decent amount from it as long as you are good at finding bugs and issues.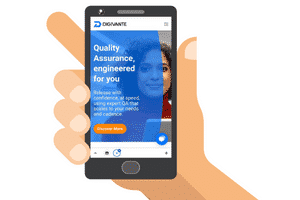 Can you use it on mobile?
There will be times when you need to test mobile apps. If this is the case, then you will definitely need to use a mobile device. But for computer programs, you will really have to use a laptop or desktop.
But if you really want to maximize your earnings from this site, you have to be prepared to do the testing on both types of devices. Now, as for their site, it is mobile-friendly, so you will be able to access it from a mobile device with relative ease.
But the extent to what you can do on their site from a mobile device will be limited to viewing and accepting projects. The work that needs to be done has to be done off-site.
Who can join Digivante?
Digivante is available more or less worldwide. So, you can become a tester regardless of where you live. You just have to be at least 18 years of age to join. The registration process is fairly simple. You just have to fill out their registration form.
Then, you have to confirm your membership by clicking on the activation link that will be sent to you via email. Once you've done that, you can now log in to the site.

The first thing you have to do when you log in to the site is to build your profile. You have to do this so Digivante will know what type of projects to send your way.
Then, you have to add the devices you can do the tests on. As I've mentioned earlier, the best way to maximize your earnings is to make sure you have a mobile device and a computer you can do your tests on. When you've added your devices, then you have to watch a video that will explain what the site does.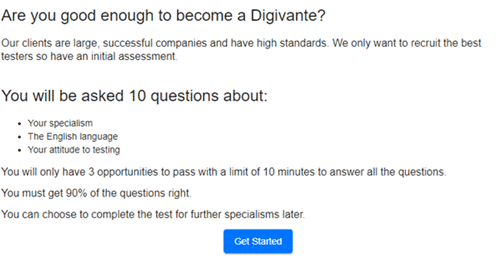 Once you are done with these 3 steps, the last step is to take their test. This test is designed to evaluate your testing skills. You will only be given a maximum of three tries to pass this test. And in order to pass, you have to answer 9 out of the 10 questions correctly.
If you fail to pass this test, you will not be able to continue as a tester. So, don't take this test lightly, and make sure you only take it when there are no distractions. The test is relatively easy though. I passed it on my first try. So, you shouldn't have a hard time passing it.
Once you pass the test, you have to log in again. But this time, when you log in, you will now see all the available projects you can participate in.
Can you get support?
If you have any questions about the site or your account, you can check out their FAQ page first. It discusses most of the basic things you need to know about the site. They also have a Community forum you can check out. You can pick up tips from the forum posts that will help you become a better tester.
But if you experience any technical issues during testing or if you have problems regarding the compensation, you have to get in touch with their support team. To do that, you have to email them at support@digivante.com.
If your concern is regarding missing payments, make sure to put "Missing Payments" as the subject for your email. That way, their support team will be able to identify your issue quickly.
Overall, Digivante offers a decent support system for their members since they offer a convenient way for you to get in touch with their support team.
Final Verdict
Digivante is a legit user testing site that will pay you for identifying bugs and issues of websites, mobile apps, and computer programs. It has a couple of interesting features, but it also has a few disadvantages you need to consider.
Let me end this review with a summary of its pros and cons to give you an overview of what the site has to offer. Then you can decide if this site is a good fit for you or not.

Pros:
Pays via PayPal
No payout threshold
Decent pay per task

Cons:
Limited earning opportunities offered
Requires a bit of time and effort to earn
Not guaranteed how much you can earn per task
Digivante, in my opinion, is not for everyone. If you are good at spotting bugs and issues and you have a keen eye for detail, then this can be an option if you are looking for ways to earn extra cash.
But let me just tell you right now, this site is really intended for professional quality assurance testers or those that are quick to learn the skills needed to perform quality assurance testing.
The work that needs to be done will require a bit of time and effort. So, if you are not prepared for that, then I suggest you find a different way to earn extra cash.
I would instead suggest you check out the top survey and GPT sites in your country. The sites on this list all have good earning potential and the earning opportunities are quite simple to do and won't require a lot of time on your end.
If you have any comments, questions, or have any experiences with Digivante yourself, I would love to hear from you in a comment below.