The beauty of earning extra cash through mobile apps is that you can do it anytime and anywhere. You can work on it when commuting, standing in line, or during your break time. It's a very convenient method since you don't need to sit in front of a computer to earn rewards.
One app that claims to offer this opportunity is dscout.
But is dscout legit or a scam?
This is probably the question you are asking yourself before joining.
This is where this dscout app review will come in handy. It will show you everything you need to know about the app so that you will not only find out the answer to the question above but you will also know exactly what to expect from it before you even sign up.
Then, you can decide if you should use this app or not. So, let's go ahead and take a look at what dscout is all about, shall we?
What is dscout, and what does it offer?
dscout is a micro-task mobile app that will pay you for participating in missions.
It is a mobile-only platform, so if you were hoping to be able to use a laptop or desktop to earn, then this isn't the right platform for you.
Now, to understand the earning potential of this platform, we have to examine the earning opportunities it offers. So, here's how you can earn from dscout.
I have made a short video that gives you a full guided tour and shows exactly how it works. You can also read all the details below the video:
Recommended: Check Out the Top Survey Apps
The earning opportunity – Missions
dscout only offers one earning opportunity, and that is through missions. This is what they call their micro-tasks.
There are three types of missions available on dscout: the Diary missions, Live missions, and Express missions.
At its core, they are all the same. The only difference is how the mission is conducted. Diary missions are missions you have to do in succession for several days.
Live missions, on the other hand, will require you to record your mobile screen using their screen-recording tool. While recording your screen, the mission leader will be viewing what you are doing simultaneously (hence the term Live).
Express missions, on the other hand, are the typical micro-tasks you will encounter. These are short tasks you can complete in one go.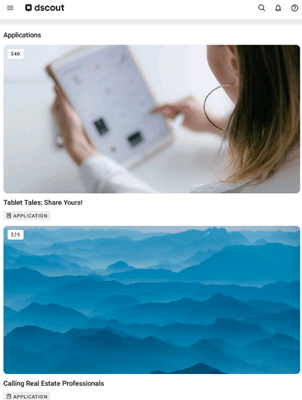 The process for every type of mission starts the same. First, you will have to go through an application process and answer screener questions. Just log in to the app, and you will immediately see all missions open for application. When you click on a mission, you will see the instructions you need to follow as well as the things required of you. You will also see the reward you will get for completing the mission.
Often, the mission involves you recording a small video or taking photos, so if you do not feel comfortable with this, this app is not for you.
Now, here's the important part. Each mission will have a maximum number of participants. That's why you need to apply for a mission as soon as possible if you are interested in it.
The mission leader (the one in charge of the mission, usually a representative of the company who made the mission) will review the responses of all applicants and will choose who participates based on the responses given during the application.
If you are lucky enough to get selected as a participant, you can then begin performing the mission. Then and only then will you start doing what is asked of you. Once you've compiled all the items that the mission requires, just submit them through the mission page.
The mission leader will then review your work and will be the one who will give the go signal to dscout if you get the reward or not.
The most important part of doing missions is to make sure you follow the instructions carefully.
One missed a step, and it can result in you not getting rewarded. So, make sure to read and understand the instructions given.
Recommended: Check Out the Top Survey Apps
How do you get paid?
Now, let's get on with the next most important part of the review, which is how you will get paid.
Dscout uses PayPal as its one and only payment method. So, before you join this platform, make sure you have a verified PayPal account.
Every mission you complete will earn you a certain amount. And the beauty of dscout is that you don't have to reach a certain threshold to withdraw what you've earned. dscout will pay you via PayPal once the mission is over.
So, if you completed the mission before the mission deadline, you will have to wait after the deadline has passed before you get paid. Then, it will typically take 10 business days before the payment will be reflected in your PayPal account.

As you can see in the photo above, you will see a breakdown of the rewards you will receive. You will see the upcoming rewards you will get and the ones that have already been processed. So you can keep track of the payments done with ease.
I do like the fact that they process the payment via PayPal, and they do it automatically. You don't have to request it.
If you are interested in more sites that offer PayPal as a payment method, I recommend you also check out the top sites that pay via PayPal.
How much money can you make?
The amount of money you can make in this app will mostly depend on how many missions you can complete. The good thing about dscout is they pay quite well for each mission.
So, if you are able to complete a mission, expect to receive a significant amount of money (usually around $25 to $50, depending on the length of the mission).
But you have to keep in mind that you will have to apply for each mission you want to participate in. And seeing as each mission will have a maximum number of participants allowed, the competition will be quite stiff.
So, even if you become a member, there's no guarantee you will earn from this app. The best thing you can do is to improve your chances of getting selected as a participant.
The best way to do that is to give structured and thoughtful answers. Well-thought-out answers are given more regard than one-word responses and incomplete thoughts.
I also don't recommend you apply for all the missions available. It is best to only apply to missions that you are really interested in.
Overall, I would say that you stand to earn a significant amount of money from this app if you ever get selected to participate in missions.
Can you use it on a desktop?
As mentioned earlier in this review, dscout is a mobile-only platform. So you won't be able to use it on a desktop or laptop. So, if you are not comfortable working on your mobile device, then this platform is not for you.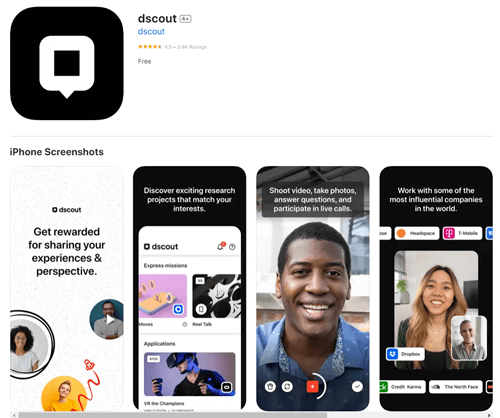 You can download the app from the Android and iOS app stores. What I can say about their app is it is well-designed. The user interface is very user-friendly. You will easily get used to working on this app.
This makes the usability of the app quite good because you can navigate through the app with ease, which is really what makes the app a convenient platform to use.
Who can join dscout?
Another good thing about this app is it is available globally. You will be able to join their platform regardless of where you live.
You have to be at least 18 years old or older to join, though, since they use PayPal as the payment platform, and that is the minimum age requirement for a PayPal account.
To sign up as a member, just go to the dscout website and click the "Sign Up". Now, take note that you have to sign up as a Scout and not as a Researcher account (refer to photo above).
Once you've clicked the right button, you will then be asked to provide your login details as well as your full name. You also need to give your phone number so they can verify your account.
Once you are logged in, you can then start applying for missions.
Can you get support?
When you are logged in to the app, you can click on the question mark icon on the upper right-hand corner to access their FAQ page. You will find plenty of topics about the basics of the site on that page.
So, if you have any questions about the app, I suggest you check out their FAQ page first.
If you can't find what you are looking for, you can then visit their site and go to their contact page (scroll to the bottom of the site), and send your inquiries using their contact form.
You can also submit your inquiries through their app by clicking the "Submit a request" link at the bottom of their Help page. Clicking that link will open their in-app contact form.
They also have a number you can call listed on the contact page of their site. You can call that number if you really need to get in touch with their support team right away.
Overall, I would say that they do have a decent way of providing support for their members.
Final Verdict
dscout is a legit micro-task site that does pay you for participating in missions. It has a couple of good features to offer, but it also has some certain disadvantages.
Let me finish this review by listing its pros and cons to help you decide if you should become a member of this platform or not.

Pros:
Available globally
High rewards
Offers payment via PayPal
No payout threshold

Cons:
Limited earning opportunities offered
Participating in missions can be tough since you will first have to apply for it
As you can see, the best thing about dscout is that they pay quite well. That is their main strength.
However, earning regularly from this app will be quite hard because there's no guarantee you will be able to participate in missions.
Every mission has a limited number of slots available, and you have to compete with other members who are also interested in that mission. So, it's kind of hard earning from this app. But the payoff will be worth the patience you invest in, in my opinion.
So, I would say that dscout is a decent site to join if you are interested in doing micro-tasks. But if you prefer an easier method of earning extra cash, I suggest you check out the top survey sites in your country instead.
The sites on this list all have good earning potential, and you don't have to apply to participate in the earning opportunities offered. Plus, you will be able to find a site you can join regardless of where you live.
If you have any comments, questions, or have any experiences with dscout yourself, I would love to hear from you in a comment below.