If you are looking for an easy way to earn, EmeraldBux claims you can earn €0.10 per click. It's an enticing offer, I admit.
But the question is, is EmeraldBux a scam or is it legit? This EmeraldBux review will investigate this and much more.
It will reveal all the details about what the site has to offer so you can decide if it is a site worth joining or not. And at the end of the review, I will also give my recommendation about this site. And let me just reveal right away that there are some very important things you need to consider before joining.
So, let's go ahead and get the ball rolling.
What is EmeraldBux and what does it offer?
EmeraldBux is a PTC (Paid-To-Click) site that will allow you to earn by viewing ads. It will really reward you for participating in the earning opportunities it offers.
But that isn't the only factor you have to consider when evaluating if a site is legit or not. Later on, I will tackle the legitimacy of this site.
But for now, let's first talk about the earning opportunities of this site so you can understand how it works and you can get a good glimpse of its earning potential.
I have, therefore, made a video that gives you an inside look and shows exactly how you can earn from EmeraldBux. You can also read all the details below the video.
Option 1 – Viewing ads
The main way to earn from EmeraldBux is by viewing paid ads. It comes as no surprise since it is a PTC site and all PTC sites offer this kind of earning opportunity.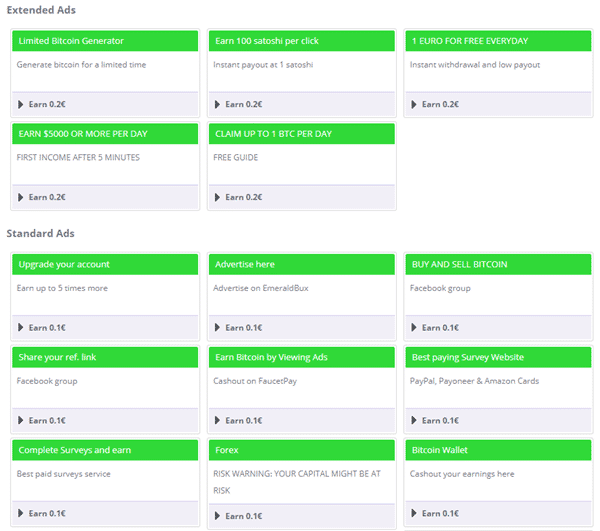 To check all the ads you can view, you have to log in to the site and click the "Earn Money" option on the menu. You will then see something similar to the photo shown above.
To start, just click any ad. They have three types of ads available: extended, standard, and micro ads. The main difference between these types is the reward you will earn.
Extended ads pay more as you will supposedly get €0.2 per ad, while Standard ads will pay €0.10. Micro ads have the lowest reward at €0.05.
When you click an ad, a new browser tab will open and it will display the ad you are supposed to view. However, you don't actually have to view the ad. All you have to do is go back to the view ads page of EmeraldBux and you will see a bar slowly loading. Once that bar finishes loading, it will notify you that you can close the ad page that popped up because you've already earned the reward.
That's how simple the process is. Each ad you view will not take more than one minute, so you will be able to finish viewing all the available ads within an hour or even less since they don't have that many ads.
However, I have tested a lot of PTC sites, and this system made me a bit suspicious right away that it just seems strange that any advertisers would pay this much for having their ad shown when EmeraldBux does not even have a system that checks if people actually watch the ad.
This is very unusual and the first sign something is a bit off. But I will go more into details about this later when we will talk about the legitimacy of the site.
Option 2 – Referral program
The other way to earn from this site is by inviting other people to join it through their referral program.
The idea is, you invite people to join the site by sharing your invite link. Or, you could also embed your invite banner on your website (if you have one). When that person clicks your invite link or banner and they register to the website, they will become your referral.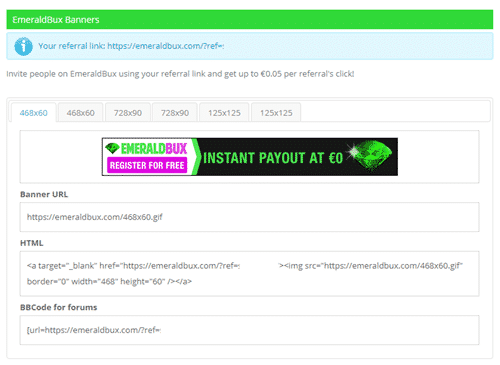 Then, you will earn €0.05 for every ad your referral will view. It's not much, but it is a form of passive earning. And for a PTC site, it is actually a very generous payment per click – it is actually so big it becomes suspicious, to be honest (more about this later).
However, before you can earn from your referral's clicks, you have to at view at least 4 ads.
For example, if you've viewed 10 ads today, you will be able to earn the €0.05 for every click your referral makes tomorrow. That's how their referral program works. It's fairly easy to receive the rewards. You just have to be active every day on the site.
Recommended: Check Out the Top Survey Sites in Your Country
How do you get paid?
As explained above, you will earn a certain amount in Euro for every ad you will click. That amount will be credited to your account balance.
EmeraldBux claims you don't need to reach a threshold to withdraw your earnings. You can withdraw it anytime. However, you have to view at least 100 ads before you will be able to withdraw your earnings.
They also don't tell you how you can withdraw your earnings. But it says on their payment proof page that you can withdraw your earnings via PayPal, Perfect Money, Payeer, or you can convert it to Bitcoin.
Now, here's where the problem of this site lies.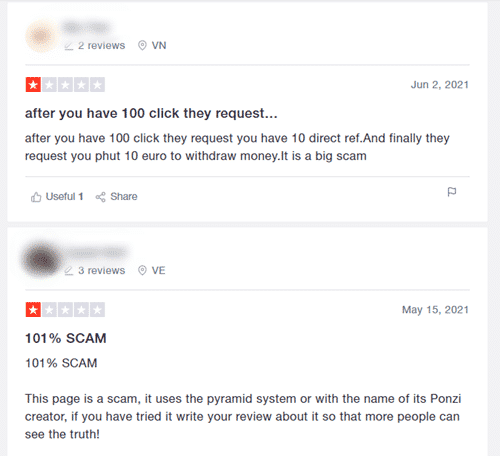 As mentioned above, you can withdraw your earnings when you've viewed at least 100 ads. What they don't tell you is, there will be additional conditions you need to meet once you've achieved the initial requirement.
As you can see in the photo above, members say that when you've achieved 100 clicks, the site will then require you to get 10 referrals before you will be able to withdraw your earnings. And some even say that when you've gotten the 10 referrals, there will be another additional condition where you will have to spend money.
So, it almost feels like the site doesn't want you to withdraw your earnings. In cases like this, I will always recommend that you stay away from sites like this. You shouldn't have to go through hoops to withdraw your earnings.
And as you will see in the next section of this review, there are more reasons than this to be careful about joining EmeraldBux.
I would suggest you check out the top sites that pay via PayPal instead because this site sounds very fishy, in my opinion.
How much money can you make?
For a PTC site, EmeraldBux actually pays quite well. You will never find a PTC site that will pay you €0.2 per ad you view. And they even promise you can earn up to €0.50 per click if you upgrade.
That's where the problem is. Their offer is actually too good to be true. But you won't actually notice that if you haven't joined any PTC site before.
You would think it's an acceptable rate because if you compare it to survey and Get-Paid-To sites, the rewards are quite low. But in reality, that's actually quite high for a PTC site. It's almost like a 1000% increase compared to the usual rate you will earn from other PTC sites.
In my opinion, that's the strategy of EmeralBux to get members to join. They offer a very high rate. So, you will essentially be earning a decent amount with little effort and time investment. But, they virtually make it impossible for you to withdraw your earnings.
Not only will they keep adding extra requirements as described above, but if you look at their terms, they say that they can close your account at any time and that they can choose to not pay you for any reason.
Yes, they actually have in their terms that they can choose not to pay you for any reason. Terms like that are a complete deal-breaker.
And the terms also say that they will not pay you if they have not made a profit from your membership. So they are basically saying that they just promise crazy earnings but the moment you actually reach a point where you can make a profit, they can just not pay you.
This is completely crazy and I have never seen terms like that before and it is a clear sign you should stay away.
So, in the end, you will just end up wasting your time because you will never be able to take out your earnings.
I personally never got to the point where I was asked to spend money to withdraw my earnings. I immediately stopped when I got the message that I needed to get the 10 referrals to withdraw my earnings. And when I then read their terms it became even more clear why it was a great decision to stop.
I am not saying that EmeraldBux never pays as it is very likely you can get paid if you invite a lot of people and get them to pay to upgrade. However, as mentioned above, they can just choose to stop paying you at any time for any reason.
This is just unethical, in my opinion, because most people will end up losing money.
That's why even though EmeraldBux seems like it has a high earning potential at first, I would not recommend you join this site.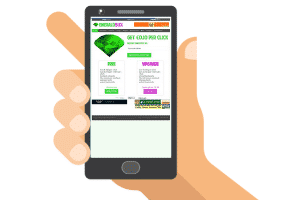 Can you use it on mobile?
EmeraldBux doesn't have an app you can download, but you can still access their site from a mobile device. You just have to use a mobile web browser. But their site isn't really optimized for mobile use. So, you can't really navigate through the site without zooming in.
I also don't recommend you use it on a mobile device because viewing ads will involve a lot of opened browser tabs and closing browser tabs on a mobile device can get quite annoying in the long run. PTC sites, in general, are best used on a laptop or a desktop where you can comfortably navigate through the site easily.
Who can join EmeraldBux?
EmeraldBux is available worldwide. You just have to fill out their sign-up form. Once you are done, you can log in to the site and start viewing ads.
But again, I don't really recommend you join this site. Instead, I suggest you check out the top GPT sites. You'll find better options on that list.
Can you get support?
EmeraldBux has a FAQ page you can check out if you have any questions about the site. But as I've mentioned earlier, their FAQ page doesn't really tell you that their payment system has hidden conditions. So, I would say their FAQ page lacks relevant information.
But you can send in your inquiries easily through their support page. They at least got this part correctly. To send in your inquiries, just click "Support" at the bottom of their website and you will be taken to their support page where you can create a support ticket.
Final Verdict
EmeraldBux is a PTC site that claims to pay high rewards for viewing ads. At first glance, you might think it's a great PTC site because it pays well. But it has some hidden disadvantages you need to know.
Let me wrap up this review with a summary of its pros and cons so you can decide if it is worth joining this site or not.

Pros:
Available worldwide
No payout threshold

Cons:
Limited earning opportunities offered
Their site is not optimized for mobile use
Their payment system has hidden conditions that will hinder you from withdrawing your earnings easily
Their terms say they can choose not to pay you for any reason
As I've mentioned earlier, when a site will ask you to jump through hoops before you can withdraw your earnings, it's usually a sign that it is not a good site to join. This is one big red flag, in my opinion. Members shouldn't have a hard time withdrawing their earnings.
In addition to that, their terms make it clear that they can just choose to stop paying you at any time without giving you a reason.
Most people will, therefore, end up losing money as a member as they strongly encourage you to pay to upgrade but for most people, it will just be a waste of time and money. It just simply promises too much.
That's why I don't recommend you join this site. There are simply better ways to earn extra cash online where you can easily withdraw your earnings.
For a list of these sites, I recommend you check out the top survey and GPT sites in your country. The sites on this list all have good earning potential and will allow you to withdraw everything you've earned conveniently.
If you have any comments, questions, or have any experiences with EmeraldBux yourself, I would love to hear from you in a comment below.