Being able to earn extra cash anytime and anywhere can come in very handy. You can earn while you are standing in line in a bank or fast-food joint. You can even earn while you travel.
The question is, which app should you download or site you should sign up for to earn extra money? Well, there's a site called Enroll that promises to pay you for testing products and services. But is it legit though? Let me address this concern right away so we can proceed with discussing more on the app.
Yes, Enroll is a testing site that will pay you for completing paid tests. But is it worth using or is it a bad way to earn extra cash?
To answer this question, we have to consider a few things first. This Enroll app review will examine what the site has to offer so you can decide if it is worth your time or not.
What is Enroll and what does it offer?
As explained above, Enroll is a testing site where you get to earn by testing products, product designs, services and others. This is not your usual testing site where you get to examine a website or app closely.
Let me explain to you how you can earn from Enroll so you can get a clear picture of the earning opportunity it offers. So, here's how you can earn from Enroll.
The earning opportunity – Paid tests
As mentioned above, you get to test products and even the design of products. Enroll tests are queued as Helio users create them.
So, essentially, Enroll is platform for Helio tests. When Helio users create tests, it will then become available to Enroll members.
If you are among the members chosen to participate in the test, you will be notified by email or you will see it on your dashboard when you log in to the site. Paid tests themselves take anywhere between 30-75 seconds to complete usually and will usually be in the form of a questionnaire.
You can take the test either from your computer, tablet or mobile phone (depending on which devices the test is available). If the test is not available on a tablet and you are attempting to take it on one, you will get an error message saying the device is not supported.
During registration, you get to choose the device you can take tests on. So, make sure to choose the devices you can really use and not just choose one to have more chances of taking tests.
Each test has a limited number of spots, so make sure to take it as soon as possible to earn rewards.
Once you complete the test, you will receive the reward, which will then be credited to your Enroll account (I will talk about their rewards next).
How do you get paid?
Each test you complete will earn you $0.10. When you've earned $1, you are then eligible to receive a payout via PayPal.
This is a very low payout threshold, which is good, in my opinion, because it allows you to receive payment a lot easier.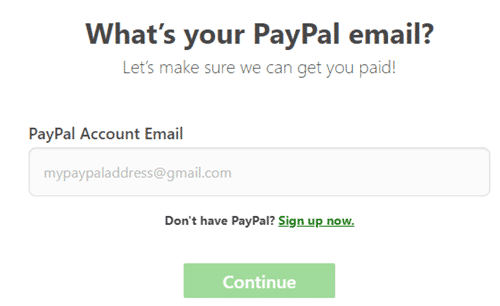 During registration, you will be asked to provide your PayPal address. So, if you don't have a PayPal account but you are interested in this site, then you have to sign up for one first.
Payments are made every 11th of the month if you are able to reach the threshold. It will be processed automatically by Enroll, so you don't need to request payment every time. So, if you've earned at least $1 within the month, expect to receive it on the 11th of the following month.
If, for example, you reached the threshold on July 1, then you will receive the payment on August 11 instead of July 11. That's how their payment system works. So, it's important to always reach the threshold every month so you can get paid monthly.
Their payment system does take quite some time, so you will need a bit of patience. But I do like the fact they use PayPal as their payment method because it is the most convenient payment gateway available today.
If you are interested in more sites that pay via PayPal, I suggest you also check out the top sites that pay via PayPal.
How much money can you make?
As you can see, every test pays $0.10. So, it's not really a lot, in my opinion. But considering it only takes around a minute to complete, you really can't complain. So, if you want to earn a significant amount from this site, you have to take plenty of tests.
However, there's no guarantee you will receive tests regularly. But, there's one thing you can do to improve your chances of receiving tests and thereby earning more.

You can answer the polls they have because this will increase your chances of getting qualified to take tests. The more you answer, the higher the accuracy brands have when wanting to test against specific panel groups.
Think of these poll questions as profiling questions. Plus, they have this unique progression system where you earn mission points for each poll you answer.
They don't really add anything to what you will earn but it brings an element of fun and adventure to your experience, or so they say.
If it were me though, I could do away with the progression system because it really doesn't offer any value. But I see the point of having this kind of system because some people get motivated by this kind of stuff.
Can you use it on mobile?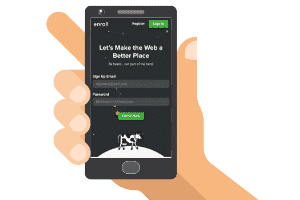 I know the name says Enroll App. But the weird thing here is, Enroll actually doesn't have a mobile app you can download and install on your mobile device. So, it's a bit misleading. It's really just a website.
That being said, you will be able to use Enroll on any mobile device by simply accessing it through a mobile web browser. Their site is mobile-friendly so you won't have any trouble reading the content clearly.
Just make sure to select the appropriate devices you can use during registration (I will talk about the registration process next) so you will be given access to tests that can be done on mobile devices. Being able to use it on a mobile device though will entirely depend on the test available.
If it can be done on a mobile phone or tablet, then you can do so. But if it is only available on a computer, then you really don't have any choice but to complete the test on a laptop or desktop.
Who can join Enroll?
Enroll is available globally. That means you can sign up as a member regardless of where you live.
You do have to be at least 13 years of age or older to join. But if you live in Europe, you have to be at least 16 years of age to join.
To sign up as a member, you simply have to fil-out the sign-up form and go through their profile survey. It's a short survey that you need to answer. And as mentioned previously, you have to provide your PayPal address as well as choose the devices you intend to take tests on.
Once you've done that, check your email inbox and click the confirmation link on the email you will receive from them. As soon as you've confirmed your membership, you can now log in to the site and see if there are already tests available.
In my experience though, you do have to answer several polls first before you ever get invited to take a test. So, make sure to do that first.
Can you get support?
Enroll has a helpdesk you can check out if you have any questions that need to be answered. It covers all the important details you need to know so you can understand how the site works. If you can't find the answer you are looking for, you can always send them a message.
You can do so by clicking the message icon found on the lower right-hand corner of their helpdesk page.
It will open up their contact form. Simply fill out the required fields and submit your inquiry. Overall, I would say they do have a decent support system in place for their members.
Final Verdict
Enroll is a legit testing site that does pay you for taking paid tests. It has a couple of good features to offer but it also has some limitations that you really can't ignore.
So, let me conclude this review with a summary of its pros and cons to help you decide if this is a site worth joining or not.

Pros:
Low payout threshold
Offers payment via PayPal
Processes payment automatically
Cons:

Limited earning opportunities offered
Low rewards
In my opinion, Enroll isn't really worth your time mainly due to the fact that it offers limited earning opportunities and it doesn't really pay that well. So, even though it offers a convenient payment method and it has a low threshold, you still can't earn much from it.
If only it paid more than what it does right now, then this site could be a decent site to join. But as it is, your time is simply better spent on sites where you can earn a decent amount from, in my experience.
But if you have plenty of time and are patient, Enroll can be a fun and different way to earn a bit extra with methods you cannot really find on other sites.
For a list of sites with more options, I recommend you check out the top survey sites in your country.
The sites on this list all have good earning potential and pay better than Enroll. Plus, you will definitely find a site you can join regardless of where you live.
If you have any comments, questions, or have any experiences with the Enroll app yourself, I would love to hear from you in a comment below.