One way to get into the world of cryptocurrency without investing any money is to join a site that will reward you with cryptocurrency for doing small tasks. One such site that claims to do this is called Faucet Crypto.
But before you register to this site, it is prudent to learn more about it. For instance, is this site legit or is it a scam? You need to know this before you hit the sign-up button. After all, you want to make sure you join a site that will really pay you for your time.
This Faucet Crypto review will do just that. It will verify if the site is really legit take a look at everything the site has to offer so you will know exactly what to expect before you even register. Then, you can decide if it is really worth your time or not.
What is Faucet Crypto and what does it offer?
Faucet Crypto is a Paid-To-Click (PTC) and crypto faucet site that will reward you for viewing ads and completing short tasks. Now, if you are not familiar with what PTC sites are, I suggest you check out the ultimate PTC guide first so you'll know what you are dealing with.
As for the legitimacy of the site, the answer is yes, it is legit since it will really reward you for completing short tasks and viewing ads. Now, to fully understand how Faucet Crypto works, we first have to take a look at the earning opportunities it offers.
By doing so, you will also get an idea of how well you can earn from this site and if it will be worth it.
I have, therefore, made a video that gives you an inside look and shows exactly how you can earn from Faucet Crypto. You can also read all the details below the video.
Option 1 – Viewing paid ads
The first earning opportunity that will be made available for you when you become a member of Faucet Crypto is their paid ads. The reason why I say this is, the other earning opportunities the site offers need to be unlocked first.
And the only way to do that is to view ads. That's because for every ad you view, you will earn experience points aside from the actual reward. So, you have to go through this earning opportunity before you can get access to the others.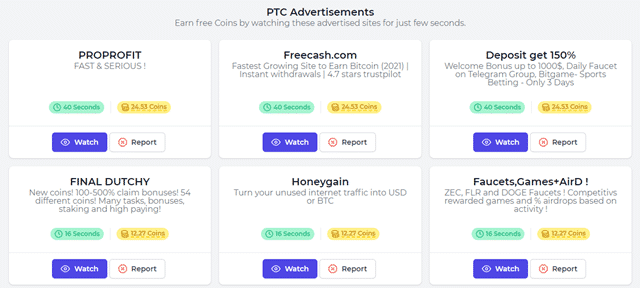 As for how this opportunity works, it's relatively simple. Just click the "PTC Ads" option on the left side of the member dashboard and you will see something similar to the photo shown above. Just click the "Watch" button and it will take you to the ad page.
But before you can view the ad, you have to solve the captcha first. Regarding the captcha, the default mode of their captchas is using Anti-Bot Links. It's a bit too confusing for my liking so I changed it to hCaptcha which is easier to solve. So, I suggest you do that too. Just go to your account settings and set the captcha to hCaptcha.
Once you've solved the captcha, it will open the ad page. You will see a countdown timer in the upper right-hand corner of the page. Keep in mind that when the timer is running, you can't switch browser tabs or close the browser because the timer will then stop.
Once it is done, you will see a "Continue" button. Just click it to complete the process. When you've done that, you can now go back to the view ads page and you will see that you've earned a certain number of coins as well as XP points.
You will typically earn around 15 to 30 coins and 10 XP points per ad. Each ad will last around 15 to 50 seconds. Also, after you've correctly solved several captchas in succession, their system will identify that you are not a bot, and you won't have to keep solving captchas to view the ad. That's all there is to it.
Option 2 – Answering surveys
To unlock their paid surveys opportunity, you will have to reach level 20. It isn't that hard to do but it might take a couple of days before you can unlock it. During my testing, I managed to get to level 11 before I ran out of ads to view. I had to wait the next day for new ads to view.
To access their paid surveys, just click the "Surveys" option on the left side of the dashboard. You will then see a list of survey providers. Just click which provider you want to work on and click it.
You will then have to answer a set of profile questions. Once you are done, the provider will tell you if there are surveys available for you. If there are, just click the survey and answer the qualifying questions. If you fail to qualify, the process stops and you just have to move on to the next survey available.
But if you do qualify, you get to answer the actual survey. When you finish the survey, you will receive the indicated number of coins as well as XP points.
Option 3 – Faucet Claim
This earning opportunity will also be available from the get-go and it is very easy to do. To access their Faucet Claim opportunity, just click the "Ready-To-Claim" option on the dashboard.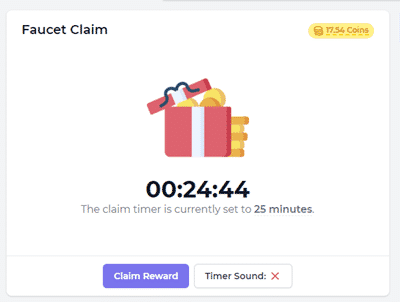 You will see something similar to the photo above. Then, just solve the captcha and click the "Get" button at the bottom. Once you've done that, you will receive a certain number of coins as well as 10 XP points.
You can do this every 25 minutes. So you can keep coming back to claim free rewards.
Option 4 – Offerwalls
Offerwalls are like their paid surveys. You can unlock this option once you've leveled up your account to level 20. For those not familiar with offerwalls, they are basically in-site advertising platforms that promote specific websites and mobile apps through their paid offers.
And these paid offers are actually just short tasks you can do to earn rewards. Usually, these paid offers will ask you to answer surveys or quizzes, watch videos, download mobile apps or games and play them, or register to websites.
Each offer will indicate how many coins you will get. To start working on an offer, just click an offer you are interested in doing and it will display the requirements/steps you need to follow. Make sure to read and understand what each offer is asking you to do because if you miss one requirement or step, you won't be able to complete the offer and you won't earn the reward.
Once you've completed the reward, you will receive the reward as well as XP points (the number of XP points you will receive will depend on the offer).
Option 5 – Shortlinks
Shortlinks work a lot like paid ads. The premise behind this opportunity is you have to visit certain links.

But, I have to warn you though, most of the links it will ask you to click will take you to either unsafe websites or spammy websites with a lot of pop-up ads.
That's why I would recommend you skip this earning opportunity because your device might get infected with malware or spyware. At least make sure you have a very good antivirus program installed if you still want to use this option.
Option 6 – Challenges
Another way to earn more rewards from Faucet Crypto is by working on their challenges. There are two types of challenges you can do: permanent and rotative challenges.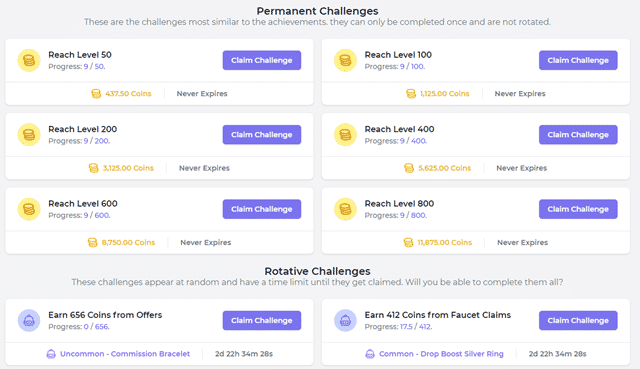 To view the challenges, just click "Challenges" on the left side of the dashboard. You will see something similar to the photo above. The idea behind this opportunity is, when you achieve the requirements needed for the challenge, all you have to do is click the "Claim Challenge" button and you will receive the bonus reward.
Permanent challenges will take longer to complete but you will eventually complete them as long as you stay active on the site. As for the rotative challenges, they have a deadline, so you will have to prioritize these challenges if you want to claim the reward.
Most challenges will require you to complete a certain number of a specific earning opportunity the site offers. In the photo shown above, there's a challenge that will require you to earn 656 coins from offers.
That means you have to complete paid offers on offerwalls and once you've earned 656 coins, go back to the challenge page and claim the reward before the deadline. Once the deadline passes, you will miss the chance to claim the reward.
Option 7 – Referral program
Lastly, you can earn additional rewards by inviting other people to join the site through their referral program. All you have to do is share your invite link with the person you want to invite.
Once the person you invited clicks the link and signs up as a member, they will become your referral. Then, when they earn coins and XP points from the earning opportunities of Faucet Crypto, you will receive a 20% commission which will be shouldered by the site. So, it won't be deducted from your referral's earnings.
It's a nice way to get some passive earnings from the site. But you have to make sure the people you invite are really interested in earning from the site.
Recommended: Check Out the Top GPT Sites
How do you get paid?
Every earning opportunity you complete will earn you a certain number of coins. You can then use these coins to redeem various cryptocurrencies.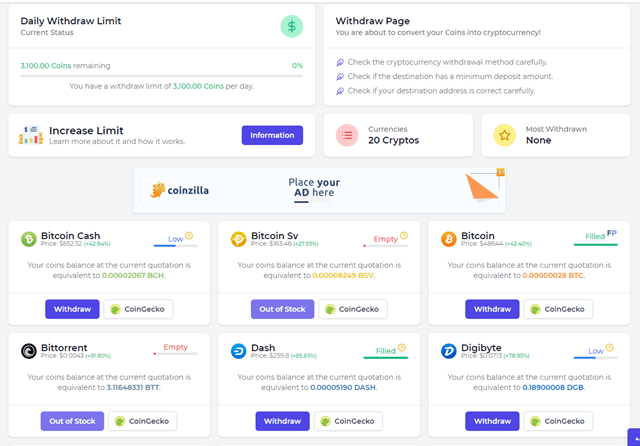 To withdraw your earnings, you just have to click the "Withdraw" option on the dashboard and you will see something similar to the photo above. You don't need to reach a payout threshold to withdraw your earnings.
But there will be a limit to how much you can withdraw per day. That limit will depend on the level of your account. The higher your level, the higher your daily limit for withdrawal is.
As for the cryptocurrencies you can redeem, Faucet Crypto supports a lot of cryptocurrencies. You can withdraw Bitcoin, Dogecoin, Ethereum, Litecoin, and more. What you will essentially be doing is you will be trading in your coins for the cryptocurrency of your choice.
You should be aware though that as with most cryptocurrencies, you must withdraw directly to your wallet. While for some currencies, you must withdraw it to FaucetPay.io. So, if you decide to redeem cryptocurrencies that are only available via FaucetPay, you must also create an account for that website.
But for many cryptocurrencies, any crypto wallet will do. For Bitcoin withdrawals, you will need to use FaucetPay.
Take note that these are the only reward options offered by Faucet Crypto. If you are looking to earn cash, I would instead suggest you check out the top sites that pay via direct bank transfer.
How much money can you make?
As with most PTC sites, the earning potential of Faucet Crypto isn't really that great. Their rewards are quite low.
But I would have to say, the way they design their reward system is actually quite smart. You see, your account level will not only affect how much money you can withdraw daily, but it will actually also help you increase your earnings.
For every level you reach, you will receive a 0.125% reward multiplier. So, for example, if you reach level 12, your bonus reward multiplier will now be 1.5%. It's not a dramatic increase at the start, but it's a good way to keep you motivated to stay active on the site.
You will start to feel the increase in rewards when you've reached around level 300 or more.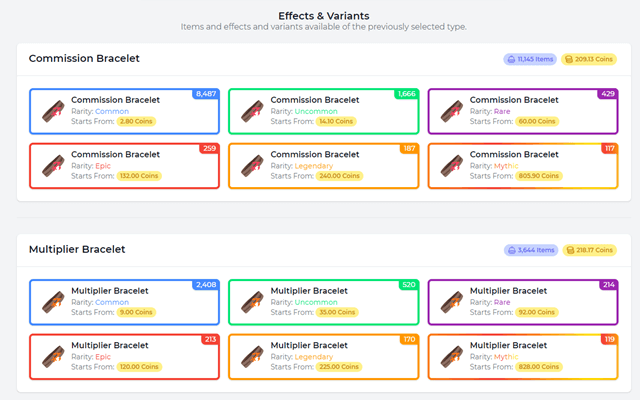 Plus, when you work on their earning opportunities, there's a small chance that each earning opportunity you complete will reward you with an item. This item will have a specific property just like in role-playing video games.
For example, a common commission bracelet will allow you to receive an additional 2% from referral commissions which will last for 60 commissions. The bonus will depend on the rarity of the item. And the good thing is, you can sell these items on their marketplace for additional coins.
It's a nice addition to their reward system and it helps give off a unique vibe to the site. It's actually the first time I've encountered this kind of addition to a PTC site.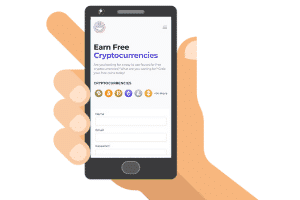 Can you use it on mobile?
Faucet Crypto doesn't have a mobile app you can download, but you can still access its site from a mobile device. The mobile version of their site is optimized for mobile use so you won't have a hard time using it on your mobile device.
This is a good thing because there are some paid offers from their offerwalls that will require the use of mobile devices. So, if you want to maximize your earnings from this site, you will eventually have to use it on your mobile device.
But as for viewing ads, I would recommend you work on this on your laptop or desktop because it can get quite bothersome to keep switching browser tabs on your mobile device.
Who can join Faucet Crypto?
Faucet Crypto is available globally. So, you can register as a member regardless of where you live. But you have to be at least 18 years of age to join their site.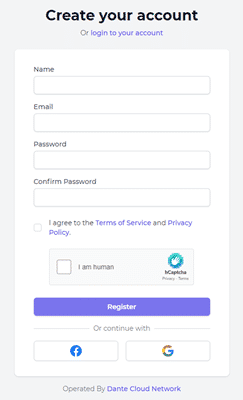 To sign up as a member, you can use your Facebook or Google account. Or you can just register the old-fashioned way where you can provide your own login details.
Once you've completed the registration form, you can now log in to the site and start earning. During the first login, you will be taken to a short tutorial of how the site works. I suggest you don't ignore this and read it carefully so you will have a good understanding of what you need to do on the site.
Can you get support?
If you have any questions about the site or your account, you can first check out their FAQ page. It discusses most of the basic topics you need to know about the site. If you can't find the answers you are looking for, then you can contact their support team via email.
You can email them at supportcenter@faucetcrypto.com. Keep in mind though that your email must follow the guidelines provided on their support center page. To access their support center, just click the "Support Center" option on the left side of the dashboard.
Overall, I would say the site has a decent support system in place for their members since they ensure you will be able to get in touch with their support team easily.
Final Verdict
Faucet Crypto is a legit PTC and faucet site that will reward you for viewing ads and completing short tasks. It has its merits but it also has certain drawbacks you need to be aware of.
Let me summarize its pros and cons to conclude this review so you can get a clear overview of what the site has to offer. Then, you can decide if you should join this site or not.

Pros:
Available globally
Their site is mobile-friendly
Has a unique reward system that is designed to help you earn the longer you become active on the site

Cons:
Low rewards
Doesn't offer cash rewards
Some earning opportunities will take you to malicious or spammy sites
Overall, I would say Faucet Crypto is a decent PTC and faucet site. Apart from their shortlinks, the other earning opportunities are quite safe and easy to do. But then again, the earning potential will still be quite low. So, don't expect to earn a lot from this site.
But it's a decent way to earn free cryptocurrency. Just make sure not to do their shortlinks and you should be fine.
Now, if you are looking to earn cash or if you are just looking for better ways to earn in general, I would suggest you check out the top survey and GPT sites in your country instead. The sites on this list all have good earning potential and most (if not all) of them offer cash rewards.
If you have any comments, questions, or have any experiences with Faucet Crypto yourself, I would love to hear from you in a comment below.