If you are looking for a way to earn cryptocurrency for free, you have maybe come across FaucetPay.
But is FaucetPay even legit and worth joining, or is it a scam to stay away from?
I have tested it myself and have compared it to the hundreds of other free earning platforms I have tested over the last few years,
This FaucetPay review will answer all burning questions about this site.
You will get an inside look and learn about all the details and know exactly what to expect and if this is really worth investing your time in or not.
So, let's go ahead and get this review started, shall we?
What is FaucetPay, and what does it offer?
FaucetPay is mainly a micro wallet that also has Get-Paid-To (GPT) features, which makes it quite a unique site. But for the purpose of this review, we will be looking at the GPT aspect of the site. As for its legitimacy, FaucetPay is indeed a legit site since it will really pay you for completing simple tasks.
Now, to fully understand how this site works, we have to take a closer look at the earning opportunities it offers. By doing so, you can also get a snapshot of how well you can earn from this site.
I have, therefore, made a video that gives you an inside look and shows exactly how you can earn from FaucetPay. Just be aware the design of the platform has changed a bit since I recorded the video, but what it offers is still the same.
You can also read all the details below the video.
Recommended: Check Out the Best Ways to Earn Bitcoin for free
Option 1 – Paid surveys
When you become a member of FaucetPay, the first earning opportunity that will be accessible to you is their paid surveys. The reason why I say it is the first accessible opportunity is, the other earning opportunities need to be unlocked (I will explain later how to unlock them).
Take note though that the paid surveys I'm referring to here are the paid surveys from one of their partner sites (TimeBucks). Their actual paid survey section has to be unlocked like their other earning opportunities.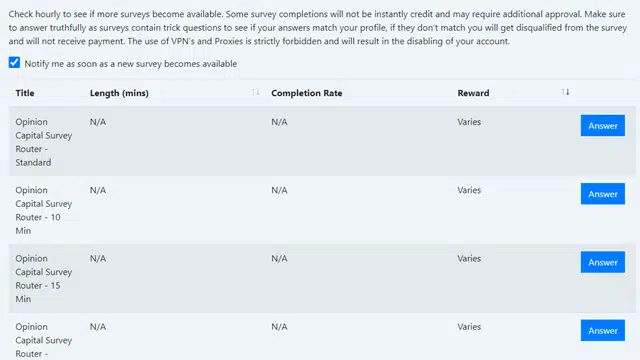 To access their paid surveys from TimeBucks, you just have to log in to the site and click the "Earn" option on their menu. Then, click the Offerwalls. Under the Offerwalls section, you have to click TimeBucks. You will then see something similar to the photo above.
Just choose which survey you want to answer and then click the "Answer" button. It will open a new browser tab where you will have to set up your profile first. Just answer all the profile questions as honestly as you can. Once you are done, you will be notified if there are surveys available for you.
If there is a survey available, then just proceed with answering it. Once you finish answering the survey, you will receive the reward promised. If there are no surveys available for you, then you just have to go to the next available survey in the FaucetPay offerwall.
For every survey you complete, you will be rewarded with USDP. Later on, I will discuss what you can do with the USDP you've earned.
Option 2 – Daily login bonus
Once a day, you will be able to claim a login bonus. The first time you log in to the site for the day, you will immediately see something like the photo shown below.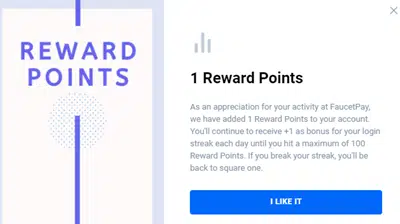 During your first day, the daily login bonus will be set to 1 Reward Point. This will gradually increase when you keep your streak of logging in to the site. The maximum Reward Point you will get will be 100 Reward Points.
So say, for example, you've logged in to the site for 15 days straight, and the last bonus you got was 15 Reward Points. Then, the next day, you failed to log in, thus stopping your streak. The next time you log in to the site, the daily login bonus you will receive will be back to 1 Reward Point.
That's why it is really important to keep the login streak going to maximize your earnings. To give you a perspective of how important this bonus is, 1 Reward Point is equivalent to 1 Satoshi. So, you can potentially earn 100 Satoshis every day you log in, which is a nice bonus, in my opinion.
Option 3 – Offerwalls
This is another earning opportunity you have to unlock. You can only access their offerwalls if you have made a certain number of faucet payments per month (usually 5 to 7 faucet payments). So, how do you get faucet payments?

Well, the first thing you do is sign up for a website or app that dispenses rewards in the form of Satoshi (the smallest unit of a Bitcoin). In other words, you have to look for other GPT sites and apps that give out Satoshis as payment through a faucet.
Then, you have to link that faucet to your FaucetPay account (refer to the photo above). Once you've linked that, you just have to do the tasks offered by those other sites and apps to get paid. I know it's kind of a weird setup because you will have to work on other sites and apps.
But, if you want to unlock their offerwalls, you have to comply with this requirement. Now, if you're not familiar with offerwalls, they are basically in-site/app advertising platforms that are designed to promote websites and mobile apps.
Offerwalls do this through their paid offers. These paid offers are simple tasks you can do to earn rewards. These tasks will usually ask you to answer surveys or quizzes, play mobile games, sign up for websites, watch videos or ads, and more.
To work on a paid offer, just choose which offerwall you want to work on and click it. Then, click the offer you are interested in doing. You will then see the instructions you have to follow to complete the offer. Make sure to read and understand the instructions before you start because if you miss even just one step, you will not be able to complete the offer, and you won't get paid.
When I was doing my testing, FaucetPay had 8 offerwalls available, which isn't that many compared to other GPT sites. So, there aren't a lot of offers you can do, and you will eventually run out of things to do to earn from. That's one of the disadvantages of this site. But you can still work on the other opportunities to earn more.
Option 4 – FEY staking
Speaking of other opportunities, you can also earn by participating in their FEY staking. If you've been working with cryptocurrency for a long time, this will be very familiar to you. But if this is your first time hearing about the term "staking", it's a form of earning opportunity where you can earn cryptocurrency by depositing a certain amount for a specific period.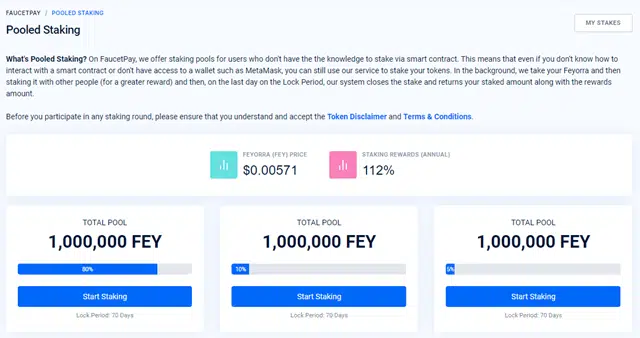 In FaucetPay's case, the lock-in period for their staking is 70 days, and it will involve the token called FEY (or Feyorra). So, how can you get this token? Well, you can use any cryptocurrency to trade for this token. And the good thing is that you can just do it inside FaucetPay since they have a trading platform you can use.
For example, you can convert your Bitcoin to FEY tokens. That's usually the route members take when they want to participate in the staking. Once you've converted your Bitcoin to FEY tokens, then you just have to choose the kind of staking you want to participate in.
I would suggest you join the one that is almost close to full so that you don't have to wait long for the staking period to start. Once it starts, you just have to wait 70 days to receive your reward. It kind of works like putting money in the bank and waiting for the interest to be credited to your account.
Take note that the FEY token you've placed in staking can't be withdrawn until the staking period is over. Before you decide to participate in this earning opportunity, I would suggest you read up first on what crypto staking is really all about.
Because you can also potentially end up losing money by doing this, and you need to know exactly what you are getting into.
Option 5 – Multiply BTC games
FaucetPay has a section called Multiply BTC.
This is a section where you can potentially multiply your earnings. However, this also comes with a risk.
You can bet your earnings, and it offers several games where you can do this. At the time of writing this review, the games you can play are Dice, Roulette, Limbo, Crashes, and Plinko.
All of the games are very simple and easy to play, and they have easy-to-follow instructions on the website. You just choose a bet and play the game, and if you win, you will get a reward, but if you lose, you will lose your bet.
The higher amount you bet, the more you can potentially win, but then, of course, the risks will also be higher.
So this is not a good option for all and only a good option if you like gambling – but be careful, as your earnings can quickly disappear if you are not lucky.
Option 6 – Referral program
Lastly, you can earn bonus rewards by participating in their referral program. If you are not familiar with what a referral program is, it is basically an opportunity where you can earn by inviting other people to join the site.

All you have to do is share your invite link with the person you want to invite, and once they sign up to FaucetPay using your link, they will become your referral.
But, before you can earn from their referral program, your referral must become an active member of the site. That means they have to complete any of the earning opportunities offered by FaucetPay.
For example, if they complete a paid offer from one of their offerwalls, you will receive a 0.15% commission which will be shouldered by FaucetPay.
This used to be significantly higher, but they have lowered all the commission rates, and I have never seen a GPT give this low referral rewards out of the hundreds of sites I have tested.
It can be a way to earn a bit, but it is hardly worth the effort, in my opinion.
Recommended: Check Out the Top GPT Sites
How do you get paid?
If you are interested in joining FaucetPay, you have to have a crypto wallet because FaucetPay will only pay you cryptocurrency. It doesn't offer cash rewards.
Now, as for the rewards you will earn, they will automatically be converted to Bitcoin by FaucetPay. So, the base currency it will be using is Bitcoin. It is up to you if you want to convert it to some other cryptocurrency (you can convert your Bitcoin to many different cryptocurrencies through their trading platform).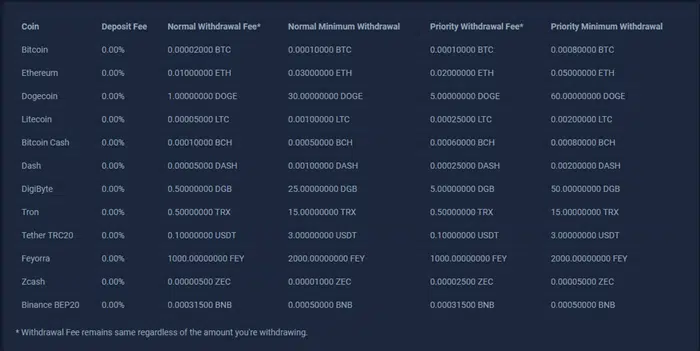 For every withdrawal you make, there will be a withdrawal fee involved. The fee will depend on the cryptocurrency you will withdraw, as well as the type of withdrawal you will make. Normal withdrawals will have a lower fee, and priority withdrawals will cost more (refer to photo above).
As for how you can withdraw your earnings, there are two options you can choose from. You can choose to do the normal withdrawal, which usually takes around 4 hours to be processed, or you can choose the priority withdrawal, which is usually processed in around 5 minutes or less.
To withdraw, you just have to provide your crypto wallet address. Once you've done that, FaucetPay will be able to process your request.
Their payment system is relatively simple, but you have to know the ins and outs of cryptocurrency handling so it won't be confusing for you when you have to withdraw your earnings.
If you are interested in knowing more about cryptos, you can sign up for a 100% free cryptocurrency for beginner's course here.
If you prefer a simpler way of withdrawing your earnings, I would recommend you check out the top sites that pay via PayPal instead.
How much money can you make?
The amount you can earn from FaucetPay will depend on how active you are on the site and how well the site pays. This, in my opinion, is where FaucetPay is at a disadvantage.
The earning opportunities they offer don't really pay that well. For example, the surveys you can answer will only typically pay you around 10 to 80 USDP at most. To put it into perspective, that will only be around $0.025 to $0.2 if you convert it to cash since 400 USDP is equivalent to $1.
That's quite a low reward. Plus, you have to consider that you don't always get to earn from every survey you answer because you still have to qualify to get a chance at getting paid. Their paid offers offer even lower rewards in many cases.
So, you'll have to complete a lot of surveys and offers just to earn a decent amount. Plus, they don't offer a lot of earning opportunities compared to other GPT sites. That's why I would say the earning potential of this site is quite low.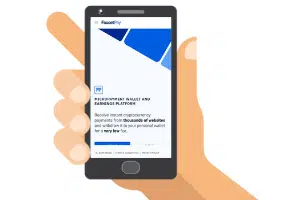 Can you use it on mobile?
FaucetPay doesn't have a mobile app you can download, so you can conveniently work on earning opportunities from your mobile device. However, you can still access their site from a mobile device by using a mobile web browser.
Their site is mobile-friendly, so you shouldn't have a hard time navigating through it and reading all the content easily. This can come in quite handy, especially when you are trying to complete paid offers that will require playing mobile games or downloading other mobile apps.
Who can join FaucetPay?
FaucetPay is available globally. So, you can register as a member regardless of where you live. You just have to be at least 18 years of age to join.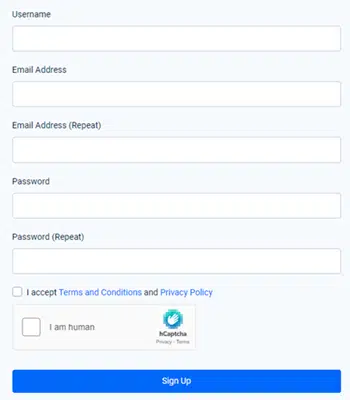 To sign up, just fill out their registration form. Then, it will send a confirmation link via email. Click the link to complete your registration.
During your first login, you will be asked for a two-factor authentication code. So, go back to your email and check your inbox for the code. They will send it to you right away. Just input the code, and you will be able to log in to their member dashboard.
Now, it's up to you whether you want to use the two-factor authentication mode or if you want to disable it. To disable their two-factor authentication mode, just go to your account settings.
Can you get support?
If you have any questions about the site or your account, you can check their FAQ page first since it discusses most of the important topics you need to know about the site. But if you can't find the answers you are looking for, you can submit a support ticket which can also be accessed on their FAQ page.
But if your question is regarding one of their offerwalls, you will have to use the contact support option found on the specific offerwall. FaucetPay will not entertain any inquiries regarding their offerwalls since these offerwalls have their own support team.
Overall, I would say the site has a decent support system in place for its members since they offer a convenient way for you to get in touch with its support team.
Final Verdict
FaucetPay is a legit GPT site that has its own unique features, but it also has certain drawbacks you need to keep in mind.
Let me end this review with a summary of its pros and cons so you can get an overview of what the site has to offer. Then, you can decide if this is really a site worth investing your time in or not.

Pros:
You can easily trade your crypto earnings on their site
They are generous with their daily login bonus (as long as you keep the login streak going)

Cons:
Limited earning opportunities offered
Low rewards
Doesn't offer cash rewards
Very poor referral program
Not very user-friendly
In my opinion, FaucetPay isn't a good option for all. It pales in comparison to many other sites that offer the same kind of opportunities. And if you want to earn crypto for free, there are many better free ways to earn crypto instead, in my experience.
It is mainly just a good option if you use some of the faucets that require you to join FaucetPay to receive payments.
But overall, I would instead suggest you check out the top survey and GPT sites in your country. The sites on this list all have good earning potential. You won't have to spend a lot of time to earn a decent amount. Plus, most of these sites will also allow you to earn cash aside from cryptocurrency.
If you have any comments, questions, or have any experiences with FaucetPay yourself, I would love to hear from you in a comment below.