Are you looking for a side hustle to earn extra cash? If so, there's a company called Favor Delivery that claims you can earn by working as a delivery guy or girl.
Now, there are many platforms offering this kind of opportunity, so should you choose this one?
Well, if you continue reading this Favor Delivery review, you will find out if it is really worth joining or not.
In this review, I will reveal the truth about what this platform has to offer, so you will know exactly what to expect when you work for them.
Then you can decide if it is a good fit for you or not. So without further ado, let's get this ball rolling, shall we?
What is Favor Delivery, and what does it offer?
Favor Delivery is a food delivery platform that will pay you to deliver food and grocery items. It is similar to another popular food delivery platform called DoorDash, which you might have already heard of or even used.
It is indeed a legit platform since you will really get paid to work as a "runner" (which is their term for their delivery guys).
Now, to figure out if you should work as a runner, you must first understand how it works. That way, you'll get a good idea of what you need to do to earn from it. And the best way to do that is to take a look at the earning opportunity it offers.
So here's how to earn from Favor Delivery.
The earning opportunity – Working as a Runner
To earn from Favor Deliver, you need to be accepted as a runner. Later, I will discuss how you can do that.
Once you become a runner, all you need to do is to use the app for runners called Favor Runner and accept orders from customers.
These orders will usually ask you to buy food from a certain restaurant or store. Let me explain how the process works.
When a customer orders food, grocery items, or other things through Favor Delivery's platform, you will receive a notification from the runner app regarding the order.
You will see the details of the order. Now, it's up to you if you want to accept this order. If you do so, then you have to buy all the items stated in the order and delivery them to the customer's doorstep.
Working as a runner for Favor Delivery means you have to use a car to deliver orders. But you do have the option to use a bicycle instead. Of course, choosing the latter means, you'll have to be very picky about which orders to accept because the company takes pride in delivering orders under an hour after ordering them.
So you can't really accept orders where it won't be possible to reach within an hour via bicycle.
After the order is delivered, the customer will pay you and sometimes even tip you. Transactions are cashless, so don't expect to receive any cash.
Customers will have to pay through their preferred payment method (credit or debit card). As for how you get paid, your earnings will show up in your Favor Runner account balance. Later, I will discuss how you can withdraw your earnings and how much you will get paid per order.
You can work as a runner anytime you want, and you are not obligated to accept any order if you don't want to. But you also have the option to set a schedule where you want to work as a runner. For example, if you want to work as a runner the next day, you can indicate inside the app that you want to work during a certain period of time during that day.
Doing so will allow you to earn additional money because while you are working during your specified schedule, you will earn a guaranteed $9 to 18 per hour. This rate will vary based on delivery volume, customer demand, time of day, location, and other variables.
As for paying for the orders of customers, you will be issued a Runner Card to cover the cost of all items you deliver. So you don't have to shell out your own money when working for Favor Delivery. You can also choose to purchase Runner Gear you can wear while working as a runner.
Another thing you need to remember when working as a runner is that Favor Delivery has car insurance that automatically covers third-party liability and contingent collision coverage while running an active order. There's no signup required, and it is 100% free. You can read all about their car insurance here.
Earning from Favor Delivery is relatively straightforward. The key thing to remember is always to make sure to deliver the order on time (under an hour). If you're late, then customers will complain or won't give you a tip.
Recommended: Check Out the Best Gig Jobs
How do you get paid?
As explained above, your earnings will be credited to your Runner account balance. But as for the amount you will earn per Favor (the term for orders), you will get 35% of the delivery fee and 100% of all tips.
Once you've earned at least $30, you will be able to withdraw your earnings directly to your bank account. You can also schedule the payment to be processed automatically at the end of the week, so you don't have to manually request payment (as long as you've reached the threshold).
Overall, the payment system of Favor Delivery is very straightforward and convenient, in my opinion. I like the fact that you can withdraw your earnings directly to your bank account.
If you are interested in more sites that offer a convenient payment method, I recommend you also check out the top sites that pay via direct bank transfer.
How much money can you make?
As explained above, you will receive 35% of the delivery fee for every favor you complete. While this might be a bit low, in my opinion, you do get to keep 100% of the tips you earn. This is what will significantly increase your earnings.
That's why it is very important to deliver orders promptly and provide good service because doing so will increase your chances of getting a tip from a customer. You can earn a decent amount working as a runner for Favor Delivery, in my opinion.
But there's also another thing you need to consider. You have to think about the gas and car maintenance expenses you have to pay while working as a runner. Even though you will get some perks working as a runner (discounts from certain auto repair shops as well as free car insurance), you still have to spend money on gas expenses, which can pile up quickly, especially if you accept a lot of orders.
So you have to do the math to see if you can really profit from this opportunity. Overall, I would say this opportunity does offer decent earning potential if you provide good service and receive a lot of tips.
Can you use it on mobile?
As explained earlier, you will need to use an app while you are working as a Favor Delivery runner. This app is available for both Android and iOS devices, so you shouldn't face any compatibility issues.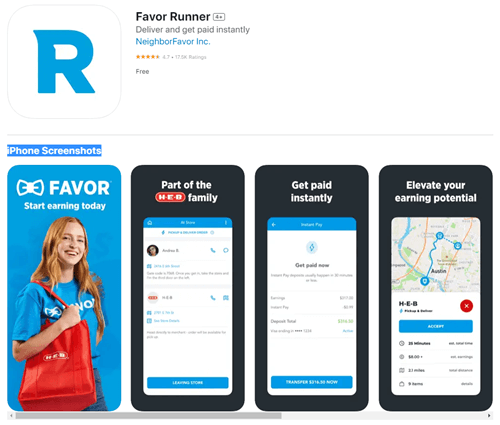 The app will require an internet connection, but that shouldn't be a problem because most mobile subscriptions nowadays offer an unlimited internet connection. It's relatively easy to use, which is a good thing but it can still be buggy from time to time. When this happens, you just need to be patient and try opening the app again.
Who can join Favor Delivery?
Now, here's the important thing. Favor Delivery is only available in certain cities in Texas. So if you live somewhere else, then this opportunity is not for you. Plus, you have to be at least 18 years of age and have a bank account to join.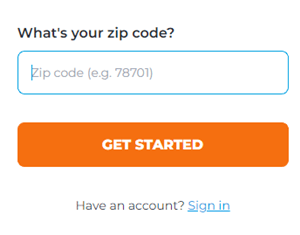 To sign up as a runner, you will have to fill out the sign-up form. Once you submit it, you'll be asked to submit a photo of your driver's license. If you choose to deliver using a bicycle, you'll be asked to submit a photo of another valid ID. You will also be asked for your social security number.
After you've submitted the photo ID, your application will be reviewed. Favor Delivery will conduct a background check on you using the social security number you provided, so it can take a couple of days before you will hear back from them regarding your application.
If you get accepted as a runner, you will be asked to watch a 10-minute video presentation. This will orient you regarding how their payment system works and the overall process of working as a runner. So make sure not to skip that part because it is very important. After you've finished the onboarding process, you can now start working as a runner.
Can you get support?
The site has a FAQ page specifically for runners, so if you have questions regarding your account or anything about the site, you can check it out first. If you can't find the answers you are looking for, you can log in to the Help Center and use it to submit your inquiry.
Overall, I would say Favor Delivery does provide decent support for its runners since it offers a way for you to request assistance conveniently.
Final Verdict
Favor Delivery is a legit food delivery company that will pay you to deliver orders from their customers. It has a couple of good features, but it also has some disadvantages you need to consider.
Let me conclude this review with a summary of its pros and cons to give you an overview of what it has to offer. Then you can decide if this is the right fit for you or not.

Pros:
Will let you keep 100% of the tip you earn per order
Offers free car insurance while you are working as a runner

Cons:
Low rate of pay
Only available in select locations
If you are eligible to join Favor Deliver, then it can serve as a decent side hustle to earn extra cash, in my opinion. However, before you join, I would recommend you do the math first to see if you can earn a decent amount from it.
You need to factor in gas expenses when you are doing this because this is what will mainly indicate if this will be a profitable endeavor for you or not. But I do like the fact that you get to keep 100% of the tips you earn while working as a runner.
Not a lot of food delivery companies offer this. But of course, you have to make sure you always provide good service if you hope to receive a tip from a customer. But if you just rely on the rate the Favor Delivery pays you, it won't necessarily even cover your gas expenses. So that's what you need to keep in mind if you want to work as a runner for this company.
Now, if you are not eligible for this opportunity or you are looking for other ways to earn good money, I recommend you check out the best gig economy jobs and where to find them instead.
You can also check out the top survey and GPT sites in your country instead if you want to earn without leaving the comfort of your home. The sites on this list all have good earning potential, so you will be able to earn decent money in no time.
Plus, you will definitely find a site you can join regardless of where you live.
If you have any comments, questions, or have any experience with Favor Delivery yourself, I would love to hear from you in a comment below.