If you love taking photos using your mobile phone, then, there's an app called Foap that claims you can actually earn money from those photos.
It definitely sounds like a great and fun way to earn extra cash, right?
But before you download this app, I would suggest you read this Foap app review first to learn more about the app. This review will verify if the app is legit or just another scam you need to stay away from.
And if it is indeed legit, it will then examine what the app has to offer so you can determine if it is really worth your time or not. So, let's go ahead and get this started, shall we?
What is Foap and what does it offer?
At its core, Foap is a micro-job app that will pay you for taking on missions that will usually involve taking photos or recording short videos. It is indeed a legit platform since it will really pay you when you are able to complete a mission.
Now, in order to understand how the app works, we have to take a closer look at the earning opportunities it offers. This will also give you an idea of how well you can earn from the app.
I have, therefore, made a video that gives you an inside look and shows exactly how you can earn from Foap. You can also read all the details below the video.
Option 1 – Missions
The main earning opportunity Foap offers is their missions. If you've been a member of micro-job apps or sites before, you might be thinking this is something similar. In a way, it is. But it's actually a bit different from the missions you will encounter on micro-job and tasking sites and apps.

You see, missions are like a sort of contest for Foap creators (you and other members of Foap). When you log in to the app or site (yes, they do have a web version you can use), you will immediately see all the missions available.
There are 3 types of missions available: photo, video, and premium missions. Photo missions will ask you to submit photos, while video missions will ask you to submit videos. For photo or video missions, only one member will be declared the winner.
To work on a photo or video mission, just click any of those missions on the missions page to see the full details. You will then see the instructions you need to follow as well as the prize the winner will get. Aside from that, you will also see the deadline for the mission.
Once the deadline passes, the winner of the mission will be announced. You will find it in the "Winners" section of the member dashboard. If you were lucky enough to win, the prize will be credited to your Foap account balance.
As for premium missions, it's a bit different from the two other missions. Here's where it differs. Premium missions:
always have multiple winners – up to 60 winners per Mission
never require a specific product in the photos
are tailored in a way that everyone can participate
have total rewards up to $2000
To join premium missions, you have to unlock it using Foap coins which you can earn by watching Video Ads inside the app or simply by buying them from the website. If you are chosen as a winner, the prize will be credited to your Foap account balance as well.
The key to winning missions on Foap is to be creative. It's certainly a fun and interesting way to earn. The downside is, there's no guarantee you will win. But if you do win, you will receive a significant amount as a prize.
Option 2 – Brand brief
Another way to earn rewards from Foap is to upload photos and videos to your profile. This is called your brand brief. You have to caption and tag each photo and video.

Then, you have just have to wait for someone to buy them from you on the Foap market. For every photo or video sold, you will earn $10. However, Foap will get a cut off the sale. The split will go 50/50. So, you'll only receive $5 and the other $5 goes to Foap.
It's not the best way to earn, in my opinion, since you won't get the full amount. But it's a good way to dispose of unused photos. Once you sell a photo, you can add another one.
Option 3 – Photos from other users
You can also earn by uploading photos from other users into your album. You can upload as many photos you want. But you do have to caption and tag each photo you upload.
Then, you just have to wait for someone to buy it. For every photo bought, you will earn $0.25 (the owner of the photo gets $5). It's not much, but you have to consider that this is not your photo. So, I would say the reward is just fair. Just think of it as a finder's fee.
One thing you need to remember with this opportunity is, before you can upload a photo in your album, you have to have a verified account for both your Foap and PayPal account. You can find the step-by-step instructions of how to upload a photo to your album on their FAQ page.
Option 4 – Foap Plus
Foap Plus is a special program for creators that connects the best brands with the best creators on Foap. If you are a Foap Plus creator, you have access to special, brand-created missions named "Sampled Requests".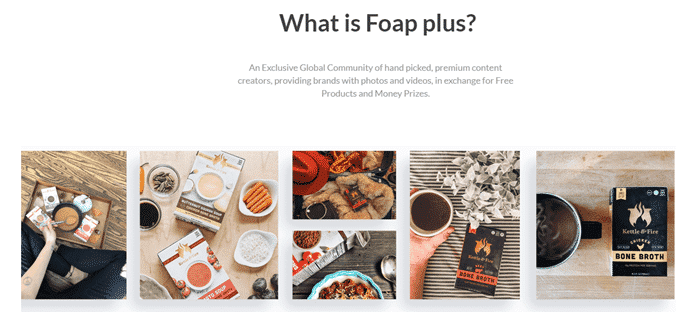 In return for participating in the mission, you'll get a free product from a brand, and brands can also buy your photos or videos. To become a member of Foap Plus, you just have to keep working on missions until Foap will notice you and select you to become part of Foap Plus.
To increase your chances of getting selected, you have to be as creative as you can. That's really what Foap is looking for. You also have to complete brand brief. It's a bit hard to get into this program, but once you get in, you will get a chance to participate in fun and interesting missions.
Recommended: Check Out The Best Micro Job Sites To Earn Extra Cash
How do you get paid?
You will earn a certain amount in US dollars from the earning opportunities Foap offers. And as mentioned above, it will be credited to your account balance.

Before you can withdraw your earnings, you will need to earn at least $5. It's a relatively low payout threshold, in my opinion. You can easily reach it when you are able to sell a photo.
Once you hit the threshold, you can then withdraw your earnings via PayPal. This the only payment option they offers. So, if you are interested in joining, you have to have a verified PayPal account first.
Their payment system is relatively straightforward and I like the fact that the threshold is low. You can quickly withdraw your earnings. If you are interested in more sites that offer a low payout threshold, I recommend you also check out the fastest paying sites.
How much money can you make?
The amount of money you can earn from Foap will mostly depend on how often you can sell photos and get chosen as the winner for missions. I won't lie, the prizes for the missions are pretty significant (usually around $100 or more).
But for the photos sold, I would say the earnings are pretty low. A 50/50 split, in my opinion, is quite a high fee. The one main downside about Foap is, there's no guarantee you will earn from it regularly. So, you can't really rely on it as a steady source of extra cash.
And you can end up putting in quite a lot of work for certain missions without winning and thereby waste your time. And there is a real chance this will happen regularly as there will only be one winner for many of the missions.
But if you manage to win even just a couple of missions, you stand to earn a pretty significant amount. That's why I would say the earning potential of Foap is not that good for the reason that you can't expect to earn from it regularly.
But if you are creative and like doing the kind of tasks Foap ask you to do, it can be fun and then if you win some of the missions, it can give some nice extra cash.
Can you use it on a desktop?
As I've mentioned earlier, Foap has a web version for their member dashboard in addition to the app. So yes, you can use it on a desktop. But most of the work that needs to be done should be from a mobile device or a digital camera.
If you want your photos to look like it was shot by a professional, then nothing beats using a digital camera, in my opinion. Your mobile device's camera can only do so much (even though they are getting better and better).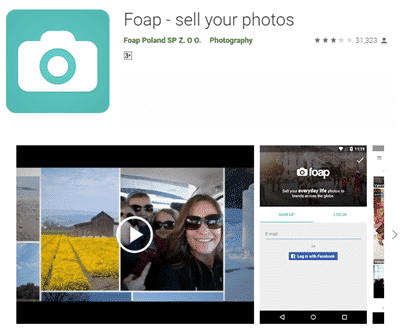 As for their app, it works for both Android and iOS devices. So, you won't encounter any compatibility issues. Their app is also user-friendly. You won't have a hard time getting used to how it works.
Who can join Foap?
Foap is available more or less worldwide. So, you can register as a creator regardless of where you live. You just have to be at least 18 years of age to join.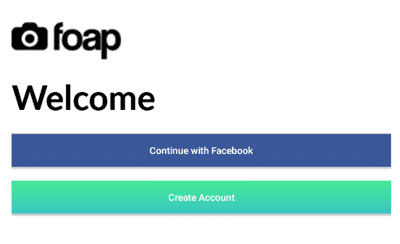 You can sign up using your Facebook account or you can use your own email address and password. Once you are done with the sign-up process, you have to verify your membership by clicking the verification link that will be sent to you via email.
Keep in mind that you also have to make sure you have a verified PayPal account in order to get paid.
Can you get support?
If you have any questions about your account or their site/app, you can check out their knowledge base first. It discusses most of the important topics you need to know. It's quite comprehensive, so there's a high chance your question will be answered.
But if it doesn't get resolved, you can email their support team at support@foap.com. If you encounter any bugs on their app or website, you can also report it using the "Report Bug" link on their support page.
Overall, I would say Foap has a decent support system in place for their members. It offers a couple of ways for you to get in touch with their support team. Their knowledgebase is also very useful.
Final Verdict
Foap is a legit micro-job app that will allow you to earn by working on missions and selling photos. It has a couple of good features, but it also has some drawbacks you need to be aware of.
So, let me wrap up this review by summarizing its pros and cons so you can get an overview of what Foap has to offer. That way, you can decide if it is a good fit for you or not.

Pros:
Offers a fun and interesting way to earn
Their missions offer high rewards
Offers payment via PayPal

Cons:
Limited earning opportunities offered
Doesn't offer any guaranteed earning opportunity
The one main drawback of Foap, in my opinion, is that there's no guarantee you will earn on a regular basis. It's tough to complete missions because you will be competing with other members. But the rewards for their missions are quite good. So, if ever you win, you will earn a significant amount.
That's why I would say Foap is not for everyone. I would only recommend you join this platform if you are really into photography. It's a good way to practice your craft and get a chance to earn a bit of cash on the side.
But if you are just looking for ways to earn on a regular basis, then I would recommend you check out the top survey and GPT sites in your country instead. The sites on this list all have good earning potential and you will be able to earn on a regular basis.
If you have any comments, questions, or have any experiences with Foap yourself, I would love to hear from you in a comment below.