I'm constantly on the lookout for ways to earn online and one of the sites I've encountered recently is called Freelancer. This site claims you can find jobs once you become a member.
The question is, is Freelancer legit or is it just a scam?
Well, whenever I see a site like this, I always try it out for myself to see if what it claims is really true. I have tested hundreds of free ways to earn online, and I have learned the hard way that not all claims are true:-)
In this Freelancer review, you will learn all the details so you will know exactly what to expect. I will explain how the site works and how well it pays so you can get a clear picture of whether it is worth it or not.
So, let's not waste any more time and get this review started, shall we?
What is Freelancer and what does it offer?
Freelancer.com, as the name suggests, is a freelancing site that offers jobs for its members. It is definitely a legit site because you will really get paid once you land any of the jobs you applied for.
To gain access to the job offers, you'll have to sign up as a member (I will discuss later how you can do this).
So, how does the earning opportunity of Freelancer work exactly? Let's take a closer look so you'll be able to gauge if this kind of earning opportunity is a good fit for you or not.
Option 1 – Projects
Once you become a member of Freelancer, you will gain access to job offers and they are called projects. To view all the available projects, you just have to log in to the website or the app (I will talk about the app later).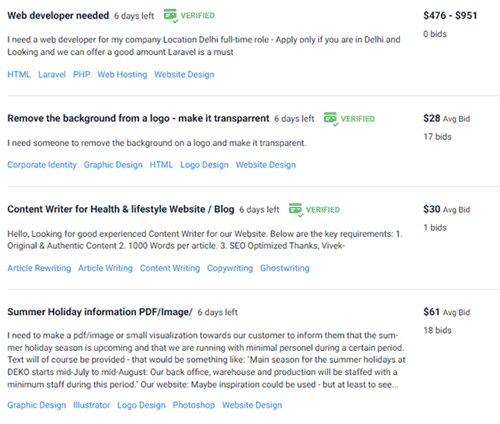 Once you are logged in, you will see something similar to the photo above. As you can see, you will immediately know what type of job the project is, but the keywords you need to look at are bids and average bids.
Yes, that means in order for you to actually land the job, you will have to place a bid. Placing a bid means you are telling the employer how much money you are willing to accept to do the job. Most freelance sites operate in this manner where a freelancer has to place a bid and the employer will have to award the project to the winner of the bidding.
Obviously, it will be up to the employer which bid they will accept.
Placing a bid is not as easy as you might think. You'll have to be well informed about the value of your work so that you won't be selling yourself short.
The idea is that you bid an amount you think is fair for the work that needs to be done. That is why before you place any bid, you have to know your market. A lot of factors come into play for an employer to accept a bid.
They typically look at the amount first and foremost. Then, they look at the bidder's record to check if they really do a good job. Then, they also have to consider the bidder's location. There are other factors that come into play and I can't really talk about all of them because it will take all day.
But basically, this is how applying for a project works. You place a bid and hope the employer accepts your bid. If you get chosen, then you can start the earning process. You'll receive a notification from the site as well as via email that your bid was selected.
When that happens, you are officially hired for the project. All that's left is to do the work that was asked in order to get paid.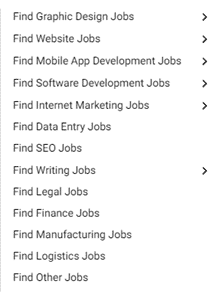 The types of jobs you can apply for will fall into any of the categories shown in the photo above. You can do graphic design, SEO, writing, internet marketing, and various other jobs. There are plenty of projects listed at any given time, so you'll most likely find projects to bid on regularly.
The important thing to remember is that you should not place any bids on projects that you are not comfortable doing or if you don't have the proper skills to execute the job.
That's because if you ever get accepted and you fail to deliver, you will not only be wasting your time as well as the employer's, but you will also get negative feedback from the employer which will negatively impact your chances of getting hired for future projects.
You see, the thing with becoming a freelancer is that your reputation is everything. You need to uphold a good reputation and show potential employers that you can do a good job. And if there is too much negative feedback about you and your work, then you won't get hired.
Option 2 – Contests
The other way to earn from Freelancer is to join any of the contests it holds. These contests are actually just another form of jobs but instead of bidding for the position, you will have to submit your entry.
When you join a contest, you have the option to submit your entry right away or just inform the contest holder that you will be participating in the contest. The second option functions like reserving a seat in a restaurant, so to speak. If you choose the second option, you have to make sure you submit your entry before the contest ends.
A good example of a contest being held on Freelancer is designing a logo or graphic for a company. If you get chosen as the winner, you will receive the prize money which is also indicated in the contest details.
Every contest also has a certain set of rules you need to follow, so make sure to read the contest details first before you decide to join.
Recommended: Check Out the Best Freelance Sites You Can Join
How do you get paid?
As explained earlier, if you work on projects, you will get paid the amount that you specified in your bid. Now, Freelancer.com offers two options for you to get paid. You can choose between the "Milestone Payment System" and the "Transfer Fund" option.
The Milestone Payment System is the recommended mode of payment by Freelancer. The way this works is that you'll get paid every time you reach a certain milestone when working on a project. It can also be in the form of tasks met. The payment will be released to you by your client for every task or milestone met.
Also, every Milestone Payment comes with an invoice which you can use for tax purposes. Using the Milestone Payments also gives you and your client access to Freelancer's Dispute Resolution Service in the event that the project does not go as planned. It is a very useful tool to reconcile any payment issues.
Transfer Fund, on the other hand, allows your client to directly transfer payment to you via the Transfer Funds tab on their Financial Dashboard. This option will not give you access to the Dispute Resolution Service of Freelancer, so it's a bit risky.
As for how you will receive your earnings, you can get paid via PayPal, Skrill, or direct bank transfer. For PayPal withdrawals, you will need to earn at least $30 before you can request a withdrawal. Skrill will only be an option if you get paid in Euro or Sterling Pounds.
The threshold for Skrill will be 30 Euro or GBP. For direct bank transfer, there are two options. You can go for Express Withdrawal or wire transfer. The threshold for Express Withdrawal will be $30, while for wire transfer, you will need to earn at least $500.
The payment methods of Freelancer are very straightforward. The threshold is actually relatively low for a freelance site (except for wire transfer), so you will receive your earnings quickly.
If you are looking for more sites that will allow you to withdraw your earnings faster, I would recommend you check out the fastest paying sites.
How much money can you make?
As explained earlier, you will actually get to dictate how much money you can earn from projects. I won't really factor in the contests because I wouldn't consider it as a guaranteed earning opportunity. So, for this discussion, I will only refer to your earnings from projects.
The thing with becoming a freelancer is that you have to know how much you are worth. In other words, you need to do a bit of research and find out how much you will earn for doing a certain kind of job. A good way to do this is to check the bids on projects by other freelancers.
You can more or less gauge the pay range for every type of job. It takes a bit of time and experience to get the proper balance of being paid a fair amount. The goal is to find the right amount so you won't sell yourself short and not come off as providing cheap labor.
If you place bids that are considerably lower than the market price (for lack of a better term), you will most likely get hired. But that's not really making the best use of your time, in my opinion.
Overall though, I would say Freelancer has a decent earning potential because you will mostly earn around $30 to $100 for simpler projects. For the more complicated ones, expect to earn more than $300.
Can you use it on mobile?
As mentioned earlier, Freelancer has a mobile app you can use so you can apply for projects using your mobile device.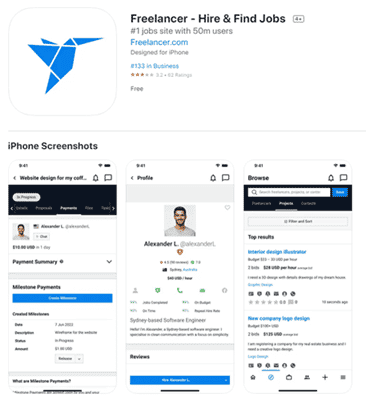 The app will work with both Android and iOS devices. It is also very easy to use, so you shouldn't have a hard time getting used to navigating it.
All the features on their web-based platform can also be found on the app. I highly recommend you use it so you'll get notified immediately if your bid gets accepted. That way, you can immediately start the process of earning.
Who can join Freelancer?
The good thing about Freelancer is that it is available more or less worldwide. You'll be able to register as a freelancer regardless of where you live, but you do have to be of legal age to join. The legal age will depend on the country you live in.
Signing up is actually pretty easy. You can use your Facebook account or you can also provide your own login details. What the site doesn't tell you right away though is that Freelancer is a paid subscription site.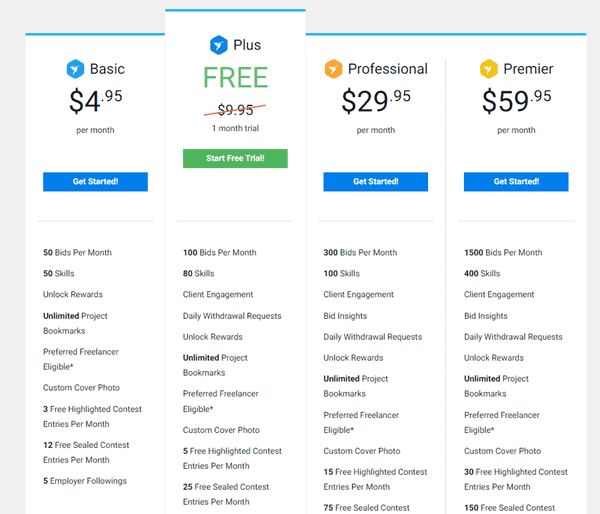 Sure, you can try it out for free for one month, but afterward, if you plan to keep earning from projects and contests, you will eventually have to pay the subscription fee.
In the photo shown above, you can go for a monthly subscription or you can go for the annual option. The annual subscription will allow you to save a significant amount but if you don't have the money right away, going for the monthly subscription is the most cost-efficient option.
It will cost you $4.95 to be a Freelancer member every month. This is how Freelancer makes money which makes sense because you won't really share your earnings with them. Most of the freelance sites I've tested that offer free membership will usually take a cut from your earnings.
Being a paid subscription platform has its pros and cons. If you are in it for the long haul, you will be able to earn back your monthly subscription easily. But if you only plan to work during your spare time, then paying a monthly fee doesn't seem like a very cost-efficient move. You will be better off joining a freelance site that doesn't require any membership fee.
Can you get support?
If you have any questions about the site or your account, you can first check out Freelancer's Help & Support page. It discusses all of the important topics you need to know.
But if you can't find the answers you are looking for on that page, you can get in touch with their support team through the contact form provided on the same page. Just fill out the form and hit submit to send your inquiry.
Overall, I would say Freelancer has a decent support system in place for its members. Its Help & Support page is, well, very helpful. You can also communicate with their support team fairly easily.
Final Verdict
Freelancer is a legit freelance site that will allow you to find decent-paying freelance jobs. It has a couple of good features, but it also has a few limitations you need to consider.
Let me wrap up this review with a summary of its pros and cons to give you an overview of what the site has to offer. Then, you can decide if Freelancer is the right fit for you or not.

Pros:
Plenty of jobs available
Available worldwide
The app is user-friendly
Offers payment via PayPal

Cons:
Requires a monthly membership fee
Freelancer.com, in my opinion, is a decent freelance site. It offers plenty of jobs and you'll be able to dictate how much you will earn from a job. It also offers convenient payment methods.
The only downside to this freelance site is that it has a monthly subscription fee. So, you will really need to commit to it if you decide to join so you can always earn back the monthly fee. If you are just starting out as a freelancer, it's not the best site to start with. You would be better off joining freelance sites that don't have any monthly membership fee, in my opinion.
If you are not willing to pay a monthly fee to earn, I would instead suggest you check out the top survey and GPT sites in your country. The sites on this list all have good earning potential and they are all free to join, so you won't have to spend money in order to earn.
If you have any comments, questions, or have any experiences with Freelancer yourself, I would love to hear from you in a comment below.