If you are looking for a site to earn extra cash from, there's a site called Freeward that claims you can earn rewards and have fun at the same time.
But the question is, is Freeward a scam or is it legit?
I had the same question, so I decided to register and see what this site is all about and compare it to the hundreds of other free online earning methods I have tested.
In this Freeward review, you will learn all about the site so you will know exactly what to expect and don't have to try it out to see if it is for you or not.
I will also include my recommendation at the end of this review to help you come to a decision on whether Freeward is worth your time or not. So, let's go ahead and get the ball rolling, shall we?
What is Freeward and what does it offer?
Freeward is GPT (Get-Paid-To) site that offers multiple ways for you to earn rewards. And yes, it is indeed a legit site since you will really get paid if you are able to complete the earning opportunities it offers.
Speaking of earning opportunities, to figure out if the site is worth it or not, you must first understand how it works and the best way to do that is to examine the earning opportunities offered by the site. So, here's how to earn from Freeward.
Option 1 – Offerwalls
One of the primary ways to earn rewards from Freeward is to work on their offerwalls. In case you don't know, an offerwall is an in-site or app advertising platform that is designed to promote specific websites and mobile apps through its paid offers.
These paid offers are really just simple tasks you can do to earn a reward. It usually involves answering a survey or quiz, registering to a website or app, playing a mobile game, and watching videos.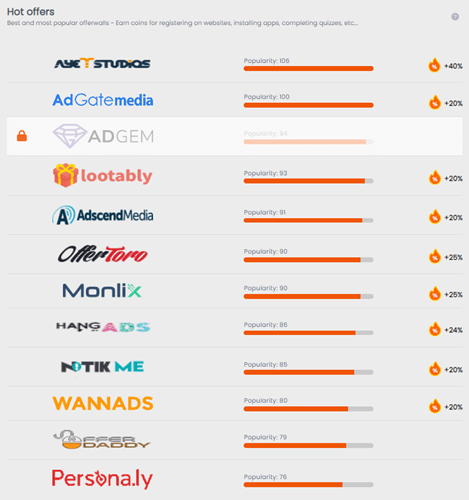 When I was doing my testing, the first thing I noticed was the number of offerwalls available. There were 12 offerwalls available, which is a decent number, in my opinion. This ensures you don't run out of ways to earn because there are plenty of offerwalls you can work on.
I would prefer it to be more, but 12 offerwalls, in my opinion, should be enough to keep you busy.
As for how the paid offers on these offerwalls work, it is relatively straightforward. You pick an offerwall and choose a paid offer you are interested in.
Then, when you click the paid offer, it will show you the instructions you need to follow to complete it. Make sure you understand all the steps because if you miss one, you will not be able to complete the offer and you won't earn anything.
After you've completed the offer, you will earn the promised coins and it will be reflected in your Freeward account balance. Later on, I will discuss what you can do with the coin you've earned.
Option 2 – Surveywalls
Surveywalls are pretty much the same as offerwalls, the only difference is, the offers you will find will all ask you to answer a paid survey. If you are already a member of a survey site, then this will be very familiar to you since the process is relatively the same.
You pick a surveywall and choose a paid survey you want to answer. Then, you go through the qualifying process. If you qualify, you get to answer the survey. If you fail to qualify, you simply move on to the next survey offer.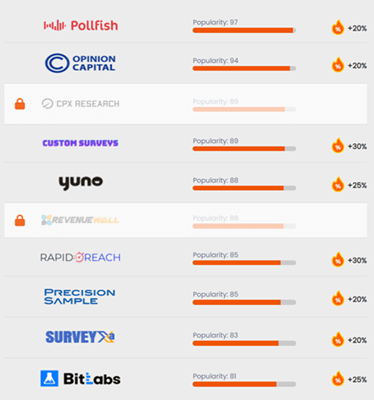 Again, the first thing I noticed was how many surveywalls you can choose from. During my testing, there were 10 surveywalls available but two were locked. You had to be a member of the site for a certain number of days before those locked surveywalls will be available.
It's not really an issue because you will eventually unlock them if you stay active on the site. However, the availability of survey offers per survey wall will still vary. Sometimes one surveywall will have around 4 to 5 surveys available and sometimes, there won't be any, so it's not as reliable as the offerwalls, in my opinion.
It does offer higher rewards than the offerwalls though, so you can't really ignore this opportunity. I would suggest you prioritize working on surveywalls before offerwalls because of the higher rewards.
After you complete a survey offer, you will receive the coins promised, but sometimes, it can take a day or two for the coins to be credited to your account because the surveywall has to review your answers.
Option 3 – Daily raffle
Freeward holds a daily raffle where you can win a certain amount of money. To view the daily raffle, you just have to log in to the member dashboard and click treasure chest icon in the upper right-hand corner of the dashboard. You will then see something similar to the photo below.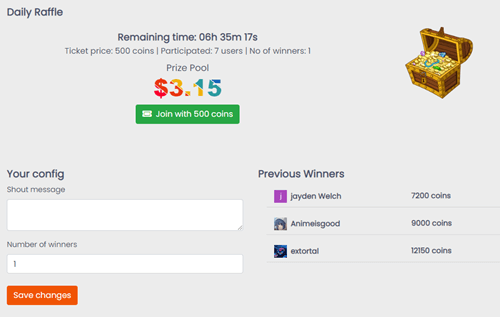 You can join as many times as you want, but you have to keep in mind that each entry will cost you 500 coins. That's why you have to weigh the cost and reward to properly gauge if it is worth joining or not.
There will always only be one winner for the daily raffle and if you win, you will only get 90% of the declared cash prize.
So, you also have to take that into consideration when deciding if you should join or not. I personally don't like this kind of opportunity because there's no guarantee you will earn anything. You'll more likely end up burning your coins.
Option 4 – Watching videos
You can also earn small rewards by watching videos from Loot.tv and HideoutTV. The idea behind this earning opportunity is also very simple. You pick what type of video you want to watch and click it (refer to photo below).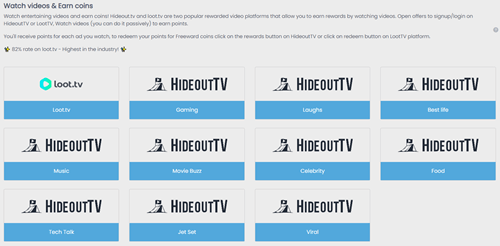 Then, a new browser tab will pop up and it will begin playing the video. Now, the important part here is to view the ads that will be played either before, in the middle, or after the video. This is how you will actually earn rewards from this opportunity.
The video itself is not important. It's the ads that will be played that are crucial. The thing is, if you view a different tab or open a different video, the video will stop playing, so it's actually a bit time-consuming because most videos will last for a minute or two. Some videos even last more than five minutes.
And to top it off, you will only earn a small number of coins (around 5 to 10 coins per video). Some videos don't even offer rewards (videos with no ads). That's why it's not really the best use of your time. I would only recommend you work on this earning opportunity if you've got nothing else to do on the site.
Option 5 – Promo codes
From time to time, you can also redeem promo codes to earn bonus rewards. The promo codes will be posted on their Facebook page as well as their Discord server, so you have to follow their page or join their server to get promo codes.

Once you've got a promo code, just head on over to the promo code section of the member dashboard and submit it. Then, you will receive a certain number of free spins for their spin-the-wheel game (refer to photo above).
When you play the spin-the-wheel game, you will win a random number of coins. That's how easy it is to redeem promo codes. This opportunity isn't very common, so if you see a new promo code, I would suggest you redeem it right away to earn bonus coins.
Option 6 – Referral program
Lastly, you can also earn coins by participating in their referral program. In case you don't know yet, a referral program is an earning opportunity designed to promote the site. The idea is, you invite a person to join the site using your referral link.

When they click your referral link and register to the site, they will become your referral. They will also receive 100 coins as a bonus. Now, in order for you to earn from your referral, they must become active members of the site.
You see, you will receive a 10% commission whenever your referral completes an offer or a survey. For example, if they managed to complete a survey that is worth 200 coins, you will receive 20 coins from Freeward. It's a form of passive income, but you have to make sure you invite people who are really interested in the site. Otherwise, you won't really earn anything if your referral doesn't become an active member.
Recommended: Check Out the Top GPT Sites
How do you get paid?
As explained above, you will earn coins from every earning opportunity Freeward offers. You can use the coins you've earned to redeem various rewards.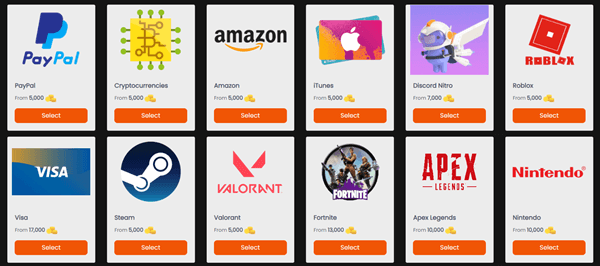 You can redeem a $5 PayPal withdrawal or you can choose to redeem various gift cards instead. You can also redeem a prepaid Visa card. Most reward options will only require you to earn 5,000 coins, but for a prepaid Visa card, you will need to earn 17,000 coins.
On Freeward, every 1,000 coins are worth $1, but the conversion rate for the prepaid Visa card is a bit different. 17,000 coins will only be worth $10 instead of $17 if you choose to redeem a prepaid Visa card.
But overall, the reward system of Freeward is pretty easy to understand and I like the fact that it offers PayPal as a reward option because it is one of the most convenient payment gateways available, in my opinion.
If you are looking for more sites that offer convenient payment methods, I would recommend you check out the top sites that pay via PayPal.
How much money can you make?
The amount of money you can earn from Freeward will depend on how much time you are willing to spend on it. It doesn't pay a lot because you can only typically earn around 20 to 50 coins for most paid offers.
There are paid offers where you can earn thousands of coins but they take a lot of time to complete (typically around 1 to 2 days). For paid surveys, you can earn around 100 to 200 coins per survey. But of course, you have to take into consideration that you won't always qualify for a survey, so you really have to be patient.

Freeward does offer bonus rewards for active members.
You see, aside from coins, you will actually also earn XP points every time you complete an offer or survey. These XP points will factor into your achievement level (refer to the photo above).
Every time you hit a certain achievement level, you will earn bonus coins. It's a nice bonus to have because it incentivizes members who are really active on the site.
But overall, I would still say Freeward's earning potential isn't that great. There are many other GPT sites with better earning potential. That being said, it can serve as a decent secondary site to earn from. Just don't expect to earn a lot from it.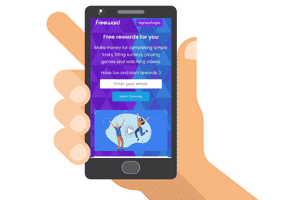 Can you use it on mobile?
Freeward doesn't have a mobile app you can download, but its website is optimized for mobile use, so you can still use your mobile device to conveniently work on the earning opportunities.
That being said, I would still recommend you use a laptop or desktop when working on most of the earning opportunities of Freeward. The reason I say this is, you will have to deal with a lot of browser tabs being opened and that can really be quite annoying if you are on a mobile device.
It will be a lot more convenient if you are on a laptop or a desktop because you can easily close browser tabs. But for offers that will require you to download mobile apps, you don't have any choice but to use your mobile device. That's really the best situation I can think of where you will have to use your mobile device.
The good thing is, the site isn't spammy. You won't encounter any pop-up ads. That, at least, makes the overall user experience better, in my opinion.
Who can join Freeward?
Freeward is available worldwide. You can register as a member regardless of where you live. Signing up is also very easy.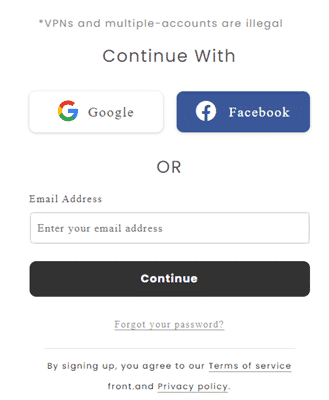 You can use your Google or Facebook account to register. You can also just use your email address to sign up. After you've submitted the sign-up form, the registration is completed. You can now log in to the site and start earning. That's how easy it is to sign up.
Can you get support?
If you have any questions about the site or your account, you can first check out the FAQ page. It discusses most of the basic topics you need to know about the site. They also have tutorials you can check out.
If those things are of no help, you can go to their Discord server to chat with a support representative or you can message their Facebook page too. But if your issue is with a certain offerwall, you have to use the support option for the specific offerwall.
Each offerwall on the site has its own support department, so you have to address your concern with them. But overall, I would say the site has a decent support system in place for its members since they offer a convenient and quick way for you to communicate with their support team.
Final Verdict
Freeward is a legit GPT site that offers multiple ways for you to earn rewards. It has a couple of good features, but it also has some drawbacks you need to keep in mind.
Let me wrap up this review by summarizing its pros and cons so you can get an overview of what the site has to offer. Then, you can decide if this site is a good fit for you or not.

Pros:
Offers payment via PayPal
The site is optimized for mobile use
Available globally

Cons:
Freeward, in my opinion, is not a bad GPT site. However, it isn't that good either, and the main reason why I say this is because of the low rewards it offers. It will take you quite a bit of time to earn a decent amount from this site. If it offered higher rewards, then this site would score higher, in my opinion.
It can still serve as a decent secondary site to earn from, just make sure to temper your expectations a bit and you have to also be very patient.
But if you are looking for primary sites to earn from, I would recommend you check out the top survey and GPT sites in your country instead. The sites on this list all have good earning potential, so you don't have to invest a lot of time to earn a decent amount.
If you have any comments, questions, or have any experiences with Freeward yourself, I would love to hear from you in a comment below.