If you are looking to earn extra cash easily, there's a site called Loot.tv that promises you can do so simply by watching videos. I admit, this kind of offer definitely sounds tempting. But before you register, I suggest you do a bit of research first.
And here's where this Loot.tv review comes in. This review will not only verify if this site is legit or if it is just a scam, but it will also examine everything the site has to offer so you can gauge if it is really worth your time or not.
It will help you understand how the site works and it will also provide insights into other aspects like payment options offered, customer support, and more. So, let's go ahead and start the review, shall we?
What is Loot.tv and what does it offer?
At its core, Loot.tv is a Get-Paid-To (GPT) site that will pay you for watching videos.
It's pretty similar to HideoutTV and if you've joined other GPT sites before, you've probably seen these two sites on their offerwalls.
As for its legitimacy, it is indeed a legit site that will really pay you for watching videos. Now, as for the question of whether or not it is worth your time, it's more than just a simple yes or no. There are a few things you have to consider.
And the first thing you need to look at is the earning opportunities Loot.tv offers.  So, let's examine how you can earn from Loot.tv so you can understand how the site works and how good its earning potential is.
I have, therefore, made a short video that give you an inside look and shows exactly how it works. You can also read all the details below the video:
Option 1 – Watching videos
The main way to earn from Loot.tv is to watch videos. All you have to do is log in to the site (assuming you've already registered, of course) and you will immediately see all the available videos you can watch to earn rewards.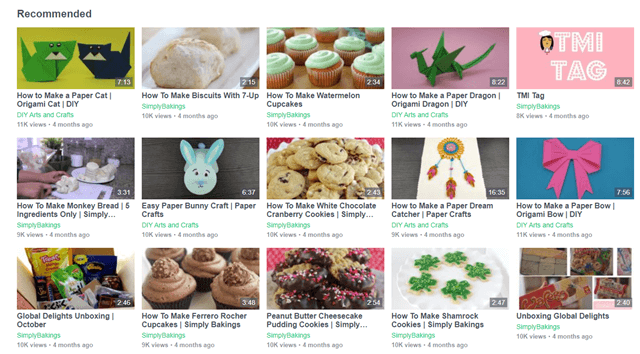 But earning from this opportunity isn't really as simple as hitting the play button. So, let me explain to you exactly how this works.
The first thing you need to do before you start watching videos is to disable the ad blocker of your browser (and anti-virus if applicable). Once you've done that, you can start watching videos.
Now, you won't actually get paid to watch the video. In reality, you'll be paid to watch the ads that will be shown while you are watching a video. These ads will sometimes show up at the beginning, middle, or end of the video or any combination of those three for that matter.
That's all there is to it. Now, sometimes, videos won't have any ads. That would mean you won't earn anything from it. This is the one main downsides of this opportunity and there's really nothing you can do about it.
So you simply just move on to the next video. I actually experienced this a few times when I was testing the site.
How many videos with ads you will get depends on the country you live in, but I will go more into this later.
There's just one thing about this opportunity though. In order to start earning from watching videos, you actually have to earn at least 10 Loot.tv points first – however, this seems to only be in some countries. But I will discuss in the next section exactly how you can do that in case you live in a country where that is the case.
Option 2 – Paid offers
Another way to earn rewards from Loot.tv is to complete their paid offers. If you've been a member of other GPT sites before, then you'll be very familiar with this earning opportunity. If you haven't yet, then let me explain to you what paid offers are.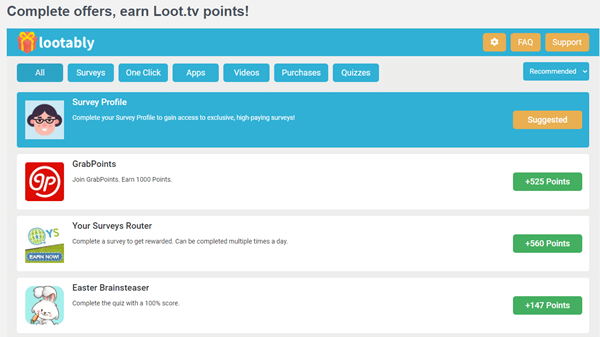 Paid offers are actually just short tasks you can do to earn rewards. These tasks will usually ask you to answer surveys and quizzes, watch videos, play games, download mobile apps, and sign up for certain websites.
To work on an offer, simply click it and it will open a new browser tab which will take you to the site you need to work on. Before you click the offer though, make sure you've understood what it is asking you to do.
For example, in the photo above, the GrabPoints offer will ask you to join GrabPoints and earn 1,000 points. You need to fulfill those conditions before you will receive the reward (which is shown in the green button on the right side of the offer).
Once you've fulfilled all the conditions, you will receive the reward and it will be credited in your Loot.tv account balance.
However, they don't have a lot of paid offers compared to other GPT sites and it is also mainly known as a platform to earn by watching videos.
Recommended: Check Out the Top GPT Sites
How do you get paid?
Every video you watch and every paid offer you complete will earn you a certain number of Loot.tv points. Now, here's the interesting part. Usually, with other online rewards sites, you can exchange the points you've earned for various rewards like gift cards or even cash.
But with Loot.tv, you technically can't do that and let me explain to you why.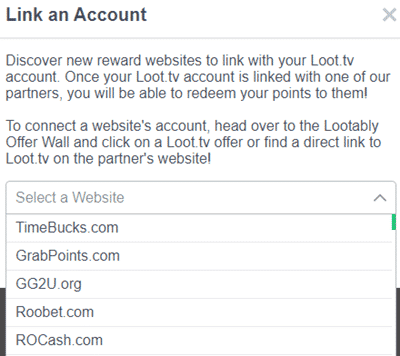 Loot.tv doesn't exactly offer payment methods. Instead, the points you've earned can only be used on other sites that have partnered with Loot.tv. In the photo shown above, one example of a site you can use your Loot.tv points is Timebucks.
That means you'd have to register to at least one of their partner sites if you want to withdraw your earnings. It's a bit of a hassle, in my opinion, but if you are really intent on joining this site, you'd have to do it.
Also, one thing you need to be aware of is that even though there are many partner sites on the list, many of them are actually currently not integrated with Loo.TV, in my experience.
But one account I was able to connect to Loot TV was my Reward XP account so that is worth taking note of.
Now, the conversion rate of Loot.tv points will depend on the platform you withdraw from. The same goes for the payout threshold.
So, their payment system is a bit more complicated, in my opinion. The good thing is, most of their partner sites have relatively low payout threshold. So, you'll be able to withdraw your earnings a lot quicker.
If you are interested in more sites that have a low payout threshold, I suggest you check out the fastest paying sites.
How much money can you make?
I'll be honest with you, you won't earn a lot from Loot.tv and let me explain to you why. The points you will earn for watching videos will actually depend on your location.

As shown in the photo above, Loot.tv has divided the countries it is available in to 3 tiers. If you belong in the tier 1 list, you will earn 2.5 points per video and ad you view. If you belong in the tier 2 list, you will only earn 1 point. And lastly, for tier 3 (India), you will only earn 0.2 points per video and ad you view.
The rewards are already very low regardless of which tier you belong. And if you are unfortunate enough to belong to the tier 2 or 3 list, you will earn even less.
And considering most of the videos you have to watch will be at least 2 minutes long, I can't exactly say it would be the best use of your time. In other words, Loot.tv has a very bad time-to-money ratio.
You will have to spend a lot of time just to earn $1. That's why I would say Loot.tv has a very low earning potential. It's really not surprising since this site really doesn't require a lot of effort to earn and from my experience, minimal effort will always result in low rewards in the online rewards site world.
The only value I can see that this site offers are the videos they provide. You can find some interesting videos. So, it can serve as a nice way to burn some time. But if your goal is to earn a decent amount online, I suggest you do it somewhere else.
However, if you decide to use it, you can leave the videos running on a screen even when you are not watching, and the next video will automatically start when one finishes. In that way, it can be a way to earn a bit passively even though it will not be a lot.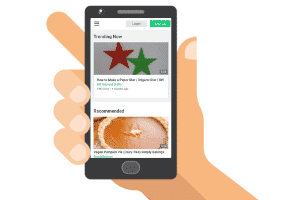 Can you use it on mobile?
Loot.tv doesn't have a mobile app you can download, but you can access their site from a mobile device using a web browser. Their site is optimized for mobile use, so you can conveniently navigate through the site.
You also don't have to zoom in just to read the content. At least, they got this part right, in my opinion. You can just use your mobile device to watch videos to help pass the time. That's really the most practical way to use Loot.tv, in my opinion.
Just remember, you'll be streaming videos. So, it's best used when your mobile device is connected to a WiFi network.
Who can join Loot.tv?
Technically, you can join Loot.tv from all countries. However, it is only available in some countries you will be able to actually earn.
Here's a list of the countries where you can earn by watching videos.
United States
Canada
United Kingdom
Australia
New Zealand
Netherlands
Germany
Norway
Ireland
Denmark
Sweden
Romania
Portugal
Poland
Malta
Latvia
Luxembourg
Lithuania
Italy
Hungary
Croatia
Greece
France
Finland
Spain
Estonia
Cyprus
Bulgaria
Belgium
Austria
India
Ukraine
Uruguay
Brazil
Mexico
Japan
Taiwan
Hong Kong
Singapore
Colombia
Malaysia
Thailand
Ecuador
Peru
United Arab Emirates
Philippines
If your country is not listed above, then this site is not for you. To become a member, simply fill out their sign-up form. Then click the confirmation link that will be emailed to you. Once you've done that, you can now log in to the site and start earning rewards.
Can you get support?
Loot.tv does have a FAQ page you can consult if you have any questions about the site. But if you encounter any issues pertaining to the site or your account, their FAQ page won't be of any help.
You will have to get in touch with their support team to get assistance. To do that, you will have to go email [email protected] since the site doesn't have a contact form.
Overall, I would say they have a decent support system in place because they at least provide a way for you to contact their support team. But I do wish they placed this contact information in a more obvious location on their website.
I had to actually dig around their site and found the support information on their "More Points" section where you can find the paid offers.
Final Verdict
Loot.tv is a GPT site that will pay you for watching videos and completing paid offers. It has its advantages, but it also has plenty of drawbacks you need to be aware of.
Let me summarize its pros and cons to wrap up this review so you can get an overview of what the site has to offer. That way, you can decide if you should really join this site or not.

Pros:
Offers an interesting way to earn rewards
Their site is optimized for mobile use

Cons:
Limited earning opportunities offered
Low rewards
You will have to join another site to withdraw your earnings
If you want to earn extra cash, Loot.tv isn't a great site to do it. The main reason is its very low rewards. You won't earn a lot from watching videos. As for their paid offers, the rewards are pretty decent, but they don't have that many available compared to their videos.
So, you'll wind up having to watch videos to earn more and it will take a lot of time just to earn a decent amount. Your time will be better spent working on sites that have earning opportunities that pay well.
I would only suggest you join this site if you really love to watch videos. Or if you are ok with just letting it run on a screen you are not using to earn a bit passively. But if you do join it, don't expect to earn a lot quickly.
Now, if you are looking for a way to earn extra cash efficiently, I would suggest you check out the top survey and GPT sites in your country instead. The sites on this list all have good earning potential, so you won't have to wait that long to earn a decent amount.
Plus, you will definitely find a site you can join regardless of where you live.
If you have any comments, questions, or have any experiences with Loot.tv yourself, I would love to hear from you in a comment below.