Are you looking for a fun way to earn extra cash? There's a site called Gamee that promises to pay you simply for playing games. Now, that sounds like a fun way to earn, right?
Well, before you sign up, there are a few things you have to consider first. The most important thing you need to know is, if this site is legit, or if it is just a scam to stay away from. You want to make sure you join a site that will really pay you for your time.
This Gamee review will give you an inside look so you can see exactly what the site has to offer so you'll know what to expect before you even register as a member. That way, you can decide if it is truly worth your time or not.
What is Gamee and what does it offer?
Gamee is a Get-Paid-To (GPT) site that will reward you for playing simple arcade games. It is indeed a legit site. So, you will be able to withdraw your earnings (I will discuss later how to do this).
But technically speaking, you won't really get to earn by playing games. You only get the chance to win cash prizes when doing so. Sounds confusing?
Let's take a closer look at the earning opportunities it offers so you can get a clear picture of how the site works.
I have created a short video that shows exactky how it works. You can also read all the details below the video:
Option 1 – Playing games
The main source of rewards on this site will come from playing games. As mentioned, you can play games to earn rewards. Here's how it works.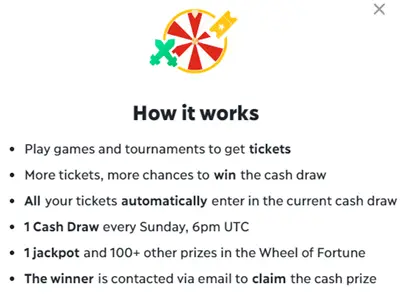 When you log in to the site, you will see a list of games you can play. Each game has missions you need to complete to earn what they call tickets. And as shown in the photo above, each ticket you earn will serve as an entry into their weekly cash prize.

The jackpot prize for their weekly cash prize varies. During my testing, the jackpot prize was $500 (refer to photo above), which is a pretty significant amount (but more on their rewards later).
Your goal here is to accumulate as many tickets as possible before the prize draw which will be held every Sunday at 6 PM UTC. Aside from the jackpot prize, there will also be more than 100 minor prizes given away every weekly prize draw.
Of course, just like with prize draws, the more entries/tickets you have, the higher your chance of winning the jackpot.
So, as mentioned earlier, playing games don't really allow you to earn cash. It will only allow you to get a chance at winning cash prizes.
Option 2 – Spin the wheel
Gamee also has another game of chance you can play which is called Spin the Wheel. Every four hours, you are entitled to spin the wheel where you can win either tickets or cash.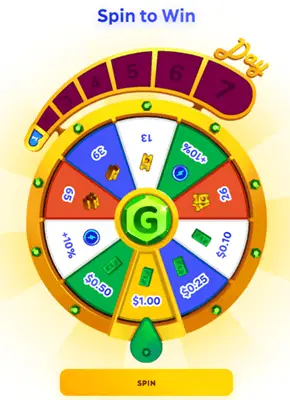 You can win up to $1 in their Spin the Wheel game. You can also win various numbers of tickets (usually around 20 to 50). The mechanics are very simple. When you have an available spin, just go to the Spin the Wheel section and click the Spin button.
You will then see what you've won. After your initial spin, you can get two additional spins by watching video ads. That's really all there is to it.
Option 3 – Referral program
Up to this point, all you really get from Gamee is a chance to win cash prizes through their games. But their referral program is actually what will allow you to earn guaranteed cash.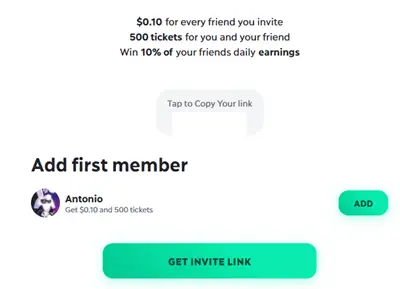 As you can see in the photo above, you can earn $0.10 for every person you refer. Just like with every referral program, you just have to share your invite link or code. Once the person registers using your link, they will then become your referral.
Aside from the $0.10 you earn, both you and your referral will also receive 500 tickets. They also say you can win 10% of your referral's daily earnings. But as to how this works, they don't exactly explain it. From what I can gather, you will receive 10% of the tickets your referral will earn for the day.
So, if you want guaranteed cash rewards, your best bet is to invite a lot of people to join the site. If you want to learn how to get referrals, I suggest you check out my guide on how to get referrals for survey and GPT sites.
Recommended: Check Out the Top Sites to Earn Money by Playing Online Games
How do you get paid?
You already know that you can earn cash when you play their Spin the Wheel game, as well as by inviting other people to join the site. Plus, if you win the jackpot prize, you will also earn a significant amount of cash.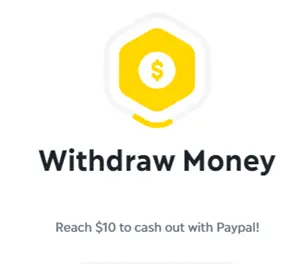 Now, to withdraw your earnings, you have to earn a minimum of $10. It's a relatively low payout threshold, but considering there are no guaranteed ways to earn cash (except for their referral program), it will take some time to reach it, unless of course, you win the jackpot prize.
As shown in the photo above, once you reach the threshold, you can withdraw your earnings via PayPal.
I like the fact that they offer a convenient payment method. If you are interested in more sites that pay via PayPal, I suggest you check out the top sites that pay via PayPal.
How much money can you make?
It's pretty hard to earn a significant amount if the only guaranteed way to earn cash from the site is through their referral program. And considering you will only earn a small amount for every referral you get, it will take quite a lot of referrals just to reach their payout threshold.
So, in my opinion, the earning potential of this site is quite low. Unless you win cash frequently on their Spin the Wheel contest or you win the jackpot prize, then you will need to be very patient with this site.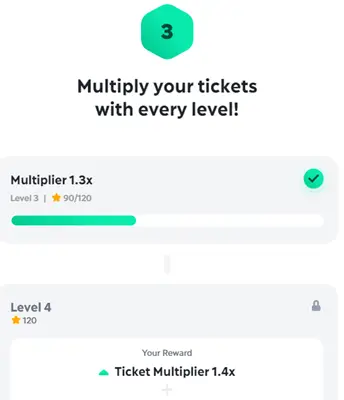 However, Gamee.com does reward you for being active on their site. You will actually earn more tickets when you keep playing their games. This is because your account will level up every time you complete missions.
The higher your level is, the more tickets you will earn per mission you complete. This is their way of incentivizing people who are very active on the site. And as you already know, if you have more tickets, you will have a higher chance at winning prizes on their prize draws.
Of course, this still doesn't eliminate the fact that everything is still left to chance. In my opinion, the real value this site offers is it provides a fun way for you to possibly earn cash. If you enjoy playing simple arcade games, then joining this site can be a very productive way to spend your time.
But if your main goal is to earn some extra cash, then Gamee is definitely not your best option.
Can you use it on mobile?
Gamee does have a mobile app you can download so you can play games on your mobile device. This will help you earn tickets more efficiently since you don't need to sit in front of a computer to play games.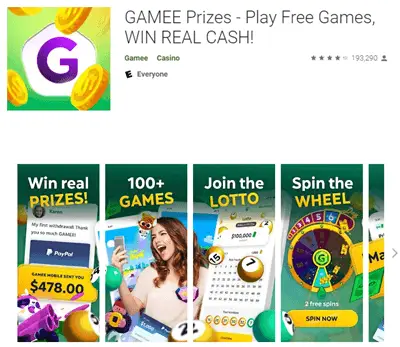 Their app is available on Android and iOS devices though. So, you won't have any problems with compatibility. Their app is user-friendly, so you won't have a hard time navigating through it.
Who can join Gamee?
Gamee is available globally. That means you can register as a member regardless of where you live.
However, considering they use PayPal as their payment method, there are some countries where you cannot get paid as PayPal is not available in all countries.
To become a member of Gamee.com, you can sign up using your Facebook or use your own login details by providing an email and password. Once you are done with the sign-up form, you can log in to the site and start playing games right away.
Can you get support?
Their site doesn't really have a FAQ page you can check if you have any questions about the site or your account. They have some "How it works" section for some of their features but that's about it. So, they're not really very detailed with what they have to offer.
You'll have to figure out for yourself some of the things you need to know about the site. But they do offer a way for you to get in touch with their support team. You can email them at hello@gamee.com.
Overall, I would say they have a decent support system since you can get in touch with their support team. But I do wish they would provide more information about all the features of their site.
Final Verdict
Gamee is a legit GPT site that will reward you for playing games and inviting other people to join the site. It has a couple of interesting features but it also has some significant drawbacks you need to consider.
Let's wrap up this review with a summary of its pros and cons to give you an overview of what the site has to offer so you can decide if it is a good fit for you or not.

Pros:
Offers a fun way for you to earn rewards
Available globally
Has mobile app

Cons:
Limited earning opportunities offered
Apart from their referral program, there's no guarantee you will earn cash from their opportunities
Takes a lot of time and effort
If you are looking for a site you can reliably earn extra cash from, then Gamee is not an ideal option. You can only earn guaranteed cash by inviting people to join their site and you will only earn a small amount for doing so.
I would only recommend you join Gamee if you are looking for sites you can play classic arcade games to pass the time. That way, you can still have fun and possibly earn a bit of cash on the side.
But if you are looking for more reliable sites to earn from, I would instead suggest you check out the top survey and GPT sites in your country. The sites on this list all have good earning potential and offer guaranteed ways for you to earn cash. Plus, you will also find a site you can join regardless of where you live.
If you have any comments, questions, or have any experiences with Gamee yourself, I would love to hear from you in a comment below.