More and more people are into gaming these days. If you are one of them, then you know this hobby can get quite expensive. From the gear to the in-game items, it can literally add up to thousands of dollars.
But there's this one site called GameTame that promises to give you gaming related rewards in exchange for doing short tasks. Sounds like a pretty good deal, right? Well, before you sign up, there's something we have to verify first.
Is GameTame legit? Or is it just another scam you need to avoid? Let me answer this question right away because this is the most important thing you need to know about a site before you sign up. Yes, GameTame is a legit Get-Paid-To (GPT) site that will reward you for doing the activities they offer.
Now, the question is, is this site worth joining? Will this site be able to support your gaming hobby? This GameTame review will answer those questions and more so you can determine if this site is really worth joining or not.
What is GameTame and what does it offer?
GameTame is a GPT site tailored for gamers. This is because most of the rewards you can redeem will be gaming platform items (more on this later). Since it is a GPT site, you can expect to earn rewards in several ways.
Now, let's take a closer look at the earning opportunities it offers. This is the best way to understand how the site works, as well as to get a clear picture of its earning potential.
I have, therefore, made a video that gives you an inside look and shows exactly how you can earn from GameTame. You can also read all the details below the video.
Option 1 – Paid offers
One way you can earn from GameTame is by completing paid offers. This is a common earning opportunity found on all GPT sites.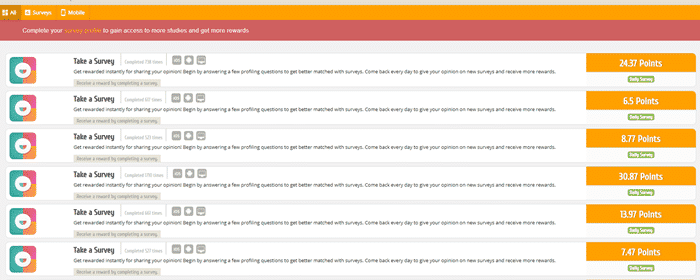 But, with GameTame, the paid offers won't come from them, but from offerwalls instead. Offerwalls are basically in-app advertising platforms that are designed to promote sites, mobile apps, and other software.
So, the offers you will find on their offerwalls will mostly ask you to sign up to a site or download a mobile app. Some offers will ask you to answer surveys or quizzes, while some will ask you to play a game.
To start completing a paid offer, just click on any offerwall. You will then see the list of offers available for that offerwall. Click on an offer you are interested in. You will immediately know the reward for completing the offer since it will be shown right away.
So, you won't have a problem prioritizing offers. You will also immediately know what you need to do to complete the offer. This is very important information you need to understand prior to working on an offer. Completion of the said offer will depend on you being able to follow the instructions properly.
That's why you need to make it a habit to understand the instructions completely before you start working on an offer. Otherwise, you won't earn the reward.
Once you complete the offer, you are eligible to receive the rewards. But usually, it won't be credited to your account right away. It can take several minutes, hours or even days before the reward will be credited. So, don't worry if it doesn't appear in your GameTame account balance right away.
Option 2 – Paid surveys
Unlike on survey sites, the paid surveys on GameTame will come from other sites. So, it really just primarily acts as a survey router.

When you log in to the member dashboard, if you want to answer surveys, simply choose a survey site from the sites that have partnered with GameTame (refer to the photo above). You will then have to provide basic information about yourself like your email address and name.
Then, you will have to go through a screening process. This is done to determine if you are qualified to take their survey or not. If you pass the screening process, you get to answer the actual survey. The screening process will usually involve you having to answer a few questions (think of it as a mini-survey).
If you don't qualify for a survey, you won't get anything and you just have to move on to the next survey site. It can take a bit of patience to qualify for surveys, but the good news is, the rewards you will receive from surveys will usually be higher than what you can get from paid offers.
Option 3 – Bonus zone
Bonus Zone is GameTame's way of rewarding people who are very active on the site. This isn't really an earning opportunity per se, but you will still receive points when you are able to meet the requirements for the daily bonuses they have.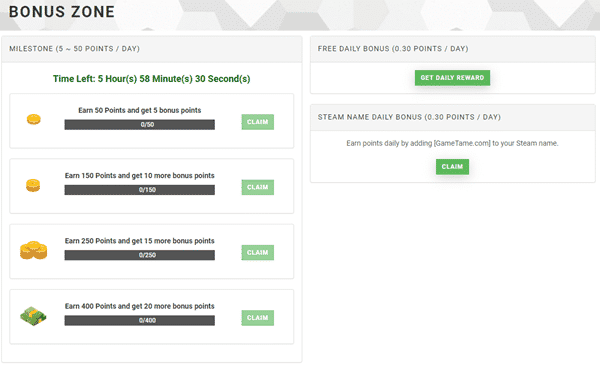 As you can see in the photo above, for you to receive the daily bonuses, you must meet the requirements to claim it. Most of the bonuses are geared towards earning more points. There is also a daily bonus you can claim once per day.
This is actually a nice touch on their end, in my opinion.
The bonus you will receive won't be that much, but it's free and you don't have to do anything special apart from being active on the site, which is what you will do anyway. It can serve as a nice checklist of what you need to do on the site.
Option 4 – Watch videos
You can also earn points from watching videos. In GameTame's case, the videos you need to watch will come from HideoutTV.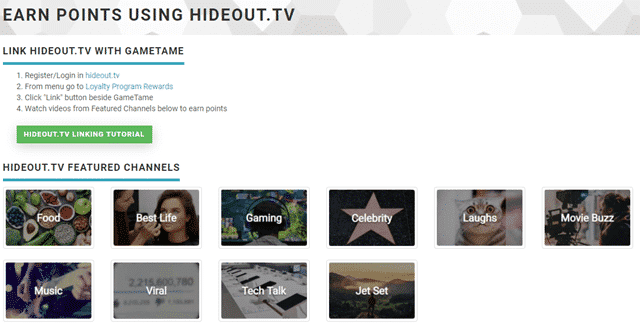 Before you can earn by watching videos, you have to register as a member of HideoutTV first. Then, you have to go to Loyalty Program rewards and link your GameTame account. Once you've done that, you can start watching videos to earn points.
You can check the HideoutTV review (link above) for a detailed description of how this opportunity works. But the point of this earning opportunity isn't really to watch the videos but to watch the ads that will be played before the video, during the videos, and in between the videos.
One thing you need to keep in mind is, this opportunity isn't really very rewarding. It will eat up a lot of your time and you will only earn minimal points. So, I suggest you only do this when there's nothing else to do on the site.
Option 5 – Referral program
Every GPT site has a referral program you can participate in. GameTame is no different. You can invite people to join the site using your invite link. Once they sign up to the site using your link, they will become your referral.
You can then earn 10% of what your referral will earn when they complete activities on the site. So, make sure the people you will invite are those that are really interested in working on this site. Otherwise, there's really no benefit to it.
Recommended: Check Out the Top GPT Sites
How do you get paid?
For every activity you complete on GameTame, you will earn points. These points can then be used to redeem various rewards.
But let me just tell you right away, if you were hoping to earn cash from this site, you will be disappointed. They don't offer cash rewards.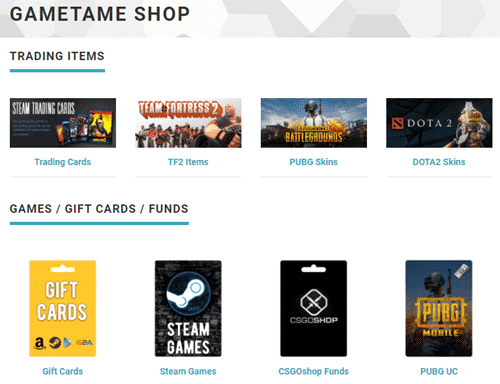 As shown in the photo above, you can only redeem in-game items from supported games, gaming platform currency (for Steam, Battle.net and others), and various gift cards. You can also redeem video games from Steam.
For gift cards and gaming platform currency, the minimum amount you can withdraw will be $5 which is worth 500 points. For in-game items and video games from Steam, the number of points required will depend on the item you want to redeem.
But just to give you an idea, some items are only worth 10 to 15 points. So, if you like to play a lot of video games, this is the best reward option you can go for since it doesn't cost as many points as the other rewards on the site.
Now, if you prefer to earn cash, I would recommend you check out the top sites that pay via PayPal instead.
How much money can you make?
As explained above, technically speaking, you won't be able to earn cash from this site. But the reward options they have can be considered as cash. For example, if you have a Steam account, you can redeem Steam Wallet codes.
These codes can be used for any purchase on Steam so you won't have to spend actual money. The amount of money you can make from GameTame is actually pretty decent. I would say it's not that good but it's not that bad either. It's right along the middle.
The usual points you can earn from their paid offers is around 10 to 50 points. You can find offers that are worth more but they aren't that common. Most of the offers you can find on their offerwalls and affiliated survey sites can be found on other sites as well.
So, the earning opportunities aren't exactly that unique. But if I were to say what their earning potential is, it would be that it isn't that good.
The real value this site offers, in my opinion, isn't really how much you can earn from it, but the unique rewards that are only available on this site.
Can you use it on mobile?
One good thing about GameTame is, it has a mobile app you can download so you can complete offers conveniently.
However, their app is only available for Android devices. But if you are using an iOS device, you can still log in to the site using a mobile web browser.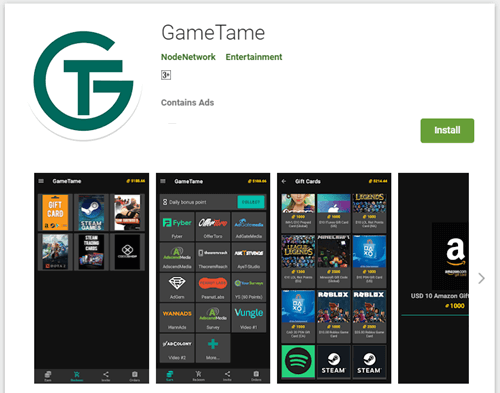 Their app is user-friendly but it does contain ads. So, expect that you will have to close ads from time to time when using their app.
As for their site, it is mobile-friendly. So, if you are an iOS user, you won't have a hard time reading the content and navigating through the site even though you cannot use their app.
Who can join GameTame?
GameTame is available globally. This means you can sign up as a member regardless of where you live. You do have to be at least 13 years of age to join the site.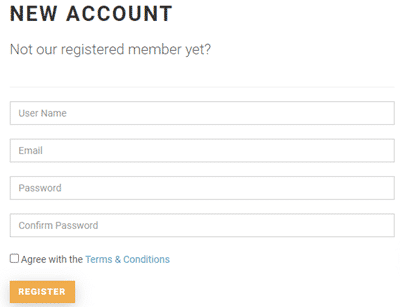 The sign-up process is also very straightforward. All you have to do to become a member is fill out their registration form. Then, you have to confirm your registration like you normally would with other sites.
Once you are done with the registration, you can log in and start earning. There are a few things you must remember though when you become a member of their site.
Never make more than one account
Do not use Proxy/VPN or any other way to change your IP/Country.
Never cheat/fraud when taking surveys/offers
Do not login from friend's home, school, café
You have to follow these rules, otherwise, your account will be banned and all the points you've earned will be for nothing.
Can you get support?
If you have a question about their site, you can check out their Help page, which can be accessed when you are logged in to the site. You can find common questions that might have the answers you are looking for.
But if you can't find the answers from their Help section, you can always contact their support team by using the contact form provided on their Help section. But I suggest you only use this as your last option if you really can't find what you're looking for on their Help pages.
Final Verdict
GameTame is a legit GPT site that will reward you for doing the offers and other activities they have on their site. It has a couple of good features but it also has certain drawbacks you need to consider.
Let me end this review with a summary of its pros and cons to give you a better overview of the site so you can decide if you should really sign up as a member or not.

Pros:
Low payout threshold
Offers unique rewards

Cons:
Doesn't offer cash rewards
Relatively low rewards
You can only use it at home or on your mobile device
If you are looking to earn cash from this site, then you will be disappointed because it doesn't have that option. But if you are a gamer and you want to save a bit of money on your in-game purchases, this can definitely be a good site to join.
The unique rewards that are tailored for gamers makes it a worthwhile site to join. I especially like that you can redeem video games from Steam for a small number of points. So, if you find that appealing, then you should definitely join this site.
Otherwise, I would recommend you check out the top survey and GPT sites in your country instead. Most of the sites on this list offer rewards and they all have good earning potential. Plus, you will be able to find a site you can join regardless of where you live.
If you have any comments, questions, or have any experiences with GameTame yourself, I would love to hear from you in a comment below.