If you are looking for a very simple way to earn extra cash online, there's a site called Gener8 that claims you can do exactly that. Gener8 promises to pay you to see ads. Yes, you read that right.
You get paid to see the ads you will see anyway online, which typically annoys many people. But with Gener8, you will actually be glad to see ads. Now, the question is, is their claim legit or is it just a scam you need to avoid?
This Gener8 review will check the legitimacy of its claim and it will also reveal the full truth about the site so you'll know exactly what it offers and if it is really worth your time or not.
So, let's go ahead and take a closer look, shall we?
What is Gener8 and what does it offer?
Technically speaking, Gener8 is a Get-Paid-To (GPT) site that will pay you to view ads. It is indeed a legit site, which means you will really get paid.
However, it is quite different than most other sites where you can earn by watching ads.
Now, to fully understand how it works and how well you can earn from it, we have to take a closer look at the earning opportunities it offers.
I have, therefore, made a short video that gives you an inside look and shows exactly how you can earn from Gener8. You can also read all the details below the video:
Recommended: Check Out the Top GPT Sites
Option 1 – Using their browser extension
The main earning opportunity Gener8 offers is their browser extension.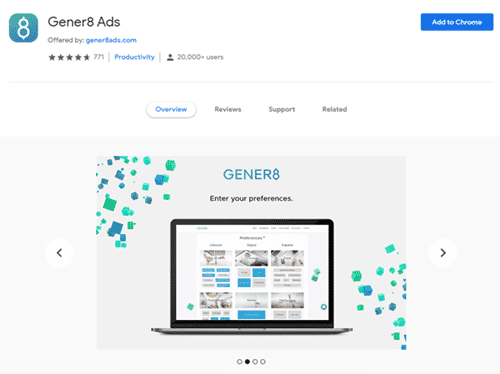 Their extension works for both Google Chrome and Mozilla Firefox. Now, let me explain how their extension works. First of all, before you install it, make sure you uninstall any ad blocker software you might have on your computer.
For this extension to work, you must allow ads to be displayed in your browser. Once the extension is installed, you will have to configure it according to your preferences (refer to photo below).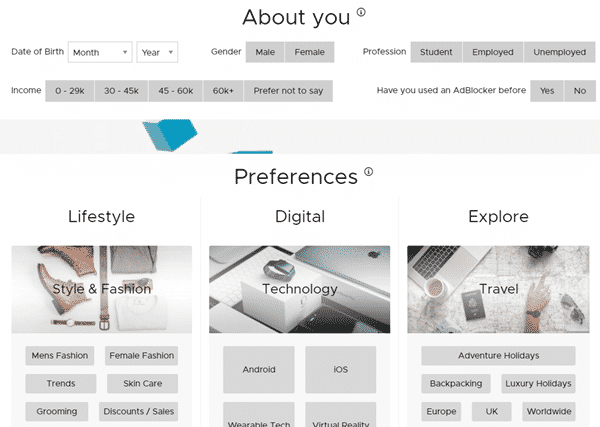 You have to set your preference about what type of ads you want to see so the extension will know what ads to display. Once that is done, you can then just resume your normal browsing routine.
When a page displays an ad, what will happen is, the extension will instead replace the ad with one that is appropriate to the preferences you set.
The replacement ads are actually from companies that have partnered with them. That's the reason you get paid for every ad you see using their extension.
The good thing about their ad is, you can actually disable this feature if you want to go back to the way your browser is configured.
You can just set the extension to Privacy Mode instead of Rewards Mode. You can also set a certain website to ignore the Gener8 extension.
If you have it installed and use Get-Paid-To sites, you will likely need to turn off the reward mode as it blocks ad tracking, and thereby the sites you use cannot track the surveys and offer you complete, and thereby you would not be able to earn.
So this is important to be aware of if you decide to join after reading this review.
But overall it is a pretty easy way to earn. But whether it will then be worth it or not, we will go into a bit later in this review. But let's first continue going over the ways you can earn with Gener8.
Option 2 – Gener8 tabs
You can also install their other browser extension called Gener8 Tabs.
The idea with this extension is, it displays ads every time you open a new tab.
It works in conjunction with the main Gener8 browser extension. So, all the preferences you've set on the main extension will still apply on Gener8 Tabs.
Option 3 – Referral program
Another way you can earn rewards is by inviting other people to use the extension. Their referral program will allow you to earn additional rewards by sharing your referral link with them.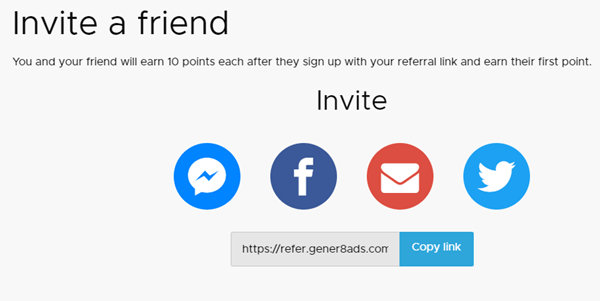 Once they click the link and install the extension, they will become your referral. You and your referral will then both earn 10 points once they earn their first point using the extension.
It's a fairly straightforward process and I like the fact that both you and your referral will benefit from it. It makes it a bit more appealing for you to keep inviting other people and for them to accept your invitation.
Recommended: Check Out the Top GPT Sites
How do you get paid?
Every time you see an ad or open a tab, you will receive Gener8 points. These points will accumulate in your account until you are able to redeem them for exclusive offers, tech products, and gift cards. You can also make charity donations. Unfortunately, they don't offer any cash rewards.
You can generate up to 15 points a day from seeing ads based on your daily browsing. So, you can't expect to earn an unlimited number of points per day.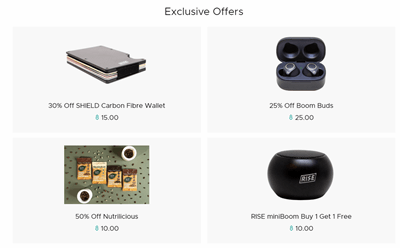 The rewards you can redeem will actually depend on what is available in their Marketplace. Each reward is worth a certain number of Gener8 points.
So there is not a set payout threshold but the rewards start at a fairly low price and goes up to some really cool and more expensive products and gifts.
When you redeem a reward, you will have to provide your mobile number.
Gener8 will then send a code you have to input before you can complete the redemption. Once you've confirmed the code, you can complete the reward redemption process. So, as you can see, you will need to have your mobile phone with you every time you redeem a reward.
Their rewards catalog is actually pretty decent, but if you are really looking to earn cash, I would instead recommend you check out the top sites that pay via PayPal.
However, even though the reward catalog can seem decent at first, I have received a lot of feedback since I first published this review from people sharing their experiences and saying that often the rewards are not available anyway.
So even though you might see certain great rewards in the catalog, there is no guarantee it will be available once you want to redeem which is definitely a big monus.
How much money can you make?
Seeing as there's a limit to how many Gener8 points you can earn, you can't really expect to earn a lot from this site. Even if you browse a thousand websites a day, the maximum points you can earn will only be 15.
And remember this is the maximum you can make per day. There is no guarantee you will make this much. In some countries, you will definitely not even get close to this.
That's why there's really no point in creating a strategy to maximize your earnings from this site. You simply just have to go about your normal browsing routine and think about the points you've earned as a bonus.
So, in terms of earning potential, Gener8 really isn't an ideal way to earn extra cash from. The real value it offers is offering you a way to get something out of the ads you will normally see from browsing websites anyway.
However, personally, I do not really like their earning method as it in some ways takes away the opportunities for some website owners to earn.
I know how much work it requires to run a website where you work hard to provide quality information. And one of the ways you can earn a bit is by displaying ads. And Gener8 kind of just hacks that and takes this opportunity away from website owners that often have a hard time making money as it is.
So if you have some favorite websites that display ads and you want to support the owner to keep the website going, then you should not use Gener8, in my opinion.
If everyone used an extension like this, we would have a lot less quality information online because many website owners simply would not be able to make it run if they did not earn by displaying ads.
Can you use it on mobile?
Unfortunately, the Gener8 browser extension is only available for laptops and desktops. So, you will definitely need your laptop or desktop if you want to use Gener8.
The good thing about their extension is, you can use it on multiple computers. Just make sure to log in to your account once you've installed it.
Who can join Gener8?
Gener8 is available in more or less all countries.
That being said, this site is based in the UK. So, if you will be redeeming products which will have to be shipped, you can only do so if you live in the UK.
Also, in some countries, you will not have a lot of ads and thereby the earning potential will be lower.
To become a member, all you have to do is sign up using either your Facebook, Twitter, or Google account (refer to photo below).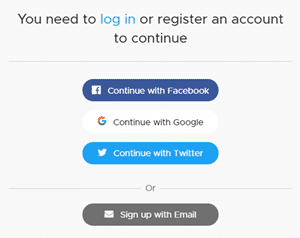 You can also sign up using your email address. Once you are done with the registration form, you will have to install the extension on either Google Chrome or Mozilla Firefox. You can install it on both browsers if you are using them both.
Once you've installed the extension, I highly recommend you set up your preferences to get things going. You will receive 10 points as a bonus once you finish setting up your preferences.
Can you get support?
If you have any questions about the site, you can check their FAQ page first. It discusses the basics of what you need to know about the site and its extension.
If you can't find the answers you are looking for, you can click the Contact link at the bottom of their page and it will open a window for your Email client (ex. Microsoft Outlook). Or, you can just email them directly at support@gener8ads.com.
I have been in contact with their support and my experience is quite mixed. I have managed to get an answer to a question I had within 24 hours which is acceptable. It was just not really a complete answer. And when I wrote again, I did not hear back for a long time.
In fact, I did not hear back until after I had posted a video on my YouTube channel where I say I did not get any support. The support then explained certain things about the website and why they believed there were some details in my video that were not completely correct.
I always appreciate when companies reach out and explain their point of view (even though it should not be necessary to have to wait until after posting a video on YouTube).
However, I then replied right away to get some more info because the explanations they gave did not quite make sense to me and mostly just sounded like nice words but not like something that was actually happening. So I asked for more details and asked some critical questions – and then I never heard back and it has been several months at the time of doing this update.
Overall, I am therefore not impressed with their support and, in my experience, it is a bit random whether you will get help or not if you need it.
Gener8 on Dragons' Den!
Since I first tested Gener8 and reviewed it, the founder Sam Jones has been on the popular British TV show Dragons' Den.
The show he was in aired the 22nd April 2021, and he actually managed to get the money he was looking for and got two experienced investors involved.
Since this is quite a big deal, I wanted to include this update here in this review as we can hope this will help move the project forward and make it better.
In my personal opinion, it is right now just a lot of very appeling words and nice ideas but I am not impressed by the execution of it and what it really offers once you dig a bit deeper.
The whole idea about giving back the power to the consumer of their data is definitely nice. I am just not impressed with how it is done with Gener8 in its current format.
But no doubt Sam Jones has enthusiasm and was good at explaining his ideas at the Dragons' Den and good for him and Gener8 they got the investment.
It will definitely be interesting to see if this will help them move forward. I will be keeping an eye on it and hope for the best because, as mentioned, right now I am not impressed.
Final Verdict
Gener8 is a legit GPT site that will reward you for simply installing and using their browser extension. It certainly has some interesting features to offer but it also has some limitations you need to consider.
So, let me finish this review by summarizing its pros and cons to give you an overview of what the site has to offer. That way, you can better decide if it is truly worth using or not.

Pros:
Offers a passive way to earn rewards
Available more or less globally

Cons:
Has a limit to number of points you can earn per day
No cash rewards offered
In some countries, you will only see very few ads (if any)
Takes away the opportunity for website owners to earn
If you have it on when using GPT sites, you risk the surveys and offers cannot be tracked.
Poor support
If your goal is to earn money effectively, this is not the most ideal site to join. The reason for this is, Gener8 doesn't offer cash rewards. You can only redeem products and vouchers as rewards.
Plus, there's a limit to the rewards you can earn per day and its earning potential is, in general, not very good. You will have to wait a while before you can start redeeming rewards.
The real value it offers is that you will be able to get some value out of ads you will see on sites you browse. However, if you like the websites you visit, you should not use Gener8 as it makes it impossible for the website owners to earn by watching ads.
Overall if you are looking for sites to earn extra cash from, I would recommend you check out the top survey and GPT sites in your country instead. The sites on this list all have good earning potential and will allow you to redeem cash rewards.
And the will allow you to earn significantly more than Gener8 will.
Plus, you will also find sites you can join regardless of where you live.
If you have any comments, questions, or have any experiences with Gener8 yourself, I would love to hear from you in a comment below.