There's a website called Brave that claims you can earn rewards simply by browsing. So, if you are looking for ways to earn online, you might want to consider this opportunity.
But before anything else, it is important to learn more about what Brave Rewards is. You need to know if this site is even legit or if it is just a scam. That's one of the determining factors of whether it is worth using or not.
So, let me address this concern right away. Yes, Brave Rewards is legit. You will really be rewarded when you opt in to the earning opportunity offers. Now, the question is, is it worth it or not?
This Brave Rewards review will help you determine if it is really worth your time or not. This review will give you an insider's look so you'll know what to expect before you even sign up. That way, you can make an informed decision on whether you should join or not.
Disclosure: Some articles on this website contain affiliate/sponsored links. Click for more info.
What is Brave Rewards and what does it offer?
Brave Rewards is actually a feature of a browser called Brave. It's not a site where you can just sign up and start earning rewards. In order to earn, you have to install the browser first.
Now, in order to fully understand how Brave Rewards works, we have to take a closer look at the earning opportunity. This will also give you an idea of its earning potential.
I have, therefore, made a video that will explain and show exactly how it works and how to earn from Brave Rewards. You can also read all the details below the video:
The earning opportunity – Viewing ads
The way Brave Rewards works is actually pretty similar to what a site called Gener8 does. The only difference is, with Gener8, you have to use a browser extension, whereas with Brave Rewards, you use a browser.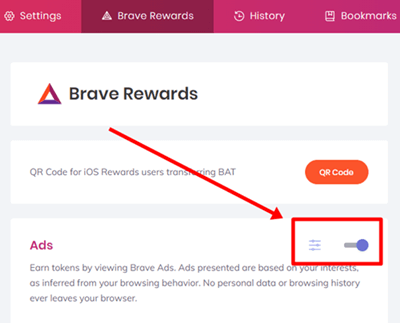 The first thing you need to do is install Brave on your computer. Once it is installed, you have to go to the Brave Rewards section and enable their Ads (refer to the photo above). When their ads are enabled, you have to choose the frequency of ads being displayed per hour.
I chose to display the maximum number (5 ads) during my testing. This is the best way to maximize your earnings from Brave Rewards. So, just to be clear, this number will dictate the number of ads you will see per hour you will get rewarded with.
However, I just want to make it clear that there is no guarantee you will get that many ads per hour – and in my experience, it will mostly not be that many. But that will depend on the country you live in but more about this later.
Once that is set, then all you really have to do is use the browser regularly. You don't have to do anything special. You just go about your normal routine. You are basically earning rewards passively.
Earning rewards is actually the easy part. The more complicated part of Brave Rewards is what you can do with the rewards you've earned. And I will discuss that in the next section.
Recommended: Check Out the Top Survey Sites in Your Country
How do you get paid?
As mentioned above, this is the more complicated part of Brave Rewards. You see, with Brave Rewards, you won't actually be earning cash or even points. Instead, you will be paid a certain cryptocurrency called BAT (Basic Attention Token).
That will mean you will need a cryptocurrency wallet if you want to cash out your BAT. Brave recommends you use Uphold, a cryptocurrency trading platform. You need to have a minimum of 25 BAT to create an Uphold account though.
But of course, you can also use any cryptocurrency wallet as long as it supports BAT. Popular platforms like Binance and Coinbase also offer this token and personally, I would prefer using these as I have more experience with them and they are some of the most well-known and trusted platforms.
As for the payment process, Brave Rewards processes payments monthly (during the 5th day of the month). For example, in the month of May, you earned 11 BAT. On June 5, Brave will send 11 BAT to your Brave wallet (which is really just your account balance).
And to cash out, you have to transfer your BAT from your BAT Wallet to any other cryptocurrency wallet you have. Then, to convert it to fiat currency, you'll have to use your crypto wallet's currency exchange platform.
It's a bit complicated if you are new to cryptocurrency. So, before you decide to use Brave, I would suggest you read up on cryptocurrency and how to convert it to fiat currency (actual money) first.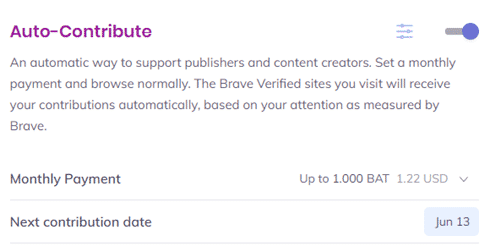 Now, if you thought that was complicated, there's one more thing that you actually need to know about their rewards system.
When you sign up for Brave Rewards, you actually have the option to contribute part of your earnings to verified Brave creators.
These creators are those people who opted into Brave's program. These creators are website owners, YouTubers, game streamers, and more that will receive compensation from Brave. As shown in the photo above, you can set up your Brave Rewards to contribute automatically to these creators every month.
When you have that enabled, you can set the date of when Brave will deduct BAT from your BAT wallet. Aside from that, you can also send a tip to verified Brave creators.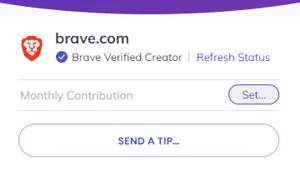 For example, when you visit a website of a verified Brave creator, you will see a check mark on the triangle logo displayed beside Brave's address bar. Simply click it and you will see something similar to the photo shown above. Then, enter the amount of BAT you want to send to the owner of the website as tips.
Both these options aren't really mandatory. It will still be up to you on whether you choose to support these creators or not. It's just another option of what you can do with the rewards you've earned from Brave Rewards.
As you can see, the payment system of Brave Rewards is a bit more complicated than most other online rewards sites out there. If you prefer sites that offer a simpler method of payment, I would recommend you check out the top sites that pay via PayPal instead.
How much money can you make?
Brave Rewards won't make you rich. Let's just get that out of the way. You won't earn a lot from it. Also, they don't really explain how many BATs you will receive for every ad viewed using their browser. But, you will be able to constantly see how many BATs you've earned for the month.
During its first year of launch, there were reports that users were able to earn around $50 to $70 for the whole year of using the Brave browser. That's actually not a bad amount, in my opinion, considering you don't really have to do anything special to earn. You just have to use the browser.
That amount has improved as of the writing of this review because the value of 1 BAT has also increased, which means you will definitely earn more. Now, the amount you can earn from Brave Rewards will mostly rely on how often you use the browser and for how long.
If you use their browser for let's say more than 8 hours a day, you stand to earn significantly more compared to a user who will only use it for 2 hours a day. So, if you want to maximize your earnings from Brave Rewards, you have to use their browser as much as possible.
However, as mentioned earlier how much you can earn will vary from country to country and there is no guarantee there will always be ads in your country. And if there are no ads, you will not earn.
It all depends on how many advertisers are currently running ads via Brave Browser. To give you an example, I tested the Brave Browser for a month before publishing this review and I was never able to get 5 ads per hour even though I had chosen this.
In fact, on many days I only received a couple of ads the most. My earnings after one month of testing was only around $0.04.
However, I did not use it all the time but I did use it every day. This is not the same as it is not possible for you to earn more as it might be depending on your country. But you need to do it with the right expectations and not expect a lot of money from this.
Therefore, overall, I would say it has a very low earning potential. Also, you'll have to wait a month to receive your earnings, which can be a long wait, in my opinion. But if you don't mind the wait and you don't mind earning cryptocurrency, this can be a decent opportunity.
However, in my opinion, it is quite a big limitation that you have to use a certain browser to earn. Personally, I prefer using Google Chrome and I actually do not really want to change.
So you just need to be aware that you have to use their dedicated browser which you might not want to as it does not give the same experience as, for example, Chrome, in my opinion.
Can you use it on mobile?
The good thing about the Brave browser is you can use it on a mobile device. Just download the app and install it on your device. It is compatible with both Android and iOS devices.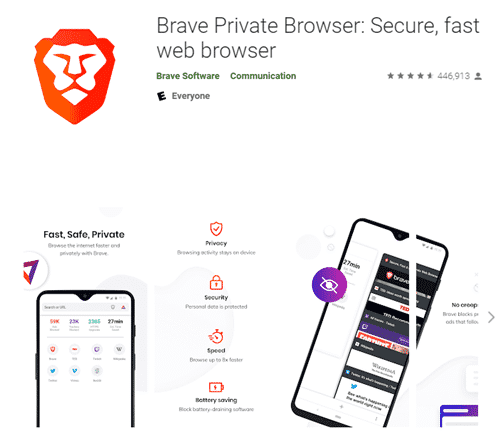 However, as of the writing of this review, you can't share accounts across multiple devices. Every device (laptop, desktop, or mobile device) will count as a separate account. So, you can't consolidate all your earnings into one single account.
That's a big downside of Brave Rewards, in my opinion.
As for the browser, I found it ok. And they say it uses the same engine as Google Chrome (Chromium), which means you can use the same browser extension you used on Google Chrome. In fact, when you download extensions on Brave, it will take you to the Google Chrome extension store.
So, if you are a Google Chrome user (or even Microsoft Edge), you will have an easy time transitioning into the Brave browser. This will make it a lot easier for you to take advantage of Brave Rewards.
Who can join Brave Rewards?
Brave Rewards is available globally. Signing up is also very easy. In fact, technically speaking, there is no sign-up process involved.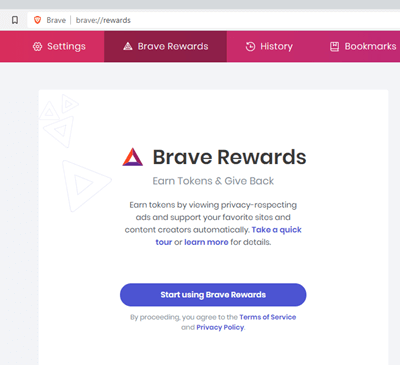 All you really need to do is install the browser. Then, as shown in the photo above, you just have to opt-in to their Brave Rewards program. Just click the "Start Using Brave Rewards" button to enable the feature.
Then, configure the Brave Rewards settings (auto-contribute) and you are all set. You can now start earning rewards. It's as simple as that.
Can you get support?
As I've mentioned earlier, earning rewards from Brave Rewards is really very simple. The more complicated stuff is what to do with your rewards. If you don't have any prior knowledge with cryptocurrency, you will definitely have a hard time understanding how it works.
So, there's a huge chance you'll have plenty of questions. You can try to check out their FAQ page first for questions about Brave Rewards, but I doubt it will be of any help since it only discusses the basic topics.
But, Brave does have a forum you can check out for unresolved issues or inquiries. That's how you can receive support from their support team. So, I suggest you sign up as a member on that forum in case you need assistance.
I have been in contact with their support team through the forum as they are quite helpful and usually reply quickly which is definitely a big plus.
Final Verdict
Brave Rewards is a legit opportunity where you can earn passively by simply using the Brave browser. It certainly has a couple of interesting features to offer but it also has some disadvantages you need to be aware of.
Let me end this review with a summary of its pros and cons to give you an overview of what Brave Rewards has to offer. Then, you can decide if you should avail of this opportunity or not.

Pros:
Offers a passive way of earning
Transitioning to the Brave browser is surprisingly easy

Cons:
Limited earning opportunities offered
Limited payment methods offered
Takes a bit of time to withdraw your earnings
You are forced to use a specific browser to earn
In my opinion, Brave Rewards can be an ok way to earn extra cash, provided you set your expectations properly and you have ample knowledge about cryptocurrency. It's not something that will allow you can earn a decent amount quickly, but the good thing is, you can earn passively.
That's really what I like about Brave Rewards. You don't have to do anything special to earn. You just have to be very patient because it only pays once a month and the rewards are very low.
Personally, I do not really want to start using a new browser as I like the ones I am already using. But if you do not mind this, and if you don't mind the waiting time and you are comfortable earning cryptocurrency instead of cash, then this can be an ok option.
But honestly, I do not think it lives up to all the hype I have seen about it online – it seems a lot of the hype is just made by creators that are getting paid to promote it but have not actually tested it as a way to earn themselves, in my opinion.
Overall, if you prefer to earn cash (or even gift cards) and still earn passively, I would recommend you check out the best passive income apps instead. The sites on this list all have good earning potential and you won't have to wait that long to withdraw your earnings.
If you have any comments, questions, or have any experiences with Brave Rewards yourself, I would love to hear from you in a comment below.