Earning extra cash with the use of mobile apps has become very popular nowadays.
One very common type of app that will allow you to earn rewards is a cashback app. If you are new to cash back apps, let me explain what it does.
A cashback app is a mobile platform that will allow you to get a rebate if you use the app when purchasing an item online or in-store. As you can see, it's a convenient method to earn back some of the money you've spent.
Now, this article will talk about one such app called GetUpside. But is GetUpside legit?
Let me answer that right away. Yes, it is a legit app that does reward you for using it. But that is not really the real barometer on figuring out if it is an app worth using or not.
To answer that question, we have to dig deeper. This GetUpside review will give you an inside look so you'll know what to expect before you even join the app.
That way, you can make an informed decision on whether this app is truly worth your time or not.
What is GetUpside and what does it offer?
If you drive a lot, GetUpside can be a very advantageous app to use. That's because this cashback app is a bit more unique than other cash back apps out there today.
It's basically an app you can use to save money at the gas station.
Here's a short video explaining what the app is all about:
That's why it is more advantageous if you drive frequently. It does have other things to offer and in order to fully understand how good the earning potential of this app is, we have to take a closer look at the earning opportunities it offers.
So, here's how you can earn rewards from GetUpside.
Option 1 – Cashback offers
The main method of earning rewards from this app is by availing of cashback offers.
Once you are done installing the app and you've registered as a member, when you log in to the app, it will ask you to permit it to determine your location.
This is an important step when using the app and you'll understand why it is needed.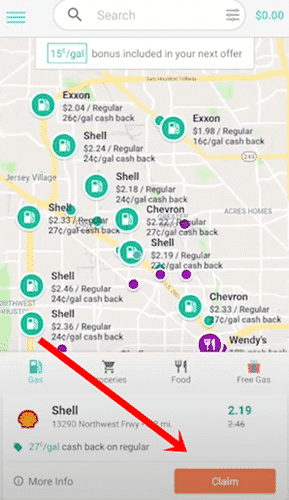 Once you've given permission to the app, when you log in, you will immediately see all the gas stations, restaurants, and shops that have cashback offers for GetUpside. Let me give you an example of how it works.
As you can see in the photo above, there's a Shell gas station near your location. All you have to do is click the "Claim" button to start the process. Once you click the button, a timer will start. This will be the allotted time (4 hours) for you to claim the offer.
Then, all you have to do is to go to the gas station. The good thing about this app is, if you don't know the way, the app can actually guide you on how to get to the location.
Once you're in the station, just pump gas like you normally would and pay for it using your credit or debit card. Now, make sure to have a receipt printed out because you will need it to claim the cashback offer.
Once you have the receipt, simply take a picture of it and upload it on GetUpside. It will then take GetUpside approximately 24 to 48 hours to verify the purchase. When they verify your purchase, you will receive a notification saying that your cashback reward has been credited to your account.
If you want to claim a cashback offer from a restaurant or local shop, you just have to follow the same process.
One thing you need to remember though is, you need to make sure the photo of the receipt you've submitted is readable and not blurry.
If it is blurry, you can end up not getting it approved and thereby not getting paid.
Option 2 – Referral program
You can also invite people to join GetUpside and boost your earnings this way. Their referral program is structured in a way where both you and your referral will benefit.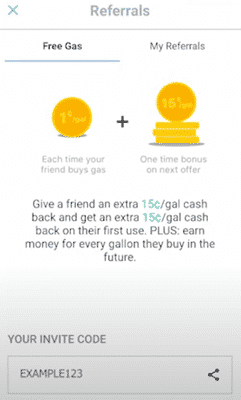 You simply have to share your invite code with the people you want to invite.
When they sign up to the app and input your invite code, they will become your direct referral. You and your referral will then get $0.15 cashback per gallon they pump during first use.
After that, you will then earn 1 cent per gallon that your referral purchases. It's not much but it can add up to a significant amount once you have a lot of referrals. Of course, you need to make sure the people you invite will really be interested in using the app.
Otherwise, you won't really get any real value from their referral program.
How do you get paid?
Every cashback reward you earn with this app will be credited to your GetUpside balance.
You are then given a choice to withdraw your earnings via PayPal or check. You also have the choice to convert it to gift cards instead.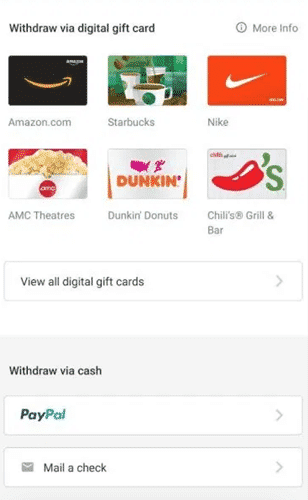 And the good thing about this app is, you will only need to earn $1 in order to withdraw your earnings via PayPal. Of course, it will cost more if you choose to redeem gift cards instead.
I do like the fact that they offer PayPal as a payment option because, in my opinion, it is the most convenient payment option around. If you are looking for more sites that pay via PayPal, I recommend you check out the top sites that pay via PayPal.
If you choose to receive the payment via check though, it will take longer because it will be sent via postal mail. And in my experience, it usually takes more than a week to be delivered to your doorstep.
How much money can you make?
This will mostly depend on how often you stop at a gas station and pump gas to your car, go to restaurants, etc.
That's why at the beginning of this review, I emphasized that this app will mostly be very beneficial if you drive a lot or if you go out a lot.
Every gas station, restaurant, and shops have a different cashback reward so you really can't tell how much you will earn on a regular basis. But just to put into perspective, the cashback reward will range from 10 to 15 cents per gallon for gas stations.
That's really not a lot but in the long run, it can pile up to a significant amount especially if you frequently fill up the gas tank.
As for their restaurant and grocery cashback offers, there aren't really a lot of offers available yet but this will probably grow over time so it can still be worth looking out for.
But for now, you really can't rely on earning a regular amount from their cashback offers from restaurants and grocery stores. The real value of this app is from the availing of cashback offers from gas stations.
Think of the offers from restaurants and grocery shops as just a bonus.
But overall, I would say you stand to earn a significant amount from this app in the long run. And as I've mentioned, not a lot of apps (if any) offer this to give you cashback when buying gas.
Can you use it on a desktop?
GetUpside is a mobile-only platform. So, you will really need a mobile device to use it. It makes sense really because of the mobile nature of the earning opportunity it offers.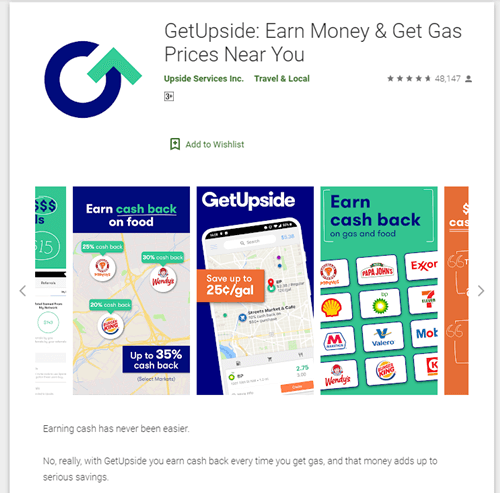 The good thing is, compatibility won't really be an issue since the app is available for download on both iOS and Android app stores. Plus, their app is very easy to use since the user interface is intuitive.
You just need to make sure your mobile device has an internet connection and you allow the app to determine your location all the time.
Can you get support?
What I noticed about their FAQ page is that it is pretty comprehensive. It talks about the features of the site in detail. So, you will definitely learn more about the site by reading their FAQ page.
But in case you can't find the answer you are looking for in their FAQ page, you always have the option to submit your inquiry to their support team.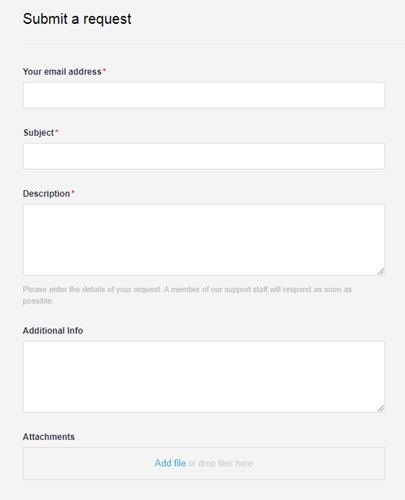 You just have to fill out their contact form to send in your questions. You can even attach the necessary screenshots for your inquiries.
They also have Facebook, Twitter, Instagram, and LinkedIn pages which are quite active. So, you can receive updates and see what's the latest news about the app. You can also message them on Facebook and they typically reply within hours.
But I still recommend using their contact form for any inquiries you need to make. Overall though, I would say that they offer a good way for you to get support in case you need it.
Final Verdict
GetUpside is a legit cashback app that specializes in cashback offers from gas stations. It definitely has some nice features to offer but it also has certain limitations.
So let's finish this review with a summary of its pros and cons to help you get an overview before deciding if you should use this app or not.

Pros:
Low payout threshold
Offers payment via PayPal
The app is user-friendly

Cons:
Limited earning opportunities available
You have to spend to earn
GetUpside is what you call a niche cashback app. It can be very beneficial if you own a car because you will be able to take full advantage of what it has to offer since you will have to stop at a gas station frequently.
However, if you don't own a car, this app really doesn't provide any real value. The cashback offers from restaurants and grocery shops pale in comparison to other cashback apps that specialize in that niche. So, you are better off using those apps instead.
I would say that it has good earning potential for people who own cars. Otherwise, I would suggest you check out the top survey sites in your country instead.
The sites on this list will allow you to earn extra cash without having to go to a gas station or even spend your own money. Plus, you will definitely find a site you can join even if you live outside the US.
If you have any comments, questions, or have any experiences with GetUpside yourself, I would love to hear from you in a comment below.