If you are a gamer and are looking for sites that will allow you to earn extra money, maybe you've encountered GG2U.
This Get-Paid-To (GPT) site promises to pay you for answering surveys and doing other activities.
There are plenty of sites that offer the same thing, and there is plenty that doesn't fulfill the promise.
In other words, there are plenty of scam sites too. So, is GG2U legit and really a way to earn, or is it a scam?
Let me just answer this right away – Yes, GG2U is a legit GPT site that will pay you for completing tasks and other activities. But is it worth your time? That is a whole other question.
This GG2U review will answer that question and more. After reading this review, you will know exactly what to expect and can easily decide if this site is a good fit for you or not.
What is GG2U, and what does it offer?
GG2U is a GPT site that offers a way for you to earn extra cash by doing tasks and other activities.
As mentioned above, it is indeed a way to earn, BUT since there are so many GPT (Get-Paid-To) sites out there, you need to make sure you only join the best and highest paying ones.
That is why you need to know all the details before joining GG2U.
So Llt's examine the ways you can earn from this site so you can gauge its earning potential properly.
Option 1 – Offer Walls
Offer walls are very common among GPT sites. If you are not familiar with offer walls, think of it as a bulletin board for all the offers you can complete so you can earn rewards.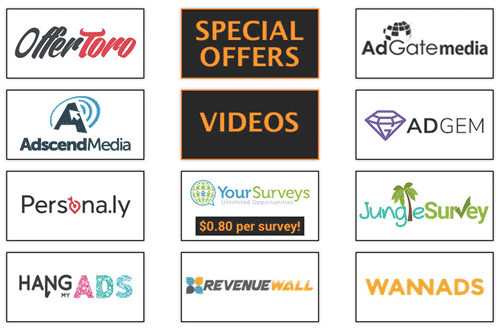 When you finish the registration process and log in to the site, you will quickly see all the offer walls available. Make no mistake, there are a lot of offer walls available. So, there's plenty to do when you become a member.
This is a good sign because it allows you to earn more. The offers you can find on their offer walls will usually ask you to answer a survey, sign up to a website, download an app or play a game.
There are also other offers that will ask you to answer quizzes and other fun activities.
The point is, there are a lot of offers that will ask you to do various things. The important thing to keep in mind is that every offer will have a set of instructions you need to follow.
Make sure to follow the instructions down to the letter to receive the reward promised. One thing I noticed about their offers is that there are quite a number of offers that pay well.
This is a bit surprising because, in my experience, you don't always earn much from offers on offer walls. But GG2U is quite different, in a good way, in my opinion.
Option 2 – Referral Program
You can also invite people to join GG2U, and in exchange, you will receive a percentage of their earnings.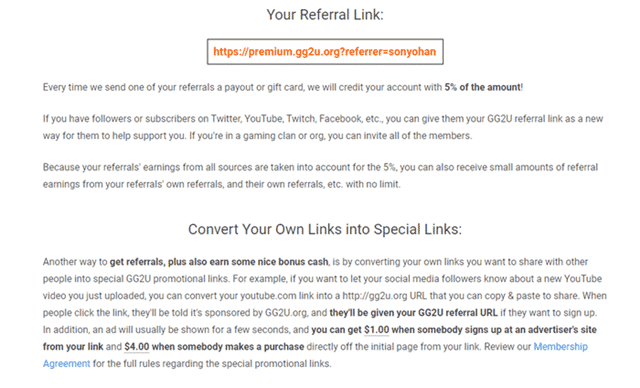 Their referral program is a bit more unique than other sites mainly because of the other way you can refer people to the site.
The first way you can invite people to join GG2U is the more common method, where you provide them with your referral link.
If they register to the site using your link, they will become your referral. And every time they cash out, you will earn 5% of the amount they will cash out.
The 5% will be shouldered by GG2U, of course. Now, you will receive this amount regardless of the type of reward your referral chose to cash out (cash or gift card).
However, this referral commission is very low compared to similar sites.
The other way you can invite a person to join GG2U is by converting your own links into a http://gg2u.org URL. For example, if you've got a new YouTube video, you can convert that into a GG2U URL.
When the person clicks that link, they will be notified that the link is sponsored by GG2U, and they'll be given your GG2U referral link if they want to sign up.
If not, the person can simply watch the video. But typically, there will be some sort of ad shown right after the video is done playing.
If the viewer decides to sign up for the site of the advertiser, you will receive a $1 commission. If they purchase a product from the site of the advertiser, you will get a $4 commission as well.
This type of referral method is quite unique and can, at first, seem very appealing. However, in my opinion, this can seriously hurt the trust people have in you.
Let me explain what I mean about this.
Let's say you share a link with someone or on your Facebook page and say it is to check out a new video you made on YouTube.
When people then click it, they will NOT be taken to the video as you promised them. Instead, they will see a huge ad for something completely different – and you have no idea what will be advertised.
If I clicked a link like that and saw a huge ad pop up, I would think it was spam and would never get to the actual video but just close my browser. And I would be VERY careful clicking links from that person again.
So even though it might at first seem appealing, it is, in my opinion, a spammy way of advertising and something you have to be careful about if you want people to continue trusting links from you.
Option 3 – Deals and Resources
Deals and Resources is not an earning opportunity per se. I decided to include this, though, because there are some good things you can get from it.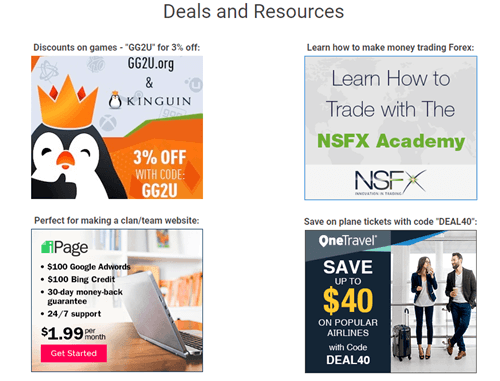 Remember back at the start of this article when I said if you are a gamer, you might have already encountered this site?
Well, not only is its name appropriate for gamers, but most of the deals you can find in their Deals and Resources section are geared towards gamers.
When you click Deals, you will find plenty of games on discount, as well as free Steam keys from time to time. So, if you are looking to purchase game codes and save a bit of money in the process, you can check out their Deals on a regular basis.
However, the number of deals is quite limited at this point, and you can find sites with a lot more options – also if you are a gamer.
Recommended: Check Out The Top GPT Sites
How do you get paid?
Every offer you complete on GG2U will earn you a certain amount. Once you reach $7, you can then request payment.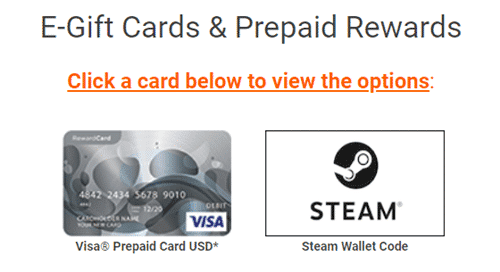 You can request payment via PayPal. To do that, you will have to link your PayPal account to their site first. You can also choose to withdraw your earnings via Bitcoin at Coinbase.
But this method has a 3% processing fee, so you just need to be are of that. You can also check the best sites to earn free Bitcoin here if you prefer this as a reward and want to earn more effectively than what GG2Y offers.
You can also choose to receive egift cards instead. The exact gift cards you can choose from depend on the country you live in. But examples are an electronic Visa prepaid gift card, Steam wallet code, Amazon, iTunes, Target, Google Play, and more.
Also, once you've had 5 cashouts, you will earn a golden ticket you can use to spin their Golden Prize Wheel. You get the chance to win an extra $7.00 added to your account balance. Think of it as an additional payout – if you are lucky.
All in all, I like that they offer PayPal as a mode of payment because, in my opinion, this is one of the most convenient payment methods available today. Plus, the relatively low payout threshold is also a good way to ensure you can withdraw your earnings quickly.
If you are interested in other sites that will allow you to withdraw your earnings quickly, I suggest you check out the fastest paying survey sites.
How much money can you make?
With GPT sites, the amount of money you can make will mostly depend on how active you are on the site.
With GG2U, you have the chance to earn a decent amount as long as you keep doing offers on a regular basis.
And based on feedback from long-time members, GG2U also pays quickly. And from what I've noticed on the surveys they offer, there are a number of rewards that pay well.
This can help you reach the threshold rather quickly. So, overall, GG2U has a decent earning potential mainly due to the high rewards offered on their offer walls.
Can you use it on mobile?
They do not mention on their site that you can download a GG2U app on your mobile device so you can work on offers even when you are not sitting in front of a computer.
But, you will be able to access their site on a mobile device using a mobile web browser.
Their site is mobile-friendly, which means it is optimized for mobile use. You will be able to conveniently navigate through their site because you will clearly see all the content without zooming in.
Plus, their offer walls are also laid out conveniently, so you won't have a problem working on offers on your mobile device. This significantly helps you rack up rewards quickly because you don't need a computer to work on offers.
You can do it anytime you want, as long as your mobile device has an internet connection, of course.
Who can join GG2U?
Another good quality I like about GG2U is that they are not very particular about who can join their site.
You have to be at least 18 years of age to join.
But you can join GG2U regardless of where you live. All you have to do is fill out the sign-up form you will see on their homepage.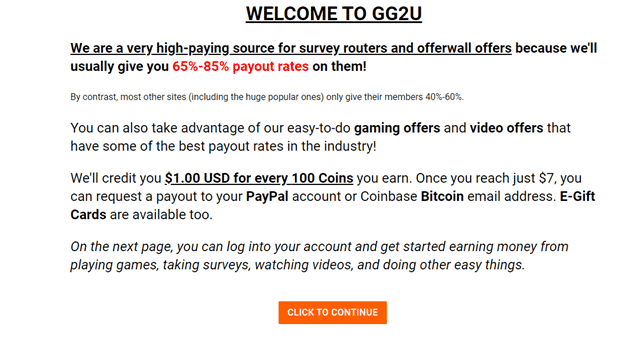 Once you've completed the sign-up form and log in, you will then see the photo shown above. I like that they show you what you can do on the site right after the registration process.
It makes the transition a whole lot easier, in my opinion. Plus, it also motivates you to become more active on the site, which is really a good thing.
Can you get support?
If you want to get in touch with their support team, you can email them using the email address provided on their contact page.

But there is also another way for you to get support. You can go to Discord and chat with their support team.
In my opinion, this is the better option because it is a much quicker way of resolving the issue you are facing. If you are not familiar with Discord, it is actually a voice and chat app used by gamers.
All in all, they provide a good way of providing support to their members, in my opinion.
Final Verdict
GG2U is a legit GPT site that pays you for completing offers and inviting people to become a member of their site.
It is a relatively new site, but it has some good qualities and some not-so-good qualities. But let's finish this review with a summary of its pros and cons to help you with your decision about whether you should join or not.

Pros:
Decent earning potential
Offers convenient payment system
Low payout threshold

Cons:
Limited earning opportunities for a GPT site
Doesn't have a wide range of gift cards available
Really poor referral program
What I like about GG2U is its relatively low payout threshold and the relatively high amount of rewards you can get for some of its offers. This ensures you can earn a decent amount from this site.
In my opinion, this can be a decent GPT site to join because it has an OK earning potential and convenient payment methods.
There are some things (like the poor referral program and many ads on the site) that do not make it as user-friendly as many other sites, in my opinion. But it can still be worth checking out if you do it with the right expectations.
But if you are looking for other sites that can supplement the income you can make from GG2U or want to join sites with even better opportunities, I recommend you check out the top GPT sites as well.
The GPT sites on this list also have good earning potential, and just like GG2U, you can also join regardless of where you live.
If you have any comments, questions, or have any experiences with GG2U yourself, I would love to hear from you in a comment below.