Are you looking for a way to earn a bit of spending money? If that's the case, there's an app called Gigwalk that claims you can earn by working when you want and where you want to.
It definitely sounds like an appealing offer, right? But before you download this app, I would suggest you read this Gigwalk app review first.
It will verify if the app is really legit or if it is just a scam. And if it is really legit, it will then show you everything you need to know about the app so you can decide if it is a good fit for you or not.
So, let's get the ball rolling.
What is Gigwalk and what does it offer?
Gigwalk is a micro-job app that will allow you to earn by taking on simple jobs. Once you become a member, they will refer to you as a Gigwalker.
It's a lot like Field Agent, another micro-job app that offers the same kind of earning opportunity.
It is indeed a legit app since it will really pay you for completing the jobs it offers.
Now, in order to fully understand how this app works, we have to take a look at the earning opportunity it offers. By doing so, you will also get a good glimpse of how well you can earn from this app.
I have, therefore, made a video that gives you an inside look and shows exactly how you can earn from Gigwalk. You can also read all the details below the video.
The earning opportunity – Gigs
Gigwalk only offers one earning opportunity and that is through their gigs. This is just the term they call their jobs. To work on a gig, you have to first log in to the app.
Once you are logged in to the app, you will immediately see all the available gigs in your area. If you see a gig you are interested in doing, just press it to view the gig details.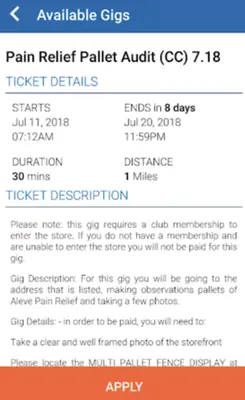 On the gig details page, you will see the instructions you need to follow to complete it. Most gigs will usually ask you to take photos of a store or a product it sells. Sometimes, it will ask you to make a purchase. But don't worry, if this is the case, they will reimburse you for the money you spent to make the purchase (provided of course, you complete the gig).
So, if you are ready to take on the gig, just press the "Apply" button. You will then have to answer a couple of profile questions. Then, you have to sign the application. When you've done that, your application will be submitted for review.
If it gets accepted, you will receive a notification from the app saying you can now work on the gig. Once you've completed the gig, you will have to submit all your deliverables through the gig page. The client who posted the gig will then review your work.
If everything is in order, your submission will be approved and you will get paid (I will talk about their payment system in the next section).
Approval of submission can sometimes take days. So, don't be alarmed if the status of the gig you worked on is still pending for a while. If you followed the instructions down to the letter, it will eventually be approved.
Sometimes, the client will also communicate with you through the app and give you feedback regarding your work. When that happens, it's like they are giving you a second chance to correct your mistakes.
So, make sure to check the app from time to time if you submitted your work. The client may be trying to get in touch with you.
Recommended: Check Out the Top Survey Apps
How do you get paid?
The best thing about Gigwalk, in my opinion, is their payment system, and let me explain why. As you already know, you will get paid every time you complete a gig. That means you don't have to reach a threshold to withdraw your earnings.
That's good news because you won't have to wait that long to receive your earnings.
Now, Gigwalk only offers one mode of payment and that is through PayPal. While the lack of options can be a letdown, I personally don't mind this since PayPal is one of the most convenient payment options around.
To receive your earnings via PayPal, just log in to the app and link your PayPal account. You will be able to access this option through their payment settings. Once you've linked your account, you are good to go. You don't have to request a payout because Gigwalk will process payments automatically.
So, as you can see, the payment option of Gigwalk is pretty simple and very convenient as well. I like the fact that you don't have to request a payout because it processes payments automatically.
Plus, I also like the fact that they pay through PayPal since it is one of the most convenient payment options around. If you are interested in more platforms that pay via PayPal, I would recommend you also check out the top sites that pay via PayPal.
How much money can you earn?
The amount you can earn as a Gigwalker will mostly depend on your location. Based on my experience, apps like this usually offer plenty of opportunities for people who live in major cities. So, if you happen to live in a major city, there's a good chance you will be able to earn a good amount from this app.
Gigs can take anywhere from 5 minutes to a few hours to complete and pay anywhere from $3 to $100. The more complicated and longer it takes to complete the gig, the higher the amount you will earn.
Now, if you want to maximize your earnings from this app, you always have to make sure you are very thorough and approach every gig with a professional work ethic. If clients notice this, they might add you to their private workforce where you will be given access to private gigs that are only available for this group. So, it is in your best interest to always do your best when working on gigs.
Overall, I would say the earning potential of this app is pretty good if you live in a major city because you will have access to plenty of gigs. Otherwise, you might not earn a lot from it.
Can you use it on a desktop?
Gigwalk is a mobile-only platform. You will definitely need a mobile device to work on their gigs. And if you consider the nature of the earning opportunity it offers, you will not need a laptop or desktop to work on their gigs.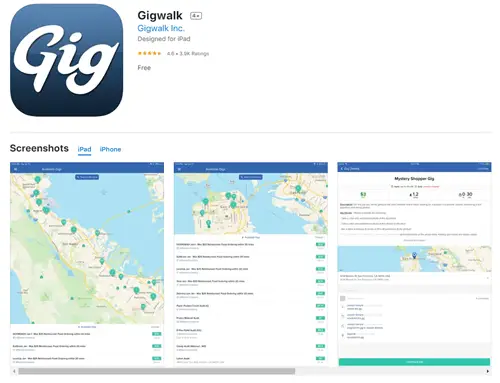 As for their app, it is available for download on both iOS and Android app stores. So, you shouldn't encounter any compatibility issues with it.
The app is also relatively easy to use. However, during my testing, I encountered a few glitches. And apparently, I'm not the only one who encountered this.

I took a look at the reviews on their app page and there are quite a few who keep encountering errors to the point that they are losing money. This isn't a good sign because it severely impacts the overall user experience provided by the app.
So, if you decide to use this app, you might encounter glitches as well when working on gigs.
Who can join Gigwalk?
Gigwalk is, in theory, available in all countries. However, the majority of gigs are for the US and Canada. Occasionally they also have gigs in other countries like, for example, India, UK, Australia, Germany, and France.
But if you do not live in the US or Canada, it can definitely take some patience to find gigs and in some countries, you will never find any.
It's not surprising really since most companies and brands that employ the services of this kind of app are usually located in the countries mentioned above.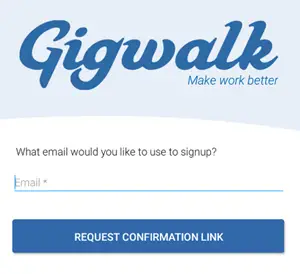 To sign up as a member, you have to be at least 18 years of age. Then, you have to install the app on your mobile device. Once the app is installed, you will have to provide your email address.
Gigwalk will then send a confirmation email. Just click the link in the email you will receive and follow the instructions. Once you've done that, you will have to allow the app to gain access to certain features of your mobile device, like the camera, storage, and even location.
When you've given permission to all those settings, you can now log in to the app and start working on gigs.
Can you get support?
If you have any questions about the app or your account, you can refer to the Support section inside the app first. It discusses most of the basic topics you need to know about the app. You can also check out the FAQ page on their website, but it doesn't provide a lot of useful information.
But if you can't find the answers you are looking for, you can just get in touch with their support team by filing a support ticket on their app or website. This support system also lets you track the progress of your inquiry.
So overall, I would say they have a decent support system in place for their members since they offer a convenient way for you to get in touch with their support team.
Final Verdict
Gigwalk is a legit micro-job app that will pay you for taking on small gigs. It has a couple of good features but it also has some limitations you need to be aware of.
Let me conclude this review with a summary of its pros and cons to give you an overview of what the app has to offer. That way, you can decide if this app is a good fit for you or not.

Pros:
Offers an interesting way to earn
Offers payment via PayPal
Pays well

Cons:
Limited earning opportunities offered
Their app is a bit glitchy
Gigwalk, in my opinion, is a decent app to join only if you live in a city where there are plenty of gigs available. So, it's not for everyone. If you live in a major city in the US or Canada, I would say go for it. But if you don't, then I suggest you find another way to earn extra cash.
You also have to be a bit more patient with this app because it can get quite glitchy at times. But overall, it's a decent app since it pays relatively well and it offers a convenient payment method.
Now, if you are looking for simpler ways to earn, I would recommend you check out the top survey and GPT sites in your country instead. The sites on this list all have good earning potential and they also offer convenient payment methods.
Plus, you will definitely find a site you can join regardless of where you live.
If you have any comments, questions, or have any experiences with Gigwalk yourself, I would love to hear from you in a comment below.