GoNovel is an app that claims you can read free novels and earn rewards at the same time. It's definitely a unique way to earn, in my opinion, but the question is, is it worth it?
This GoNovel app review will reveal the full truth of what the app has to offer so you will know exactly what to expect from it before you even install it. Then you can properly evaluate if the app is truly worth your time or not.
So let's go ahead and take a look at GoNovel, shall we?
What is GoNovel, and what does it offer?
GoNovel is a mobile app that offers free digital books you can read. It also offers opportunities for you to earn rewards. It is indeed a legit app since you can really earn rewards from it. However, this doesn't automatically mean the app is worth using.
If you want to figure out if you should install it, the first step is to understand how it works. And the only way to do that is to examine the earning opportunities it offers so you will have a clear idea of how much time and effort is needed to earn from it.
The video below explains exactly how the app works. You can also read the full details below the video.
Recommended: Check Out the Top Best Reward Apps That Actually Pay
Option 1 – Reading novels
One way to earn from GoNovel is to read free digital novels. When you log in to the app, you'll immediately see all the available novels you can read.
Simply pick a novel you are interested in, and if you want, you can add it to your library. Then you press the Continue button and it will open the novel so you can start reading.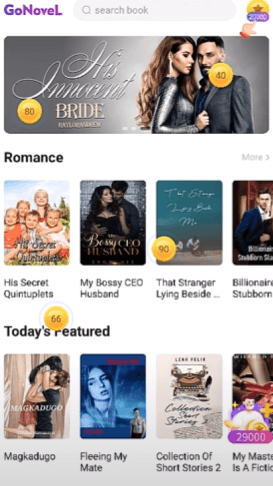 You will then notice that there will be a progress bar that will appear on the upper right side of the screen. This bar will continue loading as you scroll down. This is the only way the app can recognize that you are reading the novel.
Once the bar is full, the app will automatically collect the supposed reward. However, when I tested the app, the coins didn't actually reflect in my account balance, so I'm not sure if you have to keep reading until you eventually earn the reward or if it really doesn't offer coins.
When I checked the app, it said you can earn 2,000 coins from reading novels, but again, I wasn't able to get that when I tested it. While reading the novel, there will also be small icons that will pop up saying you can claim coins by watching video ads, which leads me to the next earning opportunity it offers.
Option 2 – Watching videos
Another way to earn is by watching videos. This opportunity is relatively simple. You go to the Video section of the app and watch the videos listed there. You'll then earn a certain number of coins while watching.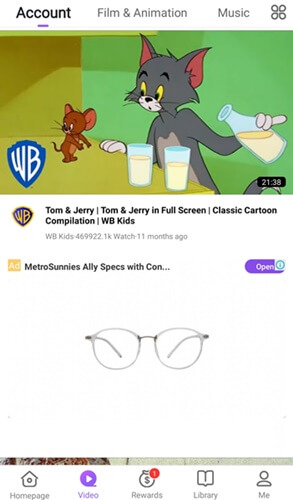 There were a decent number of videos listed while I was testing the app. But, in my opinion, this is not a very effective way to earn because you won't earn a lot of coins by doing so.
Option 3 – Watching video ads
You can also earn more coins by watching video ads. And let me tell you that you will really encounter a lot of video ads while using the app to the point where it becomes very annoying, in my opinion.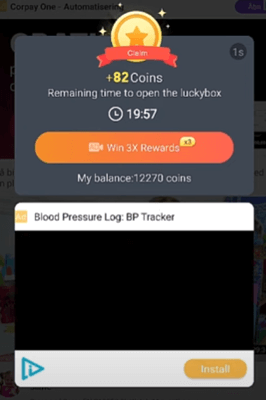 All you have to do when an opportunity to watch an ad appears is to just let it play the ad. These ads usually last around 20 to 30 seconds, so you have to be patient.
Once the ad is done playing, you can claim the coins as a reward. Sometimes, it will even offer to double the rewards by watching another ad, which is a bit annoying, in my opinion.
I understand why the app is doing this because this is how they earn, but to be bombarded with ads regularly is a terrible user experience, in my opinion.
Option 4 – Referral program
Lastly, you can earn rewards by inviting other people to use the app through its referral program. You just need to share your referral code with the person you want to invite, and when they install the app and sign in (more on this later), they have to input your code.

Once they input your referral code, they will receive 3,000 coins as a bonus. You, on the other hand, will potentially receive 29,000 coins in total for each referral. However, they must meet several requirements before you will receive the reward.
If they install the app and input your code, you will receive 4,000 coins automatically. Then if they watch videos worth 30 minutes a day within 3 consecutive days of signing up, you will receive 10,000 coins as a reward.
And if your referral keeps watching videos worth 30 minutes a day within 7 consecutive days of signing up, you'll receive 15,000 coins as a bonus. It's not an easy requirement to meet since it involves a significant amount of time commitment on your referral's end, so don't expect to receive the full reward.
Plus, this app is not something I would recommend to my friends either, and later, you will understand why.
Recommended: Check Out the Top Best Reward Apps That Actually Pay
How do you get paid?
As explained above, you will earn coins from the opportunities GoNovel offers. But what can you do with the coins you've earned, exactly?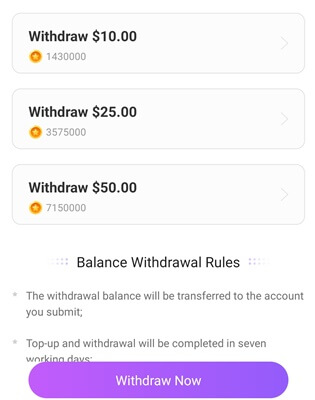 Well, you have the option to convert them to cash via PayPal (refer to the photo above). You'll need to earn at least 1,430,000 coins to withdraw $10 via PayPal.
There are also other payment options available, but that will depend on the country you live in. The threshold you need to reach for other payment options will be most likely the same.
Overall, I would say the payment system of GoNovel is relatively straightforward. I like the fact that it offers a convenient payment method like PayPal. If you are interested in more apps or sites that provide a convenient payment method, I recommend you also check out the top sites that pay via PayPal.
How much money can you make?
The amount you can earn from GoNovel will not be a lot. As you can see above, you'll have to earn millions of coins just to withdraw via PayPal.
The problem is that the earning opportunities GoNovel offers don't pay that well, so it will take quite a long time to reach the threshold to withdraw your earnings. This is why I would say the earning potential of this app is very low.
You will have to be very patient because you will need to invest a lot of time to earn a decent amount. You are better off investing your time in apps or sites that offer better earning potential, in my opinion. This is also the reason why I would not recommend this app to my friends or to anyone, for that matter.
Can you use it on a desktop?
GoNovel is a mobile-only platform, so you will need to use a mobile device if you want to earn from it. While I was testing the app, its website said that it is available for both Android and iOS users. However, you won't be able to download the iOS version because it is under upgrading and maintenance.
It has been going on for a while, so I'm not sure when it will be usable for iOS users. By the time you read this review, it might already be available. Just don't hold your breath, in my opinion. So, for the purposes of this review, I would say the app is only available for Android users.
If you are an iOS user, I suggest you check out the best money-making apps for iOS instead.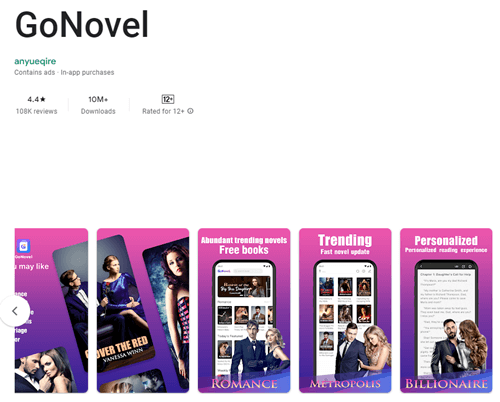 As for the app, as I've mentioned earlier, it doesn't provide a great user experience because you will encounter a lot of annoying pop-up ads. These ads will appear randomly, and it gets quite annoying having to keep closing them.
I understand that this is how they make money, but, in my opinion, they shouldn't do it at the expense of the users. Personally, I tend to avoid these kinds of apps that are very spammy.
Who can join GoNovel?
The app and its website don't tell you exactly which countries it is available in. But from what I can tell, you can sign up as a member regardless of where you live.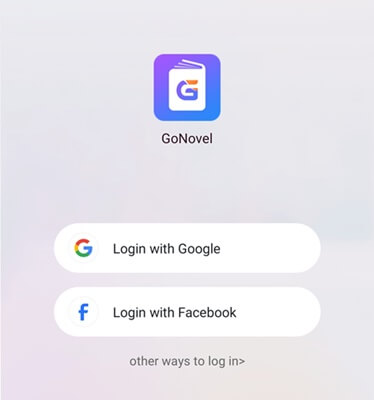 After installing the app, you will actually be able to start using it. But if you want to use the same account on different devices, you'll have to log in (refer to the photo above). To do so, just go to your account settings and press Login.
You can choose to log in using your Facebook or Google account. If you are intent on using this app, I highly recommend you log in even though you can start earning without doing so. This is to avoid losing all your coins if the app somehow gets uninstalled.
Can you get support?
If you have questions about your account or the app, you can check out the Customer Service page inside the app. It discusses some of the basic topics you need to know about GoNovel.
If you can't find the answers you are looking for, just press the Feedback option on the same page to submit your inquiry. Overall, I would say the app does provide the minimum required support to its members since it offers a way for you to ask for assistance.
Final Verdict
GoNovel is an app where you can earn rewards through the earning opportunities it offers. It has a couple of decent features, but it also has some limitations you need to consider.
Let me end this review by summarizing its pros and cons to give you an overview of what GoNovel has to offer. Then you can decide if it is truly worth it or not.

Pros:
Offers payment via PayPal
Available more or less worldwide

Cons:
Very low rewards
The app has a lot of pop up ads
The iOS version of the app is not available at the time of writing this review
In my opinion, GoNovel is not an app worth using. You will only be wasting your time trying to earn from this app because it doesn't pay well. It will take quite a long time to withdraw your earnings from this app.
You are better off spending your time on apps and sites that offer better earning potential. For a list of these apps and sites, I recommend you check out the top survey and GPT sites in your country instead.
The sites and apps on this list all have good earning potential, so you will be able to earn a decent amount in a short period of time. Plus, most (if not all) of these apps offer great user experience.
If you have any comments, questions, or experience with GoNovel, I would love to hear from you in a comment below.