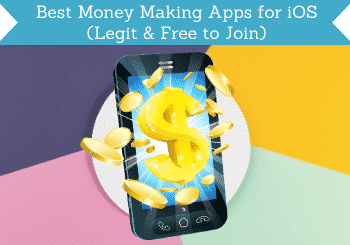 Are you looking for ways to earn extra money from your iPhone or iOS device?
If so, then there are quite a lot of options to choose from. However, many of them are not worth it.
That's why I've decided to make this list of the best money making apps for iOS and iPhone to make it easy for you to choose which apps to join.
This guide will include a brief summary of what each app has to offer so you can get a good idea of what each app is all about and find the best ones for YOU.
All you then have to do is choose which ones you are more interested in and download them.
All the apps in this guide are legit and free to join. You can easily sign up, and you can start earning right away. But if you are an Android user, I would recommend you check out the best money making apps for Android instead.
Disclosure: Some articles on this website contain affiliate/sponsored links. Click for more info.
How are the opportunities to earn offered by iOS apps?
As stated above, there are plenty of mobile apps for iOS (iPhone and iOS tablets) you can use to earn extra cash. So naturally, the opportunities to earn are pretty good. However, there are apps that are simply better than others.
The whole goal of this guide is to provide you with the best apps you can download. My choices are mainly based on the earning potential of these apps, as well as their usability. So, you can rest assured that all the apps that will be included on the list will be user-friendly and will allow you to earn a decent amount in a relatively short amount of time.
Also, I have been paid by all of them myself, so I know they are legit and actually do pay.
I will be including Get-Paid-To (GPT) apps, survey apps, cashback apps, passive iOS earning apps, and more, so you'll have plenty of options to choose from, no matter how you prefer to earn.
In the next section, I will tell you how to maximize your earnings from these apps.
How to earn the most?
What you need to keep in mind with free money making apps for iPhone and iPad is that they all offer different earning opportunities. So, the amount you will earn will vary from app to app.
And the best thing you can do to maximize your earnings is to make sure you take advantage of all the earning opportunities each app has to offer. For example, with survey apps, aside from answering surveys, most of these survey sites also have a referral program you can participate in to earn extra rewards.
For GPT apps, they offer multiple ways of earning. You can earn by taking surveys, watching videos, playing games, taking offers, clicking ads, doing social media tasks, and more.
So, making sure you use most of the earning opportunities these apps offer will allow you to earn faster. Plus, I would recommend you join around 6 to 8 apps so you'll have access to enough earning opportunities.
This is the best strategy I can suggest for you. This number is a good starting point if you are new to online rewards apps, in my opinion, since you'll gain access to a decent number of earning opportunities, but you won't be overwhelmed with what you have to do to earn.
But if you are already an experienced user, you can always join more to gain access to more opportunities. That's really the point of this kind of strategy. Use more apps to earn more rewards.
That being said, it is important to set your expectations properly. So, always keep in mind that the amount you can earn from these iPhone and iOS apps will not be comparable to what you can earn from a full-time job.
But with a bit of time and effort, you can earn a decent amount of "spending money".
23 best money making iOS apps
All the apps on this list all have great earning potential, but this is not the complete list of all iOS / iPhone apps that exist.
It is instead a list of what I think are really worth downloading and using based on my experiences after having tested hundreds of apps – the ones on the list below will all allow you to earn a good amount and as I've mentioned, they are also user-friendly.
I will keep updating this list, so make sure to bookmark this page and check back from time to time for new opportunities.