I'm always on the lookout for ways to earn extra money, so when I first encountered WeGoLook, I was quite interested in what it has to offer.
WeGoLook claims you can earn good money by providing professional field services to some of the world's largest companies.
But is it legit or is it just a scam?
You'll find that out in this WeGoLook review. I have tested it thoroughly myself to find out what its features are and how good it really is, and I will share everything in this review so you will know exactly what to expect from it.
That way, you can make an informed decision on whether this platform is really worth it for you or not. So, let's go ahead and examine what this platform is, shall we?
What is WeGoLook and what does it offer?
WeGoLook, at its core, is a gig economy app that will allow you to earn by taking on jobs that they call "Look". It is indeed a legit app because you will really get paid for completing jobs.
But, before you can figure out if it is worth it, you must first understand how the app works. And the first step to doing this is to examine the earning opportunity it offers. That way, you can properly gauge the amount of time and effort needed to earn from this app.
So, here's how to earn from WeGoLook.
The earning opportunity – Looks
As mentioned above, the term for the jobs the platform offers is look. So, for you to earn, you have to work on the looks found inside the app.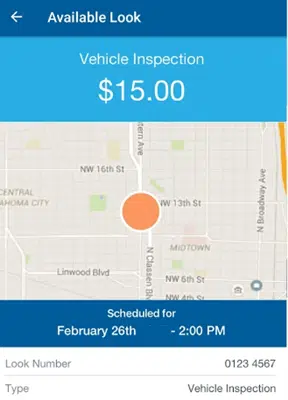 Once you become a looker for WeGoLook, you can view all the available looks when you log in to the app. When you see a look you are interested in doing, just press it to see the full details.
You will then see how much you will earn for completing the look, as well as the exact location. What's great about WeGoLook's app is that it can tell you the approximate distance between you and the location of the look.
So, you'll be able to determine how long it will take to get to the location. If you decide to accept the look, you just have to press the "Accept" button on the details page. Then, you'll be given four hours to reach out to the onsite contact to schedule an appointment.
You can do this through the details page as well. But why do you need to set a schedule? Well, you see, the tasks you need to do for WeGoLook will usually involve inspections, assessments, or pickup and delivery.
So, you will need to coordinate with someone before you can work on the look. Once the schedule is set, all that's left is to show up at the designated time and place and complete the task. If you cannot get to the location at the scheduled time, you have to inform the onsite contact ahead of schedule.
However, just be aware that the only valid reasons that will be accepted are health emergencies and drastic changes in weather conditions. So, canceling a look isn't as easy as you might think. Sure, you might be able to get away with canceling once for no apparent reason, but if you keep doing it, your account will be closed, and everything you've earned will be forfeited.
That's why I would only suggest you accept looks if you have the time to complete them. Every look will also have a set of deliverables you need to submit. Once you've completed what needs to be done, you will have to submit all the deliverables to WeGoLook.
Then, they will review your work to see if everything is in order. This usually takes around a couple of days, depending on the workload of WeGoLook's reviewers. If it is approved, you will receive the compensation (I will talk about how to get paid in the next section).
If there are mistakes in your work, you'll be given a chance to rectify them within a certain amount of time. If you fail to do this, your submission will be denied, and you will not receive any payment. The good thing, though, is that looks are very easy to do, so there's a very minute chance of messing up.
One thing you need to know when working on looks is that you must dress appropriately. You have to dress professionally. That means you cannot show up in casual wear when working on looks. It's not a big hindrance, but it is something you need to know beforehand.
Recommended: Check Out the Best Sites to Find Gig Jobs
How do you get paid?
Every time you complete a look, and it is accepted by WeGoLook, you will earn the amount specified. And the good thing is that you will get paid immediately. You don't need to reach a threshold to receive your earnings.
WeGoLook will send the payment to your preferred payment method once the look is approved. However, just be aware that it can take up to four weeks before you will actually receive the payment.
WeGoLook offers a couple of payment methods – PayPal, check, or direct bank transfer. If you live in the US, you can choose any of the three options. But if you live in the UK, Canada, or Australia, then your only option will be PayPal.
Plus, WeGoLook will waive the usual $1.50 transaction fee for PayPal, so you can expect to receive the full amount.
Overall, the payment system of WeGoLook is relatively straightforward. And I like the fact that it offers a convenient payment method like PayPal. If you are looking for more sites that use a convenient payment method, I recommend you also check out the top sites that pay via PayPal.
How much money can you make?
The amount you can earn from WeGoLook will depend on your location. You see, the main determining factor of how much you can earn from a gig economy site/app will be where you are located.
You can expect plenty of looks in metropolitan cities. But if you live in a small town, there's a huge chance you will not find any looks to work on. This is just the nature of gig economy apps.
As for how much you can earn per look, the pay will usually range from $5 to $30. There are some looks that will pay around $200 or more, but these looks will usually require a specific set of skills or expertise.
In my opinion, the WeGoLook pay rate is not that bad. But, before you accept any look, you have to think about the distance you have to travel to get to the location because that will also cost you (gas fee or bus fare).
You need to make sure the amount you will earn will more than cover any fees involved. The best way to do this, in my opinion, is to take on multiple looks in a day, then plan your looks accordingly. You can map out a route of the looks you can work on, so you can do them all in one go.
That should be enough to cover expenses and still profit from all the completed looks. Overall, I would say the earning potential of WeGoLook is pretty decent as long as you live in a big city where there are lots of looks to work on.
Otherwise, you are better off looking for other ways to earn extra money, in my opinion.
Can you use it on a desktop?
If you decide to become a looker, then you'll have to use WeGoLook's app to earn. The web-based member dashboard of WeGoLook is only for clients.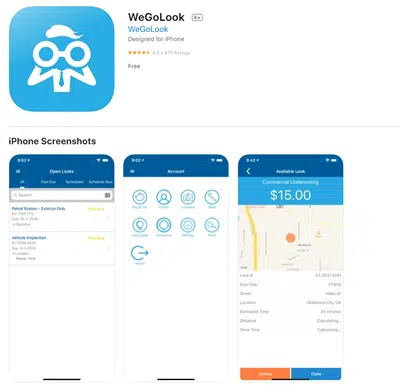 Fortunately, the app is available for both Android and iOS devices, so you shouldn't have any trouble with compatibility. The app is also very user-friendly, and as mentioned earlier, it will also help you know the approximate distance between you and the look's location, which, in my opinion, is a pretty nifty feature.
Who can join WeGoLook?
WeGoLook is only available in the US, UK, Australia, and Canada. If you live somewhere else, then this is not for you. You also have to be at least 18 years of age to join.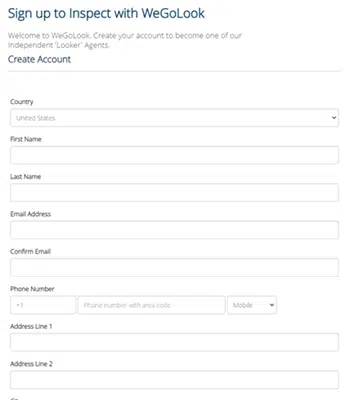 The sign-up process of WeGoLook is a bit complicated. If you want to become a looker, you will first have to fill out the sign-up form. Once you submit it, you have to wait for WeGoLook's response.
You see, they don't accept lookers all the time. They always check your location first and see if they are still looking for more lookers in that area. If they are, they will accept your registration, and you can begin the onboarding process.
This will involve providing relevant personal information and a criminal background check which will cost $15. The background check can take up to a week to be completed, but normally, it only usually takes around a day.
But nevertheless, you won't be able to earn immediately. There will be a waiting period. That's why if you are in a hurry to earn, this is not for you.
Can you get support?
When I was testing WeGoLook, one of the first things I checked was whether they had a good support system in place or not. And I do have to say that they have everything. If you have any questions, you can check out the support page. It discusses in detail most of the important topics you need to know about being a looker.
If the support page somehow wasn't of any help, you can email their support team by clicking the "Email Support" link at the bottom of the website. You can also do this using the app.
So, I would say WeGoLook has a good support system in place for its members since they offer a convenient way for you to communicate with their support team. Plus, their support page is actually pretty helpful, in my opinion.
Final Verdict
WeGoLook is a legit gig economy app that will allow you to earn by taking on small jobs called looks. It has a couple of good features, but it also has a few drawbacks you need to consider.
Let me end this review by summarizing its pros and cons to give you an overview of what WeGoLook offers. Then, you can decide if it is worth it or not.

Pros:
Offers payment via PayPal
No payout threshold
The app is user-friendly and has some very useful features

Cons:
Limited earning opportunities offered
The registration process is a bit longer than for other apps
You have to spend money to become a looker
Requires a certain level of commitment as well as a dress code you have to follow
In my opinion, if you are eligible to join WeGoLook and you live in a big city, then it is a decent option to earn extra money. You just have to be smart about picking the looks you want to work on because you also have to think about the expenses involved as well as time constraints.
Of course, you have to be willing to pay the fee for the background to check to earn from this app. You can easily earn back that fee, though, once you've completed several looks.
But if you live in a small town, I would recommend you check out the top survey and GPT sites in your country instead. You'll be able to earn more from these sites since they all have good earning potential, and you can do so in the comfort of your own home.
Plus, you'll definitely be able to find a site you can join regardless of where you live.
If you have any comments, questions, or have any experience with WeGoLook yourself, I would love to hear from you in a comment below.