If you are looking for sites to earn extra money from, you could consider joining a Paid-To-Click (PTC) site. This is because PTC sites normally offer several earning opportunities. And if you've chosen a good PTC site, you will be able to earn a decent amount regularly.
GPTHub is one of these PTC sites (but ironically, its name refers to a different type of site). Before you join this site though, you have to figure out if it is worth it. So is GPTHub legit? Let's answer this question right away so we can discuss more about on the site.
Fortunately, GPTHub is a legit PTC site that will reward you for completing the activities they offer. But is it worth your time though?
That is an entirely different question and this GPTHub review will help you answer this by giving you an inside look so you will know exactly what to expect.
What is GPTHub and what does it offer?
As mentioned above, GPTHub is a PTC site that will pay you for completing small online tasks.
Although its name is GPTHub, it is more of a PTC site based on the earning opportunities it offers. Somebody else might have already taken the site name PTCHub that's why they chose to use the name they are currently using.
For your reference, GPT sites are online rewards sites that will pay you for completing different micro-tasks. Once completed, you will earn the reward promised for the offer.
Now, we have to take a closer look at how you can earn from this site so we can understand its earning potential clearly. So, here's how you can earn from this site.
Option 1 – Paid offers
If you've already been a member of a GPT site, then this will be very familiar. If you haven't yet, paid offers are basically short tasks you can do to earn rewards.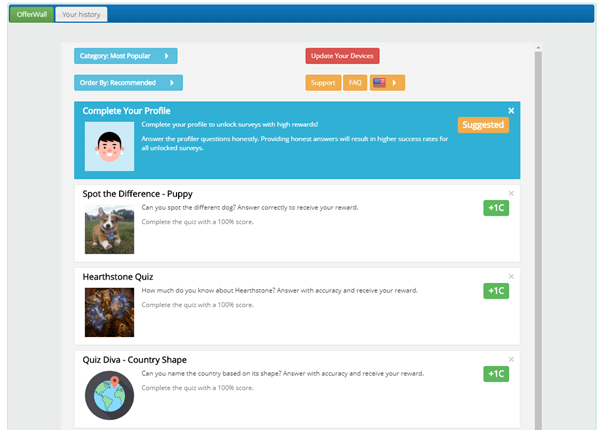 In GPTHub's case, the paid offers you will have to do will come from offerwalls. It's basically a bulletin board of short tasks you can do. Each offer will have a certain set of instructions you need to follow.
Usually, a paid offer will ask you to answer a survey or quiz. Sometimes it will ask you to play a game. Other times, it will ask you to watch videos. But nevertheless, you have to follow the instructions to the letter to ensure you receive the reward once you complete it.
The thing you need to take note of when it comes to the paid offers on GPTHub is, it won't net you a high reward. So, don't expect to earn a lot from doing these paid offers.
Option 2 – Paid ads
This kind of earning opportunity is what makes a PTC site a PTC site. Paid ads are ads you can view to earn a small reward. All you have to do is click on the ad and it will open a new browser tab.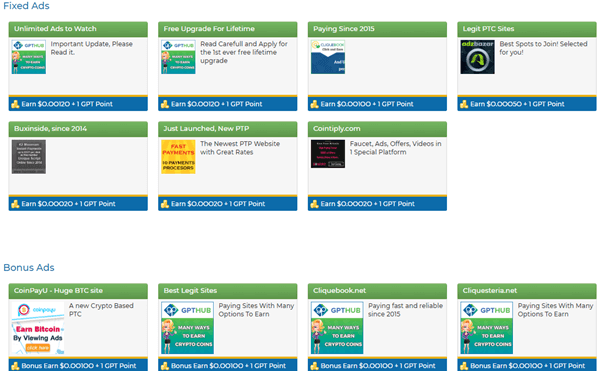 Then, just wait for the ad to fully load. Once it is loaded completely, you will have to solve a captcha to complete the viewing.
The captcha usually asks you to choose a certain image. Once you've chosen the right one, you can close the ad and view a new one and you will also receive the reward for that ad.
They have different types of ads and each type pays differently. Aside from earning a certain amount, you will also receive 1 GPT point for each ad you view. I will explain later what this is for.
The thing you need to remember with paid ads is, the reward you will get for each ad will be very small.
It's not surprising since it only takes a few seconds to complete. But just so you know, usually, to earn even $1, you will have to watch hundreds of ads. So, it's not the best earning opportunity to earn from.
Option 3 – Paid surveys
The highest paying earning opportunity offered by GPTHub is their paid surveys. This opportunity will reward you once you complete a survey.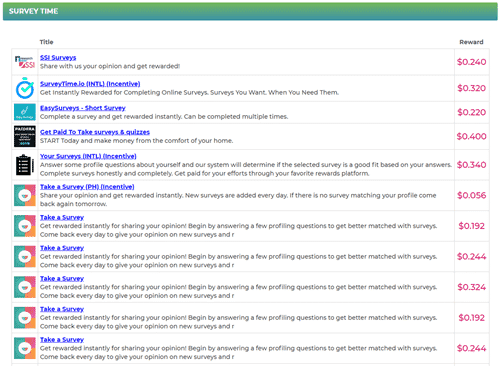 However, as shown in the photo above, GPTHub doesn't have its own surveys. Instead, it acts as a survey router. It displays paid surveys from other GPT and survey sites. So, when you decide to answer a survey from GPTHub, it will take you to a different site (the one that hosts the survey).
When you answer a survey, you will actually have to go through a qualification process first. After answering the qualifying questions, if you qualify, you get to answer the actual survey. If you don't, then you just have to move on to the next survey.
Once you've completed the survey, you will get the reward promised for the survey. From what I've noticed though, the rewards you get from each survey is slightly lower than if you were to answer that survey as an actual member of the site hosting it.
This is also not surprising because this is how GPTHub earns money from surveys. They take a cut off the real survey reward. They don't mention this, but this is how sites that act as survey routers work.
Option 4 – Quizzes
You can also earn from this site by answering quizzes. The process is pretty much the same as their paid surveys except there isn't any qualifying process involved.

All you have to do to earn rewards is to answer the quizzes. And if you get a passing grade, you will earn the reward. It's that simple.
The number of quizzes you can answer won't be as many as their paid surveys. And it pays slightly less than their surveys.
Option 5 – Bonus game
Bonus game is a game you can play every 5 minutes you are logged in to the site. The premise is really simple, just click the button that says "Click to win" and it will load an ad. You just have to finish viewing the ad like you normally would with paid ads.
After you finish viewing the ad, the bonus game page will tell you if you've won anything. A few examples of what you can win from this bonus game is a $5 account balance, 500 banner credits or $5 purchase balance.
The prizes aren't really that significant, but it is expected since you don't actually have to do a lot of work. As the name suggests, it acts as a bonus if you ever get lucky enough to win one of their prizes. Take note that you can do this as much as you want.
Option 6 – Grid game
Grid game is a very common earning opportunity you will see on PTC sites. As the name suggests, you play this game by opining grids of a certain image.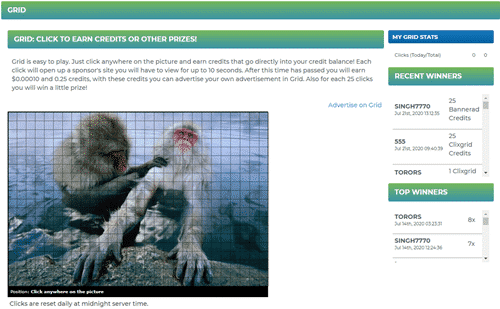 Each grid will again show you a certain ad. You just have to finish watching the ad. As soon as you finish watching the ad, the grid will flip and tell you you've earned $0.00010 and 0.25 credits. You can use the credits you earn from this to set up your own ads on the site.
It's really not something I would recommend you do because of the low rewards it offers. However, if you want to set up your own ads, this can be a good way to do it without having to spend your own money.
Option 7 – PTSU offers
As the name suggests, you will also be able to sign up for different websites to earn additional rewards. These are called paid-to-sign-up (PTSU) offers.
Each PTSU offer will have a certain set of requirements (apart from signing up to the site, of course) you need to meet to receive the reward.
It doesn't pay that much (slightly lower than their paid surveys) and the offers aren't that many. So, don't expect to earn a lot from this earning opportunity.
Option 8 – Flip the coin
Flip-the-coin is a form of betting game that is designed to double your bet if you win the flip. It is a very simple game where you have to place your bets (you will have to bet your earnings for this). If you win the coin toss, you will be awarded with the same amount you've bet.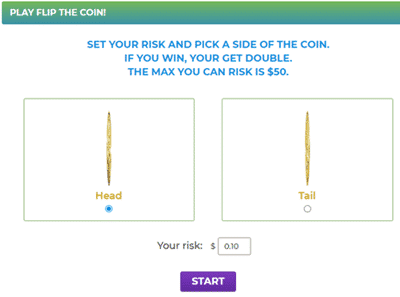 If you lose, the amount will be deducted to your account balance. That's why you need to be careful playing this game because it can result to losing all of your earnings.
Option 9 – Referral program
You can also invite other people to join the site. In return, you will earn a reward as well as a commission for each time they earn by viewing ads, completing offers, task, and surveys. You will also earn a commission when they make purchases.
When you invite a person through your invite code/link/banner, when they sign up to the site, you will automatically receive 15 to 50 GPT points. This will depend on your membership type. The same goes for the percentage of the commission you will receive.
Just like most PTC sites, you can also rent referrals to boost your earnings from this type of earning opportunity. You can rent members who have signed up to the site without being referred to. You can rent referrals in multiples of 5 and every 5 referrals will cost $0.7.
You can use your earnings to pay for these referrals. However, I would strongly advise you to take caution when doing this.
You have to have a solid plan to earn back what you've spent on this. Otherwise, you will just end up losing money instead of earning.
How do you get paid?
Every activity you complete on this site will earn you a certain amount and this will be credited to your GPTHub account balance. Once you've earned $2, you can request a payout.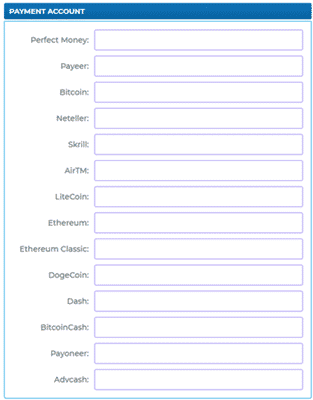 As shown in the photo above, GPTHub offers a lot of payment methods. You can choose between multiple payment methods to use by simply providing your address for each payment method.
Here's the kicker though, before you can withdraw your earnings, you have to earn a certain number of GPT points. As mentioned earlier, you can earn this by viewing paid ads. But actually, you will also earn it by completing almost any activity on the site.
The number of GPT points needed to make a withdrawal will vary depending on your membership level (I will discuss this on the next section). For example, for a basic member, you will need 1500 GPT points to withdraw your earnings regardless of how much it is.
So, even though they have a very low payout threshold, it will still take some time before you can withdraw your earnings. It will effectively take you 1500 ads/surveys/offers to complete before you can withdraw your money.
If you prefer a much faster and easier payout process, I suggest you check out the fastest paying sites instead.
How much money can you make?
I think we've pretty much established that GPTHub has quite low rewards. It's not surprising really, because most PTC sites are like that. That's why the earning potential of PTC sites will always be quite low, in my experience.
If you want to understand the ins and outs of a PTC site, I suggest you check out the ultimate PTC guide.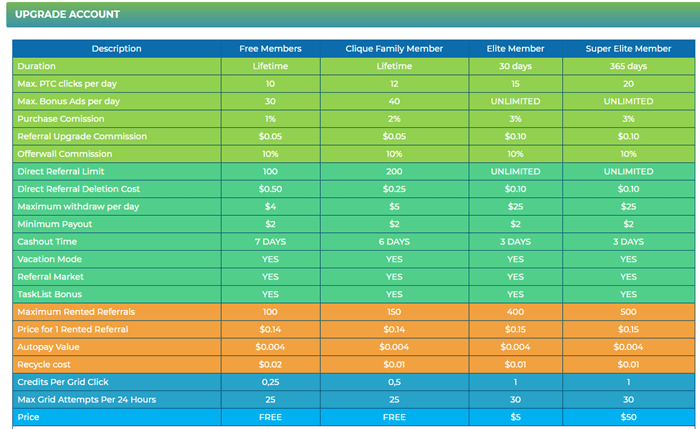 That being said, GPTHub offers a way for you to boost your earnings. And as you might have guessed, you can do that by upgrading your membership level. By doing so, you will be able to take advantage of certain benefits like increased rewards for watching paid ads, referral commissions, etc.
Also, it will cost less GPT points to withdraw your earnings if you upgrade to a premium membership. So, in order for you to earn more from this site, you will actually have to spend money. Fortunately, you can use your earnings to pay for this upgrade.
This is the strategy that most long-time members use. Once they earn enough money, they upgrade their membership level to take advantage of the perks. But again, you need to have a solid plan to earn back the money you spent on this. So, make sure you have one before you upgrade.
But overall, I would still say the site has a very low earning potential. If you want to earn a significant amount, you will have to invest a lot of time.
Can you use it on mobile?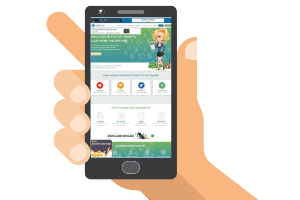 GPTHub doesn't have a mobile app you can download, but you will be able to access their site from a mobile device using a web browser. The problem is, their site is not optimized for mobile use.
You will have to zoom in to read the content properly and click on the links to navigate through the site. It's also not surprising since PTC sites are usually designed for computer use and not mobile use.
This is because you will need to open a lot of browser tabs to do the earning opportunities. And it can become quite inconvenient when you keep doing it on a mobile device.
Also, even on a desktop, the site is not very user-friendly because of all the pop-up ads. And this is even worse on mobile.
That's why I recommend you work on it on a laptop or desktop for a more convenient user experience even though it is still not great.
Who can join GPTHub?
GPTHub is available globally. That means you will be able to sign up as a member regardless of where you live. All you have to do is fill out their sign up form.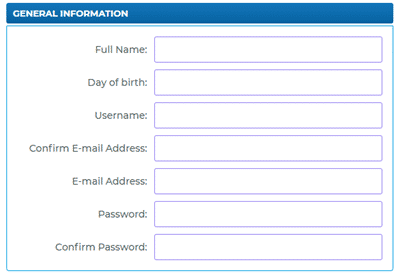 Their registration process is very simple. You don't even have to confirm your membership. Once you are done with the sign up form, you can log in to the site and start earning. You do have to input the address of the payment method you want to use during the sign-up process.
If you don't have any of the accounts though, you can skip this one first and still be able to register as a member. You can just add it later through your account settings if you've already made an account for any of their payment methods.
Can you get support?
GPTHub has a FAQ page that discusses most of the common topics you need to know about, but it's not as comprehensive as you would hope for. You will still be able to get a clear understanding of how the site works when you read it though.
The good thing though is, if you can't find the answers you are looking for, you can always submit a support ticket to get in touch with their support team. I always prefer a ticketing system compared to an ordinary contact form because you will be able to track the progress of your inquiry. Plus, you can always get back to it later if you need to.
Overall, I would say the site has a decent support system in place for its members.
Final Verdict
GPTHub is a PTC site that will pay you for completing the activities they offer. It has a couple of good qualities, but it also has glaring limitations that you can't just ignore.
So, let me conclude this review with a summary of its pros and cons to help you decide if it is a site worth joining or not.

Pros:
Has a lot of earning opportunities available
Plenty of payment options to choose from
Low payout threshold

Cons:
Low rewards
Site is not mobile-friendly
Will require GPT points to make withdrawals
The one thing that hurts the earning potential of GPTHub is its low rewards. So, even with a low payout threshold and plenty of earning opportunities to do, it will still take quite a long time to withdraw your earnings.
Plus, you will practically have to complete thousands of offers/ads/surveys to withdraw your earnings because of the extra points you need to earn to be able to withdraw – this makes it a bit daunting, in my opinion. There are simply far better choices as many sites offer an easier way for you to earn and receive your money.
I would only recommend you join this site if you don't have any other secondary sites to earn from. But if you are looking for better ways to earn, I would suggest you check out the top survey and GPT sites in your country instead.
The sites on this list all have good earning potential and offer an easier way for you to withdraw your earnings. Plus, you will also be able to find a site you can join regardless of where you live.
If you have any comments, questions, or have any experiences with GPTHub yourself, I would love to hear from you in a comment below.