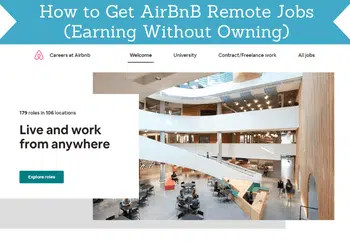 Are you interested in AirBnB remote jobs?
Ever since the pandemic happened, AirBnB has realized that many people now want more flexibility when it comes to where they live and work. So, they decided to offer remote jobs.
And this is what this guide will discuss. It will talk about how to get AirBnB remote jobs, so you can earn AirBnB income without actually owning a BnB (bed and breakfast).
In this guide, I'll show you where you can find jobs and how you can apply for them. I'll also include a couple of tips at the end as a bonus.
What are AirBnB remote jobs?
Before I discuss the actual process of how to land this kind of job, it's important to understand what this type of job entails fully. So, what exactly are AirBnB remote jobs?
To put it simply, AirBnB remote jobs are just jobs that AirBnB offers. These are job offers that can be filled by people who live anywhere in the world. However, the job offers will vary from location to location.
AirBnB actually has a lot of people working behind the scenes, but since the pandemic happened, they realized that these roles could actually be filled by people who don't necessarily have to work in their offices. Hence, they decided to offer remote jobs and you can find them on their careers page.
There might be managerial jobs for people who live in Arizona or analytics jobs for people who live in Bangalore, India. These are just examples, but you get the picture. The one thing you need to keep in mind is that there will be different jobs offered for different locations.

As shown in the photo above, there are jobs for specific departments like data science/analytics, finance, engineering, information technology, sales, and more. These jobs will have flexible hours as well, so you can work according to your preferred schedule.
The one common thing you can expect from these jobs is that you'll have to work in a highly coordinated way. So, be prepared to attend meetings or conferences which will be done online, of course.
Where to find the jobs?
Now that you know what to expect from the remote jobs being offered, it's time we discuss how you can find the AirBnB remote jobs you can apply for.
For that, I have made a video that shows exactly how you can find AirBnB remote jobs. You can also read all the details below the video.
The first thing you need to do is hop on to the careers page of AirBnB.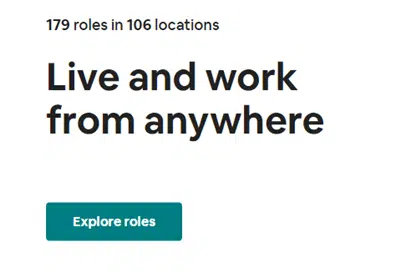 Then, you'll see something similar to the photo above. The figures shown in the photo are the number of jobs available at that exact time you visit the website.
This figure will change from time to time but will give you an idea of how many remote jobs are available now. Then, all you have to do is click the "Explore" button and it will take you to the bottom part of the page where you can choose the locations available.
You can click the dropdown menu to see all the locations where there are currently remote jobs being offered. When you click a certain location, you will see all the positions available for that location on the right side of the page.
When I was checking it out, most of the positions being offered were for US locations, so if you live in the US, you will have a higher chance of finding opportunities. But you can still find jobs available in other countries like South Korea, India, the UK, Mexico, Italy, and more.
You can also filter all the available job positions according to the department it is assigned to. If you see a job being offered in your location, just click it to view the full details.
Once you do that, you'll see the overview of the role that you are supposed to fill like the responsibilities as well as the qualifications needed for the job. You will also see the starting base pay for the job in some cases, but often this will not be revealed until later in the interview process.
If there is a salary displayed, the figure displayed is the potential earnings you will receive per year if you take on the job.
And let me tell you, the amount you can earn from any of these jobs will actually be comparable to what you can earn from a full-time job. That's because most (if not all) of these jobs are full-time positions.
Just keep in mind that these jobs require specific skills, so it's not something you can just apply for if you don't have the right skills, education, or experience.
How to apply?
If you are interested in the job being offered, then you can apply for it. To do so, just click the "Apply" button found at the bottom of the details page of the job.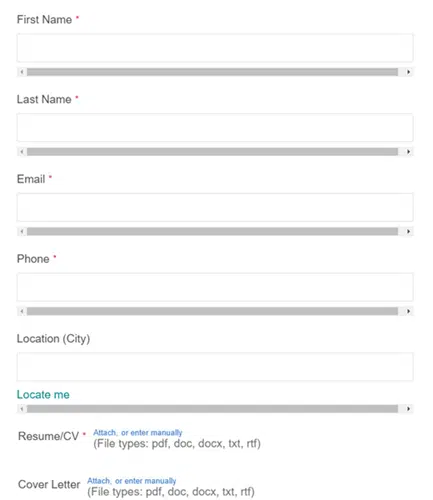 Then, you'll have to fill out the application form and provide your resume. Aside from that, you will also be asked to provide a cover letter. So, it's really more like applying for a job in the real world, in my opinion.
Make sure to fill out all the required fields with the necessary information. Once you submit your application, you will have to wait for a reply from AirBnB. This is where the waiting game happens.
Yes, you will have to wait for a reply from AirBnB to see if your application was accepted or rejected. They don't exactly say how long the waiting period is. It will usually depend on how many applications they have to process.
If your application was accepted, don't expect to start working right away. You still have to go through a few rounds of interviews and possibly even tests just like you would in a normal job.
So, as you can see, landing the job is a lengthy process. That's why you need to be very patient with it. The payoff, in my opinion, can be worth it if you manage to land the job. You'll be able to earn a full-time income and there will be additional perks and bonuses as stated on the details page.
Are there better flexible income options?
As you can probably tell, the remote jobs that AirBnB offers can be worth it. These jobs usually pay well. That being said, these jobs are not for everyone. You have to possess the right set of skills, education, and experience to land the job.
It's not an ideal option for people who are just starting to get their feet wet, so to speak. But if you are qualified for any of the positions they offer, and you are looking for a full-time gig, I would suggest you give it a go.
And while these jobs are certainly flexible, you will still have to follow their terms. That's why if you looking for more freedom in terms of how to earn, this is not for you. I would instead recommend you check out the simplest and safest way for a beginner to build a profit-ready online business. With this guide, you'll be able to set up your own online business so you can earn on your own terms.
If you have any comments, questions, or have experience on how to get AirBnB remote jobs, I would love to hear from you in a comment below.