A decade ago, you would not have thought that being active on social media would help you get free stuff. But now, it's really possible with a site called Influenster. This site claims you can get free stuff from popular brands simply by becoming a member.
It's certainly an intriguing claim. But is their claim legit or is it just another scam?
This is something you need to make sure of before joining any platform that claims to help you earn rewards.
Now, you may be thinking, surely, it's not that easy to get free stuff, right? You are actually correct. There is more to this site than meets the eye. That's why I've decided to test this site so I can provide an actual take on what it has to offer.
And this Influenster review will shine a light on what you really need to do to get free stuff. That way, you will know if this is a site worth joining or not.
What is Influenster and what does it offer?
Influenster is a unique site that acts more as a community of product reviewers rather than an online rewards site. And yes, it is indeed a legit site because it really does what it claims to do. You can really get free stuff from popular brands.
Also, if you want to learn more about a certain product, this is one of the sites you can go to because you will definitely find plenty of product reviews. It just so happens that this site will then also give out free stuff from time to time to members they think really deserve a product.
So, the question is, how do you get free products? Let's take a closer look at the opportunity it offers so you'll understand how the site works.
I have made a video that gives you an inside look and shows exactly how you can earn from Influenster. You can also read all the details below the video.
How to get free products?
Getting free products from Influenster.com involves several steps. The first step, of course, is to sign up as a member. Once you are a member, you can now log in to the site.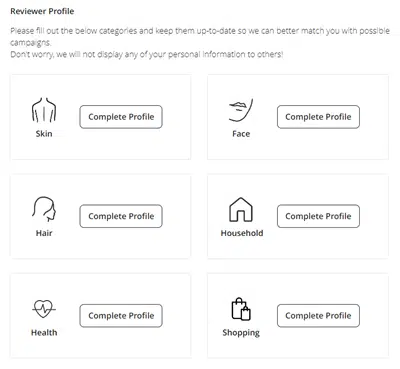 Then, you should complete your profile by answering the "snaps" that are available. These are actually just short surveys designed to gather info about you. Influenster will use all the information you've provided to determine if you qualify for a VoxBox.
But what exactly is a VoxBox? This is the term they use for the free products they give out to their members. A VoxBox can contain a single product or it can contain multiple products. It really depends on the brand that will be "sponsoring" the giveaways.
So, when you've completed all your snaps, all you have to do is wait to qualify for a VoxBox.
Now, what happens once you've received the VoxBox? Are you required to do something like a product review or testimonial?
The answer is NO. Promoting and reviewing the products are completely optional. But, you need to answer a survey that will ask you questions about the product. This is the part where you will have to provide feedback regarding the products you received.
Now, promoting and reviewing the products aren't really useless. You can do this to increase your chances of receiving more VoxBoxes in the future. Aside from that, there are other things you can do to increase your chances of receiving a VoxBox.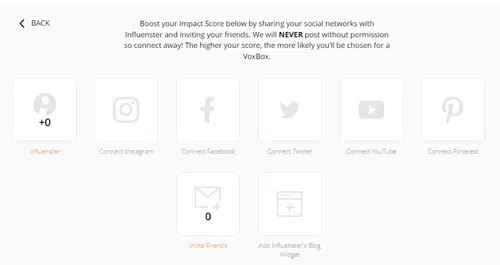 First, you have to connect your social media accounts to Influenster so they can see that you have a huge audience. Of course, that also means your social media accounts should have a large following to improve your chances.
Connecting an account that only has less than a hundred followers/friends doesn't really help your case.
Aside from social media accounts, you can also provide a link to your blog if you have one so that the site can also recognize that you have your own blog. But really, the most crucial factor that determines if you qualify for a VoxBox will be your social media following.
It also makes sense because Influenster prefers maximum coverage for the products they hand out. So, in a sense, they are mainly looking for social media influencers (hence the name of the site). That's why if you are really interested in this site, the number one requirement is really to have a large social media following. Otherwise, it would be hard to expect anything from it.
Recommended: Check Out the Top Survey Sites in Your Country
How do you get paid?
Technically speaking, you won't get paid anything. As explained above, all you will ever get from this site is free products. So, if you are looking to earn cash, then this is not the site for you. I would instead suggest you check out the top sites that pay via PayPal.
Now, since the site doesn't really reward you with cash, let's talk about the potential products you can get instead.
Most of the products offered on Influenster are catered for women. Usually, you can get free cosmetics products, perfumes, and hair styling tools.
For men, products that will be available are fitness products like fitness equipment or supplements. Influenster also gives out pet care products, as well as beverage and grocery items. But by far, the most common stuff you can get from this site are cosmetics and personal care items.
This is why this site is really ideal for women, in my opinion. They stand to benefit more from this site compared to men.
How many VoxBoxes can you get?
As explained earlier, there's really no guarantee you will receive a VoxBox when you become a member. But, if you have a large social media following, there's a good chance you will receive one.
That's really the determining factor on how "profitable" this site can be for you. If you don't have a large social media following, I wouldn't recommend you join this site. You will most likely not receive anything from them.
The site does have other things it can offer and I will explain it in the next section.
Can you use it on mobile?
Influenster has a mobile app you can download, but their app is really meant for another purpose. It can be downloaded from the Android or iOS app store, so compatibility won't be a problem.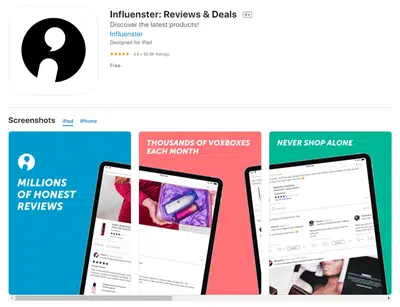 The app has all the features of the website. So, everything you can do on their website can also be done with the app. But aside from that, there's one unique feature the app offers that I find interesting.
Their app has a scanner feature that will allow you to instantly access reviews of a product you are interested in buying. So, for example, you are in a store and you want to buy lipstick. You can use the app to scan the lipstick to see if any member of the site has a review about it.
So, you can potentially find reviews of the product you are interested in buying by using their app. It's a nice feature to have, and in my opinion, the more useful one out of all the features the app has to offer.
Who can join Influenster?
The site really doesn't indicate which countries it is available in. But it does block you if you live in a country it is not accessible in.
So, the best way to test if you can register as a member is to check out their website. If you can see the website, then you are eligible to join. If you can't, then you are out of luck.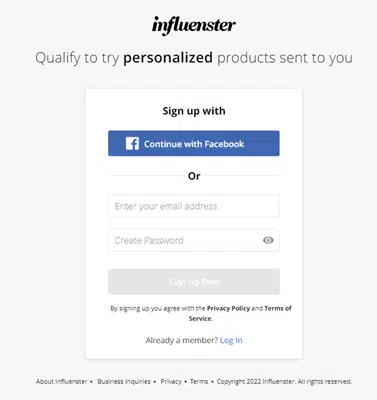 You also have to be at least 16 years of age to register. Speaking of registering, it is fairly easy to become a member of Influenster. All you have to do is provide your email address and password during sign-up. You can also just use your Facebook account to register.
Once you are done with the sign-up form, you can log in to the site. And as explained earlier, it is recommended that you work on the snaps first so that you can potentially qualify for a VoxBox.
Can you get support?
If you have any questions about the site or if you've encountered any issues while using the site, you can check out their Help Center first. It discusses a lot of the common issues and questions you will encounter when using the site or app.
But if you can't find the answers you are looking for, you can just submit your inquiry using the contact form provided on the website or app. You can access it from the Help Center section. Just make sure to choose the appropriate type of request when submitting your inquiry.
Overall, I would say the site has a good support system in place for their members since they have a comprehensive collection of common issues and questions. Plus, they offer a convenient way for you to get in touch with their support team.
Final Verdict
Influenster is a legit community of product reviewers that offers a chance for you to receive free products. It has its advantages, but it also has its limitations.
Let me finish this review with a summary of its pros and cons to give you an overview of what the site has to offer. Then, you can decide if you should join this site or not.

Pros:
Offers an interesting way to get free stuff
Their app has offers a couple of useful features

Cons:
Doesn't offer cash rewards
Not suitable for people who don't have a large social media following
Influenster, in my opinion, is really only for people who are very active on social media. But that's not all – you also need to have built a large following before you can hope to receive any free products from Influenster. If you are among those people, then this site is for you.
But if you are thinking that you can build your social media after you register as a member, then it is really not worth it, in my opinion. The reason why I say that is, building a huge following on social media involves a lot of work. Unless you want to become a full-time social media influencer, then doing so just to get free stuff from this site isn't worth the time and effort, in my opinion.
You are better off investing your time on sites that offer guaranteed rewards. And for a list of these sites, I would recommend you check out the top survey and GPT sites in your country instead. The sites on this list all have good earning potential and most (if not all) of them offer cash rewards too.
Plus, you will definitely find a site you can join regardless of where you live.
If you have any comments, questions, or have any experiences with Influenster yourself, I would love to hear from you in a comment below.