Are you looking for a side hustle so you can earn extra income? If so, there's a site called Instacart that claims you can earn decent money by doing grocery runs.
It definitely sounds like an interesting way to earn. But the question is, is Instacart really legit? Can you really earn good money from it? Or is it just another scam you need to stay away from?
It's always prudent to check the legitimacy of a site first before you join.
I have joined and tested it myself and compared it to the hundreds of other ways to make money online I have tested.
In this Instacart review, you will learn exactly what it offers and get all the help you need to decide if it is something you should go for or not. So, let's go ahead and examine everything this site has to offer, shall we?
What is Instacart and what does it offer?
Instacart is a gig economy site where you can earn by shopping for their members and delivering the products to their doorstep. It's a bit like DoorDash with one key difference – you'll be shopping for grocery items instead of food.
And yes, it is indeed a legit site. In fact, a lot of people do this for a living. Now, the question is, is it worth it?
To answer that, you must fully understand how the site works. To do that, we first have to examine the earning opportunity it offers. So, here's how to earn from Instacart.
The earning opportunity – Becoming a shopper
The only way to earn from Instacart is to become an Instacart shopper.
There are two types of shoppers on Instacart: the full-service shopper and the in-store shopper. But the core of what you need to do will still be the same. You will be shopping for Instacart members.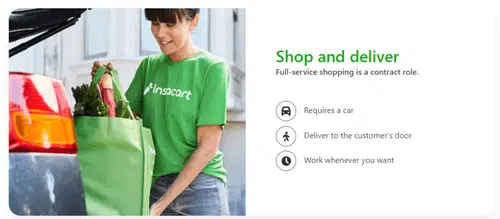 The difference between the two types of shoppers is what you need to do after shopping. For in-store shoppers, once you've completed the order of the member, you just have to hand over the order to a delivery rider.
In-store shoppers earn an hourly wage and they have to follow a scheduled shift. They are usually asked to work up to 29 hours each week.
For full-service shoppers, you will have to do everything. When you've bought everything the member asked for, you will then have to deliver the order to their house. It requires more effort but it pays more.
They get paid by the order. They work as an independent contractor, so they have the flexibility to work as little or as often as they want.
Now, if you are wondering if you have to use your own money to pay for the order of your client, the answer is no. When you become an Instacart shopper, you'll get a payment card from Instacart and use it at the checkout register at every store you shop.
You will receive this card in the mail usually after 5 to 7 days of becoming an Instacart shopper. Later on, I will discuss how you can become a shopper.
That's really all there is to it. Once you become a shopper, you just open your app and check if there are any outstanding orders in your area you can fulfill. When you accept the order, you can chat with the client and let them know you are now working on their order.
It's also a great way to clarify things before you get started. I recommend you make it a point to chat with your customer first before you start working on your order to avoid any misunderstandings.
When you've delivered the order, you will receive your compensation and it will be credited to your Instacart account.
One thing you need to note when shopping for Instacart members is, you'll have to mark each product you've already found so that the customer will be updated with what products you've found. It's a painstaking process, but you'll get used to it sooner or later.
Recommended: Check Out the Best Gig Jobs
How do you get paid?
You get paid in cash when you become an Instacart shopper. But as to how you get paid, as explained above, that will depend on the type of shopper you are. If you are an in-store shopper, you get paid every week.
If you are a full-service shopper, you get paid for every batch (the term they use for orders) you complete. Then, when you've earned at least $5 from orders, you can withdraw your earnings directly to your bank account.
As for the tips you will receive from customers, you can't withdraw this using the cashout option. Instacart will process tips once a week automatically and they will deposit them to your bank account. It usually happens in the middle of the week, in my experience.
Their payment system is relatively easy and I like the fact that you can withdraw your earnings conveniently. If you are looking for more sites that offer a convenient payment method, I would recommend you check out the top sites that pay via direct bank transfer.
How much money can you make?
There are a lot of factors you have to consider when you want to know how much money you can make from being an Instacart shopper. The first and probably the biggest factor is your location. If you live in a city where Instacart is available, then you stand to earn a decent amount from the site.
The other factor that can affect your earnings is the time you will invest in being an Instacart shopper. Obviously, the more time you allot to catering Instacart orders, the more you will earn.
Lastly, another factor that can determine your earnings is the number of products you need to buy to complete the order and the distance you need to travel to deliver it (the latter will only be applicable to full-service shoppers).
It goes without saying that if the order will ask you to buy a lot of products and the delivery address is quite far, you'd expect to receive higher compensation.
However, this isn't actually always the case. Some members will only pay you a small amount even though their location is pretty far from the shop. When this happens, I would recommend you don't accept the order.
You see, when you become a full-service shopper, there will be hidden costs that you have to account for like the gas fee and car maintenance expenses. So, you need to consider those things when accepting orders too – especially the gas fee.
Overall though, I would still say the site has good earning potential in cities where Instacart is available because you won't run out of orders to complete.
Can you use it on mobile?
As mentioned earlier, you will need to use an app when fulfilling orders from Instacart members. You can only download this app once you start the registration process. In order to download the app, you will have to provide your mobile number because Instacart will text you the download link.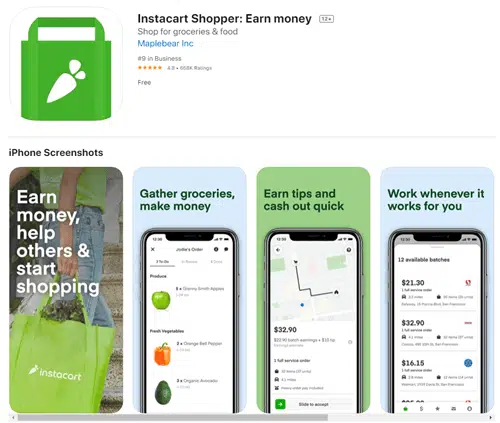 However, when I tried searching for the app, I was able to find their Android and iOS download links. So, I'm not sure why Instacart didn't just put the links on their website.
But anyway, you will need to download their app if you want to earn as a shopper. As explained earlier, you will have to use it when fulfilling orders. You can also use it to get in touch with the customer if you want to clarify something.
You also have to use the app if you want to cash out your earnings. The app is very easy to use, so you won't have a hard time getting used to how it works, which is a good thing, in my opinion.
Who can join Instacart?
Instacart shoppers are only for people who live in the US. So, if you live outside the US, then this app is not for you.
You also have to be at least 18 years of age and you need to have access to a car (if you plan to be a full-service shopper) to become an Instacart shopper.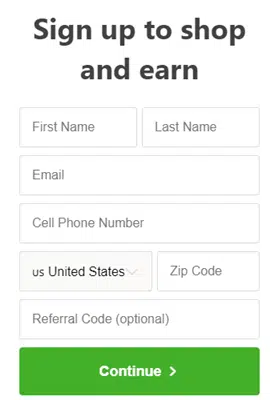 To start the process of becoming a shopper, you will need to fill out the registration form found on their website (refer to photo above). Then, you'll have to download and install the app.
Once the app is installed, you will need to go through the verification process. The first thing you need to provide is a photo of your driver's license if you are applying to become a full-service shopper. If you are applying to become an in-store shopper, you will skip this part and go to the background check part.
You will also need to have your social security number readily available. The verification process will then ask you to set up a direct deposit so you can get paid. You'll need to provide your banking information to complete this step.
When you are done with all of that, you just have to wait for the background check to be completed. It usually takes up to 10 days for this process to be finished. When you've passed the background check, they will mail you your Instacart payment card and an Instacart lanyard (which is just an ID sling you can wear to show you are an Instacart shopper).
So overall, it can take up to 10 days for the process to be finished. That's why you shouldn't expect to start earning right away when you sign up to become a shopper.
Can you get support?
If you have any questions about being a shopper or you've encountered issues while using their app, you can check out the support page of their app or their website. It discusses most of the important topics you need to know about the site and being a shopper.
If you can't find the answers, then you can just get in touch with their support team. You can use the contact form provided on their website. Just make sure to select the Shopper Support contact form. You can also use the contact form on their app.
Overall, I would say Instacart has a good support system in place for its shoppers. They always guarantee that you can get assistance if you encounter any issues while performing shopper duties.
Final Verdict
Instacart is a legit gig economy site that will pay you for doing the groceries and delivering them to your customer's doorstep. It certainly has its advantages, but it also has its drawbacks.
Let me finish this review with a summary of its pros and cons to give you an overview of what the site has to offer. Then, you can decide if you should go for it or not.

Pros:
Good earning potential
Their app is user-friendly
Offers a convenient payment method

Cons:
Requires a lot of time and effort to earn
Has hidden costs
If Instacart is available in your location and you have a car, I would suggest you go for it if you are looking to earn extra cash. That is, of course, you are prepared to invest a bit of time on this platform.
Take note that being an Instacart shopper will have hidden costs like gas fees, car maintenance, and others. So, just make sure to account for that when you are working as a shopper. What I'm saying is, only accept orders that are truly worth your time.
Now, if you are just looking for a way to earn extra cash without leaving your house, then I would recommend you check out the top survey and GPT sites in your country instead. The sites on this list all have good earning potential and you will definitely find a site you can join regardless of where you live.
If you have any comments, questions, or have any experiences with Instacart yourself, I would love to hear from you in a comment below.