Are you looking for a part-time job or maybe a flexible kind of work where you can dictate when you want to work?
If so, there's a site called Instawork that claims you can earn extra money by working when you want and where you want.
It sounds like a tempting offer and I admit it also got me interested since I'm always looking for new ways to earn extra money. However, I would recommend you read this Instawork review before you sign up.
That way, you'll know exactly what to expect from this site and therefore be able to tell if it is a site worth joining or not. So, let's go ahead and take a closer look at Instawork shall we?
What is Instawork and what does it offer?
Instawork is a gig economy site that offers various jobs for its members. It is indeed a legit site since you will really get paid for working on these jobs. Here's a short video explaining what the site does.
Now, the question is, should you join this platform?
Well, to answer this question, you must first understand how Instawork works and the best way to do that is to examine the earning opportunities it offers. So, here's how to earn from Instawork.
Option 1 – Shift jobs
As mentioned earlier, in order to earn from Instawork, you have to take on shift jobs. These shifts can last from 4 to 8 hours depending on the need of the employer.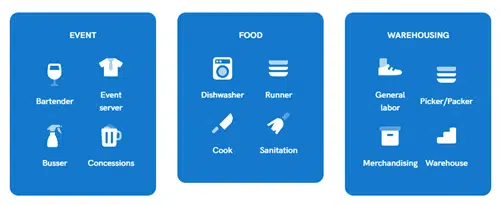 To give you an idea of what kind of work you can find on Instawork, you can refer to the photo above. As shown above, you can do jobs in the event hosting industry, food, and beverage industry, or warehousing industry.
There are other jobs being offered on Instawork but most will qualify under any of the three categories mentioned above. Now, as for how you can take on these jobs, the process is relatively straightforward.
Once you become an Instawork professional (I will explain how you can do this later), you can log in to the site or the mobile app (I will also talk about the app later) and find shifts you are interested in doing.
You see, there are two types of jobs you can work on: entry-level positions like a warehouse associate, a concession stand worker, general labor, etc., and skilled positions like prep and line cooks, bartenders, event servers, etc.
Applying for an entry-level position is a lot easier. You just hit the "Apply" button and follow the instructions. Then, you just have to wait for the employer to accept your application. It usually doesn't take more than a day before your application will be approved or rejected.
Applying for a skilled position, on the other hand, is a bit more complicated. To work shifts in a skilled position, you will need to submit an application and obtain approval from the Instawork team before being able to book those shifts.
In order to be considered, you must complete each of the below items:
Add ALL relevant work experience to your Instawork profile
Upload a professional profile photo that clearly shows your face without filters or glasses
Provide necessary personal information, like your date of birth and address
Reviewing applications is done manually by the Instawork team. Most applications are reviewed within 24 hours, but depending on application volume from other members, sometimes it can take up to a week.
If your application gets approved, all you have to do is show up at the place where you are supposed to work. Now, once you are at work, you have to clock in before you can start working. There are two methods you can do but each one will involve using the Instawork app.
The common method is through a clock-in/out code. Most jobs will require you to get a special code from the onsite manager or shift lead to enter into the app. That code confirms that you're onsite and ready to work. The code is different for each day and the clock-in code is different from the clock-out code.
The less common mode is through what is called an InstaTag. Some business partners have a physical device called InstaTag that records whether or not you're on location. If the business partner uses InstaTag, all you have to do is place your phone next to the sign. You should see a notification from the app confirming your clock in or out status.
One more thing, if you decide to work on a job from Instawork, keep in mind that they have a strict cancellation policy. That is why I would only advise you to take on jobs that you are almost 100% sure (because emergencies do happen) you can do.
Option 2 – Referral program
The other way to earn from this site is through its referral program. Keep in mind though that I haven't personally tested this opportunity mainly because it takes a bit of time before you can earn the reward and I did not really find it worth it, so I can't really say much about this. All I know is, Instawork has a referral program you can participate in.
You can invite other people to work on shift jobs by sharing your invite link with them. Once they sign up using your link, they will become your referral. But before you will earn the referral bonus, your referral must complete a certain number of shift jobs on Instawork first.
Typically, they only have to complete one shift and both you and your referral will earn $50 as a referral bonus. The one thing you need to keep in mind is, that most referral bonuses have an expiry date. So, your referral must live up to the requirement before the expiry date in order for both of you to receive the bonus.
It takes up to two weeks before the referral bonus will show up in your account balance, so don't expect to receive it right away.
Recommended: Check Out the Best Sites to Find Gig Jobs
How do you get paid?
For every shift you work on, you will get paid a specific amount per hour. It will be indicated in the job offer. But how do you get paid exactly?
Well, it will be Instawork that will be paying you and not the establishment you worked for. Instawork will directly deposit your weekly earnings into the bank account (Wells Fargo, Bank of America, Chase Bank, etc.) that you have put in the app.
Instawork's pay period cycles on a weekly basis, Monday to Sunday. For every pay period, there are two dates you need to know:
Wednesday after the pay period (Processing date) – This is the date when Instawork will send the money to your bank. It will take 1-3 business days for the money to show up in your account.
Friday after the pay period (Available to withdrawal date) – This is the date when you should be able to see the money in your account. If you still do not see the money after this date, please contact your bank.
So, whatever you've earned from the past week will be deposited into your bank account on Wednesday of the following week. This also means you don't need to reach a certain threshold before you can withdraw your earnings.
Instawork will always send the money to your bank account every week as long as there is money to send of course.
The payment system of Instawork is relatively easy to understand and I like the fact that it offers a convenient payment system. If you are interested in more sites that offer a convenient payment system, I would recommend you check out the top sites that pay via direct bank transfer.
How much money can you make?
The amount you can earn from a gig economy site will mostly depend on where you are located. In my experience, gig economy sites prove to be profitable in big cities where there are plenty of jobs you can choose from.
The pay you will receive will be slightly lower than what you can receive if you were directly hired by the business. After all, Instawork does have to earn money too and the way they do it is to take a cut from your earnings as well as from businesses that will partner with them.
You can expect to earn up to $25 per hour, but typically, the rate will be around $10 to $20 per hour if you are just starting out. It's not a bad rate, in my opinion, that is why I would say Instawork has decent earning potential but only in cities where it is available (I will explain more about this later).
Can you use it on mobile?
As explained earlier, once you become an Instawork professional, you will need to use the mobile app to clock in and out of your job. Aside from that, you can also book jobs using the app.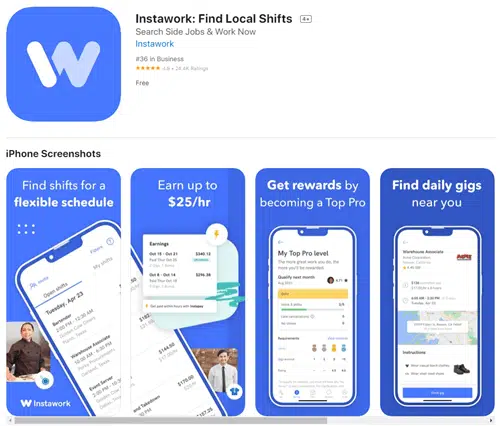 The app will actually be your best friend if you decide to become an Instawork professional, so make sure to install it after you register as a member. As for the app, it will work with both Android and iOS devices.
It is relatively easy to use. You will get used to navigating it in just a few minutes, which is all you can really ask for from a mobile app like this.
Who can join Instawork?
Instawork is only available in the US, plus it is only available in certain cities (refer to photo below).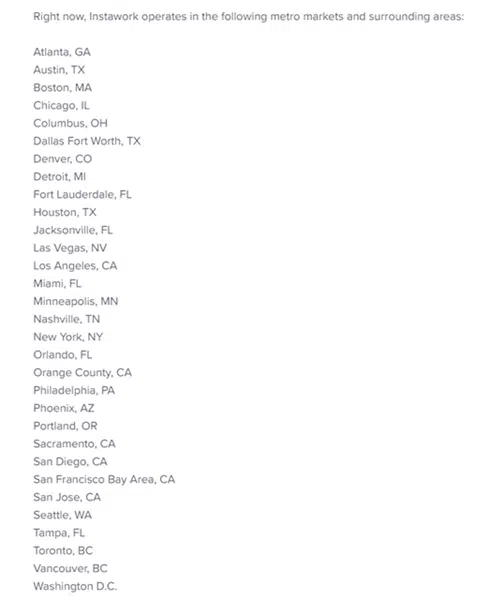 As you can see in the photo above, Instawork is only available in major cities in the US. If you live in a city that is not shown in the photo above, then this site is not for you. There is no point in signing up because you will not find any job to earn from.
I would then recommend you check out the top survey and GPT sites in the US instead. These sites will allow you to earn even at the comfort of your own home.
To register as a member, you just have to fill out the registration form which will also ask you for your mobile number. You need to provide this piece of information because Instawork will need to send a verification code via SMS to the number you've provided.
There's no way around this process, so if you are not comfortable with sharing your mobile number, then this site is not for you. After you've finished the registration process, you need to fill out your profile.
Then, in order to take on any job from Instawork, you will have to go through a background check. Instawork needs to make sure you can be trusted because they will essentially be vouching for you when you work for businesses.
Instawork will guide you through the whole process, so you shouldn't have a hard time getting this done. Once you've cleared the background check, you can start working jobs to earn money.
Can you get support?
If you have any questions about the site or your account, you can refer to the FAQ page of Instawork for workers. It discusses most of the common topics you need to know about the site.
If you can't find the answers you are looking for on the FAQ page, then you can get in touch with Instawork's support team by filling out the contact form found on the website. You can also access it from the mobile app.
Overall, I would say Instawork provides a decent support system for its workers because it offers a convenient way for you to get in touch with their support team.
Final Verdict
Instawork is a legit gig economy site that will pay you for taking on shift-based jobs. It has a couple of good features to offer, but it also has some drawbacks you need to consider.
Let me finish this review with a summary of its pros and cons to give you an overview of what the site has to offer. Then, you can decide if it is for you or not.

Pros:
Pays a decent amount
No payout threshold
They have a user-friendly app
Processes payments automatically

Cons:
Limited earning opportunities offered
It will require a lot of time and a certain level of commitment from you
Only available in some cities
In my opinion, Instawork is a decent gig economy site where you can find jobs to work on so you can earn extra cash. That is, of course, it is available in the city you live in. The hourly rates for the jobs they offer are decent, so you can earn a decent amount from each job you work on.
I do have to warn you though that you have to be committed to working if you decide to become an Instawork professional. That's because they have a strict cancellation policy. If you cancel on jobs frequently, your account will get banned and you will forfeit your earnings.
If you are looking for a side-hustle, Instawork is a good platform to start looking. But if you prefer a much easier way to earn extra cash, I would recommend you check out the top survey and GPT sites in your country instead.
The sites on this list all have good earning potential and you will be able to earn a decent amount without leaving the comfort of your home. Plus, you will definitely find a site you can join regardless of where you live.
If you have any comments, questions, or have any experiences with Instawork yourself, I would love to hear from you in a comment below.