Are you an independent worker or simply looking for a job so you can earn some extra cash? If so, there's a site called Jobble that claims you can find flexible jobs anytime you want.
But is Jobble a scam or is it really a legit site?
I am always looking for new ways to earn some extra money and got curious and decided to find out everything there is to know about this site. I will share everything I have learned about the site in this Jobble review so you will know exactly what to expect from it before you even sign up.
That way, you can properly decide if this is a site worth joining or not. So, let's not waste any more time and get this review started, shall we?
What is Jobble and what does it offer?
Jobble is a gig economy site that will allow you to earn extra money by taking on various jobs. It is indeed a legit site since you will really be able to earn money by working on jobs that you are interested in.
Now, the question is, is it worth it?
Well, the first thing you need to do to figure out the answer to that question is to understand how the site works. And the best way to do that is to examine the earning opportunity that Jobble offers, so here's how to earn from this site.
The earning opportunity – Jobs
As mentioned earlier, to earn from Jobble, you will need to take on various jobs. Once you become a member of the platform, you can log in to the member dashboard or the Jobble app (I will discuss more about the app later) and find jobs you are interested in taking on.

The first thing you need to do to find jobs near your location is to input the city you live in. Once you've done that, you will now see all the available jobs you can work on. But before you can apply for a job you are interested in, you must first complete your profile.
It will only take you a couple of minutes to complete your profile. When you've completed your profile, you can go back to the job list and see which jobs you are interested in.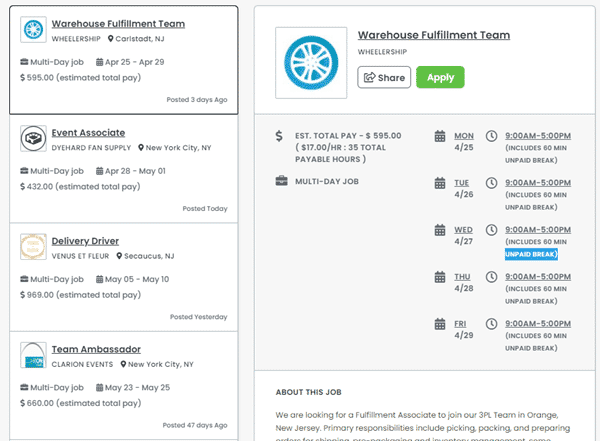 As shown in the photo above, you will immediately see the type of job you need to do, the estimated total pay of the job, as well as the dates for when the job should be done. If you see a job you like, just click it and you will see the full details on the right side of the page.
If you want to take on this job, hit the apply button and the site will send you a verification code via SMS to the mobile number you provided during registration. After you've entered the verification code, simply follow the instructions provided to continue with the application.
Then, once you've submitted your application, Jobble will forward it to the hiring manager for review. If everything goes well and you get accepted, you will receive a notification from the app as well as an email confirming your application and your work schedule. Unfortunately, there's no timeline on how long you need to wait to hear back from them.
Some hiring managers will accept your application immediately while some will wait for more applicants before they will start to review all the applications. You just have to check your email inbox or your push notifications (if you are using the mobile app) regularly to see if you got accepted.
If it's been weeks and you still haven't heard back from Jobble regarding your application, it is safe to assume that you didn't get accepted. If you got lucky and your application was accepted, all that's left for you to do is to show up at work and do the work required from you.
Once you are on the job site and it's time to work, you will need to open the app to check-in. When you are done working, don't forget to check out as well. If you do not Check In and Check Out every shift, you will be removed from the job. Failure to check-in and out of every shift will also result in a payment delay.
If for some reason, you no longer want to work on the job, you must quit the job. To do this, you need to open the mobile app and go to the "Shift Confirmations" page. Select "Decline All" and hit the "Quit" option to quit the job.
If you are running late to your shift, you should leave a message for your Hiring Manager via the shift note in the app. If you cannot work the entirety of the single or multi-day job, you should take the following steps to quit through the app. It is recommended that you quit at least 48 hours prior to the shift.
If you quit midway through the multi-day job, you will still get paid for the shifts you worked on.

The photo above shows the usual type of jobs you will encounter on Jobble. There will be jobs that will require a certain set of skills, while there will be jobs that can be done by almost anyone who is willing to put in the time.
When I was testing the site, I did find a suitable number of jobs available in big cities, which is to be expected because that is usually how a gig economy site works. There will be plenty of opportunities to earn when you live in a big city. It's quite the opposite for small cities.
Recommended: Check Out the Best Sites to Find Gig Jobs
How do you get paid?
For every job you complete, you will earn a specific amount. This will be credited to your Jobble account balance. You get paid per shift completed according to the hourly rate posted in the job offer.
The question is, how will you receive the payment? Well, you will first have to link a debit card or your bank account to your Jobble account. Then, when your employer pays you, the payment will be sent directly to the linked debit card or bank account.
Employers are expected to initiate payment for jobs within 7 business days (weekdays) of the last scheduled shift of the job. Once the payment is initiated, it typically takes 2-5 business days for the money to show up in your debit card or bank account.
Keep in mind that you don't need to earn a specific amount before you will receive the payment. That means the site effectively doesn't have a payout threshold you need to reach to withdraw your earnings, which is a good thing, in my opinion.
Overall, the payment system of Jobble is very easy to understand and I like the fact that you don't have to go through hoops to receive your earnings. If you are interested in more sites that offer a convenient payment method, I would recommend you check out the top sites that pay via direct bank transfer.
How much money can you make?
The amount you can earn from every job will vary. The same logic still applies. If the work requires more time and effort on your end, you will be paid more.
The pay also scales with the cost of living in a city. For example, if you take on a job in New York City, it will pay more compared to the same job in Lansing, Michigan, so don't expect to earn the same amount from the same kind of job in different cities.
Overall, I would say the earning potential of Jobble is pretty decent. The jobs pay well and there are a decent number of jobs available in big cities.
Can you use it on mobile?
As explained above, you will need to use the Jobble app once you are ready to work on jobs. The app is needed to check in and out of jobs. But aside from that, you can also use the app to find available jobs in your area.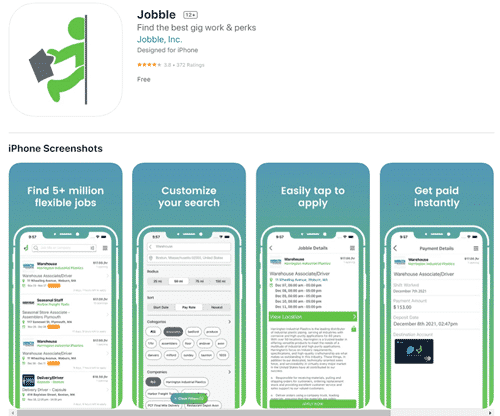 It will basically be what you will need to use once you become a worker for Jobble. The good thing is, the Jobble app is available for download from both the Android and iOS app stores, so compatibility won't be a problem.
The app is also very easy to use. You will easily familiarize yourself with navigating it, which is what you really want from a mobile app, in my opinion.
Who can join Jobble?
Jobble currently only operates in the US, so if you don't live in the US, then this site is not for you.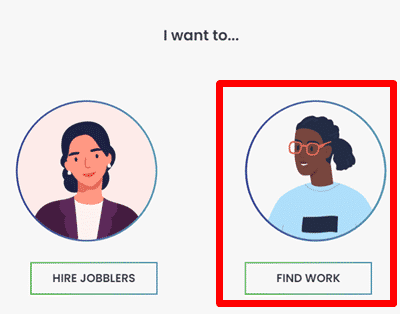 To register as a member, you just have to fill out the registration form or you can use your Google, Apple, or Facebook account to log in. Then, I would recommend you fill out your profile page first before applying for any job.
Another thing to note is, you will need to provide your mobile number because as mentioned earlier, you will have to input a verification code every time you apply for a job. So, if you are not comfortable sharing your mobile number, then this is not for you.
Can you get support?
If you have any questions about the site or your account, you can check out the Help Center page on the website. It can also be accessed from the app. It discusses most of the basic things you need to know about the site.
It also has a section that explains how you will be able to get in touch with their support team in case the Help Center was of no help. Overall, I would say the site has a decent support system in place for its members because you can get in touch with their support team easily.
Final Verdict
Jobble is a legit gig economy site that will help you find jobs you can work on to earn extra cash. It has a couple of good features to offer, but it also has a few limitations you need to be aware of.
Let me end this review with a summary of its pros and cons to give you an overview of what it has to offer. Then, you can decide if you should join this site or not.

Pros:
No payout threshold
The app user-friendly
Jobs pay a decent amount

Cons:
Limited earning opportunities offered
No fixed timetable on when your job application will be accepted or rejected
Earning opportunities require quite a lot of time and commitment
Overall, I would say Jobble is a good gig economy site, in my opinion. You can find decent-paying jobs in major cities and it doesn't have a payout threshold, so you can withdraw your earnings quite easily.
If there's one thing I don't like about Jobble, there's no fixed timetable on how long you have to wait to hear back from their hiring managers. You don't know if you have to wait a couple of days or weeks to hear feedback regarding your application.
If they could somehow make the application process easier or more streamlined, then I would say Jobble would be a great gig economy site. But the way it is now, I would only recommend this as a secondary site to earn from.
Now, if you are looking for a simpler way to earn extra cash, I would recommend you check out the top survey and GPT sites in your country. The sites on this list all have good earning potential, so you won't have to wait that long to earn a decent amount.
Plus, you will definitely find a site you can join regardless of where you live.
If you have any comments, questions, or have any experiences with Jobble yourself, I would love to hear from you in a comment below.