At first sight, JumpTask looks like an easy way to earn crypto for free.
But is JumpTasks legit and really worth it, or is it a waste of time?
I have tested it for a long time and have compared it to the hundreds of other free ways to earn online I have tested.
In this JumpTask review, you will get an inside look and a full guided tour, so you will know exactly what to expect.
So, let's go ahead and take a closer look at JumpTask, shall we?
Disclosure: Some articles on this website contain affiliate/sponsored links. Click for more info.
What is JumpTask, and what does it offer?
app.jumptask.io is a GPT (Get-Paid-To) platform where you can earn free crypto in several ways.
And let me just reveal right away that it is indeed a legit app since you will really be rewarded with crypto when you complete the earning opportunities it offers. I have been paid by it many times, and you can also see payment proof later in this review.
Now, to fully understand how this app works, we have to take a closer at the earning opportunities it offers. That way, you'll have an idea of what you need to do to earn.
Take note though, that the platform is still in development, and they are still looking for additional ways for you to earn. So, there might be additional ways for you to earn when you log in. But as of the time of writing this review, these are the ways you can earn from JumpTask.
I have made a video that gives you an inside look and shows exactly how JumpTask works. The video will also show you JumpTask payment proof. You can also read all the details below the video.
Click to Join JumpTask and Start Earning
Option 1 – Paid offers
One way to earn from JumpTask is to work on the paid offers. If you've been a member of other GPT apps and sites before, then this opportunity will be very familiar to you.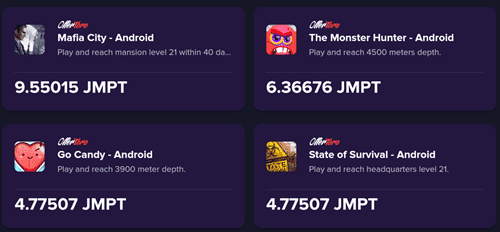 All you have to do is log in to the app or web-based dashboard of JumpTask and click the Offerwalls section. You will then see something similar to the photo above.
Then, just choose which paid offer you are interested in and click it. You will see the full instructions on what you need to do to complete the offer.
Normally, these offers will ask you to either answer a survey, sign up for a website, or play a mobile game. Every offer has a set of objectives you need to fulfill. Once you've completed the objectives, the offer will be completed, and you will receive the reward which will be in the form of JumpTask tokens (JMPT).
When I first tested testing JumpTask, not many paid offers were available. However, since then JumpTasks has added more and more ways to earn in general, and you can now find more or less as many paid offers here as you can on other GPT sites.
Option 2 – Connect to Honeygain
Honeygain is a different app you can use to earn extra cash, and JumpTask has partnered with them. In fact, when you log in to the JumpTask platform, you'll immediately see Honeygain in the Earn Now section.
So, all you need to do is install Honeygain on your computer or mobile device and run the software. It will then share any unused internet bandwidth that you have with its clients. That's how it works. So, you'll technically be earning passively.
It's a nice way to earn because it won't require any effort on your end. You just set up the app/software and sit back and relax.
In my opinion, with the earning options JumpTask so far has, this is the best as it gives you some great benefits if you are already using Honeygain and can really boost your Honeygain earnings.
In fact, if you inside Honeygain earn in JumpTask mode, you will earn 10% extra, so that is definitely worth joining JumpTask alone for this reason. That was actually the reason I even joined it at first.
Option 3 – JumpToken staking
One of the newer earning options on JumpTask is to stake the tokens you earn.
This means that you can withdraw them to your wallet and then just click to stake it, and then you will earn interest by having them standing there.
If you are planning to hold on to your JMPT, this can be an easy way to earn a bit extra at the same time.
The exact earnings will depend on how much you stake and how many people you stake overall. But it is a quite high percentage, and you will see the earnings added to your account every 10 minutes.
You can withdraw your tokens from the staking poll whenever you want, which is definitely nice as it is great with this flexibility, in my opinion,
Option 4 – Paid surveys
You can also take paid surveys on JumpTask. They have partnered with a few different survey providers.

You can find quite a good number of paid surveys here, and it can be a great way to boost your earnings, but it does not have as many paid surveys as the top paid survey sites, so you should make sure to also use some of the other earning methods JumpTask has.
Option 5 – JumpTask bonus code
When you first join JumpTask, you have the chance to use a JumpTask bonus code that will give you a 20% bonus for the first task you complete.
You need to get this bonus code from someone that is already a member. Since I have already joined, you can use my bonus code and add it to your account.
The code is: sijanycotele
You can also just join through the link below, and the code will then be automatically added to your account, and you will then get the bonus once you have completed your first task.
Click to Join JumpTask and Start Earning
How do you get paid?
Since you will be dealing with crypto on JumpTask, it goes without saying that to get paid, you will need to use a crypto wallet. I recommend using MetaMask because this is also one way you can log in to the app.
Aside from MetaMask, you can also use WalletConnect and link your account to JumpTask. As explained above, every time you complete an offer, you will earn a certain number of JumpTask tokens or JMPT. This altcoin is already being traded and has a monetary value, so you can exchange it for cash or convert it to another crypto if you want.
This will be stored in your JumpTask account balance. Then, all you have to do is withdraw your earnings to your MetaMask or WalletConnect account. You can check out the video earlier in this review, where I show exactly how you can withdraw your tokens.
JumpTask doesn't have a payout threshold you need to reach, but since you will be dealing with crypto, there will be a gas fee involved every time you do any transactions. Every time you withdraw your JMPT, a gas fee of 0.03425 JMPT will be charged (this can change depending on the market).
So, you need to make sure the amount you will withdraw will at least cover the gas fee. I would recommend you only withdraw your earnings when you've earned a significant amount (more than 10 JMPT) to save on gas fees.
If you are already familiar with cryptocurrency withdrawals, then the payment system of JumpTask will be relatively easy. But if this is your first time dealing with crypto, it can get confusing in the beginning. But once you get used to it, it will all be very simple.
Now, if you are looking for more apps/sites that will allow you to earn crypto, I would recommend you also check out the best ways to earn Ethereum for free.
How much money can you make?
The amount you can earn from any GPT site or app will mostly depend on two things – the number of available earning opportunities and how well the app/site pays.
In regards to the first one, as I've mentioned earlier, JumpTask has a decent number of offers available.
And it has increased a lot since I first joined, and there are now many different earning opportunities, which is great, and you will rarely run out of things to do to earn.
As for how well they pay, I would say that it pays a bit above average for most tasks compared to many other sites I have tested.
Also, JumpTask does hold airdrops from time to time as a way for you to increase your earnings. You can participate in these airdrops to get free JMPT. Airdrops have a certain set of requirements you need to meet before you can claim them, so make sure to read the requirements first before you attempt to claim them.
Overall, I would say the earning potential of JumpTask is still quite decent, and it is great to see that they are continuously adding more earning methods and improving the platform.
Also, as mentioned earlier, it is a way for you to earn more with Honeygain, and it can significantly increase your earnings there, and this alone can be a great reason to use JumpTask, in my opinion.
Can you use it on mobile?
As I've mentioned earlier, JumpTask has a mobile app as well as a web-based member dashboard. So, you can use it both on your computer and your mobile device.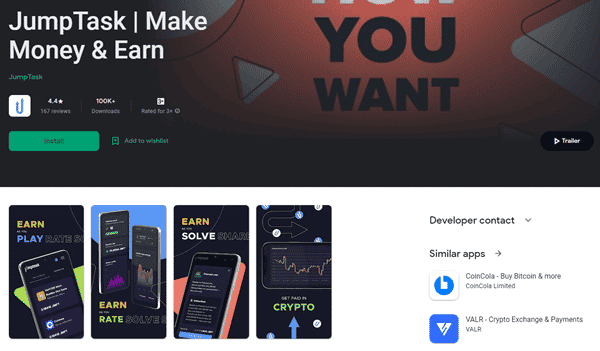 The app, however, will only work with Android devices for the moment. The site doesn't say whether they are developing an iOS version, so if you are an iOS user, you'll just have to use the web-based member dashboard.
Fortunately, the web-based platform is also mobile-friendly. You will not have a hard time reading the content and getting around the site.
Who can join JumpTask?
JumpTask doesn't really say which countries it is available in, but from what I can gather, it is available worldwide.
However, there might be some countries where there are certain crypto laws or restrictions, so you cannot join.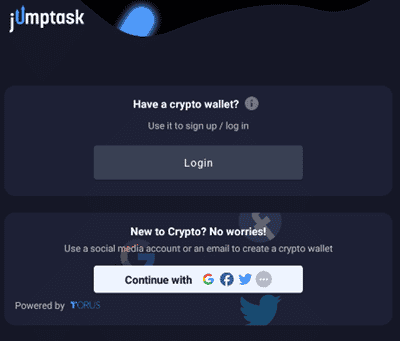 To register, you can link your MetaMask or WalletConnect account to the platform. If you don't have one yet, you can just log in using your Google, Twitter, or Facebook account. Go through the permission process, and once you are done, you will be logged in to the dashboard directly.
From there, you can start earning. But take note that you will need a crypto wallet to withdraw your earnings, so that's one requirement you need to meet if you are interested in joining the platform.
Can you get support?
If you have any questions about JumpTask or your account, you can check out the Help page, which can be accessed both from the website and the app. It discusses all of the important topics you need to know about the platform.
They actually do a good job providing all the explanations on the Help page. But if you can't find what you are looking for, you can just join their Discord or Telegram channel and talk to a representative there. Or, you can use the message option found in the lower right-hand corner of the member dashboard.
From there, you can type in your question, and the automated assistant will try to find the answers for you. If you still can't find the answers you are looking for, you can just click the "Get In Touch" option to send your inquiry to their support team.
Overall, I would say JumpStart has a good support system since they offer multiple ways for you to get assistance. I'm especially impressed with the automated assistant because it is pretty accurate when trying to answer your questions.
Also, I have been in contact with their support a few times because my payouts kept pending, and every time I have gotten fast and great help. Great support like this is definitely a big plus, in my opinion.
Final Verdict
JumpTask is a legit GPT site that will allow you to earn crypto for free. It has a couple of good features, but it also has a few limitations that you need to consider.
Let me wrap up this review by summarizing its pros and cons to give you an overview of what it has to offer. Then, you can decide if it is really worth your time or not.

Pros:
No payout threshold
Offers decent rewards
Great support
Make it possible to earn 10% on Honeygain

Cons:
If you do not want to earn crypto, this is not for you
In my opinion, JumpTask is a great way to earn crypto for free, as long as you do it with the right expectations.
It has improved a lot since it was first launched, and it now offers many ways to earn, and it processes the payments very fast.
The only drawback is that you can only get paid in crypto, so if you are not interested in that, this platform is not for you.
I would definitely recommend you also join Honeygain and connect it to JumpTask, as that is a great way to earn passively there.
Now, if you are looking for ways to earn extra cash, I would instead suggest you check out the top survey and GPT sites in your country. The sites on this list all have good earning potential, and they all offer ways for you to earn on a regular basis.
How to join JumpTask?
If you want to join, you can just click the button below and it will take you to the sign-up page, and it only takes a minute to get started.
And by joining through the button below, you will also automatically get the bonus code added, which will give you a 20% bonus on the first task you complete.
If you have any comments, questions, or have any experiences with JumpTask yourself, I would love to hear from you in a comment below.