If you pride yourself on being an expert on certain topics/fields, then there's a site called JustAnswer that claims you will be able to earn very good money simply by answering questions. So, if you are looking for a way to earn extra cash, you might want to consider joining this site.
But before you register, I would recommend you read this JustAnswer review first. By doing so, you'll find out if the site is really legit or if it is just a scam.
It will reveal the truth about every aspect of the site so you can determine if it is really worth joining or not. So, let's go ahead and take a closer look at JustAnswer, shall we?
What is JustAnswer and what does it offer?
JustAnswer, at its core, is a site that will pay you when you provide answers to various questions. It is indeed a legit site since you will really get paid. It's also been around for more than a decade.
But those two things don't really tell you whether the site is really worth joining or not. To figure out if JustAnswer is worth it or not, we first have to take a look at the earning opportunity it offers.
I have, therefore, made a video that shows exactly how you can earn from JustAnswer. You can also read all the details below the video.
The earning opportunity – Answering questions
There's only one way to earn from JustAnswer and that is by answering questions. When you become a certified expert, you just have to log in to the site to view all the available questions you can answer.
The thing with these questions is, you can't simply answer any question. You have to answer questions about the specialty you chose.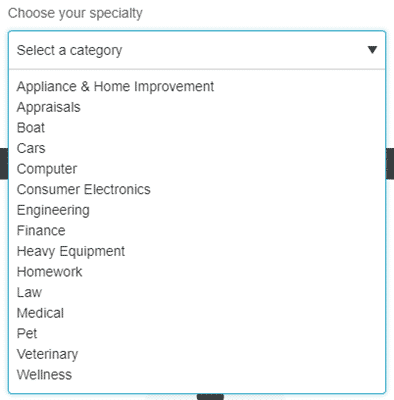 During registration, you will be asked to choose your specialty. So, if you get accepted as an expert, the only questions that will be sent your way by JustAnswer will be questions from the specialty you chose during registration.
As for the process of actually answering a question, let me explain how it works. For every question, you will immediately see how much it will pay if you are able to provide the answer desired. You see, these questions are asked by paying members of JustAnswer.
So, your job as an expert representing JustAnswer is to provide the answer for their question to the best of your abilities. When the person asking the question accepts your answer, you will get paid.
The customer does not have to rate the answer to get paid which is quite nice. However, you, of course, need to make sure you give actual quality answers and you need to be a real expert to be able to join and earn.
Anyway, when you receive the compensation, it will be credited to your account balance. When you are answering their question, you can actually communicate with the person asking the question in case you need any clarifications about their question.
Recommended: Check Out the Top GPT Sites
How do you get paid?
As mentioned above, you will get paid for every answer you provide, and it will be credited to your JustAnswer account balance.
Then, you will get paid automatically at the end of the month if you've earned at least $40. If you fail to reach the threshold, you'll have to wait another month before you can get paid.
The payment will be done through Hyperwallet which is a payout platform made by PayPal. So, you'll have to create a Hyperwallet account as well as a PayPal account if you want to be a member of this site. Then, you can withdraw your money from Hyperwallet to your PayPal account or via direct bank transfer. If you live in the US, you can also transfer your money from Hyperwallet to Venmo.
Their payment system is relatively easy and I like the fact that they use a convenient payment method. However, their payout threshold is quite high. So, you might have to wait a bit before you can take out your earnings.
If you prefer sites with a low payout threshold, I recommend you check out the fastest paying sites instead.
There's one thing you need to be aware of with their payment system though and I will explain it in the next section.
How much money can you make?
Exactly how much you will get per answer you provide will depend on various things.
But most questions will pay experts $8-$14 – some more and some less.
And if you notice on their home page, they claim you can earn anywhere from $2,000 to $7,000 a month.
That's actually quite possible if your specialty is in Law or Medicine because the questions in these specialties will usually pay higher. However, don't go in expecting to earn that kind of money monthly even if you choose that kind of specialty. Chances are, you won't even get to earn more than $1,000 a month.
All I'm saying is it is possible. But according to JustAnswer themselves, most experts choose only to answer a few questions per month while the top earners can earn up to $100,000 per year.
Clients can also choose to pay extra to get a phone call with an expert, and if you take on tasks like this, it will obviously pay you more and can be a way to earn some nice extra money.
Overall, how the earning potential will be, really depends on your background and how much time you are willing to put into this.
But with the right background and if you put in a lot of effort, it can definitely be a way to earn some good money by sharing your knowledge.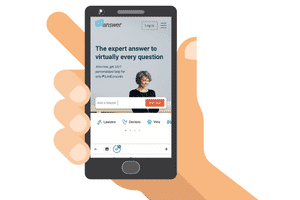 Can you use it on mobile?
JustAnswer doesn't have a mobile app you can download, but you can still access their website from a mobile device using a mobile web browser. Their site is mobile-friendly, so you won't have a hard time navigating it.
You can also conveniently read and answer questions without zooming in. This can greatly help you improve your earnings because you don't have to sit in front of a computer to earn.
Who can join JustAnswer?
JustAnswer is available in many different countries and you will be able to see if it is available in your country immediately when you apply to become an expert. To start the application process, you just need to fill out the sign-up form on their website.
When filling out the form, you will be asked to provide credentials for the specialty you chose. You have to be honest when doing this because JustAnswer will do a background check on you. If they find out you are lying, you won't be accepted as an expert.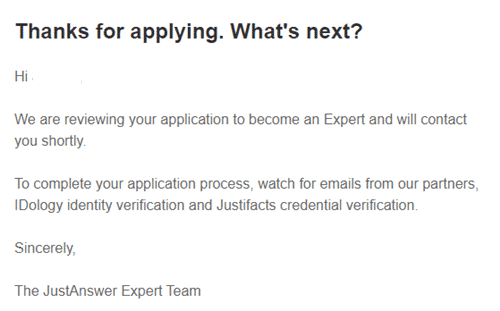 Aside from the credentials, you will also be asked to affix your signature to prove you agree to their terms and conditions. Once you are done with the application form, you will receive an email from them (refer to the photo above).
As shown in the photo above, you will have to wait to find out if you will be accepted or not. Usually, it will take two weeks to hear back from them if you live in the US. But if you live outside the US, it can take longer.
So, becoming an expert isn't actually as easy as you might think. And the wait is quite long. So, don't expect to start earning immediately once you are done with the application form.
Can you get support?
Their site provides basic information about what it has to offer. It also has a FAQ page you can check out if you have any questions about the site. But it isn't as comprehensive as you might hope for. So, chances are, if you have any inquiries, you will have to get in touch with their support team.
To contact their support team, you can email them at expertsupport@justanswer.com. Overall, I would say the site has decent support in place for its members since they offer an easy way to communicate with their support team.
And I have been in contact with their support team several times and they do get back to you quite quickly which is definitely great.
But I do wish they would provide more information about the features of their site – especially their payment system which you cannot find much info about before joining.
Final Verdict
JustAnswer is a site that will pay you for providing expert answers to questions from JustAnswer's members. It has a few good features but it also has some big drawbacks you need to be aware of.
Let me wrap up this review with a summary of its pros and cons so you can get an overview of what the site has to offer. That way, you can determine if you should really join this site or not.

Pros:
Offers payment via PayPal
Their site is mobile-friendly
If you are a true expert, it can give really good earnings

Cons:
Limited earning opportunities offered
There's no guarantee you will be accepted when you apply as an expert
JustAnswer is obviously not a good option for all. It is only relevant if you truly are an expert in one of the fields they are looking for experts in.
If you are, then it can definitely be a way to earn some nice money. And you can choose yourself how much time you want to invest.
But it is important to understand that if you are not truly an expert in one of the required fields and can prove this, then there is no need to apply as you will then just get rejected.
If you feel this is for you, you can just go to the JustAnswer website and apply.
But if you instead want to make some extra money without having to go through a long application process or if you are not an expert in one of the fields they require, I would recommend you check out the top survey and GPT sites in your country instead.
The sites on this list all have good earning potential and you will be able to start earning right away.
If you have any comments, questions, or have any experiences with JustAnswer yourself, I would love to hear from you in a comment below.