Lootup is a website that claims you can earn rewards by completing simple daily tasks.
But is Lootup legit and really an easy way to earn some extra money, or is it a scam?
It's an important question to ask before joining any online earning platform so you do not end up wasting your time.
I have tested it thoroughly myself and have compared it to the hundreds of other free online earning methods I have tested, and in this Lootup review, you will learn all the details.
Then you will know exactly how it works and what to expect and can easily decide if this is really the right opportunity for you or not.
So, let's go ahead and get this review started, shall we?
Disclosure: Some articles on this website contain affiliate/sponsored links. Click for more info.
What is Lootup, and what does it offer?
Lootup.me is a Get-Paid-To (GPT) site that will reward you for completing different online micro-tasks. And let me just reveal right away that it is indeed a legit site since you will really be able to earn from it – I have been paid by it myself.
Also, it has introduced a lot of new features and improvements since I first tested it, which is a good sign.
However, this doesn't automatically mean it is the right option for you. To figure out if it is worth it or not, you have to first understand how the site works, and the best way to do that is to start by examining the earning opportunities it offers.
For that, I have made a video that gives you an inside look and shows exactly how you can earn from Lootup, and it will also show you payment proof. You can also read all the details below the video.
Click to Check Out Lootup for Yourself
Option 1 – Paid surveys
One of the earning methods on Lootup that gives the most earning opportunities is paid surveys. Of course, how many surveys you will get access to will depend on the country you live in.
Lootup has partnered with many survey providers, so you can find a lot of surveys here. You just go to the earn section and choose paid surveys to get an overview of all the available surveys.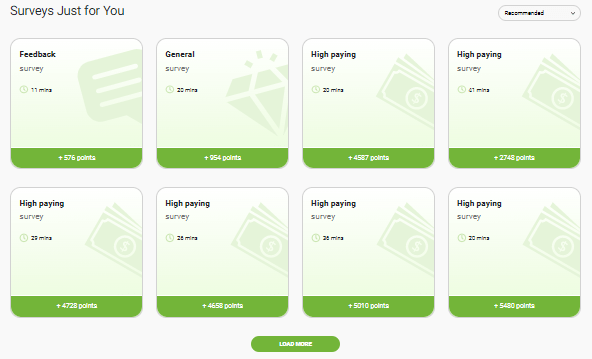 The process for answering surveys on Lootup is pretty much the same as with any other survey site. You go through a qualifying process first, and if you qualify, you get to answer the actual survey. If you fail to qualify, then you just have to move on to the next available survey if there are any.
After you've completed the actual survey, you will receive the reward promised, which will be in the form of points. Later on, I will discuss what you can do with the points you've earned.
One thing I have not really seen on many other survey sites that I really like is that you can sort the surveys according to rewards, popularity, how easy they are to complete, and more. This makes it easier to find the right surveys for you and is a great feature, in my opinion.
Also, make sure to scroll down from the initial overview of the available surveys. Below those you can find links to many survey providers and that is a way to get access to even more surveys.
Overall, the rewards you get for your time on Lootup per survey are quite good compared to many other survey sites.
But one tip to consider is to not always only go for the highest paying surveys – often, they can be harder to qualify for. Lower paying surveys are often easier to qualify for, so make sure to also take some of these to optimize your earnings.
Option 2 – Paid offers
You can also earn rewards by completing paid offers on Lootup.
If you are not familiar with paid offers, they are short tasks you can do to earn rewards. Normally, these tasks will ask you to answer a survey, sign up for a website, or download a mobile app.
You can find paid offers on Lootup in 2 different ways. Through the menu, you can either click to see offerwalls or to see an overview of paid offers, as the one you can see in the image below.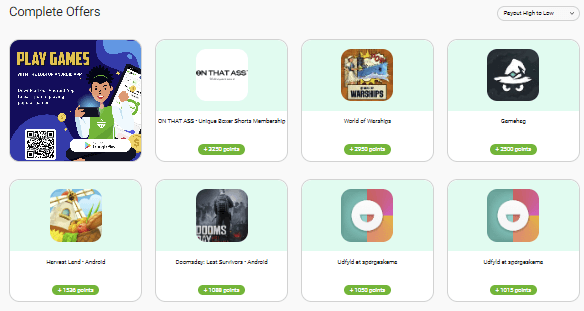 To view the full details of an offer, just click it. I recommend you take note of all the details and requirements needed to complete the offer and make sure you understand what is needed to complete it. That's because if you miss even just one step/requirement, you won't be able to complete and earn the reward.
You can find some quite good offers here and some of them definitely have high rewards, but you will not find as many paid offers here as you do on some other GPT sites.
But it is still a section worth checking out, in my opinion, and Lootup also gives so many other ways to earn, so it is not a big issue that there are no more paid offers.
Option 3 – Watch videos
Watching videos is a very popular way to earn on GPT sites, and this is also an option on Lootup. It has partnered with several video-watching sites, including HideoutTV.
The idea of this earning opportunity is very simple. You pick a video provider and click it. Then, you just have to watch videos to earn points.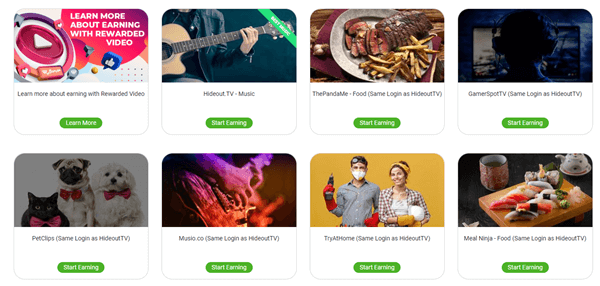 Take note though, that you won't get paid to watch the video. Instead, you get paid to watch the ads that will be played before, in the middle, or after the video. So, you can actually just let the video run in the background and do something else.
You just need to make sure that the tab where the video is playing in the active tab. If you open a new tab or even open another application, the video will not play, and you won't earn the reward.
One suggestion I can give you is that you work on this earning opportunity on your mobile device since the site also has a mobile app you can use (I will talk more about their mobile app later). That way, you can just let the video play and do something else on your computer.
Just be aware that you won't earn a lot of points from this earning opportunity. It is the least efficient earning opportunity offered by Lootup. That's why I would only recommend you do this if you have nothing else to do.
Also, be aware that there might not always be ads shown during the videos. That depends on what advertisers are currently running campaigns in your country. If no ads are shown, you will not earn. Then it is better to just stop and come back later, and hope ads will be available then.
Option 4 – Contests
Lootup holds weekly and monthly contests where you can win thousands of points. The contests are a way to motivate you to be more active on the site, and there are several contests.
There is one for the top earners by taking paid offers, one for the top referral earners, and one for the top earners by taking paid surveys.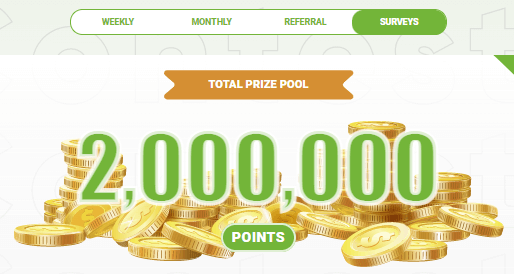 The exact rewards depend on the contest. But at the time of writing this review, you can, for example, earn $300 if you end up being the top survey earner for the month. This is a very high bonus reward compared to most other GPT sites I have tested.
And you do not have to be the number 1 earner to get a reward. In most of the contests, you just have to be in the top 50 to get a reward.
When I first tested Lootup, the rewards were smaller, and there were not as many contests, so this is one of the areas where it has really improved.
It's some pretty great rewards, so definitely worth keeping an eye on your spot in these contests and trying to make it to the top, as it can really boost your earnings.
Option 5 – Loot Chests
A fairly new way to earn on Lootup is Loot Chests. This has replaced the earning method they used to have called Spin the Wheel.
However, this is great news for users, in my opinion, as the Loot Chests give more opportunities, especially if you are an active user.
There are two types of Loot Chests: Daily Loot Chests and Offer Loot Chests.
Daily Loot Chests contain a number of points depending on your Rewards Tier. You can claim this once per day.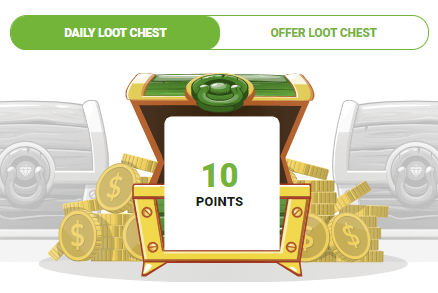 The higher the membership tier you have, the more points you get the chance to win. You will get a higher membership tier simply by being active on the site.
Offer Loot Chests is not limited to a certain number of chests per day. You will receive one of these immediately after you complete a qualified task, such as taking paid surveys, completing offers, watching videos & more. Each Offer Loot Chest contains either points rewards or a percentage boost for your next eligible task.
In my opinion, a great bonus system if you use the website actively.
Option 6 – Lootup Deal Finder
One of the newer features Lootup has introduced is the Lootup Deal Finder.
It is an extension for Chrome that makes it possible for you to get cash back or discounts when you shop online.

Once you have installed it, you will get access to Cash Back deals from over 50,000 brands online, and the cash-back savings will automatically be credited to your Lootup account as reward points.
So if you ever shop online, this can definitely be worth checking out.
Option 7 – Referral program
You can participate in the referral program to earn more points. If you are not familiar with what a referral program is, it is a rewards program designed to promote the website.

All you have to do is share your invite link with the person you want to invite, and when that person clicks the link and registers, they will become your referral. But, for you to earn from your referral, they must become an active member of the site.
When they earn on the site, you will earn 10% of whatever they will earn. For example, they complete a survey worth 500 points. You will then receive 50 points as commission, and it will be shouldered by Lootup and will not be deducted from your referral's earnings.
If you are able to get 500 referrals, your 10% commission will be increased to 15%.
It's a decent referral commission compared to many other GPT sites, but not one of the absolute best referral programs. But if you like Lootup and know some people that might also like it, it can be a passive way to boost your earnings.
Click to Check Out Lootup for Yourself
How do you get paid?
As explained above, you will earn a certain number of points when you earn on Lootup. You can use these points to redeem various rewards.
There are three types of rewards you can choose from. You can convert your points to cash via PayPal, various gift cards, or crypto.
For PayPal withdrawals, the threshold is only 1,000 points, which will be worth $1. So it is a very low payout threshold for cash withdrawals compared to many other GPT sites.
For crypto withdrawals, you will need to earn at least 5,100 points. That will be converted into $5 worth of crypto. You will get paid into your BitPay account, so you need an account there to withdraw your earnings as crypto. You can choose to get paid in Bitcoin, Shiba Inu, Dogecoin, or Litecoin.
As for gift cards, the minimum threshold you need to reach to redeem one will be 1,000 points (worth $1), but this can vary depending on the gift card. Keep in mind, though, that the types of gift cards you can redeem will depend on where you live.
Lootup's reward system is relatively easy to understand, and it offers some great payout methods, and I like the fact that it has a very low payout threshold. If you are interested in more sites that have a low payout threshold, I recommend you check out the fastest paying sites.
How much money can you make?
The amount you can earn from Lootup will mostly depend on how much time you are willing to spend on it and the country you live in.
If you spend your time wisely, you can definitely find options that pay decently and earn some nice extra money on the side. And if you are active enough to end up as one of the top earners for the month, you can win a really nice extra bonus.
There are also a couple of ways to boost your earnings easily. Just by being active, you can level up your membership level.
They call this leveling-up rewards system for LevelUP Rewards! As you cross various earnings thresholds, you'll level up and receive free points as rewards.

The rewards keep coming as you continue to earn more on Lootup.me. And the more you level up, the larger the rewards get.
You can keep an eye on this and when you will reach the next level on the main dashboard.
Also, you can earn a $5 joining bonus if you reach the target number of points (10,000) within 29 days of joining. You will receive 5,000 points as a bonus if you hit that target.
A last easy way to get some free points to earn extra is by following Lootup on social media. Here they regularly publish promo codes you can redeem for free points.
Overall, I would say Lootup has a quite good earning potential compared to many other GPT sites because it offers so many different ways to earn.
Can you use it on mobile?
As mentioned earlier, Lootup has a mobile app you can download so you can work on the earning opportunities from your mobile device conveniently.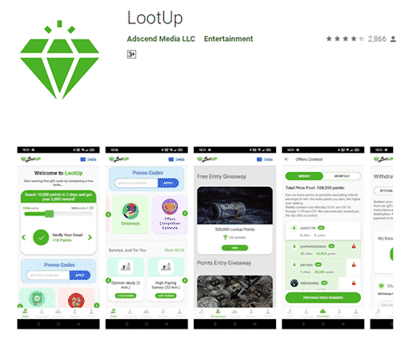 The app is available for download in the Android app store. If you are an iOS user, then you will just have to access their website from a mobile web browser since the app doesn't have an iOS version.
Fortunately, Lootup's website is optimized for mobile use, so you shouldn't have a hard time using it on a mobile device. You also won't encounter any pop-up ads while you are working on the earning opportunities, which I actually find refreshing.
As I've explained earlier, using the site on a mobile device can be helpful because you can just let the videos run and do something else on your computer.
Also, you can earn by playing certain games through the app which are not available on desktop.
Who can join Lootup?
The site doesn't exactly say which countries it is available in, but from what I can gather, Lootup is available more or less worldwide. That means you can register as a member regardless of where you live. All you have to do is fill out their registration form.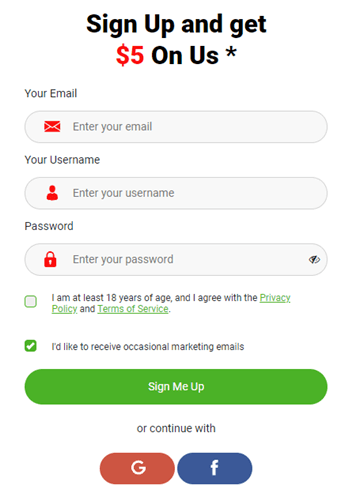 You can also just use your Google or Facebook account to register. You do have to be at least 18 years of age to be eligible to sign up.
After you've completed the registration form, you can log in to the site and start earning.
Can you get support?
If you have any questions about the site or your account, you can check out their FAQ page and Support Center page. These pages discuss most of the important topics you need to know about the site.
But if you can't find the answers you are looking for, you can just submit a support ticket.
I have been in contact with Lootup myself, and they are fast at getting back to you, in my experience, and this is definitely a plus.
Overall, I would say the site has a decent support system for its members since it offers a convenient method for you to get in touch with their support team.
Final Verdict
Lootup is a legit GPT site that will reward you for completing simple tasks. It has some good features, but it also has some drawbacks you need to consider.
Let me finish this review by summarizing its pros and cons so you can get an overview of what the site offers. Then, you can decide if it is really worth it or not.

Pros:
Offers payment via PayPal and crypto
The app is user-friendly
Low payout threshold
Many earning opportunities
Free contests with great cash prizes

Cons:
Can be a bit confusing to use when you first join
Does not have that many paid offers (but it then has many other ways to earn)
Overall, I would say Lootup is a quite good GPT site. It has improved a lot since I first tested it, and it offers some great opportunities now.
I like that it has a low payout threshold, great payout methods, high cash rewards for the contests, and it offers many ways to earn. And it has been great to see how the people behind has worked on improving it and giving more opportunities to its members since it first launched.
Therefore, it can be a good way to earn some extra money for free, but it is a good idea to make sure to also check out the top survey and GPT sites in your country and join several sites to increase your overall earning potential.
How to join Lootup?
If you want to join, you can click the button below. It will take you to the sign-up page, and you can then register. It takes less than 1 minute, and you can then start earning right away.
If you have any comments, questions, or have any experiences with Lootup yourself, I would love to hear from you in a comment below.