LootUp is a website that claims you can earn rewards by completing simple daily tasks.
But is LootUp legit or is it a scam?
It's a valid concern and I would say you are headed in the right direction by making sure you only join a legit site.
That is why I would recommend you read this LootUp review first. I have personally tested the site to see what it is all about and I will share everything I have learned about this site in this review.
That way, you will know how it works and exactly what to expect from it and be able to identify if this is really a site worth joining or not. So, let's go ahead and get this review started, shall we?
What is LootUp and what does it offer?
LootUp is a Get-Paid-To (GPT) site that will reward you for completing simple tasks. It is indeed a legit site since you will really be able to earn from doing the said tasks.
However, this doesn't automatically mean it is worth joining. To figure out if it is worth it or not, you have to first understand how the site works and the best way to do that is to examine the earning opportunities it offers.
I have, therefore, made a video that gives you an inside look and shows exactly how you can earn from LootUp. You can also read all the details below the video.
Option 1 – Paid surveys
One way to earn from LootUp is to answer the paid surveys found on the website.
Take note though that LootUp doesn't have its own surveys. It only acts as a survey router, so the surveys you will be answering will come from other survey providers it has partnered with.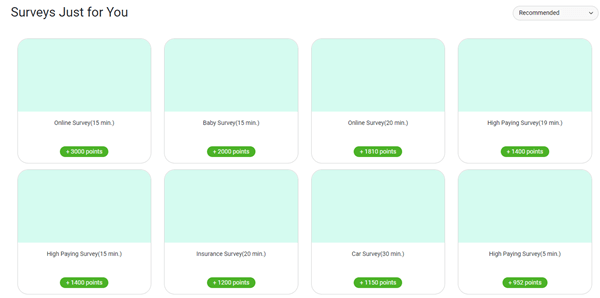 The process for answering surveys on LootUp is pretty much the same as with any other survey site. You go through a qualifying process first and if you qualify, you get to answer the actual survey. If you fail to qualify, then you just have to move on to the next available survey if there are any.
After you've completed the actual survey, you will receive the reward promised which will be in the form of points. Later on, I will discuss what you can do with the points you've earned.
The one thing I noticed about LootUp's paid surveys when I was testing them was that it's very hard to qualify for one. The qualifying rate does seem a little low, so you have to be very patient because you won't earn from all the paid surveys offered.
Option 2 – Paid offers
You can also earn rewards by working on the paid offers of LootUp. If you are not familiar with paid offers, they are short tasks you can do to earn rewards. Normally, these tasks will ask you to answer a survey, sign up for a website, or download a mobile app.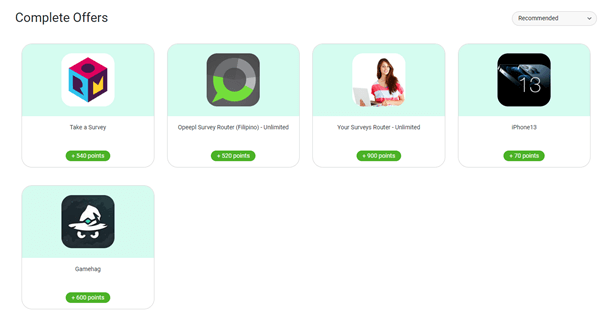 To view the full details of an offer, just click it. Then, I would recommend you take note of all the details and requirements needed to complete the offer and make sure you understand what is needed to complete it. That's because if you miss even just one step/requirement, you won't be able to complete and earn the reward.
Normally, this kind of earning opportunity is pretty abundant on popular GPT sites, but you will only find a few paid offers on LootUp. That's why I would say it isn't the best way to earn on this site. However, I would still advise you to work on these offers as much as possible and I will explain why later.
When you complete a paid offer, you will receive the reward promised, which will be a certain number of points.
Option 3 – Watch videos
To earn more rewards, you can watch videos from some of LootUp's partner sites including HideoutTV.
The idea of this earning opportunity is relatively simple. You pick a video provider and click it. Then, you just have to watch each video to earn points.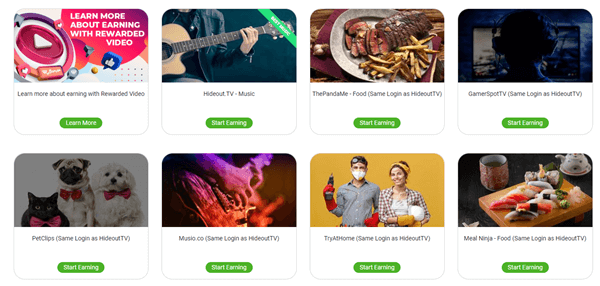 Take note though that you won't get paid to watch the video. Instead, you get paid to watch the ads that will be played before, in the middle, or after the video. So, you can actually just let the video run in the background and do something else.
You just need to make sure that the tab where the video is playing in the active tab. If you open a new tab or even open another application, the video will not play and you won't earn the reward.
One suggestion I can give you is that you work on this earning opportunity on your mobile device since the site also has a mobile app you can use (I will talk more about their mobile app later). That way, you can just let the video play and do something else on your computer.
Just be aware that you won't earn a lot of points from this earning opportunity. It is the least efficient earning opportunity offered by LootUp. That's why I would only recommend you do this if you have nothing else to do.
Option 4 – Contests
LootUp holds weekly and monthly contests where you can possibly win thousands of points. Their contests are geared towards motivating you to work on paid offers. This is the reason why I urged you to work on paid offers even though there isn't a lot available.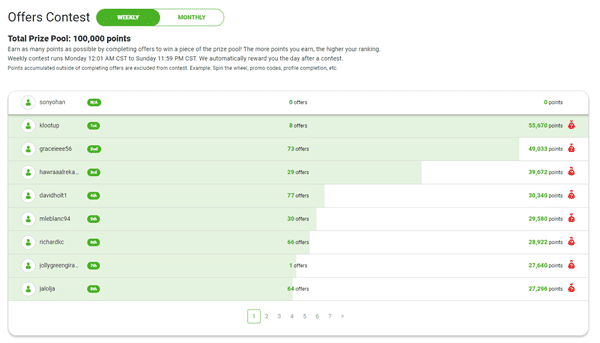 You see, to win their weekly or monthly contests, you have to complete paid offers. For the weekly contest, whoever earns the most points from completing paid offers will win the jackpot prize of 100,000 points.
The weekly contest runs from Monday, 12:01 AM CST to Sunday, 11:59 PM CST. Whoever gets the number one spot on the leaderboard after the contest wins the prize.
For monthly contests, it will run from the 1st of each month at 12:01 AM CST to the last day of the month at 11:59 PM CST. The winner will be whoever earns the most points after the duration of the contest. He or she will then win 1,000,000 points.
As I've said, it's a pretty nice motivation to keep working on paid offers because the prize you can win is quite significant.
Option 5 – Spin the wheel
Another way to earn rewards is to play their spin the wheel game. The idea behind this game is pretty simple. You will get one free spin every 24 hours.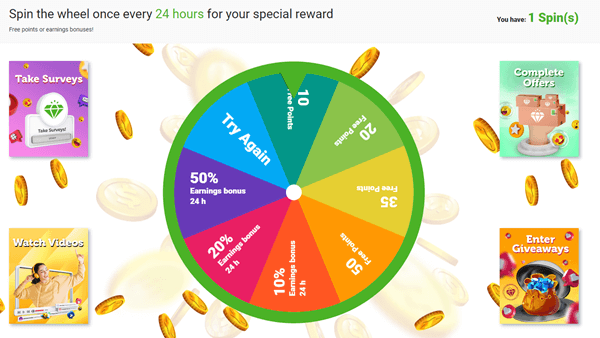 When you spin the wheel, you have the chance to win free points or earning bonus percentages. For example, you can win a 50% bonus on earnings for 24 hours, so if an offer will reward you with 100 points, you will receive 150 points instead.
It's a nice bonus to have. That is why I would recommend this is the first thing you do when you log in to the site. You can better maximize your earnings from LootUp this way.
Option 6 – Referral program
Lastly, you can participate in their referral program to earn more points. If you are not familiar with what a referral program is, it is a rewards program designed to promote the website.

All you have to do is share your invite link with the person you want to share and when that person clicks the link and registers, they will become your referral. But, in order for you to earn from your referral, they must become an active member of the site.
When they complete any earning opportunity offered by the site, you will earn 10% of whatever they will earn. For example, they complete a survey worth 500 points. You will then receive 50 points as commission and it will be shouldered by LootUp and will not be deducted from your referral's earnings.
If you are able to get 500 referrals (which is a very tough thing to do), your 10% commission will be increased to 15%. It's not a very rewarding earning opportunity, but it is a passive form of earning. You just need to make sure you invite people who are really interested in earning from the site.
Recommended: Check Out the Top GPT Sites
How do you get paid?
As explained above, you will earn a certain number of points for every earning opportunity you complete. These points will be stored in your LootUp account balance. Then, you can use it to redeem various rewards.

There are three types of rewards you can choose from. You can convert your points to Bitcoin or cash via PayPal, and you can also convert them to various gift cards.
For Bitcoin withdrawals, you will need to earn at least 5,000 points. That will be converted into $5 worth of Bitcoin. For PayPal withdrawals, the threshold will be significantly lower, which is 1,000 points. That will be worth $1.
As for gift cards, the minimum threshold you need to reach to redeem one will be 1,000 points. That will also be worth $1. Keep in mind though that the kind of gift card you can redeem will depend on where you live.
LootUp's reward system is relatively easy to understand and I like the fact that it has a very low payout threshold. If you are interested in more sites that have a low payout threshold, I would recommend you check out the fastest paying sites.
How much money can you make?
The amount you can earn from LootUp will mostly depend on how much time you are willing to spend on it. Most of the earning opportunities offered by the site will reward you with around 50 to 300 points, with surveys offering the most rewards.
However, as I've mentioned earlier, the site has a low qualifying rate for surveys and there aren't a lot of offers available. So, it will take a lot of time before you will be able to earn enough points to redeem rewards.

The site does offer a bonus reward if you reach the target number of points (10,000) within 29 days. You will receive 5,000 points as a bonus if you hit that target.
But overall, I would still say the site has a low earning potential mainly because it doesn't offer a lot of earning opportunities. It's actually quite rare to find a GPT site that doesn't offer a decent number of paid offers.
Can you use it on mobile?
As mentioned earlier, LootUp has a mobile app you can download so you can work on the earning opportunities from your mobile device conveniently.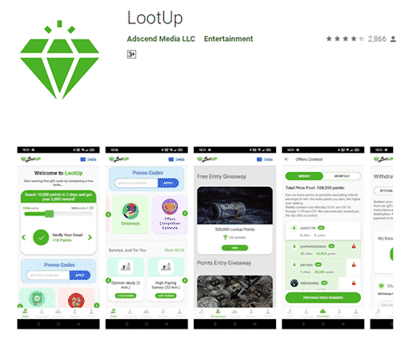 The app is available for download in the Android app store. If you are an iOS user, then you will just have to access their website from a mobile web browser since the app doesn't have an iOS version.
Fortunately, LootUp's website is optimized for mobile use, so you shouldn't have a hard time using it on a mobile device. You also won't encounter any pop-up ads while you are working on the earning opportunities, which I actually find refreshing.
As I've explained earlier, using the site on a mobile device can be helpful because you can just let the videos run and do something else on your computer. In my opinion, it's always a welcome plus that you can earn conveniently even when you are not in front of a computer.
Who can join LootUp?
The site doesn't exactly say which countries it is available in, but from what I can gather, LootUp is available more or less worldwide. That means you can register as a member regardless of where you live. All you have to do is fill out their registration form.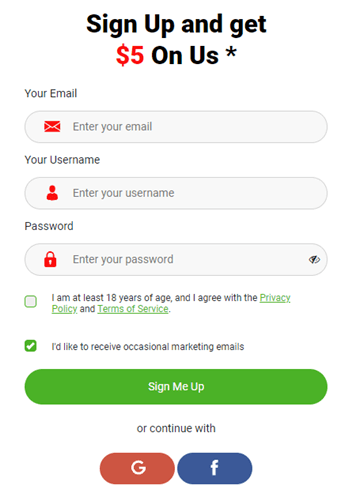 You can also just use your Google or Facebook account to sign in. You do have to be at least 18 years of age to be eligible to sign up.
After you've completed the registration form, you can now log in to the site and start earning. I would, however, suggest you complete your market research profile first before doing anything else. That way, you will increase your chances of qualifying for surveys and other earning opportunities. Plus, you will earn a total of 30 points for doing so.
Can you get support?
If you have any questions about the site or your account, you can check out their FAQ page and Support Center page. These pages discuss most of the important topics you need to know about the site.
But if you can't find the answers you are looking for, you can just submit a support ticket for your inquiry. Overall, I would say the site has a decent support system in place for its members since it offers a convenient method for you to get in touch with their support team.
Final Verdict
LootUp is a legit GPT site that will reward you for completing simple tasks. It has a couple of good features to offer, but it also has some drawbacks you need to put into consideration.
Let me finish this review by summarizing its pros and cons so you can get an overview of what the site has to offer. Then, you can decide if it is really worth it or not.

Pros:
Offers payment via PayPal
The app is user-friendly
Their site is not spammy

Cons:
Limited earning opportunities offered
Their paid surveys have a low qualifying rate
Overall, I would say LootUp isn't a bad GPT site. However, it does pale in comparison to the most popular GPT sites today, in my opinion.
It's quite rare to encounter a GPT site that only offers a few paid offers, so even though the site has a low payout threshold, it will still take quite some time before you will actually be able to withdraw your earnings.
Plus, their surveys will require you to be very patient because the qualifying rate will be very low. In my opinion, LootUp isn't a great primary site to earn from, but it can be a viable option if you need more GPT sites to earn from. Just don't expect to earn a lot from it.
If you are looking for primary sites to earn from, I would recommend you check out the top survey and GPT sites in your country instead. The sites on this list all have good earning potential, so it won't take a lot of time to earn a decent amount.
If you have any comments, questions, or have any experiences with LootUp yourself, I would love to hear from you in a comment below.