Do you love solving math problems? If so, there's an app called Math Cash that claims you will be able to earn by solving math equations. It's an interesting way of earning, I'll give you that. It's actually the first time I've encountered an app like this.
But is Math Cash App legit and really a way to earn or is it a scam to stay away from?
This Math Cash app review will address that question and also look into whether it will be worth your time if it turns out it is legit.
It will reveal the truth about what the app really has to offer so you'll know exactly what to expect before you even hit the sign-up button. That way, you can make an informed decision about whether this app is really worth joining or not.
So, let's go ahead and take a closer look at the Math Cash app.
What is Math Cash and what does it offer?
Math Cash is a GPT (Get-Paid-To) app that will pay you for solving simple math equations. It is indeed a legit app since it will really pay you for completing the earning opportunities it offers.
And speaking of earning opportunities, to fully understand how the app works, we have to take a closer look at the earning opportunities of Math Cash. That way, you can also get an idea of how well you can earn from it.
For that, I have made a video that gives you an inside look and shows exactly how you can earn from Roamler. You can also read all the details below the video.
Option 1 – Math Cash duel
The primary way of earning rewards from Math Cash is by playing their Math Cash duel. The idea of this duel is pretty simple. You go head to head with another member of Math Cash.
To play the duel, you will need one ticket. Tickets can be earned from other earning opportunities (which I will talk about later). When you enter a duel, you will have to get matched with another member of Math Cash.
Once the app finds a match, you will be given 20 math questions. The questions will consist of addition, subtraction, multiplication, and division equations.
You will be given 60 seconds to finish all 20 questions. At the end of the duel, the app will announce who the winner is. If you won, you will receive 4 points. If you lost, you won't receive anything.
That's all there is to it. The premise is very simple but it takes some time to get used to it. The problem with this opportunity is, there's no guarantee you will earn points when you enter a duel. When I was doing my testing, I got my first win after 3 tries. So, it definitely requires patience, in my opinion.
Plus, you will actually have to earn tickets in order to duel. That's why earning from it can be a grind, but it is fun and even challenging to beat other players. So, if you like the challenge, you will enjoy this app.
Option 2 – Surveys
You can answer surveys to earn tickets you can use for the duel option mentioned above. Yes, just to make it clear, you won't technically earn from this opportunity. You will only earn tickets.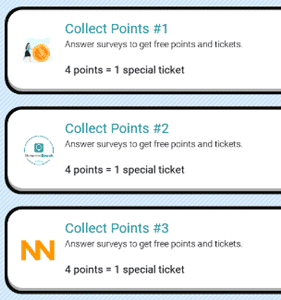 To view all the surveys available, just press any of the "Collect Points" options inside the app. You will then see a list of surveys you can answer. For every survey, you will see how many points you will earn for completing it.
Now, this is what you need to remember. Every 4 points you earn from a survey will be equivalent to 1 ticket. So, if a survey will reward you with 100 points, that means you've earned 25 tickets.
The way their surveys work is pretty much the same as the surveys you will find on regular survey sites. When you answer a survey, you will first have to go through a qualification process. That means you'll have to answer a set of qualification questions first.
If you qualify, you get to answer the actual survey. If you don't qualify, then you just have to move on to the next available survey. Once you complete the actual survey, you will receive the reward.
Option 3 – Playtime
Another way to earn tickets is to play the games Math Cash features. The idea of this opportunity is, you just have to play any of the featured games it offers and you will earn points which will be converted to tickets you can use to play their duel.

When you play a featured game, you will first have to install it on your mobile device. Once it is installed, you have to go through Math Cash first to open the game. You can't open the game directly because Math Cash won't be able to track your usage.
For every minute you play the featured game, you will earn a certain number of points. But the longer you keep playing the game, the fewer points you will earn per minute. This system is placed to encourage you to try out different featured games and not just stick to one game.
And just like their surveys, for every 4 points you earn from this, it will be equivalent to 1 ticket.
Option 4 – Referral program
Lastly, you can invite other people to join the app through their referral program. In exchange for getting people to join the app, you will receive a small compensation.

For every person you successfully invite to the app, you will receive 10 tickets. But aside from that, you will also receive a 10% commission every time your referral earns 50 points from dueling other members.
Now, when your referral invites other people to join the app, that person will become your level 2 referral. You will then receive a 5% commission every time your level 2 referral earns 50 points from dueling.
It's a nice way to earn passive rewards. Aside from duels, this is the only way you can earn points you can use to redeem rewards.
Recommended: Check Out the Top GPT Sites
How do you get paid?
As explained above, you will earn points for dueling other members and from getting referrals. The points you will earn from these opportunities are the actual points you can use to redeem rewards.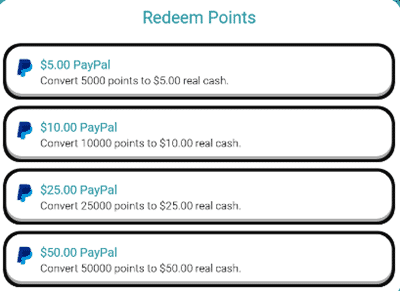 And speaking of redeeming rewards, Math Cash only offers one payment option and that is through PayPal. You will need to earn at least 5,000 points to withdraw via PayPal. That will be worth $5.
Their payment system is relatively simple and I like the fact that they have a low payout threshold. But later on, I will explain why their low payout threshold is really a bit irrelevant.
Now, if you are looking for more sites/apps that offer a low payout threshold, I would recommend you check out the fastest paying sites.
How much money can you make?
Let me tell you right now, don't expect to earn a lot from this app. Let me explain why.
As you already know, for every duel you win, you will only earn 4 points. If you are only going to rely on duels for your earnings, you will need to win 1,250 times before you can hit the threshold.
That's a lot of wins to get. And considering you will need 60 seconds to finish a duel, that will take roughly 21 hours just to reach that number of wins. And that's if you win all your duels, which will be a bit impossible, in my opinion. So, I would say the time-to-money ratio of Math Cash isn't really good.
You will need to invest a lot of time in order to reach their payout threshold which kind of makes their low payout threshold irrelevant. That's why I would say the earning potential of this app is quite low.
Can you use it on a desktop?
Math Cash is a mobile-only platform. So, you will definitely need a mobile device to earn from this app.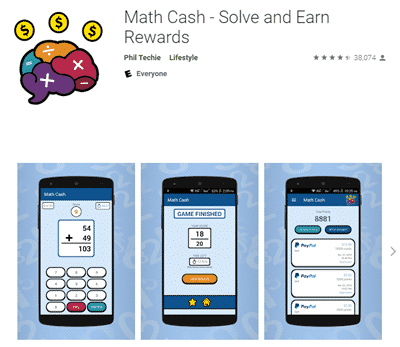 As for their app, it can only be downloaded from the Android app store. So, if you are an iOS user, then this app is not for you. The app itself is relatively user-friendly. You will easily get used to how it works.
However, it is a bit spammy. You will have to watch video ads every time you finish a duel, which can get quite annoying. So, the user experience suffers a bit due to this.
Who can join Math Cash?
Math Cash is available worldwide. You will be able to register as a member regardless of where you live. You just have to be at least 18 years of age to join this app.
To become a member, you have to first install the app. When you first launch the app, it will ask you to sign up using your Google account. There's no other option you can choose. But since you are using an Android device, then this shouldn't be a problem for you.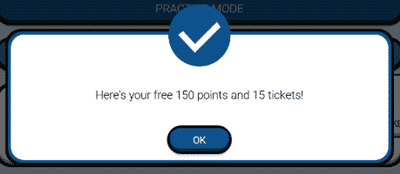 After you've finished the sign-up process, you will be logged in to the app and you will be greeted with a notification saying you just earned 150 points. This is actually their sign-up bonus. It's not much, but at least you get something just for joining.
Can you get support?
Math Cash has a guide on how to use it. But apart from that, there aren't really any useful pages you can refer to if you have any questions about the app or your account. It doesn't have a support page or even a FAQ page you can consult.
But they do provide a way for you to get in touch with their support team. You can email them at philtechie247@gmail.com. Overall, I would say the app has a decent support system in place for their members, but I do wish they had a FAQ page or even just a support page you can refer to for your questions. It would make the overall user experience a lot smoother.
Final Verdict
Math Cash is a legit GPT app that will reward you for solving math equations. It has a couple of good feature but it also has a few drawbacks you need to consider.
Now, let me wrap up this review by summarizing the app's pros and cons so you can get an overview of what the app has to offer. Then, you can decide if it is something you should really use or not.

Pros:
Offers a fun and interesting way to earn
Offers payment via PayPal
Available globally

Cons:
Limited earning opportunities offered
Low rewards
Doesn't have a support page you can refer to for your questions
In my opinion, Math Cash isn't really a good app to earn from. That's because it will take quite a long time and a lot of effort just to reach their payout threshold. I would only recommend you join this app if you really love solving math equations or if you are just looking to pass time.
The only saving grace this app has, in my opinion, is the payment method it offers. But apart from that, there's really little reason to use it if you are just looking to earn extra cash. I would instead suggest you check out the top survey and GPT sites in your country.
The sites and apps on this list all have good earning potential. You won't have to invest a lot of time just to earn a decent amount.
If you have any comments, questions, or have any experiences with Math Cash yourself, I would love to hear from you in a comment below.