MContent is a platform that promises to reward you for watching videos. So if you are looking for a way to earn extra cash, you might be tempted to join this platform. After all, it does offer a very easy and effortless way to earn.
However, I recommend you read this MContent review first so you will know if this platform is legit or just a scam.
You will learn about everything MContent has to offer, so you will know exactly what to expect from it.
Then you can make an educated decision on whether or not it is worth it. So without further ado, let's examine what MContent is all about.
What is MContent, and what does it offer?
As mentioned above, MContent is a platform where you can watch videos to earn rewards. It is indeed a legit platform since you will really receive rewards just for watching videos.
Now, to figure out if MContent is worth your time, you must first understand how it works, so you will know how much time and effort is required to earn from it. And the best way to do this is to take a closer look at the earning opportunities it offers.
The video below explains exactly what the platform does. You can also read the full details below the video.
Recommended: Check Out How to Earn Money Watching Videos Online
Option 1 – Watching Videos
As mentioned earlier, you will earn rewards simply by watching videos. All you have to do is log in to the member dashboard or the mobile app (more on this later) and watch the videos you can find in there.

To start earning, just click any video and watch it. The good thing about MContent is that you don't have to actually watch the video. Unlike some other sites that offer this kind of earning opportunity, you will be able to earn rewards even if you open a different browser tab or window. The video will continue playing.
Plus, the way its system works is that you will still earn a small reward even if you don't finish watching the video. But if you want to maximize the rewards you will receive, you have to make sure you let the video finish.
After the video is done playing (or if you've stopped watching it), the reward will be credited to your MContent account balance in the form of Reward points. Later, I will explain what you can do with the reward points you've earned.
That's how simple it is to earn rewards from this platform. You can watch as many videos as you want, so there's no limit to how many reward points you can earn per day.
Option 2 – Uploading Videos
Another way to earn from MContent is by uploading your own videos to the platform. Then, when somebody watches your video while they are signed in to MContent, you will earn a certain number of reward points depending on how long a user watches your video.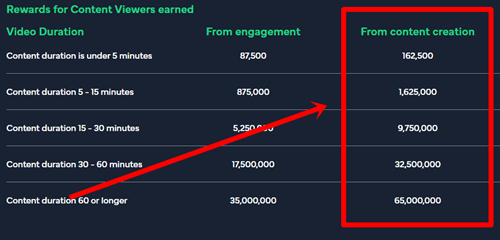 You will only earn rewards per unique user who watches your video. If that user watches the same video again at a different time, you will not earn more rewards.
As shown in the photo above, there's a limit to how many reward points you can get from a video you upload. The limit will depend on the duration of the video you uploaded (the longer the video, the higher the limit). The videos you upload have to follow MContent's content guidelines, which can be found here.
Recommended: Check Out How to Earn Money Watching Videos Online
How do you get paid?
As explained above, you will earn reward points for watching or uploading videos. But what can you do with the points you've earned? Well, you can convert the reward points to MContent coins, which is the platform's own cryptocurrency.
So if you are expecting to earn cash from this platform, you will be disappointed because the only payment option it offers is its own crypto. The good news is that you don't need to hit a threshold to withdraw your earnings. You can withdraw them anytime you want.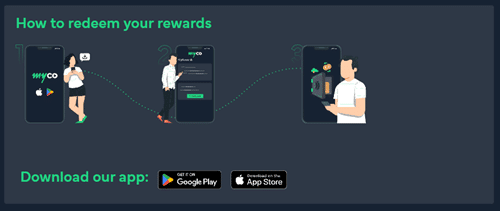 But the only way to withdraw your MContent tokens is by using MContent's mobile app. When you log in to the app, just go to the "My Wallet" section to convert your reward points to MContent coins.
The platform uses the Binance Smart Chain to transfer your MContent coins to any crypto wallet. This means you'll need to fund your MContent account with BNB if you want to withdraw your MContent coins.
That's because every withdrawal you make will involve a gas fee. The platform doesn't say exactly how much the gas fee is, so I can't really say how much it will cost to withdraw your coins. So your best option is to let your MContent coins accumulate and withdraw them when you've saved a significant amount to save on gas fees.
Overall, I would say the payment system of MContent is relatively straightforward if you are used to crypto transactions. But if you are new to the world of crypto, it can take several times to get used to how withdrawals work.
Now if you are looking to earn cash, I suggest you check out the top sites that pay via PayPal instead.
How much money can you make?
The amount you can earn from MContent will depend on how many videos you watch or upload. But as of writing this review, the monetary equivalent of one MContent coin is worth a very small amount. So you will literally have to earn thousands of coins to earn a small amount in dollars, which will take a significant amount of time to do.
So the time-to-money ratio of this platform is very low. But due to the nature of cryptocurrencies, this can change depending on the performance of the coin in the market. So if you believe in the potential of this coin, you can potentially earn a good amount in the future.
But overall, I would still say the earning potential of MContent is very low. It's not that surprising because this kind of earning opportunity doesn't really offer good earning potential in general, in my experience.
Can you use it on mobile?
As explained earlier, you will need to use the mobile app of MContent to withdraw your earnings. So you will need to use a mobile device if you want to withdraw your MContent coins to your crypto wallet.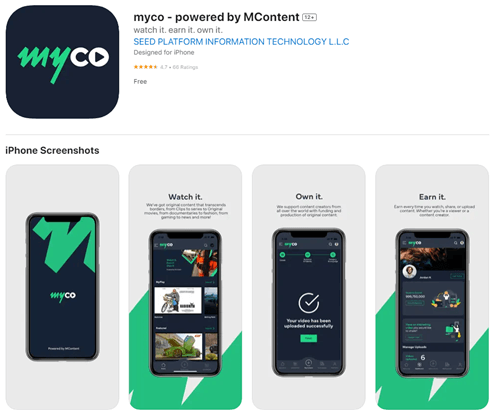 The app is available for download on both Android and iOS devices, so you shouldn't encounter any compatibility issues. The features available in the web version of MContent are also available in the app, so there's not much difference in terms of user experience between the web version and the mobile app.
Plus, using the app to watch videos means you can earn rewards even when you are not in front of a computer. This can help you increase your earnings from the platform.
Who can join MContent?
The site doesn't tell you exactly which countries it is available in, but from what I can tell, it is available in many different countries, especially in countries where they allow cryptocurrencies. To find out if you are eligible to join, just try to sign up.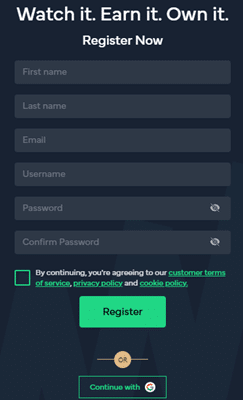 The sign-up process is relatively easy. You have the option to provide your own login details, or you can also just use your Google account to sign up. After you're done with the sign-up process, you can log in to the dashboard and start earning.
Can you get support?
The site doesn't have a Help or FAQ page. All it has is a "How to Earn" section on its member dashboard that discusses the basics of the site. So if you have questions about the site or your account, you will not be able to resolve them on your own.
You will have to contact their support team. Fortunately, they do provide a way for you to get in touch with their support team. You can use the contact form provided by the site (and app) to submit your inquiry.
Overall, I would say MContent does provide the minimum support needed to its members since it offers a way for you to communicate with their support team. But I would wish the site would provide at least a Help or FAQ page just to reduce the instances of having to contact support.
Final Verdict
MContent is a platform where you can earn rewards by watching videos or uploading them and getting views. It has a couple of decent features, but it also has a few limitations you need to consider.
Let me finish this review by summarizing its pros and cons to give you an overview of what MContent has to offer. Then you can decide if you should push through with signing up or not.

Pros:
Offers an easy way to earn
No payout threshold

Cons:
Low rewards
Doesn't offer any cash rewards
In my opinion, MContent is not a bad site to earn crypto from if you believe in the potential of its own cryptocurrency. But if you are just looking for a way to earn extra cash, then this is not the best option for you.
First, it doesn't offer any cash rewards, plus, you'll have to spend money to actually withdraw your earnings. Lastly, the site offers low rewards, so you will have to invest a lot of time to earn a decent amount of crypto. You are better off investing your time on sites that have better earning potential, and one that will allow you to withdraw your earnings for free.
If you want a list of sites that you can join to earn good money, I recommend you check out the top survey and GPT sites in your country instead. The sites on this list all have good earning potential, and most (if not all of them) offer cash rewards as well.
If you have any comments, questions, or have any experiences with MContent yourself, I would love to hear from you in a comment below.