There's an app called Media Rewards that promises to reward you simply for watching TV and listening to the radio. It sounds too good to be true, right?
Who would expect to get rewarded simply by watching TV or listening to the radio?
So, is Media Rewards legit and really a safe way to earn, or is it just another scam?
Let me just reveal right away that Media Rewards is a legit app that will reward you, and it does really pay.
But the real question is if this app is worth using or not. And to answer this question, there are a few things we must consider.
This Media Rewards review will explain everything it has to offer, so you will know exactly what to expect and can figure out if this is the right opportunity for you or not.
What is Media Rewards, and what does it offer?
Essentially, Media Rewards is a Get-Paid-To (GPT) app that will reward you for letting their app gather data about your TV watching and radio listening habits.
I know it sounds a bit invasive and like it might not be safe, but it sounds worse than it actually is.
To understand how this app works and how good its earning potential is, let's take a closer look at the earning opportunities it offers.
I have therefore made a video that gives you an inside look and shows exactly how you can earn from Media Rewards. You can also read all the details below the video.
Recommended: Check Out the Top Passive Income Apps
Option 1 – Through the Media Rewards app
As mentioned above, all you need to do is install the app and let it do all the work.
When you install the app on your mobile device, you automatically allow it to measure exposure to TV, YouTube, and radio ads in your surroundings.
The way their app works is it monitors audio frequencies around your device (like the show that you're watching or the radio program you are listening to). It will then anonymously identify the ads that you are exposed to.
This will also be the basis for the next earning opportunity they offer (refer to the next section).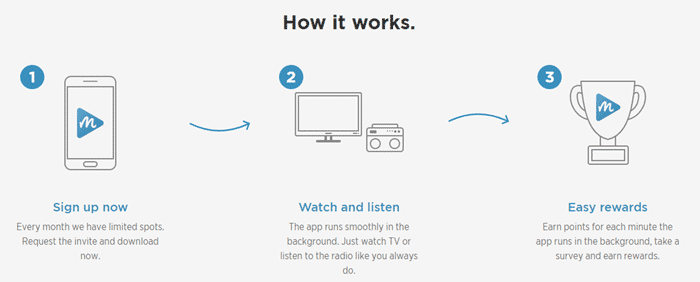 You don't have to actively use the app to earn rewards. Just set it and forget it. It will run in the background. All you have to do is press the home button of your mobile device, and the app will continue to run in the background.
You will automatically get a better score (I will discuss the significance of your score later) by leaving the app running in the background as much as possible.
It sounds a little invasive, but they do promise that they don't gather any sensitive information nor record or store any audio data.
And they guarantee that the Media Rewards app is 100% privacy safe.
Plus, the app consumes only 1% of your mobile device's battery life. So, it's not hindering your use of your mobile device. It also only uses less than 100 kB of data per day.
Option 2 – Surveys
As explained above, you will be earning points for letting the app run on your mobile device. Once you've earned enough points, you can be invited to brand surveys from time to time.
The surveys you will receive will be a bit different from the regular surveys you will receive from most other survey sites.
This is because, with the surveys from Media Rewards, you won't have to go through a screening process like you usually would with surveys from other survey sites. You automatically qualify for any survey you are offered as long as the survey hasn't expired yet.
So, when you get an invite, all you have to do is answer the survey, and you will receive the reward (which I will talk about next). That being said, depending on your points or rank, it may take up to 8 weeks before you get the first survey.
So, don't expect to receive a survey right away because the app will typically have to monitor if you are exposed to a particular TV or radio campaign first. Then, they'll send you a survey to measure if your attitude towards the specific brands has been impacted positively or negatively based on your exposure to the TV or radio campaign.
Recommended: Check Out the Top Passive Income Apps
How do you get paid?
As explained above, you will earn points for letting the app run on your mobile device. The points you will earn will then be used to calculate your score for the month. Your score will determine your position.
At the end of the month, Media Rewards will determine which prize draw you will be entered in. This is called point collection moment. So, technically speaking, they don't have a payout threshold.
You will get a chance to win cash prizes. The prize draw winners will be announced through an app message on the 16th of the following month.
If you are lucky enough to win one of their prize draws, you have to click on the unique link to enter a PayPal address to receive your prize.
The rewards you can win if you are lucky are very high. But exactly how much you can win will depend on the country you live in, and it can change from month to month. But I have seen winners getting up to $1,000/£1,000, which is definitely a really great prize.
As for their surveys, once you complete one, you will earn gift cards. After you complete the survey, it may take up to 2 weeks before you receive an email with your gift card. The type of gift card you will receive will usually be stated in the survey invite.
I like the fact that they will send your rewards via PayPal because it is a very convenient option.
However, apart from the surveys, there's really no guarantee you will earn from using their app (unless, of course, you win their prize draw).
If you are looking for a more surefire way of earning, I would recommend you check out the top sites that pay via PayPal instead.
How much money can you make?
Technically speaking, you are not guaranteed to earn cash from this app. The only guaranteed rewards you can get are gift cards that are usually worth around £5-£10 when you answer surveys.
As for using the app, you will instead have a chance at winning cash prizes. To give you a good idea of what you can win, the prizes can range from £50 to £1,000 or $50 to $1,000 depending on the country you live in (more about the available countries later).
It's a pretty significant amount, in my opinion, but again, there's no guarantee you will win. You'd have to consider yourself very lucky if you win any of their prize draws.
However, considering the fact that you don't have to do anything special to get a chance at winning these prizes, I would say their reward system only fits their business model.
But in terms of earning potential, it is very low unless you are very lucky. The only way you are guaranteed to earn is by answering surveys, which won't happen very often.
But the surveys you do get pay quite well, and you are sure you will qualify when you are invited for one which is definitely great.
Can you use it on a desktop?
As already mentioned, Media Rewards is a mobile-only platform. And to tell you honestly, I don't see any circumstances where you will need to use a desktop or laptop for this platform.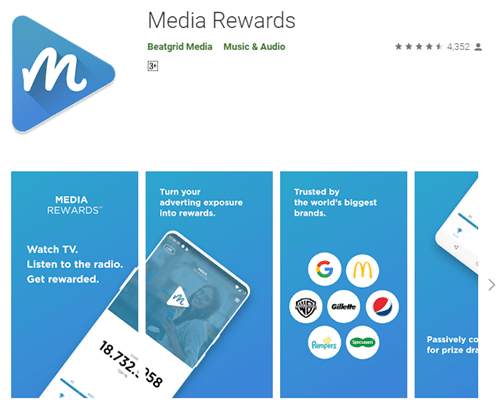 As for their app, it is available for download on both Android and iOS app stores.
And as explained earlier, there's no need to actively use the app. So, in terms of user experience, I would say their app is great. This is further evidenced by long-time users saying that the app really doesn't drain your mobile device's battery. So, that's a huge plus.
As for their surveys, you also have to answer those using your mobile device since you will receive a push notification from the app telling you when there is an available survey.
And since they are a mobile-only platform, the surveys are also mobile-friendly. So again, I don't really see a need for you to use your computer when you join their platform.
Who can join Media Rewards?
The app is only available in the US, UK, Canada, Australia, India, and Mexico.
You have to be at least 17 years of age to join, though. And speaking of joining, this is where it gets a bit complicated.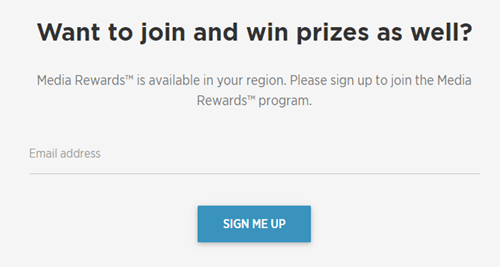 When you click the Join link on their website, it will only ask you for your email address. It won't ask you to provide your login details like you usually would when registering to a site.
This is because their platform is an invite-only platform. When you fill out the sign-up form (refer to the photo above), all you are really doing is asking them to invite you to join their platform.
If they decide to invite you to join the platform (if they are looking for profiles that fit you), they will send you an email containing the link to download their app.
This means the actual registration process will be the installation of the app. Once you've installed the app, then you are now a certified member of Media Rewards.
However, since I have this website, I have been able to regularly get invitation links, so you are able to join. You can check out the current invitation links here.
Just be aware that they only accept a limited number of new members every month, so if there is no invitation link through the link above at the moment, then try again at the beginning of next month.
Can you get support?
Media Rewards has a FAQ page that explains well how the app works. So, if you have any general questions about the app, you can check their FAQ page first.
If your inquiry can't be answered by their FAQ page or if you have any technical issues with the app, you can contact their customer support by emailing them at [email protected].
Overall, I would say they have a decent support system in place since they provide a way for you to get in touch with their support team.
Final Verdict
Media Rewards is NOT fake, even though it might sound too good to be true when you first hear about it. It is a legit GPT app that will reward you for simply installing the app. It has a couple of benefits, but it also has specific limitations you need to consider.
To conclude this review, let's sum up its pros and cons so you'll have a better overview of what it has to offer so you can decide if you should use this app or not.

Pros:
Offers a very easy and effortless way to possibly earn rewards
Pays via PayPal
Chance to win very high rewards
You will always qualify for the surveys you are offered

Cons:
Limited earning opportunities offered
Their main earning opportunity doesn't guarantee you will be able to earn rewards
The main challenge about Media Rewards is that the only way for you to earn guaranteed rewards is if you are able to answer surveys. And it can take quite a while before you get invited to these. Actually, using the app won't lead to guaranteed earnings, which is something you need to be aware of before joining.
However, you have the chance to win a significant amount by basically doing nothing. And when you get surveys, they do pay quite well for your time. But you need to know exactly what to expect, and I would say this app is not for everyone.
If you are looking for ways to earn a regular amount of cash, then I would suggest you check out the top survey and GPT sites in your country instead. The sites on this list all offer guaranteed rewards, and all of them have good earning potential.
Plus, you will be able to find sites you can easily join, regardless of where you live.
How to join Media Rewards?
As mentioned earlier, you need an invitation to be able to join Media Rewards. But if you want to join, you are in luck because I regularly have invitations for Media Rewards here on my website.
You can see the currently available invitations through the button below.
If you have any comments, questions, or have any experiences with Media Rewards yourself, I would love to hear from you in a comment below.