MegaTypers.com is a website that claims you will be able to earn over $200 every month. So, if you are looking to earn extra cash, you might be thinking about joining this site.
But before you join the site, there are a few things you must verify first. Now, let me address the elephant in the room. Is MegaTypers a scam or is it really legit? This is the most critical information you need to know before you join any site.
So, let me address this right away. No, MegaTypers.com is not a scam. It is indeed a legit data entry site that will allow you to earn extra cash by simply typing.
Now, the next part is to figure out if this site is really worth joining. Will you really be able to earn over $200 every month?
This MegaTypers review will reveal all the details about the site so you know exactly what to expect and can decide if it is worth joining or not. So, let's go ahead and take a closer look, shall we?
What is MegaTypers and what does it offer?
MegaTypers.com is a site that that provides data entry services. They say their services include Image-to-text recognition, transcription from voice to text, and assisting the visually impaired to overcome internet's visual challenges.
But during my testing, the tasks I encountered were really just about solving captcha. Now, let's examine the earning opportunity it offers so you can understand how well you can earn from MegaTypers.
I have made a video that will give you an inside look and show exactly how it works. You can also read all the details below the video:
Option 1 – Solving captcha
The only way to earn from this site is by solving captcha. You can do that in two different ways. You can either use the web version of their platform or you can download their software called Typer Solver.
Either way will allow you to solve captchas and earn rewards. The main difference is, their Typer Solver software loads captcha images a lot faster than the browser version. So, if your goal is to earn as much as you can, you have to install Typer Solver.

As for solving captchas, it's relatively easy. You will need to type the text as shown in the images (refer to photo above) and then press Enter. Each image must be typed with the correct case for each letter.
Sometimes, some of the images are only partially readable. When this happens, you must type the readable portions of the image even if this means leaving out the unreadable parts. If an image is completely unreadable, you may click the "DON'T KNOW" button.
You will also notice that there's a timer running on top of your images. You must type the content of the images before the time runs out or else you will be kicked out.
If you get kicked out 10 times within 24 hours, your account will get banned and you will lose every reward you've earned.
Compared to other captcha solving sites I have tested, the time runs a bit fast on MegeTypers and many of the images are a bit hard to read.
So it can take some practice and you need to be aware that if you are not focused enough, there is a great chance your account will end up getting banned.
If you want to take a break, type the text and then click on SUBMIT AND PAUSE. This is the only way to pause. So keep that in mind.
As for the reward you will get, you will receive a certain amount of Typer Credits every time you solve 1,000 captchas. So, as you can see, the work might be easy, but it will take some time before you get paid (I'll talk about how you will get paid later).
Option 2 – Affiliate program
You can also invite other people to join the site and earn a commission. Their affiliate program is structured in a way where you will earn 10% of what your referral will earn. It will be shouldered by the site and will not be deducted from your referral's earnings.
To invite a person, you have to create an affiliate code and share it with the person you want to invite. You can create a total of 10 different affiliate codes but each code can be used an unlimited number of times.
The person you invited must input the code during registration to become your referral (I will talk about the registration process later).
Once they finish registering using your code, they will now become your referral. At least 5 of your referrals must be paid first before you will receive your affiliate payment.
Recommended: Check Out the Top GPT Sites
How do you get paid?
The payment system of MegaTypers.com is a bit more complicated than other captcha sites. You already know that you get paid for every 1,000 captchas you solve.
The rate for solving 1,000 captchas will be displayed on the dashboard, so you'll know how much you will earn. During my testing, 1,000 captchas were worth $.50-$0.60 Typer Credits.
This is a very low rate even for a captcha site.
You need to accumulate Typer Credits worth a minimum of $3 to get your earnings out.
In addition to these Typer Credits, you can also earn what they call Typer Points. These are extra points you get for being accurate. To earn 1 Typer Point, you must type at least type 500 correct images per day.
The good thing is, their Typer Points will actually be converted into Typer Credits when you cashout. The conversion rate is 1 TyperPoint = 1¢. But you need 50 Typer Points before you can convert them into cash.

Payment is done automatically every Monday. So, if you reached the threshold by Sunday, 11:59 pm, you will receive your earnings through the payment option you chose during registration. If you fail to reach the requirement by that time, you will have to wait another week to get paid.
You can get paid via PayPal, Western Union, Perfect Money, or WebMoney. You can also choose to convert your earnings to Bitcoin or Litecoin. For PayPal withdrawals, you will need to earn at least $3 worth of Typer Credits.
For Western Union, you will need to earn $100. For WebMoney, you will only need $3. If you choose to convert your earnings to Bitcoin, you will need at least $10 worth of Typer credits to do so. For Litecoin, the threshold will only be $1.
Each payment method will have its own associated transaction fee. So, don't expect to receive the full amount when you withdraw your earnings.
If you prefer a site with a more hassle-free payment option, I suggest you check out the top sites that pay via direct bank transfer.
Also, be aware that you need to choose your preferred payout method already when you are registering and they say this cannot be changed later (it actually can but more about this later).
This is quite strange and overall, the payout options on MegaTypers are just too rigid and complicated, in my opinion.
How much money can you make?
As you can see, you don't really earn a lot from solving captchas. It's also not surprising since captcha solving sites really don't pay that well. If you want to learn more about this kind of site, I suggest you check out how to earn money solving captcha.
However, even for a captcha site MegaTypers give low pay so it will take A LOT of patience to earn.

Now, if you want to earn the most from this site, you will have to log in at a certain time because this will be the time where there will be more captcha images available (refer to the photo above). The preferred time changes from time to time but it will be clearly stated when you log in.
MegaTypers also has a bonus structure for their members. If you end up among the top 200 Most Accurate members, any Typer Point you earned for the day before will be multiplied by 3. If you end up among the top 200 Most Accurate members by solving captchas below the threshold of 7 seconds, any Typer Point you earn for the day before will be multiplied(+1) on top of the Accuracy Point Bonuses.
So, if you qualify for both, you will earn x4 Typer Points. It sounds like a lot, but you have to remember that 1 Typer Point is only equivalent to $0.01. So overall, you still would not receive a huge boost to your earnings.
The only difference is, you get to reach the Typer Point requirement of 50 a lot quicker. That's why, overall, I would still say MegaTypers has a very low earning potential. You will have to invest a significant amount of time just to earn a few extra dollars.
Can you use it on mobile?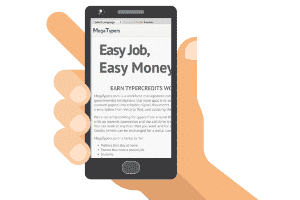 I don't really recommend you work on this site from a mobile device. Since the earning opportunity it offers requires speed and accuracy, it is best to be worked on from a laptop or desktop.
Doing it from a mobile device will be very inconvenient and not to mention, very hard since their site is not optimized for mobile use. You will have to scroll left and right to read all the content. The bottom line is, their site is not designed for mobile use.
Who can join MegaTypers?
You can register as a member regardless of where you live. However, there's a kicker. Becoming a member isn't as simple as you might think.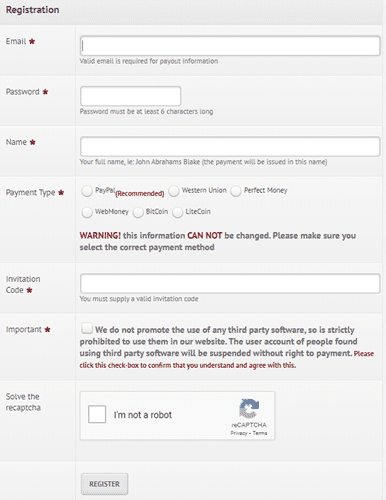 As you can see in the photo above, you will be required to enter an invitation code. So, this site is actually an invite-only site. In order to register, you will need an invitation code. If you already have a code, just fill out the form and click on the link in the confirmation email that will be sent to you.
Once you've done that, you can log in to the site and start earning. Take note that you also have to choose the payment method you will be using.
It says that you can't change the information provided, but once you are in the member's area, you actually can change the payout method in your profile settings. This kind of inconsistent info is just another confusing thing about MegaTypers.
Nevertheless, it would be best to choose the payment method you plan to use right from the start.
Can you get support?
MegaTypers.com does have a comprehensive FAQ page that discusses most of the basic topics you need to know about the site. They also have a tutorial on the earning opportunities they offer. So, you basically have access to resources that you need to learn how to earn.
However, you cannot get access to the FAQ section until after you join which is really not very user-friendly. So if you have any questions before joining, there is not any way to get it and they do not even have any contact info available until after you register.
Now, if you have any questions about the site or your account after registering, you can submit a support ticket to get in touch with their support team. They claim that the support tickets are responded within 48 hours, excluding weekends.
You will need to follow the rules posted in the "rules" section of their help desk when contacting support. In case of violation of the rules, they have the right to permanently suspend your account regarding support requests.
Overall, I would say they have a decent support system in place for their members because they provide a convenient way for you to get in touch with their support team.
But the fact that they do not make any info available until after you join is a big minus, in my opinion.
Are there any MegaTypers complaints?
I did some research on the overall feedback from members of the site just to figure out the general consensus about the site and I found that there are quite a few complaints which also correlate with my own findings after having tested MegaTypers myself.
The most common complaints are about getting banned for no reason.

In one instance, as shown in the photo above, even though the member did everything right, she still got banned for no reason.
It is always difficult to completely trust complaints about sites like this because there are many things we do not know about the specific situation.
But when it comes to MegaTypers there are quite a lot of complaints which definitely indicates that a lot of people have bad experiences with it. And after having tested it myself, I can definitely understand why.
Another common complaint about MegaTypers is about the poor support they offer. You either get no reply to your inquiry or they will just close the support ticket without resolving the issue.
Final Verdict
MegaTypers.com is a captcha solving site that will allow you to earn extra cash by solving captchas. It has a couple of good features but it also has certain limitations you need to be aware of.
So, let me conclude this review with a summary of its pros and cons to give you an overview of what the site has to offer. That way, you can decide if it is really worth joining or not.

Pros:
Offers an easy way to earn extra cash
Payment via PayPal is available

Cons:
Has a complicated payment process
Very low rewards
Limited earning opportunities offered
Not suitable for mobile devices
You will need an invite code to join the site
There is no contact info available until after joining
If your main goal is to earn extra cash efficiently, then I don't recommend you join MegaTypers.com. Although it offers a very simple way to earn, the rewards you will earn are simply too low. You will have to invest a lot of time just to earn a decent amount.
Their payment system is also a bit more complicated than most online rewards sites and there is an overall lack of user-friendliness on their site, in my opinion.
In my opinion, your time will be better spent on other sites that offer better earning potential. For a list of these sites, I recommend you check out the top survey and GPT sites in your country. The sites on this list will allow you to earn a decent amount without having to invest a lot of time.
Plus, you will definitely find a site you can join that will not require any invite code.
If you have any comments, questions, or have any experiences with MegaTypers.com yourself, I would love to hear from you in a comment below.