mGamer is a mobile app that claims you can win rewards and even cash by playing games. It is a very appealing way to earn, so I understand if you are interested in downloading it.
However, I recommend you read this mGamer app review first so you will know if it is truly worth it or not. It will give you a detailed inside look and show what the app has to offer, so you will know exactly what to expect from it.
Then you can make an educated decision on whether you should use this app or not. So let's go ahead and take a closer look at mGamer, shall we?
What is mGamer, and what does it offer?
mGamer is a Get-Paid-To app that will reward you for playing games and for participating in the other earning opportunities it offers. It is indeed a legit app because you can really earn rewards by completing tasks.
However, this doesn't automatically mean the app is worth using. If you want to find out if you should use it, you must first understand how it works. And the best way to do that is to first examine the earning opportunities it offers so you can get a good idea of how much time and effort is needed to earn from it.
So here's how to earn from mGamer.
Option 1 – Playing featured games
One way to earn from mGamer is by playing the games it features. When you log in to the app, you can see all the featured games under the "Play" section.
When you play a featured game, you will first have to install it on your mobile device. Once you've done that, you have to go to the Games section of the app and look for the game you installed. Press it to start earning. You will receive a certain number of coins for every minute you play the featured game.
Keep in mind though, that the number of coins you will earn per minute will gradually decrease the longer you keep playing the game. This is to encourage people to try out the other games because that's how mGamer earns. They get paid to get people to play mobile games.
The most important thing you need to remember is that you have to open the featured game from the mGamer dashboard instead of directly from your mobile device's menu. Doing so will allow mGamer to track how long you've been playing and award you the right amount of coins.
There are a decent number of featured games available at any given time, some of them are fun, but some will also involve gambling, so make sure to choose the games you want to play carefully.
Option 2 – Tasks
Another way to earn from mGamer is to work on tasks. When you log in to the app, just press the "Task Offers" option to see all the available task providers. These are actually just offerwalls you can work on.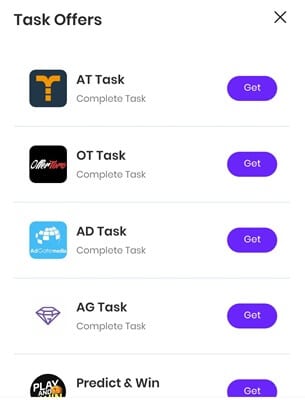 Once you've selected an offerwall, you will see all the available tasks you can work on. Most tasks will involve playing another mobile game, answering a survey, or signing up for a website or app. Every task will show you the instructions you need to follow. Make sure to read and understand all the instructions given because if you miss one step, you will not be able to complete the task and you won't receive the reward.
After completing the task, you will earn the promised number of coins which will be credited to your mGamer coin balance. Later, I will discuss what you can do with the coins you've earned.
When I was testing the app, there were around eight offerwalls available, and each of them had a decent number of tasks available, so you will most likely not run out of things to do to earn coins. That being said, the number of coins you will earn from tasks isn't that high.
Option 3 – Surveys
You can also earn more coins by answering surveys. If you are a member of a survey site, this opportunity will be very familiar since it works the same as the surveys you will find on survey sites. mGamer has partnered with survey providers to provide its members with paid surveys.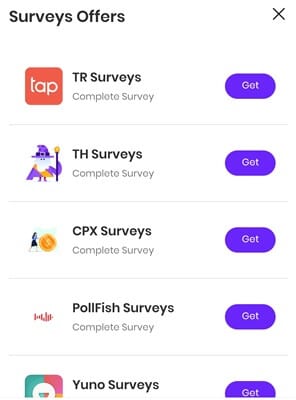 When you log in to the app, just press the "Surveys" section and you will see something similar to the photo above. What you will see are the various survey providers mGamer has partnered with. Just choose which provider you want to work on and press it.
You'll then have to provide your basic information so that the provider can figure out if there are available surveys for you. If there are, you'll see it immediately. Just press the available survey and start answering the qualifying questions.
You need to go through this process because the survey provider wants to make sure you are the right person for the survey. If you qualify, you get to answer the survey and earn the reward promised. If you fail to qualify, you just have to move on to the next available survey (if there are any).
When I was testing the app, there were also eight survey providers available. However, there weren't a lot of surveys available. The qualifying rate is also quite low, which is why this is not an opportunity you can regularly earn from.
However, how many surveys will get access to depends on the country you live in.
Each survey usually rewards more coins than tasks.
Option 4 – Lucky Draw
This opportunity doesn't offer guaranteed earnings, but I decided to include it anyway because it doesn't require much effort on your end. mGamer holds a few Lucky Draw contests regularly.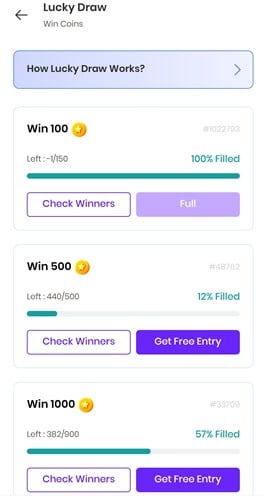 When you log in to the app, just go to the "Luck Draw" section to see all the contests you can just. Just press the "Gain Free Entry" button to join the prize draw. Once you've done that, a video ad will pop up. You have to finish watching the ad to continue.
After you've closed the ad, your entry will be accepted, and you will just have to wait for the winner to be announced. Every Lucky Draw will have a maximum number of participants, so you need to join it as quickly as possible to get a spot.
You can join as many Lucky Draw contests as you want. The prize you will win will be a certain number of coins (usually around 500 to 1,000 coins).
Option 5 – Game Tournaments
Another way to potentially win coins is to join game tournaments. Just go to the "Tournaments" section of the app and pick a game you want to play.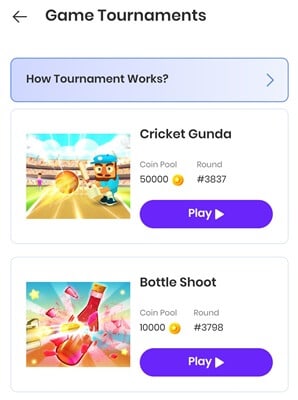 These games are browser-based games so you don't have to install an app to participate. To win a prize, you have to be among the top players in the tournament. The games are quite easy to play. The number of coins you can win will depend on the coin pool the tournament has accumulated.
The more players that join, the higher the coin pool will be. But, of course, that would also decrease your chances of winning. Ranking in a tournament is not impossible to do, which is why I would say this is a fun way to earn coins.
Option 6 – Referral Program
Lastly, you can earn more coins through its referral program. The idea behind this opportunity is to invite people to use the app. To do so, you have to share your referral code with the people you want to invite.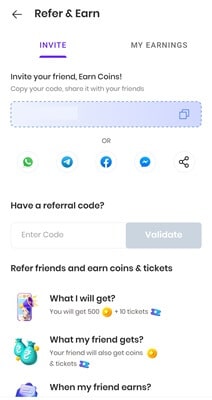 Make sure to remind them to input your referral code when they install the app and sign up. Once they've done that, you will receive 500 coins as a reward plus tickets to their Jackpot Draw. Their Jackpot Draw is really just the same as the Lucky Draw but with bigger prizes.
Your referral will also receive coins as well as tickets, so it's a win-win situation for both parties. It's a decent way to earn more rewards, but I would only suggest you do this if you really find the app worth it.
Recommended: Check Out the Best Ways to Earn Money by Playing Games Online
How do you get paid?
As explained above, you will earn coins from the earning opportunities mGamer offers. But what can you do with the coins you've earned? Well, you can exchange them for various rewards.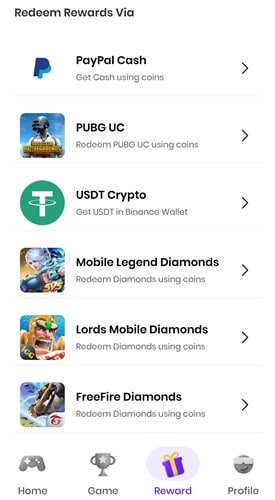 As you can see in the photo above, there are several options you can go for. You can convert your coins to cash via PayPal. To do so, you'll need to earn at least 20,400 to make a $2 PayPal withdrawal. You can also convert your coins to crypto, specifically USDT tokens. For this option, you'll only need to earn at least 1,000 coins which will be equivalent to $0.10 of USDT.
You can also redeem various in-game currencies for PUBG Mobile, Mobile Legends, and other games. The number of coins required for these options will depend on the in-game currency you want to redeem.
Overall, the payment system of mGamer is relatively simple. I like the fact that it offers payment via PayPal and crypto since those are some of the most convenient payment options available today.
If you are interested in more apps and sites that offer a convenient payment method, I recommend you also check out the top sites that pay via PayPal.
How much money can you make?
Even though mGamer offers a decent number of earning opportunities, the amount you can earn from it won't be a lot. That's because the rewards you will earn won't be a lot. Sure, there are tasks that offer thousands of coins as a reward, but they usually take a lot of time to complete, so you will still not earn efficiently.
You can potentially win a decent amount from its Jackpot Draw, but it's not something you can rely on. You can consider yourself very lucky if you win this. In all my years of testing these kinds of apps, I have never won any sweepstakes draw that's worth a good amount.
That's why I would say the earning potential of mGamer is quite low. You'll have to spend a lot of time to earn a decent amount. The one bright side this app offers is that there are a few fun and interesting games you can play, so if your goal is to just pass the time, this can be a decent app to use.
But if your goal is to earn a decent amount, there are better apps out there, in my opinion.
Can you use it on a desktop?
mGamer is a mobile-only platform, so you will definitely have to use a mobile device if you want to earn from it. As for the app, it is only available for download at the Android app store. If you are an iOS user, this app is not for you. You can check out the best money making apps for iOS instead.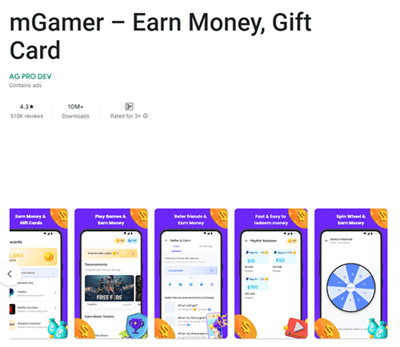 The app is relatively easy to use, so you will not have a hard time figuring out how it works. But as I've mentioned earlier, you will encounter pop-up video ads from time to time when you join the Lucky Draw. This decreases the overall usability of the app, in my opinion.
But in general, the app offers a favorable user experience based on my testing. You just have to get through the occasional pop-up ads, and you are golden.
Who can join mGamer?
The app doesn't tell you which countries it is available in, but from what I can tell, it is available more or less worldwide. The best way to find out if it is available in your country is to search for it on Google Play. If it appears among the results, then that means it is available in your country.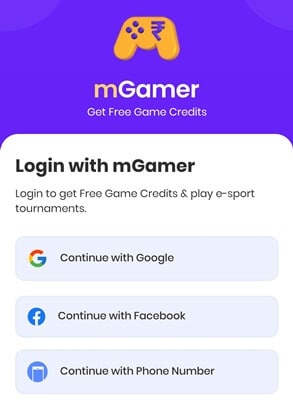 To sign up as a member, you have to install the app first. Then when you open the app for the first time, you can choose how to log in (refer to the photo above). You can use your Google or Facebook account to log in. You can also use your mobile number to sign up.
When you are done with the login process, you'll have to verify your registration by clicking on the link in the email that will be sent to you by mGamer. After you are done verifying your account, you can log in to the app and start earning.
Can you get support?
If you have any questions about the app, you can check out the "Help & Support" page of the app. It only discusses a few topics, so it is not very useful, in my opinion. That's why I would recommend you just send your inquiry to the support team instead. To do so, just go to the same page and click the "Email Us" button.
Just choose whichever method you prefer to send your email. Overall, I would say the app does provide the minimum required support to its members since it offers a way for you to get in touch with its support team. But I do wish the Help section would provide more useful information to decrease the risk of having to contact support.
Final Verdict
mGamer is a GPT app that will let you earn by playing games and working on the other earning opportunities it offers. It has a couple of decent features, but it also has a few drawbacks you need to consider.
Let me wrap up this review by summarizing its pros and cons to give you an overview of what the app has to offer. Then you can decide if you should use it or not.

Pros:
Offers payment via PayPal and crypto
Available more or less worldwide

Cons:
Low rewards
You'll eventually encounter pop-up ads when using the app
Help page doesn't contain a lot of useful information
In my opinion, mGamer is not a bad GPT app. However, it's also not that good either. While there are a couple of fun and interesting games you can play, it doesn't offer a good reason for you to use it if your goal is to earn extra cash.
The reason for this is that the app doesn't pay that well, so even though it has a relatively low payout threshold, it will still take quite some time before you can withdraw your earnings. If you really want to earn by playing games, I suggest you check out the best ways to earn money by playing games online instead.
Now if you are just looking for great ways to earn extra cash, I recommend you check out the top survey and GPT sites in your country instead. The sites and apps on this list all have good earning potential, so you will be able to earn a decent amount in no time.
If you have any comments, questions, or have any experiences with mGamer yourself, I would love to hear from you in a comment below.