Are you looking to earn cryptocurrency for free and have fun at the same time?
If so, there's an app called Mimir Quiz that claims you can earn cryptocurrency by participating in fun quizzes.
But is Mimir Quiz legit, or is it a scam?
It's a valid concern that needs to be addressed. That's why I decided to try out this app/website to find out exactly what it offers and if it is worth it.
I will share everything I have learned about it in this Mimir Quiz review, so you will know exactly what to expect from it. Then, you can decide if it is really worth it or not for you.
So, without further ado, let's go ahead and take a closer look at Mimir Quiz, shall we?
What is Mimir Quiz, and what does it offer?
As mentioned above, Mimir Quiz is a site where you can participate in various quiz games to earn cryptocurrency. It is indeed a way to potentially earn crypto.
But before you sign up, you must first understand how it works so you can properly gauge if it is the right fit for you, and the best way to do that is to examine the earning opportunity it offers.
For that, I have made a video that gives you an inside look and shows exactly how you can earn from Mimir Quiz. Just be aware that since recording the video, Mimir has changed, and you can not only earn through the app and not through the website, as I show in the video. But it will still show you exactly how it works and what to expect.
You can also read all the details below the video.
Recommended: Check Out the Best Free Ways to Earn Bitcoin
The earning opportunity – Quiz games
The only way to earn from Mimir Quiz is to play their quiz games.
However, there's one thing you need to know about these games. Every quiz game will start at a specific time, so you can't play it any time you want.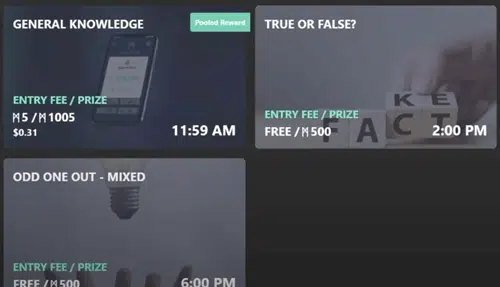 As shown in the photo above, each quiz game will have a scheduled time. If you fail to join the game at the time specified, then it won't be available anymore. You will have to wait for the next available game.
This, in my opinion, is the major downside of the platform. The quiz games will also have varying prizes. Some games will have a shared prize pool, while some will have a set prize. For shared prize pool games, the amount you can win will depend on how many members will be declared winners after the end of the game.
The game will be live-streamed from their studio in Sweden, and each game will typically have 6 to 15 questions. In order to win, you have to answer all the questions correctly. If you do so at the end of the quiz, you will receive the reward, which will be in the form of Mimir tokens (the site's own cryptocurrency).
Some games will require an entry fee which will be a certain number of Mimir tokens, while some games will be free to join. If you are just starting out, I would recommend you only join the free games until you've earned enough Mimir tokens to pay for the paid games.
Joining the paid games can be very rewarding though, so your goal should be to win any of those games, in my opinion.
I do have to say that even though the quizzes are actually quite challenging, they are also quite fun. Plus, the live element makes it all the more exciting, in my opinion.
And each game will usually only take a few minutes, so it will not take a lot of your time to participate.
Recommended: Check Out the Top Survey Apps
How do you get paid?
As mentioned above, you will win Mimir tokens from the quiz games you play in Mimir Quiz. But what exactly is a Mimir token?
To put it simply, the Mimir token is Mimir Quiz's cryptocurrency. It runs on the Ethereum blockchain and is already being traded on many crypto trading platforms.
That means it has a real-world monetary equivalent, and you can exchange it for other cryptocurrencies or cash if you like. Mimir Quiz has its own wallet as well as its own trading platform, so you don't need to use another crypto wallet.
However, you still have the option to use a different wallet, and you can withdraw all your Mimir tokens to that crypto wallet anytime since it doesn't really have any payout threshold.
The payment system of the Mimir Quiz app is relatively simple if you are already used to handling cryptocurrency, but it can take a bit of getting used to if you are new to the world of crypto. I would recommend you do a bit of research on how to handle crypto first before you decide to use this app.
Overall, the payment system of Mimir Quiz is relatively simple, but if you prefer to earn cash, I would recommend you check out the top sites that pay via PayPal instead.
How much money can you make?
The amount you can earn from Mimir Quiz will depend on how good you are at trivia games. As explained, you can only earn if you win one of their games. That means you must answer all the questions correctly, and that is not an easy task.
You also have to consider that the value of the Mimir token will change since that is the nature of any cryptocurrency, so it's really hard to give a specific amount in terms of how much you can earn. But let me just say this, you won't get rich from winning these games. Let's just put it at that.
But the good thing about Mimir Quiz is that you can earn cryptocurrency for free, which can then be a good starting point into crypto investing since the Mimir tokens you earn can be converted into other more popular cryptocurrencies, or you can choose to just keep the tokens and hope its value will increase significantly over time.
The choice is yours. Overall though, I would say Mimir Quiz doesn't have a high earning potential. It's also not for everyone. But if you enjoy playing trivia games, this can be a nice way to spend some of your free time since you can get something out of it. That's really the best value Mimir Quiz has to offer, in my opinion.
Can you use it on desktop?
Mimir Quiz is a mobile app, but you used to be able to play their quiz games on your laptop or desktop when I first tested it.
However, if now go to their website, it is down and has been down for a while at the time of updating this review. Also, there Twitter profile has been quite for almost a year, which is not a good sign.
However, I would recommend you also download the app from Google Play. Currently, the app only works on Android devices, so if you are an iOS user, this is not for you.
Who can join Mimir Quiz?
Mimir Quiz is available globally. You can register as a member regardless of where you live.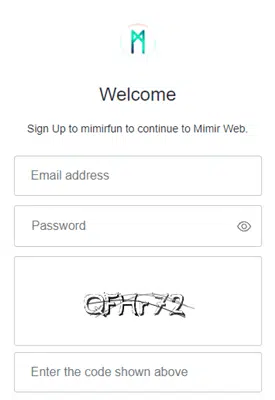 To sign up, you just have to fill out their registration form, or you can use your Google or Facebook account to log in.
As soon as you are registered as a member, you can join any quiz game right away. That's the good thing about this platform, you don't have to wait that long to have a chance at earning.
Can you get support?
Mimir quiz no longer has a website, as mentioned earlier, so you cannot find an FAQ section there.
But it has a Twitter profile, but they have not used that actively for around a year at the time of updating this review. I am nit sure exactly why, but it is rarely a good sign when a company goes quite like this.
You can also just email them directly at hello@mimirworld.com.
Overall, I would say Mimir Quiz has a decent support system in place for its members since they offer multiple ways for you to communicate with their support team. However, I do wish they would also provide a support page that contains most of the basic questions and issues you will encounter.
Doing so will vastly improve the overall user experience it offers, in my opinion.
Final Verdict
Mimir Quiz is a platform that will allow you to win crypto for free by playing its quiz games. It has a couple of good features, but it also has some drawbacks you need to consider.
Let me finish this review by summarizing its pros and cons to give you an overview of what it has to offer. Then, you can decide if Mimir Quiz is a good fit for you or not.

Pros:
Offers a fun and interesting way to earn crypto
The app is user-friendly
Available globally

Cons:
Limited earning opportunities offered
The games have to be played at specific times
Their social media accounts have gone quite
If you are good at trivia games, Mimir Quiz can be a decent app to use. The quiz games are fun and also quite exciting, so it's a good way to spend your extra time on.
The downside is that the games must be played at specific times, so you will really have to set aside some time to play them, which makes it a little less flexible than other apps that offer rewards.
So if you are looking for more versatile ways to earn extra cash, I would recommend you check out the top survey and GPT sites in your country instead.
The sites on this list all have good earning potential and most (if not all) of them offer cash rewards as well. Plus, you will be able to earn anytime you want.
If you have any comments, questions, or have any experiences with Mimir Quiz yourself, I would love to hear from you in a comment below.