Being able to earn extra cash has become a lot easier since the introduction of mobile devices. That's because there are plenty of apps that offer that kind of opportunity.
One such app that is fairly popular is Money RAWR. Before you download this app though, you have to verify if it is a scam or legit.
After all, you wouldn't want to waste your time downloading an app that won't really pay you.
So, let me just say it right away. This app is a legit app that does reward you for participating in their offers.
However, this doesn't mean this app offers good earning potential to warrant investing your time into.
This Money RAWR review will reveal all the details you need to know so you can decide if you should invest your time in it or not.
What is Money RAWR and what does it offer?
Money RAWR is a mobile-only rewards platform that promises to pay you for participating in their offers.
When I say mobile-only, what I mean is, you will only be able to do it on a mobile device and not on a desktop or laptop.
Now, to figure out if this app presents a worthwhile opportunity to earn money, we have to take a closer look at how you will be able to earn from it.
I have, therefore, made a video that gives you an inside look and shows exactly how you can earn from Money RAWR. You can also read all the details below the video.
Recommended: Check Out The Top Paid Survey Apps
Option 1 – Game App Testing
Most apps that will allow you to earn will either ask you to test other mobile apps or complete offers (like surveys and micro-tasks).
In Money RAWR's case, you will be asked to test mobile game apps.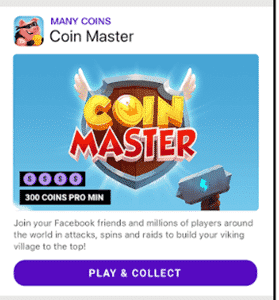 The process is simple. When you log in to the app, you will immediately see all the game app testing offers available for you. All you have to do is click on an offer. It will ask you to download the mobile game.
Once you've downloaded the app, you have to play it to earn mCoins (which is the currency they use).
The longer you actively use an app, the more mCoins you will get. So, it is in your best interest to use the app for a significant amount of time to earn more mCoins.
All the app offers you will receive will be based on your interests, the apps you have already installed and the country you live in. The availability of game offers will differ from country to country. So, keep that in mind before you register.
All the games are free to download though. So, you won't have to worry about any purchase on the app store you need to make.
Fair warning though. This app contains ads. So, don't be alarmed if an ad keeps appearing while you are using it.
In my opinion, their earning opportunity is definitely not boring. You will have fun and at the same time, you earn.
Option 2 – Referral Program
You also get to earn additional mCoins by inviting friends to join the platform.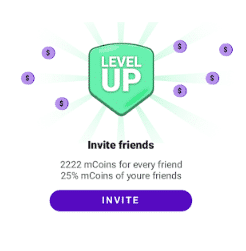 Not much is stated about their referral program, but as you can see in the photo above, you stand to earn 2222 mCoins for every referral you make. Plus, you will also get a 25% commission from the coins that your referrals will earn.
So, if your referral will earn 100 mCoins, Money RAWR will reward you with 25 mCoins. To invite people to join, simply share your referral link/code with them.
In my opinion, the reward you get from inviting people to join the app is pretty significant. So, it makes it worthwhile to invest some time in inviting friends to join the platform.
Recommended: Check Out The Top Paid Survey Apps
How do you get paid?
As mentioned, every offer you do on Money RAWR will earn you mCoins. These are basically just points you can use to redeem rewards.
You have the option to convert your mCoins to PayPal money or gift cards from Amazon or Google Play. The minimum amount you can redeem is $10 on any reward. That will require 8099 points.
In my opinion, the threshold is relatively low. So, it is certainly doable.
The good thing about their payment system is, they offer PayPal as a payment method. Not a lot of apps do that.
If you are interested in being able to withdraw rewards via PayPal, I suggest you also check out the top survey sites that pay via PayPal.
How much money can you make?
The way Money RAWR is designed, the amount of money you can earn will mostly depend on how much time you will invest in using it. As they say, the longer you actively use a mobile game app they recommend, the more rewards you will get.
However, in my experience, apps like these don't really have a high money/time ratio.
Although you will be able to earn by playing games, the amount you will earn won't be comparable to what you can earn from let's say, a survey site.
In other words, they don't pay very well. You will have to invest a lot of hours to earn a significant amount of money. Whereas, some sites will allow you to earn the same amount by simply answering a couple of surveys which will take half the time to do.
That's the main drawback of this mobile app. So, if your aim is to purely earn extra cash, there are better ways to do it.
However, if you just want to have fun and earn a few bucks at the same time, this can be a good app to use.
Can you use it on a desktop?
As mentioned at the beginning of this article, the platform is a mobile-only platform. So, you will need to use your mobile device to earn since you can't do it on a laptop or desktop.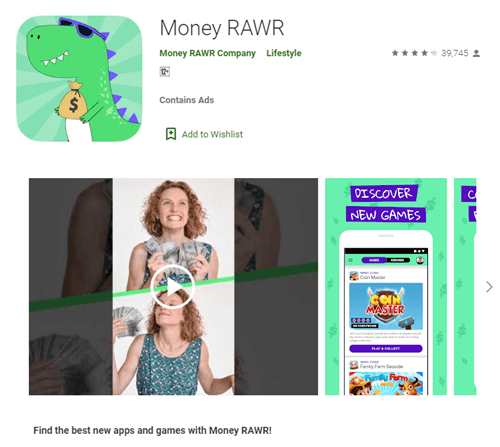 The other drawback of this app is, it is only available in Google PlayStore. That means if you are using an iOS operated mobile device, you won't be able to join.
So, in terms of compatibility, Money RAWR isn't really that great since it is only available to Android devices.
The good news though is, their mobile app is easy to use. So, you won't really have any problems getting used to it.
Who can join Money RAWR?
They don't mention any specific country where Money RAWR is available. So, the only way to find out if you are qualified to join is to check your Google PlayStore and see if it is available for download in your region.
If you can download it, then you will be eligible to join and there will be offers available for you.
However, as mentioned, the availability of offers will vary from country to country. So, keep that in mind before signing up.
If you ever hope to earn cash from this app, you will also need to be at least 18 years old in order to join because that is the minimum age requirement for a PayPal account.
Can you get support?
One thing you need to take note of Money RAWR is, it doesn't have a website where you can get information about what the app is all about.
So, it will only be natural that you will have some questions about the app.
They do have a help section on their app that you can use and they are pretty active on their Google PlayStore page. They respond to feedback quite quickly, which is a good sign because it shows that they do care about what their users think of the app.
If you want to get in touch with their support team though, you can send them an email at contact@moneyrawr.online. So, overall, I can say that they do provide a decent way for their members to get support.
However, it would still have been better if they had a website that will provide more information about the app so that it would be easier to learn more about what the app is capable of. It would also give a sense of security for anyone interested in joining.
Final Verdict
Money RAWR is a legit mobile app that pays you for testing mobile games. It has several good qualities and some disadvantages as well.
Here's a summary of its pros and cons to give you a concrete idea of what the site is all about so you can get a better overview before deciding if you should download it or not.

Pros:
Offers an easy and fun way to earn
The referral program offers decent rewards
Payment via PayPal is available

Cons:
Limited earning opportunities
Low rewards for offers
Availability of offers will vary from country to country
If you like to play mobile games, Money RAWR can be a decent app to join. That's because you will be able to earn a bit of side cash while playing.
But if you were hoping to make it a primary app to earn from, then, you will be disappointed.
You won't be able to earn a lot from this app because it doesn't pay well. If your aim is to be more efficient in earning extra cash, your time will be better spent on other apps/sites that pay better, in my opinion.
For a list of apps with better earning potential, I recommend you check out the top paid survey apps. You will be able to find an app that will fit with your earning needs.
Plus, you will definitely find and app you can join regardless of where you live.
If you have any comments, questions, or have any experiences with Money RAWR yourself, I would love to hear from you in a comment below.