National Consumer Review UK claims you can sign up and get to review great products and keep them in return.
And some of the products can even be worth hundreds of pounds.
But is National Consumer Review UK legit and really a way to get expensive free products or a scam to stay away from?
I have joined to test it and see what it really offers. And let me reveal right away that you can potentially get some great products by joining BUT you need to know exactly how it works as you otherwise might end up being disappointed.
In this National Consumer Review UK review, I will give you an inside look and show you all the details you need to consider before signing up as it might not be completely clear at first.
What is National Consumer Review UK?
In one sense, NationalConsumerReview.co.uk offers a very simple concept – you simply choose the products you would like to test and if you get chosen, you get to keep it.
By some, it is even described as a National consumer hub for great free rewards.
But when you look deeper, it is not quite as simple as I will show you in this review. If you know Product Testing UK, the way it works is very similar.
In general, if you are not used to using online reward sites, there are some important details you might miss, and just get excited about the great products you can potentially get.
And National Consumer Review definitely does offer some great products.

You can choose between, for example, phones, make-up, shopping trips, a new TV, and more. And new products are added all the time.
So at first, it can seem very appealing and as a great way to get some really valuable products for free.
But you also need to know exactly how it works to see if you really want to sign up.
I have made a video that will show exactly how it works and what you need to be aware of. You can also read all the details below the video:
Recommended: See the Best Survey and Get-Paid-To Sites in the UK
What you to need to know before signing up?
When you first come to NationalConsumerReview.co.uk, you first have to choose the product you would like to review.
Then you have to register with your information. But before giving your information there are some important details you need to know.
On the registration form, you can see two boxes you can tick.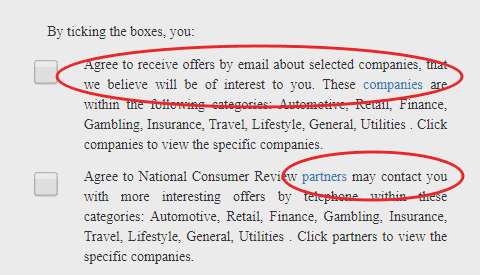 One of the boxes says you agree to receive offers by email about selected companies, that they believe will be of interest to you.
The second box says that you agree to National Consumer Review partners may contact you with more interesting offers by telephone.
In both cases, you can click to see exactly which companies they might send offers from or the partners that will contact you by phone.
And the list of these companies and partners is huge. So if you tick these boxes, you will agree to be contacted by A LOT of advertisers.
So do not just tick the boxes like you might usually would when signing up for something online. In this case, you will agree to be contacted a lot and you give your phone number when signing up so you can expect a lot of phone calls if you do.
However, you do not have to tick the two boxes when registering. You can continue without.
And unless you really love getting promotional phone calls and emails, I would strongly advise you not to tick the two boxes and continue without if you decide you want to join.
Recommended: See the Best Survey and Get-Paid-To Sites in the UK
What happens after you join?
After you then give you info to register for a product to test and review, what happens next is also important to know to understand exactly how National Consumer Review works.
Now you get to some so-called questions you need to answer to complete your application.

However, what you need to know is that these are not really a survey as you usually know it.
It is just a lot of promotional offers National Consumer Review gets paid to promote.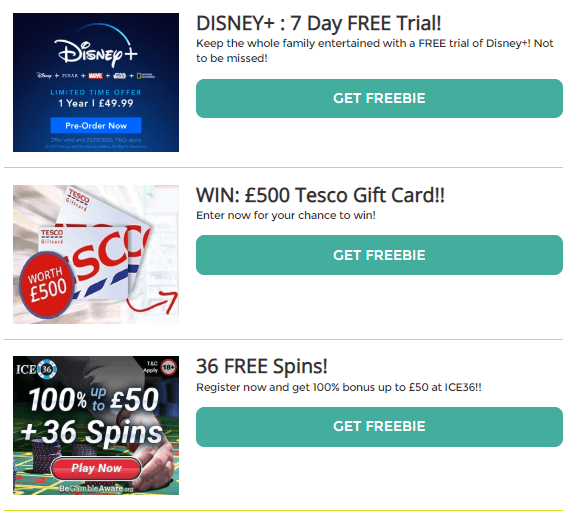 You might find some offers here you like, but you need to make sure to read what you say yes to carefully.
Because in many cases you will agree to be contacted by further advertisers if you say there is something you are interested in.
They present it as a type of survey but in reality, it is promotional offers they hope you will sign up for so they can earn by referring you to these sites or by getting you to give your contact info to certain companies.
There is as such nothing wrong with this as you can read exactly what you agree to and they also need to make money.
But if you do not have a lot of experience with these types of sites, you might not notice what you agree to. So make sure to pay attention to this.
Once you have gone through all these promotional offers, you will get to a final confirmation screen showing you have now registered and then a list of some extra promotional offers.
But the big question is then if it is worth going through all this – so let's go into this next.
Can you really get free products from National Consumer Review?
So the big important question is then if you actually can get some of the great products National Consumer Review UK shows on their site.
Because if you can, most of us could probably live with having to go through a lot of promotional offers to register.
And yes, you can potentially get these products for free. National Consumer Review UK can afford to give away the products once in a while because they make money by promoting other companies and by referring you to them.
This is the reason there are so many promotional offers when you register and why you can end up being contacted by a lot of advertisers if you are not careful what you say yes to.
Personally, I do not think it is very clear how it actually works and what you say yes to before signing up.
But the business model for them is to get people to sign up for the chance to get free products and then make money by promoting all kinds of other offers during the registration process. This is how they can afford to give away products.
So they do give away real products.
BUT you need to know that just because you register, it does not mean you will necessarily get chosen to get the product.
You just register for a CHANCE to get chosen for the product. For every product National Consumer Review gives out, they will only choose one random member to review it and get it.

So you need to be very lucky to get chosen. Only one winner is chosen for each product. So it is really like a lottery.
If you get chosen, you will then receive information about the steps you need to take next.
Usually, you need to write a review and send in some images and a video that will be posted on National Consumer Review UK's website.
You can register for as many products as you want to BUT you have to go through all the promotional offers every time you register for a product.
So before registering it is very important you are aware that there is no guarantee you will ever get a free product. You just sign up for a lottery to get it.
You might only have to register once and then be lucky and get a product but you might also register for all the products they offer for years without ever getting one.
So you need to do it with the right expectations. If you want to join sites where you know for sure you will be able to get rewards, you can check out the top Get-Paid-To sites instead.
Who can join?
If you decide to join National Consumer Review UK, you have to be at least 18 years old.
In addition to this, you have to live in the UK.
If you think this sounds interesting but do not live in the UK, there are other similar sites like, for example, Product testing USA.
Final verdict
National Consumer Review UK has both its advantages and disadvantages. Whether it is a good option for you or not, depends a lot on your preferences.
So let's finish this review by summing up the pros and cons so you can get a full overview before making your final decision about joining or not.

Pros:
You can get some great free products (if you are lucky)
Free to join

Cons:
No guarantee you will ever get a product
If you are not careful what you say yes to, you will be contacted by A LOT of advertisers
Tedious registration process for each product
Not completely clear what you get before signing up
Without a doubt, National Consumer Review UK offers some amazing free products.
But personally, I am not too crazy about how the platform overall works. I do not like you have to be so careful what you agree to when signing up not to end up getting a ton of promotional phone calls and emails.
I do also not like how they make it look like you have to answer some extra questions during registration when in reality it is just more promotional offers.
Of course, they also need to make money and if they did not, they would not be able to give away these great prizes.
But you have to be aware that there is NO guarantee you will ever get a product. In fact, you have to be very lucky to get one.
In my opinion, it is a hassle to go through the registration process and not really worth it just for a small chance to win the product.
But if you are lucky and do not mind going through the process and are aware of exactly what you say yes to, it definitely can be a legit chance to get some free products.
If you instead want to invest your time on reward sites where you are sure you will get paid for your effort, you can check out the best Get-Paid-To and survey sites in your country instead here.
I hope this review has helped you figure out exactly what the best option for you is.
If you have any comments, questions, or have any experiences with National Consumer Review UK yourself, I would love to hear from you in a comment below.