Earning a few extra bucks online has never been so easy until now. There are plenty of sites you can join to earn extra cash. The hard part is determining which sites to join to earn the most for the time you will spend.
One site that offers this kind of opportunity is called Neevo. But before we talk about this site, it is important that we verify if this site is really legit or not. So, let me just address this right away so we can go and discuss other important details of the site.
Yes, Neevo is a legit site that does pay its members for completing the tasks they offer.
However, this is not really the best indication that it is a good site to earn money. To decide whether this site is worth spending your time or not, we have to consider several factors.
This Neevo review will give you the lowdown on what the site really offers so you can see if it is a site worth joining or not.
What is Neevo and what does it offer?
Neevo.ai is a company that aims to improve artificial intelligence through a sort of crowdsourcing system.
If you are new to what crowdsourcing is, it is basically the practice of obtaining information or input into a task by enlisting the services of a large number of people.
Crowdsourcing can either be paid or unpaid (in Neevo's case, it will be paid) and is typically done via the Internet. Now, to be able to get a clear idea of what the site offers, we have to take a closer look at how you will be able to earn from this site.
This is the best way you can understand and get a feel for the earning opportunity it offers.
I have created a short Neevo video tutorial that will show exactly how it works. You can also read all the details below the video:
The earning opportunity – Jobs
To put it simply, once you become a member of Neevo, there will be micro-jobs you can complete, which will be posted on their dashboard.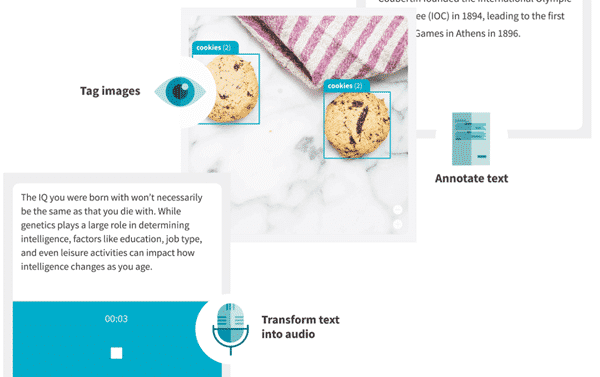 And as you already know, Neevo aims to improve the artificial intelligence of their partner companies. So, any job posted on their dashboard will somehow be related to artificial intelligence.
As shown in the photo above, most of the jobs will either ask you to work with text, audio, video, and even images. For example, if it is a text-based job, it will usually involve you having to annotate the text.
If it is an audio-related task, it will usually involve you having to transform the text into audio, and so on and so forth. The available jobs will vary from time to time, so don't expect to receive a specific job offer always.
One thing remains constant though and that is how you will receive payment (which I will talk about in the next section).
Of course, with sites like this, job offers will be presented by matching your profile with all the available jobs they have.
So, don't be surprised if there aren't any jobs available when you log in to the dashboard. When that happens, it simply means there aren't any jobs suitable for your profile or there aren't any available jobs at all.
No matter what, it does, however, take some patience to do these tasks so it will not be easy money and will require quite a lot of effort.
If you prefer to receive a steady stream of offers, I suggest you check out the link below.
How do you get paid?
The good thing about Neevo is, you will be paid in cash. Every job you complete will earn you a certain amount. Neevo sets a unique rate for each job depending on the difficulty of the tasks you'll have to complete.
Payments will be processed after all contributors have made the necessary contributions to complete a job or a deadline is reached.
For example, if a job requires 20 people to complete 50 tasks, you will have to wait for the other 19 people to finish the 50 tasks before you will receive the payment.
But if the requirement is not met and you've finished the job, you will receive the payment after the deadline for the job.
You will always see the rate for a job on the dashboard beneath the title and description, so you will know how much you will earn.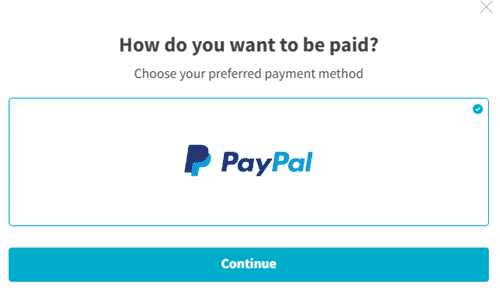 The payment will be done via PayPal. You will have to cash out manually.
There is no mention of a payout threshold you need to reach before you will be able to cash out, but based on feedback from members, you can start requesting payment once you've earned $3.
It's actually a pretty low payout threshold, in my opinion. This is a good thing really because it will allow you to receive payments earlier.
When you cash out, don't be alarmed if the money won't be reflected in your PayPal account right away. The payment process usually takes around two weeks to complete after finishing the job, but sometimes it takes a little longer.
This is actually quite slow for a PayPal payment, in my opinion. But as long as you are aware it is ok and still within reason.
If you haven't received the payment after three weeks or more, you should contact their support team (I will discuss later how you can do that).
How much money can you make?
The amount of money you can earn from a site like Neevo will mostly depend on the availability of the micro-jobs. Obviously, the more job offers you receive, the more money you can earn.
Another factor that can contribute to how much you can earn is how well they pay. As mentioned, each job has a unique rate depending on its difficulty. The more difficult the job is or the longer it takes to complete, the more money you will earn.
However, it can be a bit difficult to figure out exactly how much you earn because you never know how many of the tasks that will be validated. So you can end up earning a very low rate at Neevo.ai depending on your accuracy.
And no matter how accurate you are, you should not expect to make a lot of money like this and it will take a lot of effort.
And you should definitely not expect to make anything like a full-time income. It can be good for a bit of side cash but you should not expect more.
If you are looking for sites that pay rather quickly, I suggest you check out the fastest paying survey sites instead.
Can you use it on mobile?
Probably the best thing about Neevo, in my opinion, is that it has a standalone mobile app you can use so you won't have to sit in front of the computer when you want to work on their job offers.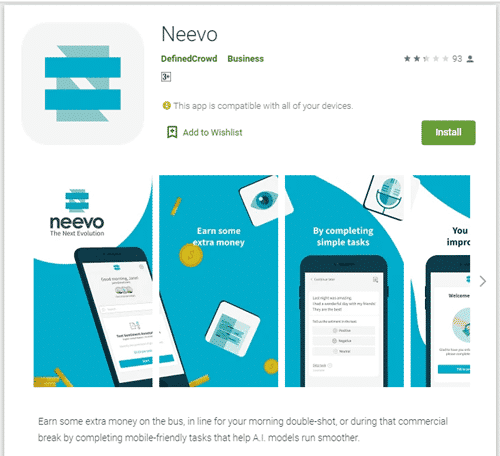 The app is available for both Android and iOS users, so you won't have to worry about what type of mobile device operating system you are using.
This is a big help because it will allow you to access job offers a lot quickly. Being able to access a platform on a mobile device does have its perks. It allows you to earn anytime and anywhere. You just need to make sure your mobile device has an internet connection.
Who can join Neevo?
If you look at the terms of Neevo, they specifically mention that they make no claims that the site or any of its content is accessible or appropriate outside of the United States.
They also say that access to the website may not be legal by certain persons or in certain countries.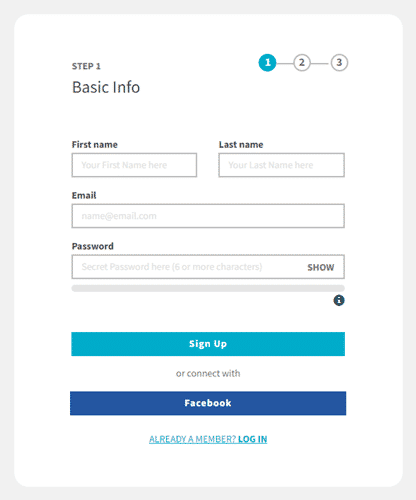 But during the registration process, there are a lot of countries you can choose from when you are choosing your region. So, everything points to it being available globally (or at least in most countries where this type of site is permitted).
And I have also heard from visitors on my website that it is available in many different countries. So even though it is not completely clear from their terms, you can join from more or less all countries.
Seeing as it uses PayPal as its payment method, you have to be at least 18 years of age in order to register.
This is the minimum age required to sign up for a PayPal account. So, if you are under 18, I suggest you look somewhere else if you want to earn cash.
Can you get support?
Neevo ai does have an FAQ section that will guide you with the basics of the site.
So, if you have a question about the site, I suggest you check out the FAQ section first before attempting to contact their support team. You might find the answer you are looking for.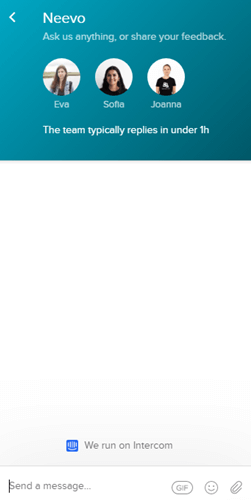 But if you can't find the answer you are looking for, you can always chat with their support team. As shown in the photo above, they do have a chat option on their website. This option will allow you to communicate with a member of their support team.
The advantage of this form of support is, you will be able to resolve any issue or question you have relatively quickly.
The downside is, you will have to make sure that the window is always open when you submit your inquiry. If you accidentally close it, you will have to start your conversation again.
The good thing though is, their support team typically answers within an hour, so you won't have to wait that long. Overall, they do provide a decent way for you to get in touch with their support team, in my opinion.
Final Verdict
Neevo is a legit site that does pay you for completing their job offers. It definitely has a certain appeal that could warrant it being a good choice to earn extra cash, but it also does have some disadvantages.
So let's finish this review with a summary of its pros and cons to help you with your decision.

Pros:
Payment via PayPal is available
Low payout threshold
Has an app you can use so you can earn even on your mobile device

Cons:
Limited earning opportunities
Payment processing takes a while to complete
Low rate per task and not very clear what it takes for a task to be validated
Neevo is definitely a decent option to earn a few extra bucks. But as you can see, you really can't expect it to be a site you can earn money on a regular basis. That's because it offers limited earning opportunities.
If there aren't any jobs available, you won't have any way of earning from it. Plus, the payment process takes quite a bit to complete. You will have to wait a couple of weeks before you can see the money you've earned.
However, it can serve as a decent secondary site to earn from because you will be able to withdraw your earnings conveniently and it has a low payout threshold.
But if you are looking for sites that will allow you to earn on a regular basis, I recommend you check out the top GPT sites instead.
The sites on this list all offer plenty of earning opportunities which will translate into good earning potential. Plus, you will be able to find a site that will fit your needs regardless of where you live.
If you have any comments, questions, or have any experiences with Neevo yourself, I would love to hear from you in a comment below.